2023 Savannah Ghost Pirates vs Orlando Solar Bears
Vegas Golden Knights Prospect Isaiah Saville Improving With Savannah
Vegas Golden Knights Prospect Isaiah Saville Improving With Savannah
Isaiah Saville has become a bright spot for the ECHL expansion team Savannah Ghost Pirates, as the Vegas Golden Knights prospect continues to improve.
Jan 24, 2023
by Mike Ashmore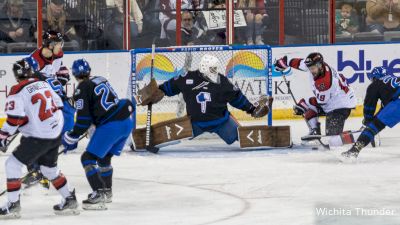 Rick Bennett has a long history of helping develop goaltenders who reach the National Hockey League.
So does the ECHL.
The Savannah Ghost Pirates sure seem like a good spot for Isaiah Saville then, and he's done his part thus far in his first full professional season. Saville is posting a strong 2.99 goals against average and .923 save percentage in his first 22 games this year despite a somewhat deceiving 4-12-5 record.
"We have a good system that kind of helps out with having confidence in the guys and being able to be more stress-free with how I approach games," Saville told FloHockey via cellphone.
"I like to be calm during games, so with a non-frantic system and locker room, it makes it a little bit easier to do that and also have a little bit more fun. That's a big part of it, realizing that your job is something you love."
Saville has been something of a diamond in the rough for the Ghost Pirates' parent organization, the Vegas Golden Knights. They took him in the fifth round of the 2019 NHL Draft after a strong year in the USHL with the Tri-City Storm, and then watched as he continued his development at the college level with the University of Nebraska-Omaha for three years.
Thank you Omaha for an unforgettable 3 years🖤❤️ pic.twitter.com/DxU9pVaQXY

— isaiah saville (@ijsaville31) March 19, 2022
Having a long-time college coach like Bennett, who brought a national championship to Union College during a lengthy run there, has helped Saville transition to the pro game a bit smoother even after a brief stint in the American Hockey League last year.
Consistency In The Crease: Goaltending At Heart Of Tri-City Storm's Success
"He brings an element of calm, but also the way he plays and the way that he competes, it helps our team," Bennett told FloHockey via cellphone.
"Just by the way he composes himself in net, but just as important, he never gives up on pucks and our bench sees it," Bennett added. "He can be a vocal guy when needed and give the guys a little jolt. You always want a guy that competes and that guys want to play for, and you definitely see that every time he's in the net. He's on the right trajectory, and he's headed in the right direction, but now he's got to go through the rigors of learning how to be a professional hockey player, and that's on and off the ice."
Saville had early success in a brief stint with the AHL's Henderson Silver Knights last season after his college season was done, and now finds himself as one of the star attractions on an expansion team that's been the toast of the town.
"It's been unbelievable," he said. "I've never been a part of a brand new team, and the support we've gotten here so far has been incredible. I think we've sold out every game, and there's an incredible amount of respect around the city. You see stickers on cars, signs in restaurants, and that's really cool to be a part of with a brand new team and in a city that didn't have hockey, really."
Isaiah Saville Says Experience In AHL Has Helped Him With Ghost Pirates
Saville credits some of the confidence he's had in Savannah with that stint in Henderson last year, where, freshly removed from his junior year at UNO, he went 6-1 with a 2.05 GAA and .929 save pct. in his first eight pro games.
2023 ECHL All-Star Classic: Cossa, Maniscalco Among Players To Watch
"Being able to prove that I was ready for the jump from college to pro hockey helped my confidence a lot," he said.
"I've had great guys in the locker room and great coaches, and it's made it a lot easier… I have a lot of confidence in myself, but I don't know that doing that well (last year) is exactly how I'd describe it. I know my capabilities, and know when I set my mind to something, more often than not, I can achieve what I put my mind to. It wasn't a surprise to me, but I felt more comfortable sooner than I thought I would feel."
And even if progress isn't a straight line, Saville has always been on an upwards trajectory—but especially after the Anchorage, Alaska native was picked by the Golden Knights.
We're bringing in goalie Isaiah Saville with the 135th pick!#VegasBorn | #NHLDraft pic.twitter.com/3FdwQEP5Yf

— Vegas Golden Knights (@GoldenKnights) June 22, 2019
"Pro hockey wasn't really my dream, per se, when I started playing, I really just wanted to play college hockey, that was my ultimate goal when I was growing up," he said.
"When the draft happened, I was super excited, but then I made sure that I focused on the first step of doing well in college and using that experience to better myself and ultimately sign last year and be able to continue to develop."
Not bad for a kid who ultimately got on the radar after that single season in Tri-City, where he won the Dave Peterson Goalie of the Year Award in the USHL, posting a 25-4-3 record, 1.90 goals against average and .925 save percentage.
"We had an incredible team, I think we had six or seven draft picks after that year, and it definitely helped the draft stock quite a bit with all the guys were on that team," he said.
Of course, now, the focus shifts to the new goal of reaching the National Hockey League and the approach he'll have to take as he continues to work in Savannah.
"Looking into the future, it's easy to look and be like, 'Oh, what's going on,' but I think just staying present wherever you are and focusing on the day-to-day and what you've got here is only fair to me and to my teammates in not thinking about that next step," he said.
"We've got a job here, and we need to start rolling in some wins here, so I'm just focused on the task at hand and trying to enjoy myself."