NHL Prospect Tournaments: Notes On Standouts From San Jose Rookie Faceoff
NHL Prospect Tournaments: Notes On Standouts From San Jose Rookie Faceoff
Prospect analyst Chris Peters empties the notebook to share observations from his two days in San Jose.
Sep 18, 2022
by Chris Peters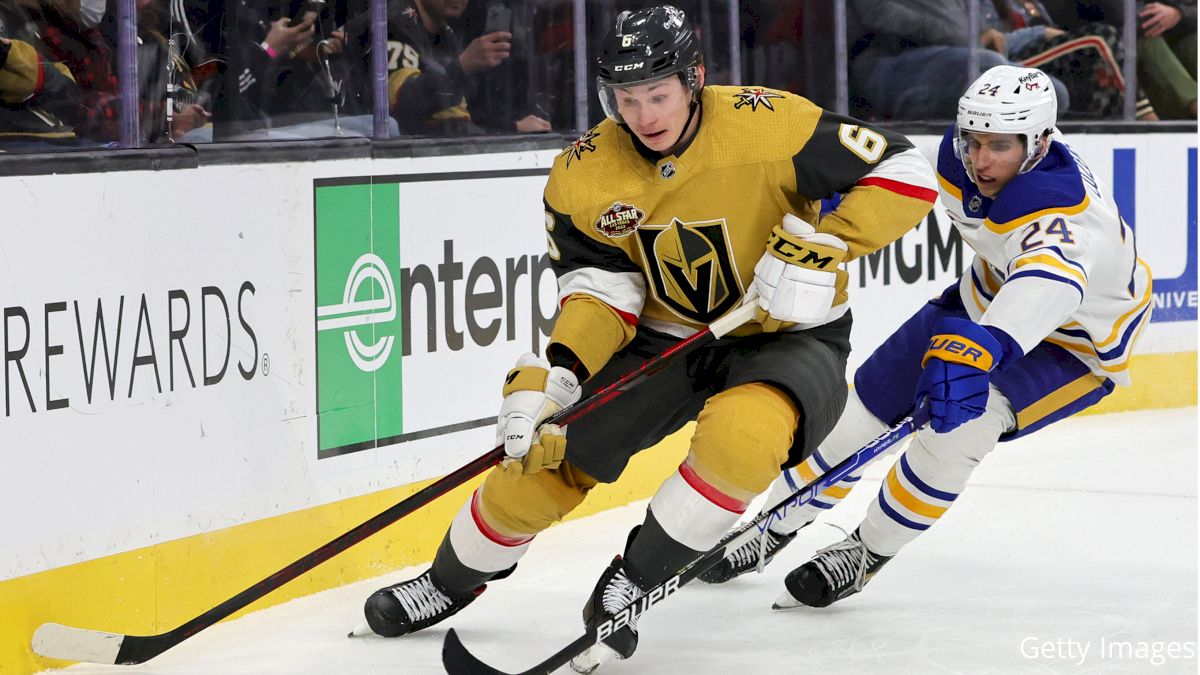 SAN JOSE, Calif. – Having spent the last two days getting a look at top prospects and camp invites at the 2022 NHL Rookie Faceoff, I figured I'd share what I saw over six games total involving the Anaheim Ducks, Arizona Coyotes, Colorado Avalanche, Los Angeles Kings, San Jose Sharks and Vegas Golden Knights.
There will be one more day of games before the teams return to their respective cities and open NHL training camps shortly thereafter. The players that participated in the Rookie Faceoff that are under contract will do what they can to prove they deserve a spot on the big club, but most will be sent back to their respective junior teams or to the NHL club's farm teams in the AHL and ECHL.
I've got to get back to get ready for the USHL Fall Classic, but it was a good trip out to San Jose as the Sharks opened the brand new TechCU Arena, the new home for their AHL affiliate San Jose Barracuda. Here's a look at some of the players that stood out and other stray observations from a couple of days in Northern California.
For notes on William Eklund, Thomas Bordeleau, Brandt Clarke and Nathan Smith in my first dispatch from San Jose, click here.
Layton Ahac and Kaedan Korczak, Vegas Golden Knights: Over the first two days of the event, the Golden Knights played Korczak and Ahac together, providing a D pairing that dominated most shifts they were out for together. The pair has size and mobility that provided quite a challenge for the opposition. In addition to moving pucks with precision, both also play with some snarl, winning a lot of board battles and leaning on opposing forwards with a great degree of success. They also were able to provide the offense by moving pucks effectively up ice and getting shots through with regularity. The Golden Knights don't have a deep prospect pool at the moment, but they do have a couple of big defensemen, with Ahac being a left shot and Korczak being a right shot, that appear to have taken a substantial step in their development and may one day soon be a solution on the blue line for a cap-strapped team.
Layton Ahac (HEN, AHL) takes the lead back for Vegas off a nice long-range shot through traffic. 3-2.#VegasGoldenKnights pic.twitter.com/zfGTAKi087

— Eric Cruikshank (@cruuk) September 17, 2022
Jack McBain, C, Arizona Coyotes: At 6-foot-3, 201, I don't know if there is a more solidly put together player in this event. The 22-year-old looked the part of a guy who's seen NHL action, is very difficult to knock off the puck and when he hits, it is thundering. McBain has come a long way over his collegiate career at Boston College and now as a pro. He will probably never be more than a bottom six energy player, but he's going to be a handful for teams to play against. His skill is average, but his hockey sense has improved greatly. By simplifying his game and adding a more consistent, calculated physical element, he has turned himself into the kind of player a lot of teams search for to list down their lineup.
Brandon Coe, RW, San Jose Sharks: I'm very much looking forward to Coe's transition to the professional game on a full-time basis this season. With his size and speed, there's a lot of potential, but I think he's continually refined the skill aspects of his game. The 101 points he had for North Bay last season were not a mirage or just the product of his being an older player in junior. He might be able to earn a call-up or two as early as this season, but when he's fully prepared he is going to be a lot for the opposition to handle.
A BIG night from @tristenrobins1 🤩 pic.twitter.com/BUMEjkIFWf

— San Jose Sharks (@SanJoseSharks) September 18, 2022
Tristen Robins, San Jose Sharks: About to head into his first full professional season, likely with the AHL Barracuda, Robins has continued to take positive steps in his game. A high-end scorer in junior hockey, he can play with a little sandpaper, too. In the Rookie Faceoff, he's played more of a top-six role, but head coach John McCarthy tried him in a number of different situations in which Robins seemed to thrive.
Brayden Tracey, LW, Anaheim Ducks: Over the first two games of the tournament, I thought Tracey showed the elements of his game that the Ducks wanted when they selected him in the first round in 2019. Coming off of his first full pro season, there's still probably another step or two he needs to take before he can make an impact on the big club, but showed some solid skill and was a bit of a pest for the opposition. Tracey's got a little bite to him, but he also showed off a great release on his one goal through the first two days.
Conor Geekie, C, Arizona Coyotes: The first two games provided some significant positives for Geekie as he scored a goal and added an assist in Arizona's win Saturday over Anaheim. That said, I think we've seen that there's still more for him to achieve before he can ascend to the big club. I thought Geekie was a little behind the play at times and his processing speed wasn't quite at NHL level, even though I think he has exceptional hockey sense. He was anticipating well, but he'll have to improve some of his short-distance quickness to be more effective. You can see all the tools for him, it's just going to take a little extra patience.
Ben Meyers, C, Colorado Avalanche: The Avs prospect team had some struggles in the tournament as they just didn't have the skill to match the other teams. Despite that, I thought Meyers stood out consistently and played the style that will get him onto and keep him on the Avs' roster. Signed as an undrafted free agent last year, he looked like a pro with his energetic style and battle level. He played physically and never quit on pucks, just like he did over a decorated college career at Minnesota.
GOALLLL! @tward74 buries the pass from @brandtclarke55 to even the game at 2-2 🫡

📺 https://t.co/cu1nDD5MXv pic.twitter.com/m8IQ2DU9WP

— LA Kings (@LAKings) September 16, 2022
Taylor Ward, RW, Los Angeles Kings: An undrafted free agent signed by the Kings last spring, Ward showed off some of the offensive skill that made him a top scorer in the NCAA last season with Nebraska Omaha. He also showed that his sturdy frame and physical edge can allow him to play a bit further down the lineup and give the Kings a forward with some grit and secondary scoring pop. His skating is probably going to be the one thing that could prevent him from establishing a role sooner than later, but if he continues to improve in that area, he's got a chance to be the next high-quality college free agent the Kings have been able to get under contract.
Mason Beaupit, G, San Jose Sharks: The 18-year-old goalie selected 108th overall in July got his first taste of pro hockey against the Avalanche on Day 2 and stopped all but one of the 28 shots he faced. The 6-foot-5 Beaupit played with a lot of poise, made a few big saves early and once he settled into the game, he was tough to beat. Beaupit's NHL timeline is a long one because he's so young and still needs more reps in junior hockey, but the way he played against Colorado certainly will leave a lasting impression and perhaps a glimpse of the vast potential he has.
Strauss Mann, G, San Jose Sharks: The first goal he gave up wasn't a great one, as he was beaten from distance and got caught reaching, but after that the free agent signing settled in. The former Michigan captain, who played in Sweden last year, still has a lot to prove and will likely see significant time in the AHL this season. That said, as he settled into his game, you could see the precision and hockey sense that made him a top goalie in the NCAA. He stopped 35 of 37 shots against the Ducks in a spirited contest the Sharks ended up winning in overtime.
Isaiah Saville, G, Vegas Golden Knights: He made 24 saves on 26 shots in a 3-2 win for the Golden Knights and showed remarkable poise against a team that had a lot of big players that were getting good traffic in front of him. Saville is entering his first full-time season of pro hockey and likely will play a good chunk of his season in the AHL with the Henderson Silver Knights.
Odds and ends
Mason McTavish, C, Anaheim Ducks: He didn't take over games like he did at the World Juniors, but McTavish was noticeable in both games. His skating and skill level, along with his well-known edge in his game make him such a unique talent. He wasn't active on the scoresheet, but he was active in all three zones, looking like a guy ready to come into training camp and win a spot.
Quinton Byfield, C, Los Angeles Kings: I think everyone was looking for Byfield to dominate games having been in the NHL for a large chunk of last season. While he didn't necessarily do that, I thought he just looked different than a lot of his peers. He's got quickness, made decisions at an NHL level, got physical and took pucks to the net. You can see how 40 NHL games has helped him mature. There's still more ceiling for him to get to, but I think he's on his way yet.
Brendan Brisson, RW, Vegas Golden Knights: Brisson scored a pair of goals in Vegas's first game, first by his traditional one-timer from the right faceoff circle and the second by attacking a rebound that was left on the doorstep. He is a player with some real offensive acuity, but there's going to be some patience required. His timing was a little off, I thought, in some of the game as he forced a few plays that he didn't really have time to make. That's all part of the process and I think he's going to be pushed a lot to play with more pace in the AHL with Henderson.
Brendan Brisson once again demonstrating his MONSTROUS one timer from the top of the circle on the power play. UNREAL. 1-0 #VegasBorn pic.twitter.com/gxC87OUtIT

— TYLER KASCH (@TheTylerKasch) September 16, 2022
Pavel Mintyukov, D, Anaheim Ducks: He showed some solid flashes, but he's going to need to show more consistently before he gets penciled into the NHL lineup. He's only a few months removed from his draft, of course, but you can see that he's got so many tools and his skill was evident from the jump. I thought his skating and the pace of his decisions were that of a future top-four defenseman.
Ivan Morozov, C, Vegas Golden Knights: As a guy who's had some success at the KHL level, I thought Morozov might have a little more pop. He didn't really impact the games in any meaningful way to my eye, despite being on the top line for Vegas. He did get a few games with Henderson last season, but I doubt that was nearly enough time for him to adjust fully to the North American style of play. He'll have to find his way in the AHL first before he can step into the big club.
Danil Guschin, LW, San Jose Sharks: One of the most skilled players on the ice when he's on his game, Guschin is an entertaining talent. He needs to become more consistent and play on the inside more now, but he played well in the event including a three-point performance against the Avalanche prospects.
Noah Warren, D, Anaheim Ducks: One of the younger players in the event, Warren is also one of the biggest. The 6-foot-5, 216-pound defenseman handled himself well, providing physicality. His puck game still needs a lot of work as he missed on a few passes and doesn't necessarily have the hands to complete a lot of plays.
Ozzy Wiesblatt, LW, San Jose Sharks: The 2020 first-rounder has been up and down since his draft, but heading into his first professional season with the Barracuda will be his next test. He plays with a big chip on his shoulder, which gives him good jump and makes him no fun to play against for the opposition. There's still a ways for him to go, but he's got an edge and motor to him that gives him a chance.
---
Didn't see a prospect you want to know about mentioned? Feel free to tweet @chrismpeters your questions.