American Hockey League (AHL)
NHL Rookie Faceoff: Sharks' William Eklund Makes Spinning Statement
NHL Rookie Faceoff: Sharks' William Eklund Makes Spinning Statement
Eklund reminds everyone of his top prospect status with dazzling goal; Nathan Smith, Brandt Clarke among other standouts on Day 1.
Sep 17, 2022
by Chris Peters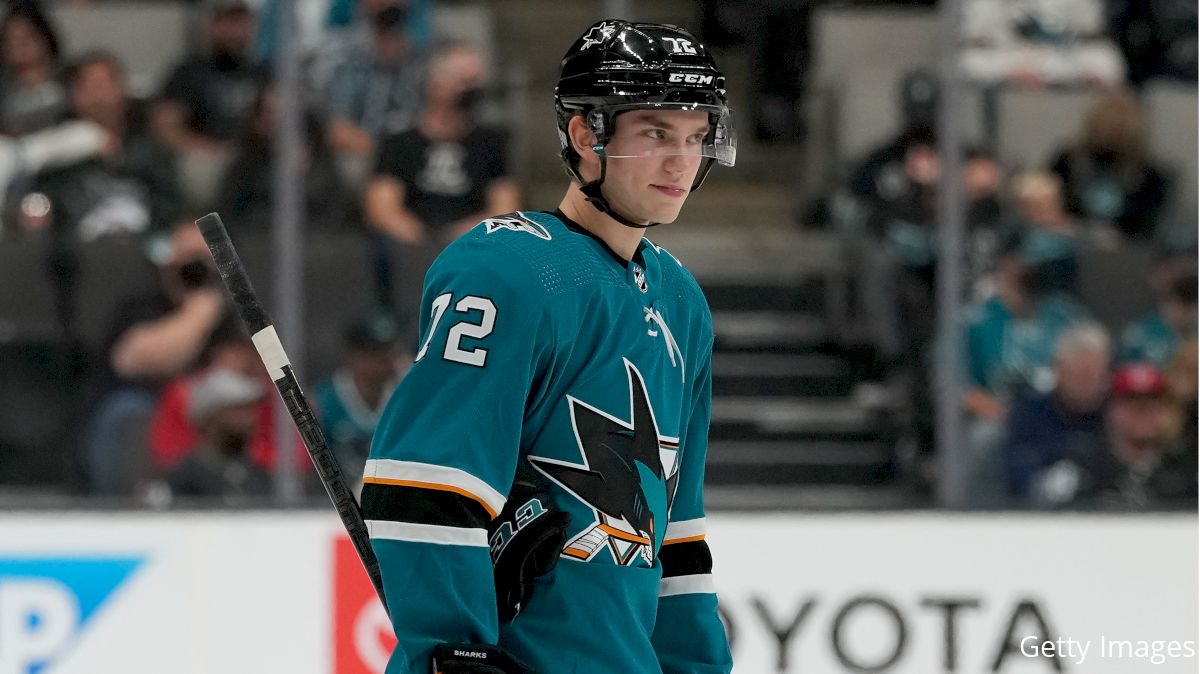 SAN JOSE, Calif. – The first day of action at the NHL Rookie Faceoff tournament ended with an exclamation point. The prospects representing the host San Jose Sharks earned a 3-2 win over the rival Anaheim Ducks in overtime. The game-winner came off the stick of San Jose top prospect William Eklund, who dazzled the partisan crowd with a vintage spin-o-rama to get around Ducks defenseman Olen Zellweger before slamming home his own rebound to give the teal-clad fans something to cheer even louder about.
The sensational final goal capped off a three-point night for Eklund which included a power-play tally and primary assist. It was the kind of statement from a player that definitely feels like he has something to prove.
"My goal is to make the team, that's what I want to do," Eklund said in a determined tone.
The goal was the same at this point last year and Eklund did make the Sharks out of camp in 2021-22. He stayed with the club for nine games before it was deemed that the best path forward for him was to return to Sweden, play up the lineup with Djugardens and get more ice time than he could with the Sharks. By sending him back to Sweden before his 10th NHL game, the Sharks also were able to let the first year of his entry-level contract to slide, meaning he's still got three years left before he'd become a restricted free agent.
Now that he's back in North America, Eklund has renewed focus, improved strength and an even better shot according to San Jose Barracuda head coach John McCarthy, who is head coach of the Sharks prospect team at the Rookie Faceoff. After scoring just one goal in the SHL last season, it was a point of emphasis for Eklund to improve his scoring touch and putting himself in better positions to score.
"I think I take the puck more to the net now," said Eklund about adjustments to his game. "That was a thing I wanted to do. Obviously, I didn't score as I wanted to last year and this year I don't just want to be a pass-first guy. I want to be in those [scoring] areas, too."
Eklund was in the right spots a lot during the game against the Ducks. He managed to dish off a pass to Thomas Bordeleau for the Sharks' opening goal. Then the 20-year-old Swede got the chance to show off his improved shot as he got himself to a good scoring area and absolutely wired a shot that gave Anaheim goalie Gage Alexander no chance to stop it.
Overtime only lasted 32 seconds before Eklund went into full-on showman mode with his crisp spinning move to get the space he needed to end the game.
"I saw [the defensemen's] skates were going towards me, so I tried the spin move," said Eklund. "I like those kind of moves and this time it worked."
Eklund with the spinorama to end it OT pic.twitter.com/HTz6pbUDnK

— Curtis Pashelka (@CurtisPashelka) September 17, 2022
Rookie and prospect showcase events aren't always the best indication of what will happen over the course of training camp, but it can allow the players that are closer to the NHL really shine above their peers. Friday night's game was one of those moments for Eklund.
From his skating and skill to his ability to create in a variety of different ways while playing off of fellow top prospect Bordeleau, who also had three points in the contest, Eklund showed separation among his peers. It does not guarantee him a spot on the NHL roster. There's a new head coach and new management team that he has to prove himself to, but Eklund knows that no matter what he will be staying in North America.
He told reporters before the game Friday that even if he does not make the Sharks out of camp, he will play in the AHL with the Barracuda.
If Eklund's first impression is any indication of how his season will go, though, it's more likely than not he will be in the Sharks' pristine new uniforms when they open their season against the Nashville Predators in Prague.
Other observations from the NHL Rookie Faceoff
Thomas Bordeleau, C, San Jose Sharks – Centering the Sharks' top line, playing alongside Eklund, Bordeleau had three points as well. He opened the scoring with authority, wiring a shot off the crossbar and in showcasing a quicker release and more power on his shot that he appeared to have a season ago. Bordeleau is going to be in a battle for a spot on the Sharks roster, but it's clear he's ahead of a lot of his peers in terms of the skill he has and superior hockey sense. While the Sharks want to continue to see him use his creativity, there are areas of Bordeleau's game they'd like to see improve yet.
"The way the Sharks want to play, is playing on the inside, getting to the net and getting to those high-traffic areas," said McCarthy. "If we can get him – because he's very, very good at setting people up and working on the perimeter – I think if we can get him inside the dots and making plays in there, I think that's going to lead to more success for him. And we've talked to him about that as well."
Brandt Clarke, D, Los Angeles Kings – One of the players I was most anxious to watch in this environment was Clarke, who had a highly-productive season in the OHL. Unable to play in the rookie tournament last year, the 2021 eighth overall pick was getting his first real taste of pro hockey in North America as he spent his draft year playing professionally in Slovakia. His debut in the silver and black was a strong one. Though the Kings lost, Clarke had the primary assist on both goals they scored.
😮‍💨😮‍💨😮‍💨@brandtclarke55 ➡️ @CePinelli71

WATCH: https://t.co/cu1nDD5MXv pic.twitter.com/wKw1tGgQHP

— LA Kings (@LAKings) September 16, 2022
Clarke's first pass was a perfect saucer pass, placed right on the stick of Francesco Pinelli, who slammed the puck through goalie Justus Annunen. The second came on a nice rush into the zone on the power play, passing back to the high slot and putting the puck on a tee for a Taylor Ward one-timer. He also ended up leading the Kings with six shots on goal in the game.
Clarke did have a few sketchy moments, too, including one offensive blue-line turnover that led to sustained pressure from the Avalanche, which eventually forced the Kings to take an icing. Colorado scored off the ensuing faceoff. Clarke has elements of his game to clean up, but his skill and touch with the puck are scarce traits, which is why you live with some of the mistakes. His defensive game still needs some work, but he handled himself well and is setting himself up for a good training camp where things will be ramped up even more. I still think he probably needs another year of junior before making the jump, but he should give Los Angeles some confidence in where he's at right now.
Nathan Smith, C, Arizona Coyotes – After scoring 50 points last season with Minnesota State, getting his first taste of the NHL in a 10-game stint with the Coyotes and playing for Team USA at the Olympics, I don't think there was much doubt Smith was going to be an impact player at the Rookie Faceoff. True to form, he scored both of Arizona's goals in a 3-2 loss to the Vegas Golden Knights in what was a physical affair.
Smith snags another! 🚨🚨 pic.twitter.com/GdFtqPrJ1W

— Arizona Coyotes (@ArizonaCoyotes) September 17, 2022
Smith took full advantage of his time with Minnesota State, rounding out his game, building strength and becoming a much more versatile center without losing the skill that led him to being selected in the third round in 2018. In the game against Vegas, he made a few big hits, drove play for his line and owned the middle of the ice. When he had his chances, he was able to make them count for the two goals he scored. Both he and fellow former collegiate standout Jack McBain were among the most noticeable players shift in, shift out for Arizona.