2022 Tri-City Storm vs Omaha Lancers
Consistency In The Crease: Goaltending At Heart Of Tri-City Storm's Success
Consistency In The Crease: Goaltending At Heart Of Tri-City Storm's Success
Tri-City's success has traditionally started from the net out and Sebastian Wraneschitz hopes to continue that trend.
Oct 4, 2022
by Jordan McAlpine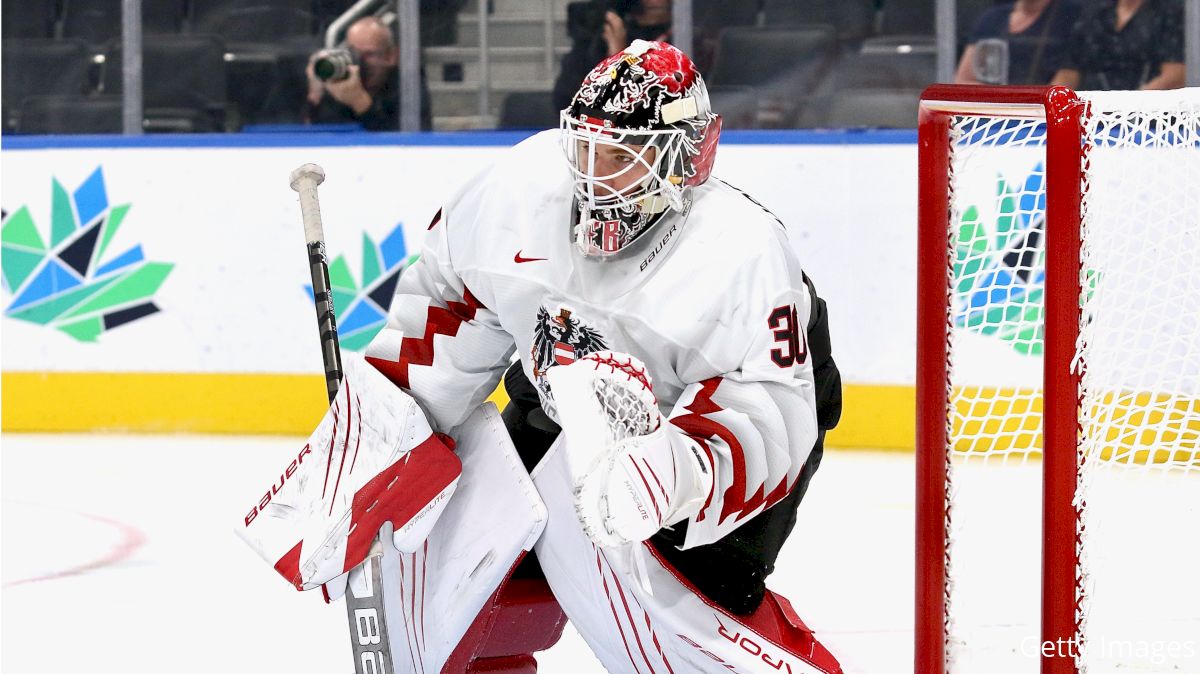 Ever since Anthony Noreen arrived in Kearney in 2017, all Tri-City Storm fans have known is success. The Storm have been amongst the USHL's most consistent teams under Noreen, producing five straight playoff appearances, a pair of Anderson Cups and 175 regular-season wins.
Make no mistake, the Viaero Center has played host to some elite talent over the years - Jaden Schwartz, Wade Allison, Ronnie Attard - the list goes on. But if you dig into Tri-City's success, there's been one common denominator every year — consistent goaltending.
"Without a doubt it's the most important position in the sport," Noreen said. "I look at it similar to a pitcher in baseball or a quarterback in football. If you don't have someone back there it's very hard to win. And if you do, it gives you a chance to win every night.
"We've tried to build our organization from the back out and I think it starts with selecting the right goaltenders in the draft, and we've been very fortunate in that department."
From Filip Larsson to Isaiah Saville, Todd Scott and Arsenii Sergeev, the baton has continuously been passed and it's seemingly never skipped a beat along the way.
In Noreen's five years at the helm he's had three goaltenders win the USHL's Goalie of the Year Award; Larsson (2017-18), Saville (2018-19) and Sergeev last season. They're also the only three in franchise history to do so.
All three honored goaltenders were rookies.
"I think that's the most impressive part," Noreen said. "It's not like it's a guy who's been around the league for a couple years and then peaks. Every time it's been a rookie. And that's very hard to do at this level no matter how old you are or how talented you are.
"Very rarely do first-year guys have a ton of success in our league and to do it at that position is even more impressive."
Larsson finished his rookie season 18-10-0 with a .941 save percentage and is currently playing professionally overseas. Saville went 25-4-3 with a .925 save percentage and a league-best 1.90 goals-against in his rookie year.
Isaiah Saville is the 2018-2019 USHL Goaltender of the Year! Congrats Isaiah! #BeTheStorm pic.twitter.com/F7FlcgEKPj

— Tri-City Storm (@TriCityStorm) April 25, 2019
After spending three years at the University of Nebraska Omaha, Saville is now one of the top goaltending prospects in the Vegas Golden Knights organization.
Last season Sergeev, a seventh-round pick of the Calgary Flames in 2021, led the USHL in wins (30), save percentage (.918), goals-against average (2.08) and shutouts (6). He's currently a freshman at UConn.
Tri-City won a franchise record 47 regular-season games as a team last season and the Storm broke numerous records along the way. Fewest losses (11), most home wins (27), most goals (260), and Tri-City's 98 points tied the USHL's modern record for the most in a season.
Noreen was named the USHL Coach of the Year for the second time in his current tenure. He's the only coach in Tri-City's 22-year history to receive the honor.
Anthony Noreen named USHL Coach of the Year https://t.co/19ARjStQOT #StormAhead #WhosNext pic.twitter.com/CjG8j2STo1

— Tri-City Storm (@TriCityStorm) June 2, 2022
But there's also been a mainstay at Noreen's side for the last five years - goaltending coach Matt Zaba.
"He's been unbelievable and he's been a huge part of our success," Noreen said. "Both from a technical standpoint, but also from a communication and relationship standpoint. He knows the position and he's played the position at the highest level, but he's able to relate with the kids so well.
"The guys trust him, he knows what he's talking about and when guys have trusted him, you've seen the results."
Zaba, who reached the NHL with the New York Rangers and played professionally overseas, lives in Colorado and comes and goes throughout the season. He's had some special goaltenders under his tutelage.
"(Goaltending) has been vital for us," Zaba said. "I started with Anthony the same year and every year we've put a priority on taking care of the position. And when you combine the caliber of guys we've had roll through with the way we play as a team, it's led to a lot of success."
Both Zaba and Noreen said they've tried to treat the position similar to an NHL team or college program with the goalie-specific training sessions at practice and especially on the mental side. Which is one of the areas that Sergeev excelled in last season.
🗣 Sergeev for Goalie of the Week pic.twitter.com/zEO9eDzWzr

— Tri-City Storm (@TriCityStorm) November 8, 2021
Now the Storm will turn to Sebastian Wraneschitz to do the same this season.
"Sebastian is no different from some of our previous guys in that he has an elite drive," Zaba said. "He's a true professional and I know it's a cliche, but he is the first guy at the rink and the last one to leave. He does every single thing to make sure he's readying himself.
"He's the guy that doesn't ever want to come out of the net and I think that's one of the trademarks of these guys we've had. We feel he's fully capable of giving us a chance every night."
Zaba said the Austrian netminder "checks all the boxes" and feels he has the potential to once again be amongst the league's top goaltenders. And from Wraneschitz's standpoint, he's hoping to do exactly that.
"It's always great to play for such a great organization and coaching staff, and I'm really excited for this season," Wraneschitz said. "I just want to keep getting better every day and work hard and be accountable."
With last night's shutout by Wraneschitz, the Storm broke a single-season team record with 9 shutouts on the season! 🏆 pic.twitter.com/6hMC8hlt0n

— Tri-City Storm (@TriCityStorm) April 2, 2022
Wraneschitz played in 18 games for Tri-City last year and went 13-3-1. He won his first start of this season at the Fall Classic - a 29-save performance against Madison - and likely would've started last Friday against Omaha. However, that game was postponed due to ongoing work at the Viaero Center.
The 20-year-old has also represented his country internationally, having played in each of the last two World Junior Championships. Wraneschitz enters this season with experience on his side, but will have to continue to earn his spot.
"At the end of the day we want a guy that, even if they do let in a goal that wasn't the sharpest, they bounce back right away and give us a chance," he said. "If you look at the guys who have had success for us, those guys did that, and they didn't ever take a rep off in practice. And you saw that translate over to games.
"When you have that trust in your goaltender, it's really easy for a team to rally around that guy and it's allowed us to play an extremely aggressive and confident style."
That style and the standard of play has not changed for Tri-City even though the names on the back of the jerseys frequently do.
"To me, consistency in our league is harder than any other league because of the turnover," Noreen said. "We don't have these kids for three or four years and we're not dealing with the same group of really good defensemen because we're turning guys over every single year.
"So to me, it's more of a mindset and a commitment to the detail and the work. We've been really big believers in getting the guys that are committed and take pride in defending, which has allowed us to play that style. And our focus every year is being a team that creates offense out of playing really good defense. But it all starts with good goaltending."