2022 Florida Everblades vs Atlanta Gladiators
ECHL South Division Preview: All Eyes On The 'Blades
ECHL South Division Preview: All Eyes On The 'Blades
The ECHL's South Division is one of the fiercest in the league, this year should be no different as the division gains an expansion franchise.
Oct 13, 2022
by Mike Ashmore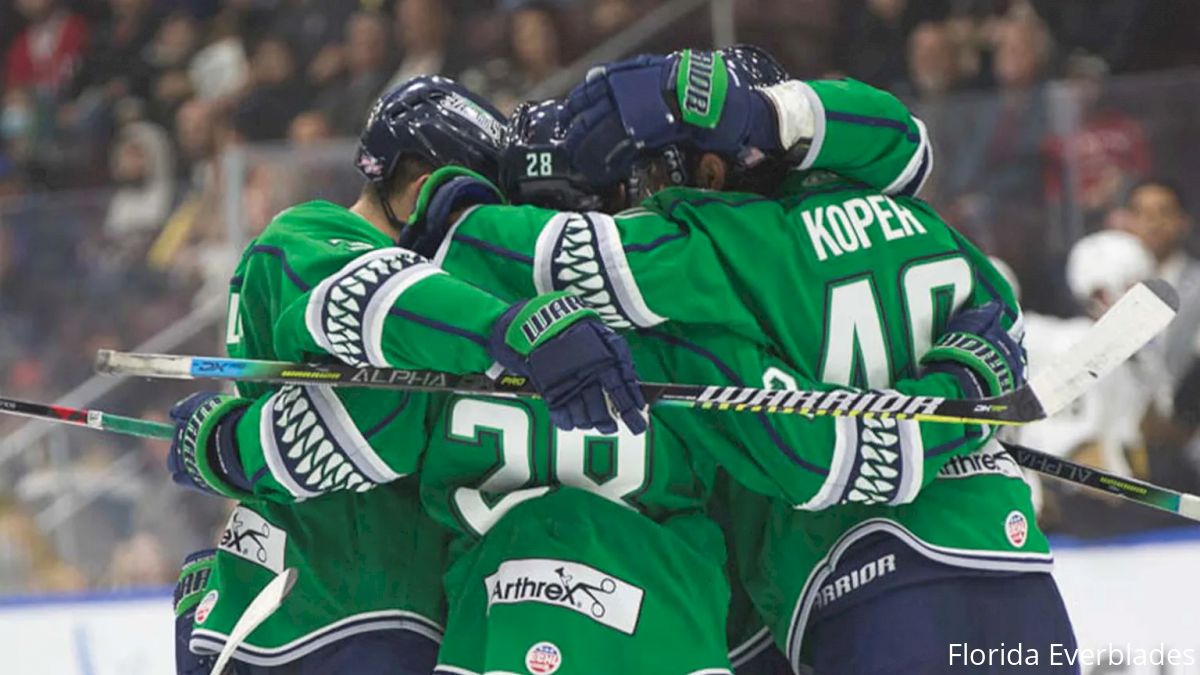 All eyes will be on the ECHL's South Division this year, with the league's defending champions, the Florida Everblades, set to face some increasingly stiff competition.
That will now include the expansion Savannah Ghost Pirates, who will vie for one of the division's four postseason berths in their first year in the league. The Atlanta Gladiators, Jacksonville Icemen and Greenville Swamp Rabbits accounted for those final three spots last year. Those spots will be challenged by not only Savannah, but the Orlando Solar Bears and South Carolina Stingrays, who are hopeful their clubs are vastly improved after their collective seasons came to a premature end last year.
Rosters accurate as of October 13.
SAVANNAH GHOST PIRATES
KEY ADDITIONS: Brent Pedersen, Spencer Naas, Alexandre Carrier, Vincent Marleau, Spencer Dorowicz, Tristan Thompson, Aaron Thow
KEY DEPARTURES: Expansion Team
KEY RETURNEES: Expansion Team
OUTLOOK: A new team in the ECHL this season, the Ghost Pirates will start their tenure in the league as an affiliate of the Vegas Golden Knights, who will be bolstering the club with players from their AHL team in Henderson.
Thus far, Savannah has added a wide variety of ECHL veterans, most notably winger Alexandre Carrier, who's been a staple in the league for nearly a decade now with ten different teams.
Long-time college coach Rick Bennett will serve as the inaugural bench boss for the Ghost Pirates, with former Adirondack Thunder head coach Alex Loh to serve as assistant coach.
ATLANTA GLADIATORS
KEY ADDITIONS: Kaid Oliver, Brandon Schultz, Alex Sakellaropolous, Bode Wilde
KEY DEPARTURES: Derek Nesbitt
KEY RETURNEES: Cody Sylvester, Derek Topatigh, Tyler Parks, Gabe Guertler, Eric Neiley, Sanghoon Shin, Hugo Roy, Tim Davison
OUTLOOK: On paper, the Gladiators are an improved team, even without Derek Nesbitt, who announced his retirement this offseason after playing in over 1,000 pro games. The strong core group fell just three points shy of winning the division title last year and is largely back. They will be bolstered by significant additions like Kaid Oliver, who had a 50-point season with the Iowa Heartlanders in 2021-22, and Brandon Schultz, who potted 25 points in 45 games last year with Toledo.
Bode Wilde may be the most intriguing new player in the league regardless of team. The 22-year-old defenseman was a second-round pick of the New York Islanders in 2018, and has essentially been exiled from the club due to his reported vaccination status. He was recently assigned to the Gladiators by the Islanders amid rumors he'd be dealt to another NHL organization entirely.
GREENVILLE SWAMP RABBITS
KEY ADDITIONS: Michael McNiven, Justin Hamonic, Jake Elmer, Tanner Eberle
KEY DEPARTURES: Liam Pecararo, Max Zimmer, Brett Kemp, Anthony Rinaldi, John Lethemon
KEY RETURNEES: Ayden MacDonald, Nikita Pavlychev, Bryce Reddick, Austin Eastman
OUTLOOK: The Swamp Rabbits snuck into the fourth and final playoff spot in the South last year. They will take the ice this season without their four leading scorers from that group. That leads to a bigger opportunity for Austin Eastman, who was a revelation for the Swamp Rabbits, scoring 10 points in just 15 games after joining the club out of college.
Tanner Eberle, a second cousin of long-time NHLer Jordan Eberle, and Justin Hamonic, who isn't related to the NHLer, are both notable additions to the team for this season, but much of the focus has been on Jake Elmer and Michael McNiven's signings.
Elmer, a former Rangers farmhand, has double-digit goal seasons with both Maine and Jacksonville in the "E," while McNiven had a brief stay in the NHL just last year with the Montreal Canadiens, where he appeared in one game.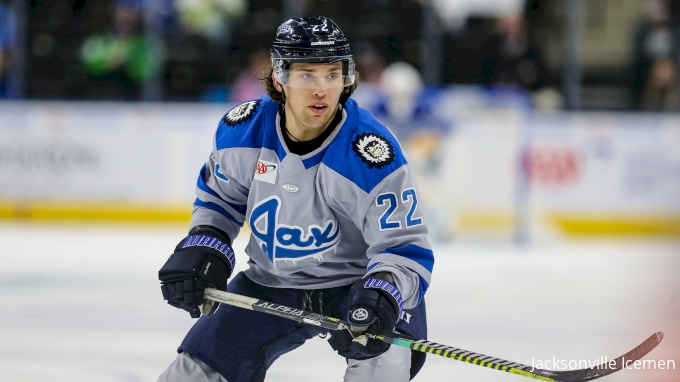 JACKSONVILLE ICEMEN
KEY ADDITIONS: Matt Salhany, Garret Cockerill
KEY DEPARTURES: Craig Martin, Abbot Girduckis, Ben Hawerchuk
KEY RETURNEES: Charles Williams, Ara Nazarian, Luke Lynch, Brandon Fortunato, Jacob Panetta
OUTLOOK: The Icemen have one of the South's shorter camp rosters, but still have plenty of punch on it, with two of their top forwards in Ara Nazarian and Luke Lynch returning for another season. Charles Williams will likely share the net with a contracted goalie for another season, and have Brandon Fortunato and Jacob Panetta, the team's two leading scorers on the back end last year, in front of him again as well.
In terms of new players, none may be more intriguing than Matt Salhany, who parlayed a 26-25—51 year with Adirondack three seasons ago into a deal overseas in Denmark.
FLORIDA EVERBLADES
KEY ADDITIONS: Cameron Darcy, Dominic Franco, Cole Moberg
KEY DEPARTURES: John McCarron
KEY RETURNEES: Joe Pendenza, Levko Koper, Blake Winiecki, Ben Masella, Lukas Kaelble
OUTLOOK: The defending champions will have a bit of a different look this season, as it appears that long-time captain John McCarron will not be back after finally leading his team to their long-awaited Kelly Cup. Much of the core group remains, however, including Joe Pendenza, who scored a critical goal late in the Final to extend the game to overtime—a contest the Everblades ultimately won en route to their first title in a decade.
The goaltending situation is currently in limbo—Cam Johnson is on a two-way AHL deal, and Parker Gahagen joined the Rangers organization this off-season—but Florida has bolstered their roster in other ways, adding solid performers from other teams in previous years like Cameron Darcy and Dominic Franco up front, and Cole Moberg on the back end.
SOUTH CAROLINA STINGRAYS
KEY ADDITIONS: Gavin Gould, Jarid Lukosevicius
KEY DEPARTURES: Ryan Bednard, Derek Gentile, Jade Miller, Jordan Subban
KEY RETURNEES: Lawton Courtnall, Justin Florek, Andrew Cherniwchan, Connor Moore, Jonny Evans
OUTLOOK: It should come as no surprise that a team that finished in the cellar of the South last season looks different heading into this campaign. While three of the club's top five scorers in Justin Florek, Andrew Cherniwchan and Lawton Courtnall are back, they'll be without Ryan Bednard, who led the team last year with 35 appearances in net—but signed with the Wheeling Nailers this offseason.
Jarid Lukosevicius—one of the heroes of the national championship team at the University of Denver in 2017—is an intriguing addition after spending the first three years of his pro career at the American Hockey League level.
ORLANDO SOLAR BEARS
KEY ADDITIONS: Jack LaFontaine, Andrew Sturtz, Shawn Szydlowski, Karl El-Mir, Brian Bowen, Carson Denomie, Brandon Halverson
KEY DEPARTURES: Aaron Luchuk, Odeen Tufto
KEY RETURNEES: Tristin Langan, Michael Brodzinski, Steven Olesky, Brad Barone
OUTLOOK: The Solar Bears missed out on the postseason by just three points last year, and ended up making a coaching change, as Matt Carkner has taken over the reins from Drake Berehowsky for the 2022-23 season.
That won't be the only difference you'll notice this season. While some key players like Brad Barone—a journeyman goaltender who had a career year with the Solar Bears in 2021-22—Tristin Langan and Michael Brodzinski will return, the Solar Bears have been active in making big additions up front. The team added proven point producers like Andrew Sturtz, Shawn Szydlowski, Karl El-Mir, Brian Bowen and Carson Denomie to the forward group.
In addition, Brandon Halverson, a former New York Rangers netminder who missed all of last year due to injury, provides more depth in goal.