ECHL
In ECHL's Central Division, Champion Komets Return To Crowded House
In ECHL's Central Division, Champion Komets Return To Crowded House
The defending Kelly Cup Champion Fort Wayne Komets were one of only three division teams to play last year.
Oct 20, 2021
by Mike Ashmore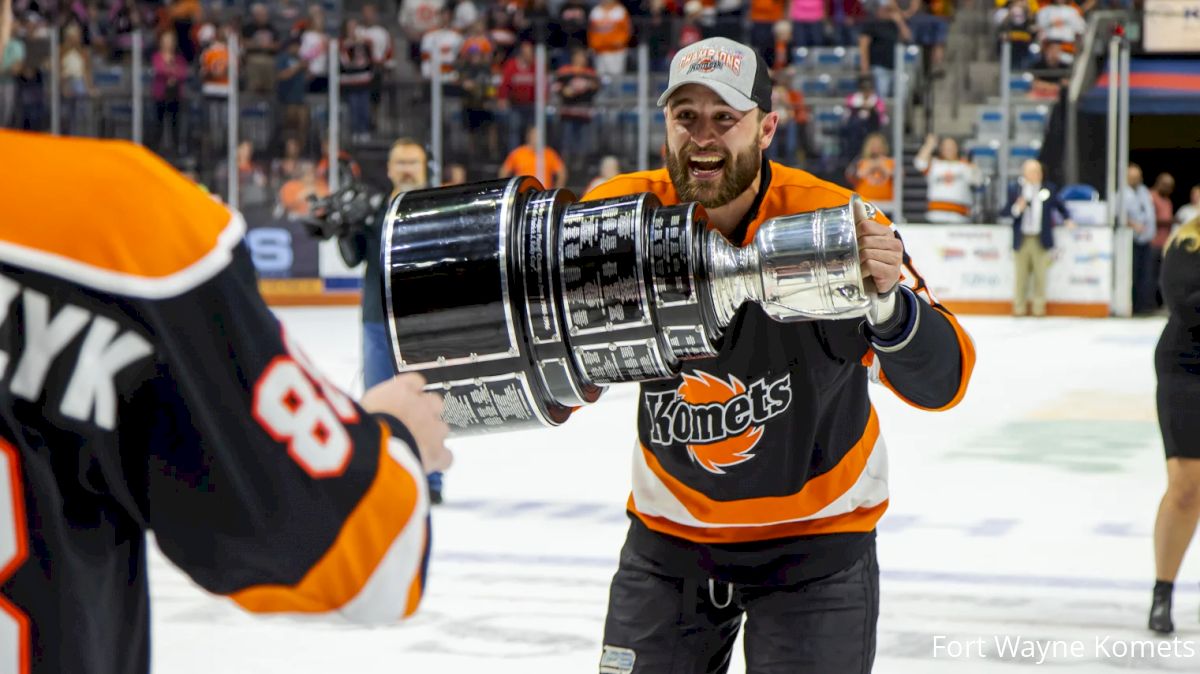 The Central Division has added a seventh team since they last took the ice, with the expansion Iowa Heartlanders set to make their debut at home against the Kansas City Mavericks on October 22, which will be broadcast exclusively on FloHockey.
As for the preexisting six? Well, that's not such a bad group. The defending Kelly Cup Champion Fort Wayne Komets were one of only three division teams to play last year—and the only team league-wide that was allowed to join with the season already in progress, leading to some grumbling over their eventual Cup win—but will face a tough task with in-division powerhouses Cincinnati and Toledo set make a big splash in their respective returns.
IOWA HEARTLANDERS
KEY ADDITIONS: N/A
KEY DEPARTURES: N/A
KEY RETURNEES: N/A
OUTLOOK: An expansion franchise with all of the tools in place to succeed right away, the Iowa Heartlanders are already taking advantage of their affiliation with the NHL's Minnesota Wild and AHL's Iowa Wild, having been assigned seven players from those two clubs' respective training camps.
Among them are the team's likely goaltending tandem on Opening Night; 2019 second round pick Hunter Jones was sent down by Minnesota, while Trevin Kozlowski was assigned by Iowa.
Up front, the team will have Minnesota's fourth rounder in 2017, Bryce Misley, as well as Ryan Kuffner, who appeared in ten NHL games with the Detroit Red Wings during the 2018-19 season after a standout run at Princeton University and subsequently spent last year in Europe. While both of those players were assigned by AHL Iowa, the team does have a bevy of players on ECHL-only deals, but most of them don't have prior experience in the league.
Most notable of the experienced players is defenseman Jake Linhart, a testicular cancer survivor and Wisconsin native who is excited to play closer to home to spend more time with his mother, who was recently re-diagnosed with breast cancer. Linhart last played in 2019-20 with the Adirondack Thunder.
INDY FUEL
KEY ADDITIONS: Liam Folkes, C.J. Eick, Brent Gates, Cale Morris
KEY DEPARTURES: Matthew Marcinew, Nicolas Pierog, Dan Bakala
KEY RETURNEES: Spencer Watson, Jared Thomas, Tom Aubrun, Chad Yetman, Keoni Texeira, Mike Lee
OUTLOOK: The Fuel made an Eastern Conference cameo last season, a successful one-off that saw them advance to the Kelly Cup Playoffs before returning to the Central Division and the Western Conference now that the ECHL is playing with a full slate of teams again.
Indy returns a significant amount of last year's core group, although 2020-21's leading scorer, Matthew Marcinew, has departed for Europe, and last year's number one goaltender, Dan Bakala, has not returned.
The Fuel's long-time affiliation with the NHL's Chicago Blackhawks and AHL's Rockford IceHogs has helped in both bringing players back as well as replenishing the roster; Tom Aubrun, who struggled in ten games for Indy last season, will share the net this season with a combination of Mitch Gillam, who was Wichita's number one in net last year, and Michael Lackey, who got into 24 games with the Orlando Solar Bears in 2020-21.
In addition, Cale Morris, who made his pro debut with the IceHogs last season, was assigned to Indy on Monday.
Aubrun was one of four players assigned by AHL Rockford, as was Chad Yetman, Chicago's sixth-round pick in the 2020 NHL Draft, who split last year between the Fuel and IceHogs. Jared Thomas and Spencer Watson, who combined to score 23 goals last season, are the team's top two returning scorers.
FORT WAYNE KOMETS
KEY ADDITIONS: Kellen Jones, Connor Jones, Drake Rymsha, Sam Babintsev, Zach Tolkinen, Jiri Patera
KEY DEPARTURES: Brandon Hawkins, Randy Gazzola
KEY RETURNEES: Stephen Harper, Anthony Petruzzelli, Matthew Boudens, Stefanos Lekkas, Blake Siebenthaler
OUTLOOK: What a bizarre year for the Komets last season, mostly in a good way, of course. Fort Wayne was the lone club allowed to enter league play in 2020-21 with the year already in progress, and thus played just 51 games, 21 shy of the scheduled 72 that the other teams were expected to play in, although COVID cancelations meant that only six teams would actually reach that number.
Via points percentage, the Komets made the postseason and ended up winning the Kelly Cup, although only a handful of players from that team are returning this year. Both the team's leading scorers up front, Brandon Hawkins, and on defense, Randy Gazzola, are not on the training camp roster for the 2021-22 season.
However, Stephen Harper, who was tied for second on the team with six postseason goals has been assigned back to the Komets from the AHL's Chicago Wolves and will be joined by one of the team's top-five scorers in the regular season, Anthony Petruzzelli, in a return.
The Jones twins, Kellen and Connor, the latter with NHL experience courtesy of the New York Islanders, will help fill in the gaps of those who left, as will Drake Rymsha, who made his NHL debut with the Los Angeles Kings last season after playing for the Komets in 2019-20.
Former University of Vermont standout Stefanos Lekkas, who was one of seven different goalies to play for the Komets last year, is back to likely serve as Fort Wayne's starter this season. Jiri Patera, who made his professional debut with the AHL's Henderson Silver Knights last season, was assigned by them to Fort Wayne on Monday.
KALAMAZOO WINGS
KEY ADDITIONS: Greg Betzold, Erik Bradford
KEY DEPARTURES: Jake Hildebrand, Jake Kielly
KEY RETURNEES: Justin Taylor, Kyle Blaney, Matheson Iacopelli, Tanner Sorenson
OUTLOOK: Much has changed since we last saw the K-Wings on the ice in 2019-20, including a new affiliation with the NHL's Columbus Blue Jackets and AHL's Cleveland Monsters.
Jet Greaves, 20, was assigned by Cleveland and will share the net with ECHL journeyman Trevor Gorsuch this year. Gorsuch has split the last two seasons between the SPHL and ECHL, suiting up with four different teams in the latter, while never getting into more than six games with any given club. This would seem to be his best opportunity yet for significant playing time, as the most recent tandem of Jake Hildebrand and Jake Kielly have since moved on to Florida and Europe.
Three of the team's top-five leading scorers from two seasons ago are back, however, with K-Zoo icon Justin Taylor back for an 11th year with the club after playing for Tulsa last season. The Wings have also made several key additions, particularly forward Erik Bradford, who has tallied 41 goals over the last three seasons between Brampton and Jacksonville.
WHEELING NAILERS
KEY ADDITIONS: Shaw Boomhower
KEY DEPARTURES: Cody Sylvester, Shane Starrett
KEY RETURNEES: Matt Alfaro, Patrick Watling, Matt Miller, Adam Smith, Alex D'Orio
OUTLOOK: The Nailers tied franchise lows with fewest wins (22) and points (51) last season, matching the abysmal 2007-08 squad for futility. As you can imagine, this year's roster has been largely overhauled, although some of the standouts from last year's group have been brought back.
Most notably, two of the team's three leading scorers are back, Matt Alfaro and Patrick Watling. Goaltender Louis Philip-Guindon, one of eight players to see action in net for the Nailers last season, is also back between the pipes. Alex D'Orio, who appeared in 42 games for Wheeling over the last two seasons, was assigned to the ECHL by Wilkes-Barre on Monday.
Shaw Boomhower, assigned by AHL Wilkes-Barre, is likely the most significant of the team's new additions; the 22-year-old split the 2019-20 season between the Cincinnati Cyclones and AHL Rochester.
TOLEDO WALLEYE
KEY ADDITIONS: Brandon Hawkins
KEY DEPARTURES: Josh Kestner, Shane Berschbach, Josh Winquist, Abbott Girduckis
KEY RETURNEES: T.J. Hensick, Kaden Fulcher, Billy Christopoulos
OUTLOOK: Toledo was one of the more stunning opt-outs of the 2020-21 season, with the franchise long perceived to be one of league's cornerstones. Of the team's top five scorers from their last season of 2019-20, only former NHL'er T.J. Hensick is set to return this year.
However, the team has made some significant additions, including Fort Wayne's leading scorer Brandon Hawkins, who is set to slot right into the team's top six forwards group.
In net, Kaden Fulcher, who appeared in one game with the Detroit Red Wings back in the 2018-19 season, was assigned to the Walleye by Detroit to start the season. He will split goaltending duties with ECHL veteran Billy Christopoulos, the Air Force alum who is coming off a big year with the Indy Fuel and returns to Toledo after playing there in 2019-20.
CINCINNATI CYCLONES
KEY ADDITIONS: Yushiroh Hirano, Louie Caporusso, Johnny Coughlin, Dajon Mingo
KEY DEPARTURES: Ben Johnson, Darik Angeli, Justin Baudry, Ukko-Pekka Luukkonen
KEY RETURNEES: Jesse Schultz, Justin Vaive, Michael Houser, Mason Mitchell
OUTLOOK: The Cyclones made the biggest splash of any ECHL team this offseason, with their hire of Jason Payne as their head coach, making him the only BIPOC bench boss in all of professional hockey.
Payne is inarguably deserving of the honor—to be clear, so are many other minority coaches, as Payne is helping to pave the way. As an assistant with the club in their most recent two seasons, Payne helped lead the Cyclones to a whopping 89 wins over that time, including a division-best 38-17-7-1 mark in the COVID-abbreviated 2019-20 campaign.
That team's leading scorer, Jesse Schultz, leads the charge for the current club, which is also bringing back veteran forward Justin Vaive as well as fifth-year pro Mason Mitchell up front.
The Cyclones are currently carrying four goaltenders, but figure to narrow that down to dressing the two AHL-contracted netminders, Michael Houser and Mat Robson, who were both assigned from Rochester. Houser led the team with 26 games in net during the 2019-20 season, and has since made his NHL debut with the Cincinnati-parent Buffalo Sabres, picking up two wins in four appearances.