2021 Cincinnati Cyclones vs Indy Fuel
FloHockey Sits Down With Cincinnati Cyclones' Head Coach Jason Payne
FloHockey Sits Down With Cincinnati Cyclones' Head Coach Jason Payne
Payne begins his tenure as the only current BIPOC head coach in professional hockey.
Sep 15, 2021
by Mike Ashmore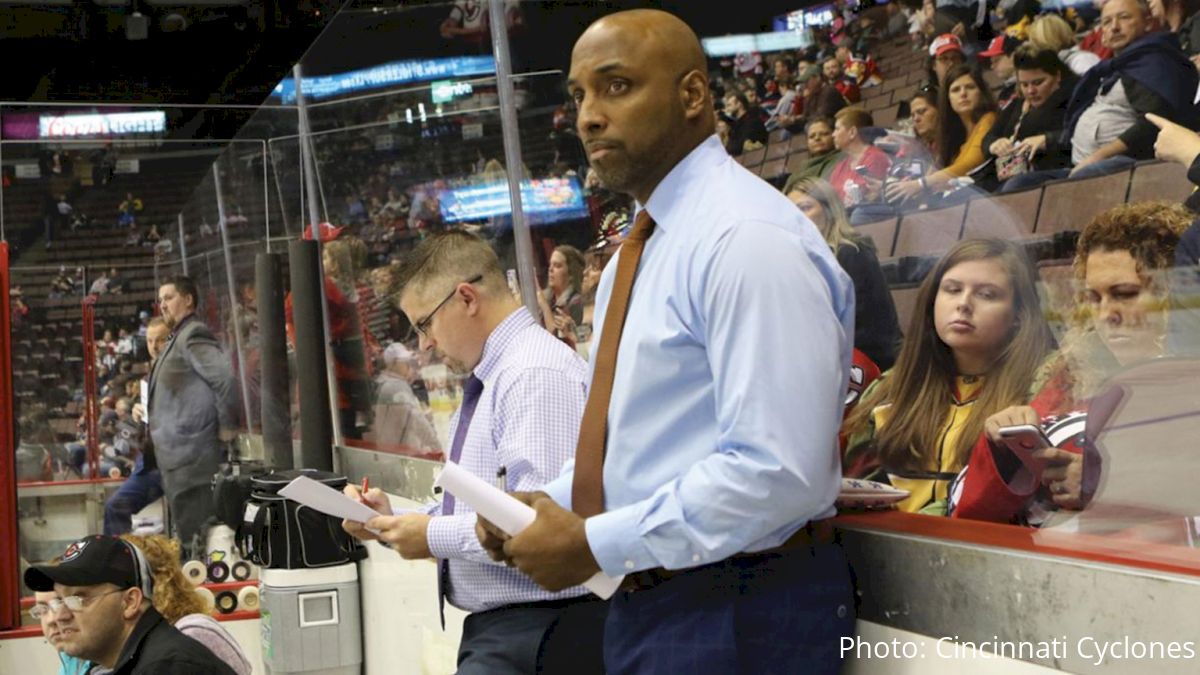 The list of Black head coaches currently in professional hockey is a short one.
Ready for it?
Jason Payne.
That's it. That's the list.
The 45-year-old garnered national headlines and media attention when the ECHL's Cincinnati Cyclones promoted him to serve as their bench boss for the 2021-22 season and beyond, but to be clear, that isn't why they did it. It's because, regardless of who you talk to, Payne was the best man for the job.
"I worked hard enough for it, and I continue to work hard for it," Payne told FloHockey in a one-on-one interview. "You've got to have goals, things you want to achieve in your work life, your normal life, in anything. Yes, I definitely wanted to be a head coach (at the pro level) for sure. The opportunity presented itself here, I'm in the position now, and I'm going to do my best at it."
The reaction within the hockey community, Payne says, has been overwhelmingly positive, and he's heard from numerous head coaches in the NHL as well as members of the parent Buffalo Sabres organization who've reached out to congratulate him.
The road to get to this point for Payne has been a long and winding one, with the back of his hockey card showing no fewer than 27 teams played for, including a 14-year career in the minors that took him everywhere from his native Canada to Arkansas, West Virginia, Louisiana and just about every place in-between.
"Everyone's life in hockey is a journey, and it's a path," he said. "Mine, it was an unorthodox one. I ended up in a lot of different leagues, but with that being said, it allowed me the ability to meet people and build relationships throughout the hockey world in towns and cities that I played in. So, it's great. I met a lot of people, saw different cultures and different places, so it was fun a lot of times. I enjoyed the travel and being able to see different parts of North America."
Payne wrapped up his playing days in the ECHL during the 2008-09 season, splitting time between the Reading Royals and Wheeling Nailers before embarking on a successful career in a variety of roles since then; he's served as a scout, skills coach, skating coach and been behind the bench as both an assistant and head coach. He even started his own hockey school, working with prominent NHL'ers like Zach Hyman, Chris Stewart and Wayne Simmonds.
"I always wanted to stay in hockey; that's my life, that's my passion, that's what I do," he said. From training young kids when I retired—even some guys who are in the NHL now—it's just giving back. I opened my hockey school in Toronto when I was done playing, and from there, everything just escalated."
But, it was a relationship with Matt Thomas that eventually led him back to pro hockey. The two had played Junior A together in Toronto, and played against each other in Triple-A and the minors.
"As I went to play pro, Matt went on to coaching at the NCAA level, and we always stayed in contact that way," Payne recalled. "He left (The University of Alaska-Anchorage) and got the job (in Cincinnati), and before you know it, I was out with my family at the aquarium in Toronto and got a message from Matt. I looked at it, and I was like, 'This seems very odd.' So, I called him back, and he told me about the opportunity here, and I said definitely. This was something I wanted to get back into, pro hockey. We went through the process. He offered me the job, and here I am."
Payne worked as an assistant coach under Thomas for two seasons, starting in 2018-19, helping lead the team an 89-30-12-4 record during that time, including one postseason appearance, with a surefire trip to the playoffs in 2020 wiped out due to the pandemic.
While that certainly drew some attention, so did a presentation Payne gave for the NHL Coaches Association through its BIPOC program that spotlighted both team and personal philosophies on developing players for careers in professional hockey.
It led to several job interviews for Payne, although he joked its best things ended up working out the way they did.
"It's funny, some of the jobs you don't get, you think well maybe you're meant or destined for something else," he said.
That "something else," of course, was the Cyclones head coaching job, one that became available when Thomas left to become an assistant coach with the American Hockey League's Providence Bruins. It helped pave the way for Payne to make history—incredibly, he's just the sixth BIPOC head coach ever in pro hockey—a position he's very much so aware that he's in.
But, Payne isn't wanting anyone to look at him as the only Black head coach. He'd prefer you look at him as a good head coach.
"The hockey world is what it is, you have to find your way to navigate through it," he said. "I had to do that through my playing career, so I didn't think I wouldn't have to do it through my coaching career. Playing, there's a lot more positions available, where in coaching, there's not. It's tough to think about, it's tough to come to grips with. But, my philosophy is, you've got to work. Just work. You can only control the controllables, and that's your work ethic and what you put on the table every day. As long as you do right by yourself, your time will come and your opportunity will present itself. You'd just better be ready for it, that's all."
His team—one which he's pleased with on paper as they're still about a month out from their season opening on FloHockey on October 23 on the road against the Indy Fuel—will be ready as well, with a focus on creating a winning culture through bringing in good people and helping develop them into great players.
Payne, who has eyes on one day earning an opportunity at the NHL level, certainly seems ready too. And, while there are constant reminders of the position he's in, they won't distract him from the task at hand.
"There's no pressure at all," he said. "This is everyday life, this is my life, this is what I've been doing. Nothing's really changed. Being a person of color playing hockey, and now coaching, nothing has changed. I'll still be the same person I am, and obviously you don't take the position lightly and I never have when I was playing, but nothing changes for me. I'm just going to continue to be the best coach I can be."