ECHL
Jake Linhart Stays Close To Home With Iowa Heartlanders
Jake Linhart Stays Close To Home With Iowa Heartlanders
The Brookfield, Wisconsin-native played his junior hockey in the USHL with the Green Bay Gamblers and college hockey for the Wisconsin Badgers.
Oct 12, 2021
by Mike Ashmore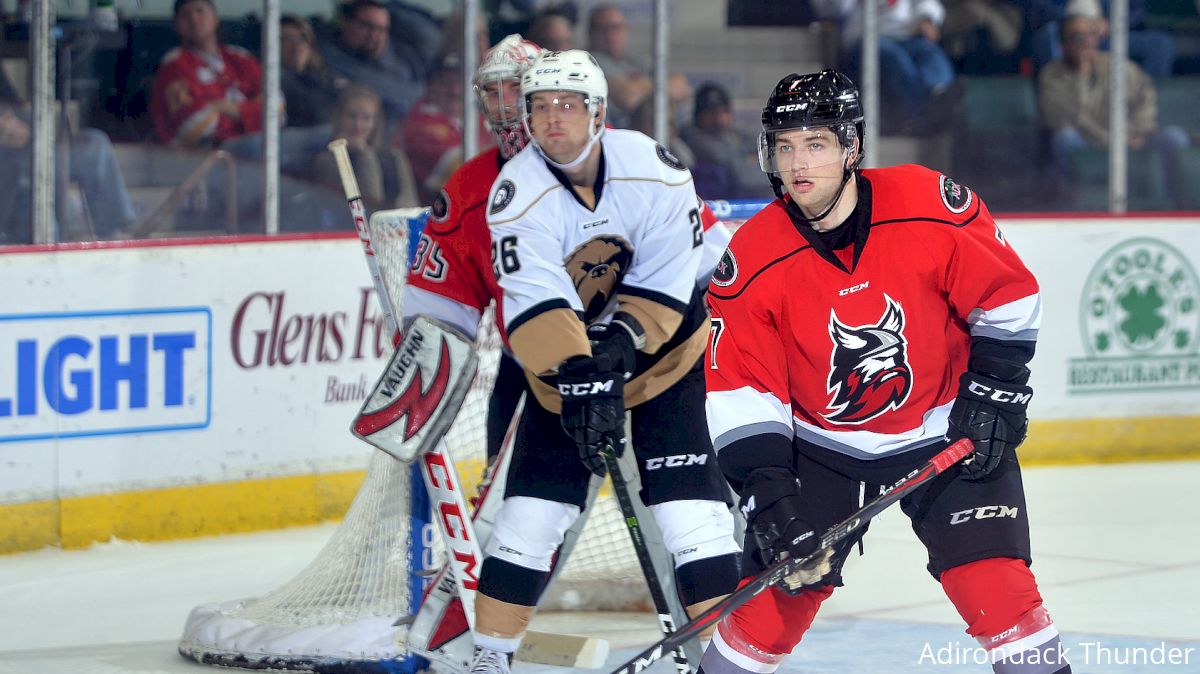 Jake Linhart was looking for the perfect situation
Of course he is. Every athlete is.
But this was different.
After a successful battle against testicular cancer several years ago, the 25-year-old defenseman has had to deal with seeing his mother, Deb, go through a recurrence of Stage 4 metastatic breast cancer after already having beaten cancer nearly a decade ago.
So, Linhart wasn't just looking for the perfect situation; he had to have it, needing to play closer to home so that he could spend more time with his family.
The Iowa Heartlanders are that perfect situation.
"I've never been a part of a first-year team, I've always been on teams that had long histories, so I'm just really excited to contribute whatever I can and do whatever they ask me to do," Linhart told FloHockey via cell phone. "I'm excited to get going."
The Brookfield, Wisconsin-native played his junior hockey in the USHL with the Green Bay Gamblers and college hockey for the Wisconsin Badgers, working his way up to alternate captain status in his senior year, Linhart had largely spent his first two professional seasons far away from home, serving on the blue line for the ECHL's Adirondack Thunder in the 2018-19 and 2019-20 seasons.
Now just a four-hour drive away from home in Coralville, Linhart is thrilled to have the best of both worlds.
"I played my junior hockey in Green Bay, played in college in Madison, so I got relatively lucky there to stay close to home. My mom, she's doing good." said Linhart. "It's a mental battle, but a physical battle as well, and the treatment she's on, she's responding very well, so being close to her and having her at my games, it's huge. My parents only got to come out once a year when I was in New York, so being able to see them will be awesome."
As for Linhart himself, he says he's feeling good, eager to get back onto the ice after missing all of last year after the Thunder, whom he had initially re-signed with in 2020-21, opted out of the last season due to the pandemic.
"I really haven't stopped working out since then," he said. "I did a lot of different types of training that I wasn't used to as much, like running and other things, which I'm not a fan of, but I like to challenge myself. I've been skating for a while now, been practicing with the college team here in Madison—the coach has been nice enough to let some of the pro guys come back—so I feel good physically."
The Heartlanders expect big things out of Linhart this season, and he seems poised to deliver; he posted eight goals and 22 assists in his first year with the Thunder, and followed that up with a 5-18—23 line the following season in nine fewer games.
"I'm happy to do whatever they need of me," he said. "I like to consider myself to be a two-way defenseman, a good first-pass defenseman, just look for those opportunities where I can help contribute offensively. If they want to throw me on the power play, I'd love to do that, I've done that at pretty much every level I've been at at some point. But really, anything the coaches ask of me, I'm looking forward to doing with Iowa."
Of course, if an opportunity arises to make a return to the AHL—Linhart posted an assist in five games with the Hershey Bears in his lone stint at that level in 2018-19—he'll certainly take a look at that as well.
"I think that's always been the goal playing in this league, to move up," he said. "The coaches have made it very clear that they want to help all the guys get to where they want to be, and they're going to help us continue to develop. That's something I'm really looking forward to, just getting some more one-on-one coaching from people that care and want to develop my game."