ECHL
Gerry Fleming Returns To ECHL As Heartlanders First Head Coach
Gerry Fleming Returns To ECHL As Heartlanders First Head Coach
Gerry Fleming becomes the Iowa Heartlanders' inaugural head coach after spending the last decade with the AHL and abroad.
Sep 28, 2021
by Mike Ashmore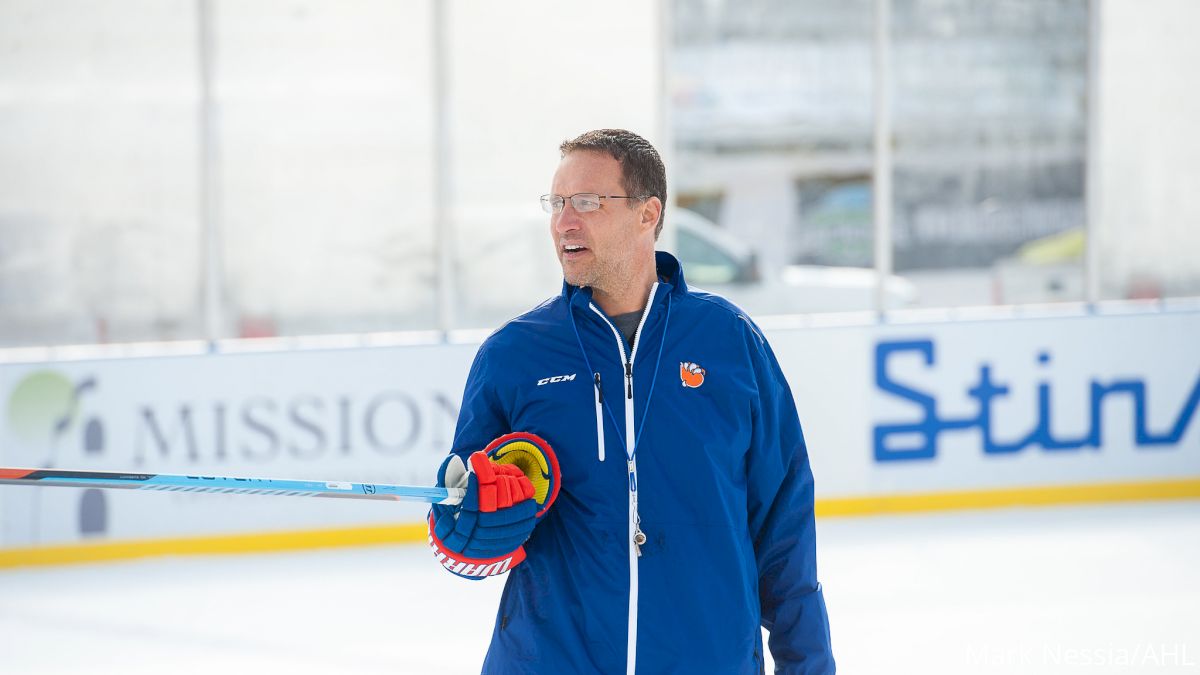 Truthfully, there isn't much that Gerry Fleming hasn't done in the game of hockey.
A gritty winger who spent the entirety of his professional career in the Montreal Canadiens system—he played in 11 NHL games, memorably fighting with Buffalo enforcer Rob Ray once in both the 1993-94 and 1994-95 seasons—the personable 54-year-old has carved out an incredible coaching career since his retirement in 1998. First, working as a head coach and an assistant at the American Hockey League level, then an eight year run as an ECHL bench boss, as well as most recently spending time with Eisbaren Berlin in Germany's prestigious DEL.
But, while that Eisbaren club won the championship last season with Fleming as an assistant, the Montreal native is still looking for his first title as a head coach.
He believes he'll have a chance to do just that as the first bench boss in the history of the expansion Iowa Heartlanders franchise, who are set to make their debut at home against the Kansas City Mavericks on October 22, exclusively on FloHockey.
"This has been a blessing, I'm pretty excited," Fleming recently told FloHockey via cell phone.
"I'm surrounded by good people, and it's been great so far. It hasn't been a challenge, because I think the relationships that I've developed over the years with agents—and I really haven't had to deal with agents for a long time in the American Hockey League and then over in Europe—has really helped a lot as far as building our team and where we're at right now."
An affiliate of both the NHL's Minnesota Wild and AHL's Iowa Wild, the Opening Night roster will be somewhat contingent on the moves both of those clubs make and how they filter down the chain. However, the Heartlanders have already announced a handful of players signed to ECHL deals, with more on the way; forwards Jack Billings and Ben Sokay have been joined so far by defensemen Billy Constantinou, Shane Kuzmeski and Jake Linhart.
Having spent eight years in the ECHL, first as a head coach with the now-defunct Tallahassee Tiger Sharks and then the Florida Everblades, Fleming is familiar with the process of putting together a roster at this level. Although, not having an existing core group to build around has been something new.
"This is a great league," he said. "It's good hockey, and it's great as far young coaches or even anyone that's just starting out in the business, whether it be coaching, officiating, the league office…it's great, because you wear so many different hats and you have to prepare yourself for so many different situations that arise. It really, really helps you with not only the experience of coaching, but the other aspects that come along with it. It's good to be back, and it's good to be building teams again, talking to agents, working the phones. It's an energy that's tough to explain, but you feel connected, you feel involved. This was something that I missed, and I'm just glad I was given the opportunity to be able to do it again."
The pieces all seem to be in place—from an experienced and very well-respected president and CEO Brian McKenna to the brand-new, $50 million, 5,100-seat Xtream Arena in Coralville—for the Heartlanders to not only build something special, but to do it quickly.
There's plenty of reasons for Fleming to be eager to get going, and he can't wait to get behind the bench for the first time in less than a month.
"The cooperation from everybody involved, from the city of Coralville to the building managers to the affiliation with Minnesota and what they're trying to accomplish within their organization and using all three affiliates, to our venue, everything has been world-class. Really, it has," he said.
"It's new, it's sharp and everybody's excited. And most importantly, everybody's on the same page. The synergy between everybody involved has been tremendous. It's just a great energy. Bringing in some of these guys and getting closer and closer makes you more excited."