United States Hockey League (USHL)
How To Watch The 2023 USHL Fall Classic: Schedule, Players To Watch
How To Watch The 2023 USHL Fall Classic: Schedule, Players To Watch
Your guide to watching the 2023 DICK'S Sporting Goods USHL Fall Classic exclusively on FloHockey.
Sep 19, 2023
by Ryan Sikes
The DICK'S Sporting Goods USHL Fall Classic officially kicks off the 2023-24 USHL season. Returning for the eighth consecutive season at the UPMC Lemieux Sports Complex just outside of Pittsburgh, the annual showcase will occur September 20-24.
FloHockey is the exclusive streaming home of the Fall Classic. All 16 games from the DICK'S Sporting Goods USHL Fall Classic will air live and on demand for FloHockey subscribers via FloHockey.tv or the FloSports app. SIGN UP HERE.
All 16 teams play two regular season games, which count in the standings, providing an opportunity for hundreds of scouts to get an early look at the draft-eligible talent in the league all under one roof.
USHL Season Previews:
Eastern Conference | Western Conference
USHL Players To Watch:
Top NHL Draft-Eligibles | NHL-Affiliated Prospects
The defending Clark Cup-champion Youngstown Phantoms deservedly earned the right to officially kick off the season against the Tri-City Storm in the first of two marquee matchups on Wednesday, Sept. 20.
It's happening! #StarsRise #2023USHLFallClassic pic.twitter.com/WdRNCjd08c

— USHL (@USHL) September 19, 2023
2023 USHL Fall Classic Schedule
Wednesday, Sept. 20
Youngstown Phantoms vs. Tri-City Storm, 7:30 p.m.
Sioux Falls Stampede vs. Cedar Rapids RoughRiders, 8 p.m.
Thursday, Sept. 21
Chicago Steel vs. Sioux City Musketeers, 12:30 p.m.
Green Bay Gamblers vs. Lincoln Stars, 2:30 p.m.
Cedar Rapids RoughRiders vs. Youngstown Phantoms, 5:30 p.m.
Tri-City Storm vs. Sioux Falls Stampede, 8:30 p.m.
Friday, Sept. 22
Sioux City Musketeers vs. Green Bay Gamblers, 12:30 p.m.
Lincoln Stars vs. Chicago Steel, 2:30 p.m.
Waterloo Black Hawks vs. Fargo Force, 5:30 p.m.
Des Moines Buccaneers vs. Madison Capitols, 8:30 p.m.
Saturday, Sept. 23
Omaha Lancers vs. Muskegon Lumberjacks, 12:30 p.m.
Dubuque Fighting Saints vs. U.S. National Under-18 Team, 2:30 p.m.
Fargo Force vs. Des Moines Buccaneers, 5:30 p.m.
Madison Capitols vs. Waterloo Black Hawks, 8:30 p.m.
Sunday, Sept. 24
Muskegon Lumberjacks vs. Dubuque Fighting Saints, 12:30 p.m.
U.S. National Under-18 Team vs. Omaha Lancers, 2:30 p.m.
Key Matchups, Prospects To Watch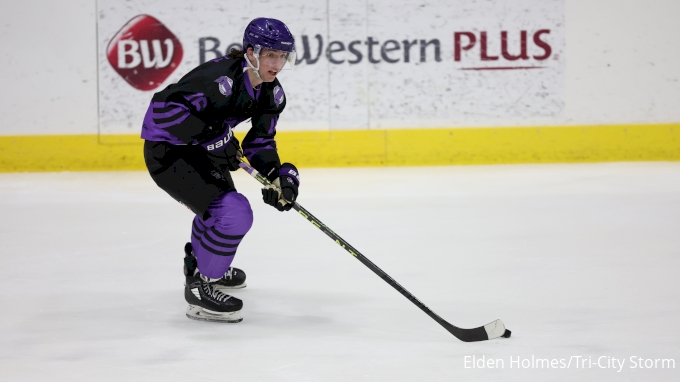 In what could be a preview of the 2024 Clark Cup Finals, the two teams headline the opening night of the USHL season in what is expected to be one of several must-watch matchups.
Youngstown saw a lot of talent move on this summer, including star netminder Jacob Fowler (MTL). However, the Phantoms return a pair of 2023 NHL Draft picks in Andrew Strathmann (CBJ) and Brandon Svoboda (SJS). The team also made a couple of savvy acquisitions in forwards Nathan Lewis and Mikey Burchill to bolster their offense.
Tri-City emerged as one of the hottest teams in the second half of last season. The Storm fell in the second round of the Clark Cup Playoffs, but they return one of the most dynamic players in forward Trevor Connelly (2024).
Trevor Connelly (2024) is so, so good in transition. He attracts so much attention and dishes it to Nick Peluso (@MaineIceHockey) at the very last second on the tap-in goal. Great play. 2-0@TriCityStorm | #USHL pic.twitter.com/NCmQ4oUkkM

— Ryan Sikes (@ryan_sikes10) September 14, 2023
The Providence commit finished with 37 points over the final 36 regular season games in 2022-23 and dazzled for Team USA at the Hlinka-Gretzky Cup.
Tri-City features a loaded D corps in returning blueliners Seth Constance and Philippe Blais-Savoie, along with 2024 draft-eligible prospect Alex Bales, who played very well at the Hlinka.
The Gamblers took two significant blows this summer, with both defenseman Artyom Levshunov (2024) and forward Jimmy Clark (MIN) making the jump to the NCAA perhaps sooner than the team expected.
However, Green Bay has plenty to be excited about, with Adam Gajan (CHI) expected to be with the team full-time in 2023-24. Tender signing Lev Katzin (2025) impressed in preseason, notably scoring twice against Dubuque in his debut.
USHL Tender Signing Announcement! Green Bay Inks Lev Katzin. @GamblersHockey @sachockey1899

🔗 https://t.co/m0qp8DaYhw pic.twitter.com/48v1I91ayp

— USHL (@USHL) March 1, 2023
Likewise, and is the nature of junior hockey, the Lincoln Stars graduated their top-six point producers from last season. Jared Mangan and Keaton Peters headline the returning forwards who recorded 30-plus points each.
Cameron Whitehead (VGK) has also moved on, so the Stars will turn to Lucas Massie for the lion's share of starts in net. Along the blueline, Adam Kleber (2024) returns in his draft-eligible year, looking to provide more offense after recording just eight points (all assists) in 50 games a season ago.
Matt Smaby's squad nearly turned over its entire blueline from last year and several forwards, including splash trade deadline acquisition Miko Matikka (ARI).
Jack Spicer returns in net for the Black Hawks, looking to expand off a promising first year in the USHL in 20223. Waterloo has a number of players entering their 2024 draft-eligible season, including forward Eero Butella and defenseman Keith McInnis. The latter missed most of last year with injuries, but by all accounts, he is ready to go in 2023-24.
The Black Hawks will also feature defenseman Landon Nycz (2025), the youngest USHL player. At 6-foot-2, 192 pounds, the Detroit native has excellent size for a 15-year-old, and he'll look to start his year off on the right foot in Pittsburgh.
As for Fargo, Matej Marinov has moved on, but Anton Castro opted to return for another year of development at the USHL level. The Wisconsin commit and Hampton Slukynsky (LAK) figure to see the bulk of time in net for the Force this season.
Congrats to Force draft pick, Hampton Slukynsky on winning the 2023 Frank Brimsek award for the best senior goalie in MN this season, and Matt Cullen on earning the Ambassador Award for his dedication to the growth & development of hockey in MN!#ForceNation⚡️ | #StarsRise pic.twitter.com/PuDKtKNJwF

— Fargo Force (@FargoForce) March 13, 2023
Forward Mac Swanson (2024) returns for his draft-eligible season, looking to prove that his size is not a limiting factor. At 5-foot-7 and 165 pounds, the North Dakota commit will need to produce without Cole Knuble and Bret Link, his linemates from last year, to keep his draft stock trending upward.
Dubuque Fighting Saints vs. U.S. National Under-18 Team, 2:30 p.m., Sunday
The Fighting Saints will feature one of the best D corps in the USHL in 2023-24, and they will get an early test against Cole Eiserman (2024) and the United States National Team Development Program U-18 squad.
Dubuque welcomes former NTDP defenseman Seamus Powell back to the USHL for another year of development. The former Boston College blueliner and returning experience in Caelum Dick, Jayden Jubenvill, Fisher Scott, and Lucas St. Louis give the Saints a big boost on the back end.
Colin Frank and James Reeder return as key forwards, and both are entering their 2024 draft-eligible campaigns. Marcus Brannman has moved onto the NCAA, but Dubuque will feature two exciting netminders in Thatcher Bernstein (2024) and Kevin Reidler (OTT).
🇸🇪 Kevin Reidler has been selected 8th overall by the Dubuque Fighting Saints in the USHL phase 2 draft

Reidler had a .911 SV% in 32GP with AIK in Sweden's J20 league this season.#GoSensGo pic.twitter.com/MYE8AyYwUL

— Sens Prospects (@SensProspects) May 3, 2023
For Team USA, Eiserman is a projected top-5 pick in the 2024 NHL Draft, and he will look to get a head start on making a case for the No. 1 overall selection with a strong showing in Pittsburgh.
The Minnesota commit will have plenty of support in fellow forwards Christian Humphreys, Charlie Pardue, Kristian Epperson, Kamil Bednarik, and projected 2025 top pick James Hagens.
The NTDP U-18 team will feature one of the best D corps in recent years, headlined by Cole Hutson (2024), who could end up being better than his brother and former NTDP standout Lane Hutson when it is all said and done. Along with Hutson, Team USA has potential 2024 first-round picks in EJ Emery, Will Skahan, and John Whipple.