United States Hockey League (USHL)
USHL Season Preview: Eastern Conference Team Outlooks, Players To Watch
USHL Season Preview: Eastern Conference Team Outlooks, Players To Watch
USHL writer Ryan Sikes previews the league's Eastern Conference highlighted by defending Clark Cup champion Youngstown Phantoms.
Sep 15, 2023
by Ryan Sikes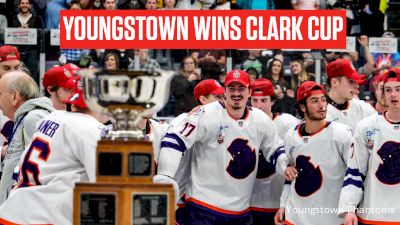 The 2023-24 USHL season begins Wednesday, Sept. 20, at the DICK's Sporting Goods USHL Fall Classic near Pittsburgh, Pa.
All 16 teams will play their first two regular-season games at the UPMC Lemieux Sports Complex in front of hundreds of NHL scouts, general managers, and executives in preparation for the 2024 NHL Draft.
ALSO READ: USHL Season Preview: Western Conference Team Outlooks, Players To Watch
More USHL Coverage From FloHockey
To help get you ready for the Fall Classic and the season ahead, FloHockey's USHL writer Ryan Sikes is here to share a little bit about each team and a few players per team to watch.
We start our season preview series with the eight teams that make up the Eastern Conference, with teams listed in alphabetical order.
Cedar Rapids RoughRiders
2022-23 Record: 30-23-4-5, 6th in East Division, lost to Youngstown in second round 2-1
Players To Watch: Cade Littler (CGY), Sam Scopa, Zack Sharp
2023-24 Outlook: Cedar Rapids lost a lot of its scoring from last year, including Ryan Walsh (BOS), who finished second in the USHL in scoring. Calgary Flames draft pick Cade Littler scored 68 points in 51 games for the BCHL's Wenatchee Wild before joining the RoughRiders late in 2022-23. He will have an opportunity to carve out an expanded role right away with Cedar Rapids. In net, Bruno Bruveris moves on, but Sam Scopa returns as the featured netminder.
Chicago Steel
2022-23 Record: 39-18-4-1, 1st in East Division, lost to Youngstown in Eastern Conference Finals 3-1
Players To Watch: Michael Hage, Lukas Sawchyn, Michael Hagens
2023-24 Outlook: Chicago turns over its top-six forwards from last year, including the USHL Rookie, Forward, and Player of the Year in Macklin Celebrini. Michael Hage returns for a full season after missing most of 2022-23 with a torn labrum and will look to develop chemistry with tender signing Lukas Sawchyn. The Steel return six defensemen, including Michael Hagens, who recorded 26 points in 60 games in 2022-23. Back for a third year, Christian Manz leads the charge in net before heading off to Augustana in 2024.
The Chicago Steel have signed Lukas Sawchyn to a tender agreement

Read: https://t.co/ozZKQ3nZRg#FeelSteel pic.twitter.com/AapiWBP6oj

— Chicago Steel (@ChicagoSteel) April 24, 2023
Dubuque Fighting Saints
2022-23 Record: 32-24-5-1, 5th in East Division, lost to Chicago in second round 2-0
Players To Watch: Gavin Cornforth, Seamus Powell, Thatcher Bernstein
2023-24 Outlook: Similar to Ryan St. Louis last year, Dubuque welcomes Seamus Powell back from Boston College to further his development. With Marcus Brannman moving on, the Fighting Saints will turn to Thatcher Bernstein and Kevin Reidler in net. Dubuque returns plenty of scoring in Jake Sondreal, Gavin Cornforth, and James Reeder, among others.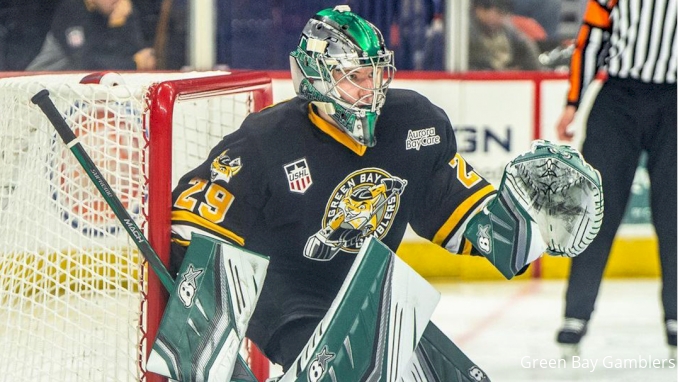 Green Bay Gamblers
2022-23 Record: 32-23-3-4, 4th in East Division, lost to Dubuque in first round 2-1
Players To Watch: Adam Gajan (CHI), Jayson Shaugabay (TBL), Lev Katzin
2023-24 Outlook: The Gamblers suffered two blows this summer, with both defenseman Artyom Levshunov and high-scoring forward Jimmy Clark (MIN) moving on to the NCAA earlier than expected. The former is a projected top pick in the 2024 NHL Draft but will continue his development at Michigan State. After a six-game sample size last year, Chicago Blackhawks draft pick Adam Gajan returns to Green Bay as the featured netminder following a strong showing in the NAHL last season. Gajan was the first goaltender selected at the 2023 NHL Draft. The Gamblers will also get a full season out of 2023 Mr. Hockey Award winner Jayson Shaugabay, who split his time last year between Green Bay and Warroad High School before being drafted by the Tampa Bay Lightning.
Congratulations to Jayson Shaugabay for being selected with the 115th overall pick in the fourth round of the 2023 NHL Draft by the @TBLightning ‼️ pic.twitter.com/BWPVDy965n

— USHL (@USHL) June 29, 2023
Madison Capitols
2022-23 Record: 17-41-2-2, 8th in East Division, missed playoffs
Players To Watch: Will Felicio, Patriks Berzins, Jake Rozzi
2023-24 Outlook: New Capitols head coach Andy Brandt looks to get Madison back on track after a rough 2022-23. Will Felicio returns to the team after setting the USHL record for points (28) by a defenseman in his 16-year-old season. The young defenseman is committed to the University of Denver and may leave a year early should everything go to plan in 2023-24. Madison bolstered their veteran experience in trades and the USHL Phase II Draft, picking up three former NTDP players and goaltender Patriks Berzins from Tri-City over the summer.
Muskegon Lumberjacks
2022-23 Record: 27-32-3-0, 7th in East Division, missed playoffs
Players To Watch: Sacha Boisvert, Paxton Geisel, Ty Henricks
2023-24 Outlook: Muskegon underwent a mid-season ownership and coaching change in 2022-23, determined to change the culture much like Youngstown and Green Bay did after the 2021-22 season. Sacha Boisvert returns as a potential first-round pick in the 2024 NHL Draft, as does third-year player Ethan Whitcomb. The Lumberjacks quietly bolstered the goaltending room with DU commit Paxton Geisel over the summer. The arrow is definitely trending upwards in Muskegon.
We promised you all a jersey reveal video and we didn't disappoint!

The fellas are going to look amazing this season!#ChopChop #GetJackd pic.twitter.com/Yr6k8vIZDO

— Muskegon Lumberjacks (@MuskegonJacks) September 1, 2023
United States National Team Development Program
2022-23 Record: 36-21-3-2, 3rd in East Division, lost to Cedar Rapids in first round 2-1
Players To Watch: Cole Eiserman, Cole Hutson, James Hagens
2023-24 Outlook: After smashing the NTDP record for most goals (69) in a single season, Cole Eiserman enters the 2023-24 season needing 58 goals to set the all-time record in NTDP history, currently held by Cole Caufield (MTL). James Hagens will look to continue his torrid scoring pace after being called up to the U-18 squad in February, recording 19 points in 17 games. The D corps is led by Cole Hutson, who set the NTDP record for most points scored (68) by a defenseman in a single season, but also features potential 2024 first-round picks in towering blueliners Will Skahan and EJ Emery. The NTDP, which plays a split schedule between the U.S. National Under-18 and Under-17 Teams looks poised to have another strong year with its younger players with L.J. Mooney, Cullen Potter and Will Moore among the notable incoming players.
Youngstown Phantoms
2022-23 Record: 38-19-4-1, 2nd in East Division, won Clark Cup Finals 3-0
Players To Watch: Andrew Strathmann (CBJ), Charlie Cerrato, Zachary Morin
2023-24 Outlook: The defending Clark Cup champions return a loaded roster, even after sustaining some losses to college hockey and beyond. Youngstown acquired experienced forwards Mikey Burchill and Nathan Lewis, and Charlie Cerrato comes over from the NTDP with something to prove. Add in trailblazing tender signing Zachary Morin, and the Phantoms are in good shape. Replacing Jacob Fowler (MTL) will be a challenge, but Youngstown welcomes Owen Bartoszkiewicz back from the University of Minnesota. Additionally, the blue line will be led by two-way stalwart Andrew Strathmann, who was picked up by the Columbus Blue Jackets in the 2023 NHL Draft.