United States Hockey League (USHL)
USHL Season Preview: Western Conference Team Outlooks, Players To Watch
USHL Season Preview: Western Conference Team Outlooks, Players To Watch
USHL writer Ryan Sikes previews the league's Western Conference ahead of the 2023-24 season, highlighted by last year's Anderson Cup champion Fargo Force.
Sep 15, 2023
by Ryan Sikes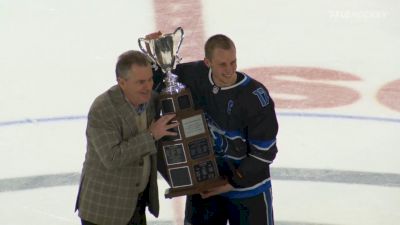 The 2023-24 USHL season begins Wednesday, Sept. 20, at the DICK's Sporting Goods USHL Fall Classic near Pittsburgh, Pa.
All 16 teams will play their first two regular-season games at the UPMC Lemieux Sports Complex in front of hundreds of NHL scouts, general managers, and executives in preparation for the 2024 NHL Draft.
To help get you ready for the Fall Classic and the season ahead, FloHockey's USHL writer Ryan Sikes is here to share a little bit about each team and a few players per team to watch.
ALSO READ: USHL Eastern Conference Team Outlooks, Players To Watch
More USHL Coverage From FloHockey
As we continue our season preview series, here is a look at the eight teams that make up the Western Conference, with teams listed in alphabetical order.
Des Moines Buccaneers
2022-23 Record: 25-28-5-4, 6th in West Division, lost to Lincoln in the first round 2-0
Players To Watch: Adam Möller, Owen West, Ben Kevan
2023-24 Outlook: Des Moines narrowly made the playoffs for the first time in three years but were a quick exit in the first round. Lubomir Kupco returns as the leading scorer from 2022-23, but the Bucs will look for Christian Kocsis and Braden Rourke to step up this year. With Max Lundgren and Jan Korec moving on, Des Moines hopes a competitive training camp sees one of Ethan Dahlmer, Adam Möller, or Jonathan Reinholdt emerge as the starting netminder.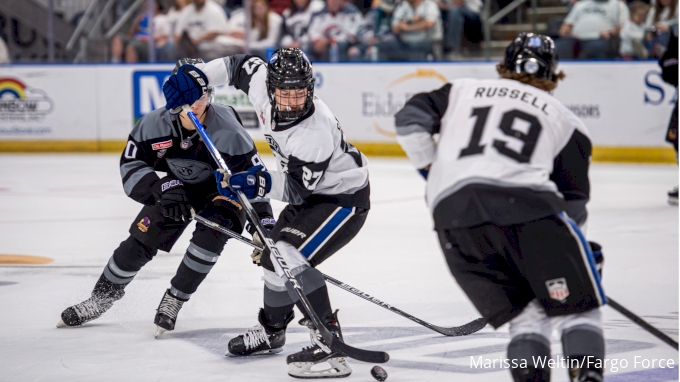 Fargo Force
2022-23 Record: 40-14-4-4, 2nd in West Division, lost to Lincoln in second round 2-1
Players To Watch: Mac Swanson, Anton Castro, Jake Fisher
2023-24 Outlook: With their top-three point producers and star netminder not returning this season, the Force will look for Mac Swanson to step into a leadership role in his draft-eligible season. Anton Castro is back for a third season and along with Hampton Slukynsky (LAK), Fargo's depth in net appears to once again be a strength. New head coach Brett Skinner will also break in tender signing Masun Fleece, who had a standout showing last season at the vaunted Shattuck-St. Mary's Program.
Lincoln Stars
2022-23 Record: 37-21-3-1, 3rd in West Division, lost to Fargo in Western Conference Finals 3-1
Players To Watch: Lucas Massie, Jared Mangan, Justin Varner
2023-24 Outlook: Lincoln lost a ton of leadership with key guys moving on from last year's roster; however, the Stars return a strong core, including Lucas Massie, who played in a secondary role to Cameron Whitehead (VGK) in 2022-23. Lincoln acquired an experienced forward in Justin Varner from Youngstown over the summer. Nikita Meshcheryakov is my player to watch after scoring 82 points (36 goals, 46 assists) in 65 games for Northwood (USHS-Prep) last year.
Omaha Lancers
2022-23 Record: 17-36-5-4, 8th in West Division, missed playoffs
Players To Watch: Nick Pierre, Croix Kochendorfer, Will Elger
2023-24 Outlook: Following up on their lowest win total (17) since the 1988-89 season, the Omaha Lancers can only go up. David Wilkie's squad returns veteran leadership in forward Nick Pierre, who had 11 points in 19 games with the team after the trade deadline. Replacing highly-touted goaltender Michael Hrabal (ARI) could be a challenge, but the Lancers acquired Croix Kochendorfer from Sioux City to bolster their depth between the pipes.
🚨 TRADE ALERT 🚨

LANCERS ACQUIRE CROIX KOCHENDORFER FROM SIOUX CITY ⚔️🔥

Full Story: https://t.co/pBa6T7GXt1 pic.twitter.com/S56bKhMmFU

— Omaha Lancers (@OmahaLancers) September 6, 2023
Sioux City Musketeers
2022-23 Record: 29-28-2-3, 5th in West Division, lost to Tri-City in first round 2-0
Players To Watch: Dylan Godbout, Samuel Urban, Hagen Burrows
2023-24 Outlook: The Muskies are a team to watch this year, even after losing Ryan Conmy (LAK) and several of their top scorers from a year ago. Dylan Godbout headlines the group of returners, having scored 47 points in 62 games in 2022-23. University of Denver commit Hagen Burrows is expected to begin the year with Sioux City, but he may split time to defend Minnetonka's state title. The Musketeers would like to convince him otherwise.
Sioux Falls Stampede
2022-23 Record: 23-31-5-3, 6th in West Division, missed playoffs
Players To Watch: Caleb Heil, Christopher Pelosi (BOS), Beckett Hendrickson (BOS)
2023-24 Outlook: After playing in nine games last year and a strong showing at the Hlinka-Gretzky Cup, Caleb Heil steps in as the featured netminder for Sioux Falls this season. The North Dakota commit will have a solid group in front of him, including Boston Bruins draft pick Beckett Hendrickson, defenseman Jack Phelan (DET), and tender signing Matthew Grimes.
Tri-City Storm
2022-23 Record: 34-20-4-4, 4th in West Division, lost to Fargo in second round 2-0
Players To Watch: Trevor Connelly, Cameron Korpi, Cooper Simpson
2023-24 Outlook: The West might run through Tri-City with the returning talent, including forward Trevor Connelly, who is among the most notable 2024 NHL Draft prospects in the league this season. Following up on his incredible second-half run in the USHL last year, the Providence commit was easily the best player for Team USA at the Hlinky-Gretzky Cup, scoring a team-high 10 points en route to a bronze medal. The Storm return a loaded D corps, including Seth Constance. Tender signing Cooper Simpson, who played well at the U17 Five Nations, and defenseman Alex Bales, who had a strong showing at the Hlinka headline the younger players on the roster.
Trevor Connelly (2024) just spent the entire two-minute power play on the ice, with all of his abilities on full display: the skating, the vision, and the elusiveness, finishing with "The Michigan" attempt.

Here's the last 0:51 of the power play.@TriCityStorm | #USHL pic.twitter.com/4FvuWhJppH

— Ryan Sikes (@ryan_sikes10) September 14, 2023
Waterloo Black Hawks
2022-23 Record: 40-21-1-0, 2nd in West Division, lost to Lincoln in second round 2-1
Players To Watch: Griffin Erdman, Jack Spicer, Adam Zlnka (ARI)
2023-24 Outlook: Waterloo graduated a ton of players from last season, but the Black Hawks return a bevy of talented forwards, including Griffin Erdman, Myles Hilman, and Gavin Lindberg. Netminder Jack Spicer returns for another season, looking to build off a strong 2022-23. The early stages of the season will see Waterloo break in a new D corps, one that includes 2023 USHL Phase II Draft pick Carson Reed, who had 26 points (five goals, 21 assists) in 50 games in the MJHL last year.