United States Hockey League (USHL)
2024 NHL Draft: Cole Eiserman, Trevor Connelly Among Top Prospects In USHL
2024 NHL Draft: Cole Eiserman, Trevor Connelly Among Top Prospects In USHL
Cole Eiserman, Michael Hage and Sacha Boisvert are among the 10 players eligible for the 2024 NHL Draft you'll want to watch in the USHL this season.
Sep 18, 2023
by Ryan Sikes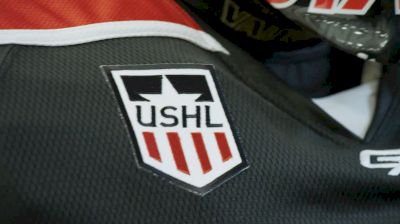 For the sixth consecutive year, the 2023 NHL Draft saw more than 50 players with USHL ties get drafted. The United States National Team Development Program continues to lead the way, with 16 skaters joining NHL clubs.
However, more and more USHL teams are seeing players being drafted, too.
The early mock drafts for 2024 naturally are heavy on NTDP players once again, but there are a number of high-level players throughout the USHL to keep close tabs on during the 2023-2024 season.
To help get you ready for the season ahead, FloHockey's USHL writer Ryan Sikes is here to identify 10 draft-eligible players to watch and share a little bit about each.
Cole Eiserman, F, U.S. National Under-18 Team
Eiserman established a solid base in his first season with the NTDP, spending most of the year with the U17 team, before being promoted to the U18 club in February.
In all, the University of Minnesota commit tallied 69 goals, the second-most goals by an NTDP skater in a single season.
The 17-year-old enters the 2023-2024 season as a projected top-5 pick in the 2024 NHL Draft.
Eiserman will headline the U18 squad this season and could work his way into the No. 1 overall conversation.
NTDP U-18 head coach Nick Fohr draws comparisons to Auston Matthews, but with the scoring touch of Alexander Ovechkin. Eiserman has one of the best shots among draft-eligible prospects.
"He sits there and hammers pucks," Fohr said of Eiserman. "Everybody knows what he is going to do, and it is still hard to stop him from doing it. It's very similar to Ovechkin in that right."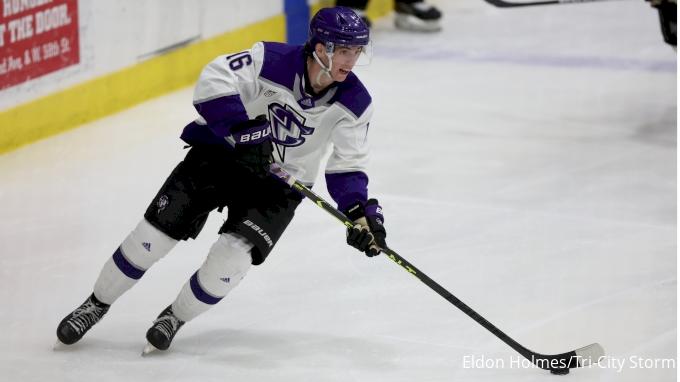 Trevor Connelly, F, Tri-City Storm
The talent on the ice here goes without question.
With the Storm last year, the Providence commit emerged as one of the best players in the league, scoring 37 points (20 goals, 17 assists) in 36 games after the holiday break highlighted by a team record 18-game point scoring streak.
Additionally, he easily was the best player for Team USA at the Hlinka-Gretzky Cup, pacing all skaters with 10 points as the Americans finished third in the highly-scouted U18 tournament.
Connelly is a first-round pick on his ability, but NHL teams will continue to scrutinize an offensive social media post in March 2022 that put a dark cloud over his candidacy for the NHL Draft. Connelly explained both the incident and how he is trying to grow from his poor choice in an interview earlier this offseason with The Rink Live.
In a recent preseason ranking from TSN's Bob McKenzie that polled NHL scouts, Connelly was ranked No. 11 for the 2024 NHL Draft.
Michael Hage, F, Chicago Steel
Hage returns to the Steel after recovering from a shoulder surgery that kept him out for most of the year.
The University of Michigan commit returned in March and became an immediate contributor, recording 10 points (five goals, five assists) in 13 games.
The 17-year-old's best attribute is his skating ability, and he combines it with terrific playmaking and vision to get everyone involved. Hage can take over the game when he wants to press forward.
Sacha Boisvert, F, Muskegon Lumberjacks
Boisvert is a potential first-round pick who quietly had a strong rookie season with an underperforming Muskegon club during the 2022-2023 campaign.
The 6-foot-2, 176-pound center features terrific size and excellent puck skills.
Boisvert's skating is decent, but he could look to improve in that area this year.
The University of North Dakota commit possesses a strong shot and quick hands, attributes that helped him achieve 45 points (17 goals, 28 assists) in 57 games last year.
Sacha Boisvert (2024) completes the hat trick, ripping an absolute rocket top shelf and popping the water bottle off. Incredible goal.@MuskegonJacks | #USHL | @FloHockey pic.twitter.com/QvzAVxuY3P

— Ryan Sikes (@ryan_sikes10) September 17, 2023
Cole Hutson, D, U.S. National Under-18 Team
Hutson could end up being better than his brother Lane, a highly-touted prospect of the Montreal Canadiens, when it is all said and done.
Similar in stature, Cole Hutson is a shifty, dynamic, power-play type defenseman who is wonderfully gifted and can make a lot of plays offensively.
Like Eiserman, the Boston University commit received a well-deserved promotion to the NTDP U18 club in February, finishing with 26 points in 19 games.
Hutson set the NTDP single-season record for most points scored by a defenseman (68), surpassing Lane and Norris Trophy winner Adam Fox, among others to claim the crown.
Will Felicio, D, Madison Capitols
Felicio is another dynamically gifted blueliner who can create a ton of plays with his feet.
The Denver commit set the USHL single-season record for most points (28) by an under-17 defenseman.
Felicio, as noted, possesses strong skating ability. But, as observed on the international stage, he lacks top-end speed, chasing down shorthanded scoring chances against both Team Canada and Finland, in which the latter scored.
Still, there are plenty of tools to like in Felicio's skillset and that could see him be an early-round pick.
USHL Infocus with @MadCapsHockey D Will Felicio https://t.co/YhUr7YI8wc via @YouTube pic.twitter.com/E9nexwuDAr

— USHL (@USHL) August 31, 2023
Mac Swanson, F, Fargo Force
Cole Knuble told me last year that Mac Swanson was "the best passer he's ever played with."
At 5-foot-7, 165 pounds, Swanson's size will be a limiting factor on how far he might fall in the draft. Historically, smaller players have slid, but he offers so much in terms of his skillset.
The North Dakota commit has a knack for knowing where everyone is on the ice. Time and again, he takes the puck below the net, waits for a trailing teammate and connects with a seam pass in the slot for scoring opportunities.
He will be without his two linemates, Knuble and Bret Link, and players of Swanson's size need to produce.
Will Skahan, D, U.S. National Under-18 Team
While Hutson is one of the smaller, shiftier players on the NTDP U18 roster, Will Skahan has the size NHL scouts drool over.
At 6-foot-4, 212 pounds, the University of Wisconsin commit has an NHL-ready frame. He is by no means a fast skater, but he moves well for his size and features a quick and heavy shot from the blueline.
Skahan had 11 points (one goal, 10 assists) in 60 games for the U17 squad last year. He moves up to the big club for the 2023-2024 season with the hope that he can provide more offense.
Caleb Heil, G, Sioux Falls Stampede
Heil generated a fair amount of buzz after his performance for Team USA at the Hlinka-Gretzky Cup.
The North Dakota commit backstopped the Americans to a bronze medal and is expected to be a big piece of the Herd's goaltending room for the upcoming campaign.
Heil got his feet wet in a nine-game sample size last year, posting a 2.92 goals-against average and a .908 save percentage.
The 17-year-old will look to become the second straight rookie netminder (Hrabal) to be taken in his draft-eligible year.
Caleb Heil (@sfstampede) makes a great save on a wraparound attempt. Team USA trailing 5-2 in the 3rd in @2023HlinkaGretzkyCup pic.twitter.com/ITzgnLvC8T

— USHL (@USHL) August 4, 2023
EJ Emery, D, U.S. National Under-18 Team
Like Skahan, EJ Emery is a big defenseman. He's listed at 6-foot-3 and 185 pounds, and he can make a lot of plays with his feet.
The North Dakota commit is a strong skater and already a plus-defender.
Now entering his second year with the national program, he will look to add more offense to his game, one that produced 12 points (two goals, 10 assists) with the U-17 squad last season.
Honorable Mentions
Kristian Epperson (NTDP), Kamil Bednarik (NTDP), Christian Humphreys (NTDP), Eric Olsson (Fargo), Adam Kleber (Lincoln), James Reeder (Dubuque), Tory Pitner (Youngstown), Eero Butella (Waterloo)