2024 IIHF World Junior Championship
World Junior Summer Showcase Player Evaluations: USA Defense, Goalies
World Junior Summer Showcase Player Evaluations: USA Defense, Goalies
Chris Peters evaluates all of Team USA's defensemen and goalies invited to the World Junior Summer Showcase including Trey Augustine, Jacob Fowler and more.
Aug 9, 2023
by Chris Peters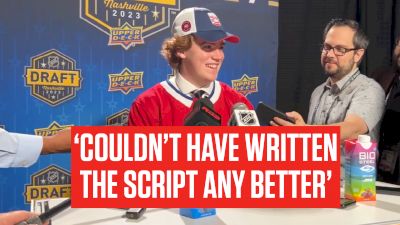 The U.S. National Junior Team took its first steps towards being formed last week at the World Junior Summer Showcase.
After going through each of USA's 24 forwards in camp, it's time to take an extended look at the defense and goaltenders. Plenty of spots are up for grabs on the blue line and there is also an open competition for the third goalie slot as well.
To wrap up our coverage of the World Junior Summer Showcase, here are reports on all of the goaltenders and defensemen that were part of USA's roster at the camp.
Also Read: Team USA Projected Roster For 2024 WJC | USA's Top Performers At WJSS
Goaltenders
Trey Augustine, Michigan State (DET): The presumptive starter for Team USA at the tournament after getting starts at last year's WJC, Augustine did little to dissuade anyone from that status. He's a contained, smart goaltender who doesn't waste a lot of movement in the net and reads plays exceptionally well. None of the goalies in camp had spectacular numbers and Augustine never played a full 60-minute game as USA's brass wanted more looks at other goalies. In three appearances, Augustine gave up five goals while making 34 saves in about 90 minutes of ice time.
Jacob Fowler, Boston College (MTL): Fowler is likely to be in the mix to start a game or two at the WJC and possibly challenge Augustine for the starter's role. He did get into four games at the Summer Showcase, playing one full game. He made 18 saves in a 4-1 win over Finland in that particular contest. Fowler showed that he has the technical skill and hockey sense to keep up with the fast pace of the game and battle to make the saves he needed to make. He finished camp with a .900 save percentage over 140 minutes played.
.@CanadiensMTL pick @jacobfowler24 is in net today for USA Blue against Finland at the 2023 World Junior Summer Showcase. pic.twitter.com/lZvMamRZKm

— FloHockey (@FloHockey) July 31, 2023
Tyler Muszelik, New Hampshire (FLA): After two strong appearances, allowing just one goal playing in half of each of those games, Muszelik struggled in the finale. He gave up four goals on 17 shots. That one rough start doesn't knock him out of contention for the roster, but it did end his camp on a lower note. That said, the first two games were quite encouraging as Muszelik played a contained, comfortable game. He's still in the mix to be the No. 3 here.
Andrew Oke, Saginaw Spirit: Having been the No. 3 goalie on each of the last two World Junior rosters, Oke has a chance to be there again, but he did not have a particularly strong camp. In two appearances, Oke gave up six goals over 49 minutes of ice time. He has a first half to continue to prove himself, but I think the other goaltenders made stronger cases.
Hampton Slukynsky, Fargo Force (LAK): On paper and on the ice, Slukynsky actually looked really strong and I think he over-performed expectations. USA's least-experienced goalie, especially when it comes to playing at the World Junior pace, more than held his own. He appeared in 81 minutes of action and led all U.S. goalies with a .902 save percentage. He made a very good case to be the No. 3 goalie and can solidify that with a good start in the USHL next season. I think it could be more likely, however, that USA sends him to the World Junior A Challenge to prepare him for next year's World Juniors.
Defensemen
Vinny Borgesi, RHD, Northeastern: Undrafted, but certainly not unnoticeable in camp, Borgesi got more comfortable with each passing day. He's a 5-foot-8 mobile puck mover, which unfortunately for him is something the U.S. already has a lot of. Borgesi did not score any points in camp and didn't make as much of an offensive impact. It's hard to see him being in the mix for the final roster, but he at least proved he belonged in the camp with his play.
Garrett Brown, RHD, Denver (WPG): USA needs size on the back end and Brown could be an option for them. Defensively and physically, he provided plenty of value in camp. With the puck on his stick, however, he seemed to struggle. The pace at which plays have to be made challenged a number of USA's less-experienced defensemen and Brown was no different. He fits a size need, but I don't know if he's quite ready for the World Junior level yet. Either way, the World Junior head coach gets to look at him every day in practice as Brown is heading to Denver to play for USA head coach David Carle.
Hunter Brzustewicz, RHD, Kitchener Rangers (VAN): As camp progressed, Brzustewicz made himself much more noticeable with his defensive play. He didn't produce any points in camp, but I liked the way he defended and how he was able to block shots and break up plays. That's something that can keep him in the mix, but USA has a lot of right-shot options that might have to be placed ahead of Brzustewicz. I think he could still be worth a camp invite in the winter, depending on how he looks in the first half.
Zeev Buium, LHD, Denver (2024): Buium had some good moments in camp as his puck-moving capabilities are strong. He got some power play time in camp and handled himself well in that role. I could see him making the team as a seventh defenseman and power-play specialist, but I also don't think USA is going to try to force him in there given how many guys like Buium they have already. He had a goal in the camp and I think kept himself on the radar for a depth role.
Seamus Casey, RHD, Michigan (NJD): Though Casey didn't produce, he was a threatening player. I don't think Casey played his best in camp, but I also still thought he was among the best defensemen in USA's mix. He's a tremendous skater, defends well and he can make an awful lot of plays through the neutral zone. He's a lock for the final roster and USA will need him to step up into a substantial role after he was on the team but didn't play last year.
SHOWTIME! Florida native Seamus Casey and it's 1-1#GoBlue pic.twitter.com/1EP7R5TqH9

— Michigan Hockey (@umichhockey) April 7, 2023
Ryan Chesley, RHD, Minnesota (WSH): Probably USA's No. 1 right-shot defenseman, Chesley is going to log a lot of minutes for USA come December. He had a strong camp, playing physical and moving pucks well. His status for Team USA was never in doubt, but we did see in camp just how much they're probably going to have to lean on Chesley.
Jackson Dorrington, LHD, Northeastern (VAN): As one of the bigger left-shot blueliners in camp, Dorrington had a pretty good opportunity in front of him to help bring USA some balance to the blue line. Dorrington did manage to pick up two assists, moved pucks fine and defended adequately. That said, the pace of the games did get to him occasionally. It may have been more about the role he was asked to play, but he became less noticeable as camp wore on and it made me question how good his chances were to be part of the final roster.
Tyler Duke, LHD, Michigan: As a guy who has been part of USA's 2004 birth year at the NTDP and seems to play well with the guys he is familiar with, Duke at least has a shot. But he also falls into that category of undersized puck-mover who can skate. Maybe Duke can be an option for a seventh defenseman and play in spot duty, but there may be a few better options that bring a different element. That said, I liked Duke in camp for the most part. He had just one assist, however, and I think if he's going to be part of the group, he has to produce.
Paul Fischer, LHD, Notre Dame (STL): Fischer had a good enough camp for me to put him on my USA projected roster. You know what you get with him. There's not a ton of offense, but he can kill penalties, play solid defense and he can play the body, too. He's a little bigger than some of the other guys they have available and the predictability he provides I think helps. Fischer did score one goal in camp and if he makes the team, I think it's as a bottom-pairing option.
Paul Fischer (STL) opens the scoring for Team USA with a rocket from the high slot. Shout out to the hard work by Oliver Moore (CHI) on the play. #WJSS pic.twitter.com/D3pjcwLTN9

— Ryan Sikes (@ryan_sikes10) August 1, 2023
Drew Fortescue, LHD, Boston College (NYR): Fortescue has size and really good mobility, which the U.S. is going to need. With so many natural puck-movers, they need guys that can play sturdy defense and I think Fortescue could be one of the guys they look to for that. He doesn't have a lot of flash in his game, but he played solidly in camp and helps bring a little balance to the blue line. He finished camp with two assists and landed a spot on my projected U.S. roster.
Lane Hutson, LHD, Boston University (MTL): Team USA's No. 1 defenseman with a bullet, Hutson is probably going to have to play substantial minutes, run USA's top power play unit and play in a lot of key offensive situations. His puck skills are off the charts and while he lacks size, he doesn't lack a willingness to defend and get in the way. The puck on is stick is always a threat to the opposing team.
Charlie Leddy, RHD, Boston College (NJD): A solid shut-down defender who plays a steady, dependable brand of hockey, Leddy has a chance to make the roster. He could be used in key matchups and be looked to as a guy that can shut the opposition down. That said, his ability to move pucks lags behind other options. I just don't know if he's versatile enough among the other right-shot guys they had in camp, but his familiarity with this group and willingness to defend is not going to be overlooked either.
Jake Livanavage, LHD, North Dakota: He took a few days to get his feet under him, but Livanavage was able to hold his own. As a guy that can move pucks up ice and skate well, he had a few flashes of what he could be for this team. Ultimately, I think this is a step a little too high at this particular moment for the player. He does a lot of things USA already has in more familiar players and I just don't see a fit for him on the U.S. roster.
Eric Pohlkamp, RHD, Bemidji State (SJS): One of the real pleasant surprises in camp, Pohlkamp asserted himself offensively and defensively. He's a 5-foot-10 defender, but plays a sturdy, physical game. He has a great shot and scored one goal in camp to go along with an assist. As a right-shot player who can be a positive player at both ends, I think he played himself onto the roster barring an abysmal first half at Bemidji. He does a little bit of everything and came into camp ready to play whatever role that was needed.
Former @BrainerdHockey and future @BSUBeaversMHKY defenseman Eric Pohlkamp was drafted by the San Jose Sharks in Round 5, Pick 132.

USHL Defenseman of the Year this past season in Cedar Rapids. Also has one heck of a dad in Joe Pohlkamp: https://t.co/OWxT8ZsiN7 pic.twitter.com/yAGT7Hdoaq

— Chaz Mootz (@ChazMootzTV) June 29, 2023
Sam Rinzel, RHD, Minnesota (CHI): I really liked Rinzel's start to camp, but I didn't think he finished strong enough. As USA's biggest defenseman and a gifted skater for a player at his size, USA needs Rinzel to be consistent and reliable. Puck management is going to be a real key for him going forward as there were too many poor decisions with the puck. With his skill, size and mobility, however, I think there's still upside to taking him as part of the team and managing his minutes. I had him on the projected roster, but only barely.
Zach Schulz, LHD, Wisconsin (NYI): A gifted defender who was the captain of the U.S. Under-18 Team that won gold in the spring, Schulz has a chance to be part of the group. He's really only giving you defensive value, though, with limited puck moving capabilities. He showed throughout camp that he can match up with top players and help shut them down. I just don't know if there's enough versatility to slot him into the roster. Still, he's one of those players that probably kept himself in the mix.