2024 IIHF World Junior Championship
2024 World Juniors: Team USA Projected Roster Following Summer Showcase
2024 World Juniors: Team USA Projected Roster Following Summer Showcase
How Team USA's roster could look at the 2024 IIHF World Junior Championship based on the recent World Junior Summer Showcase.
Aug 7, 2023
by Chris Peters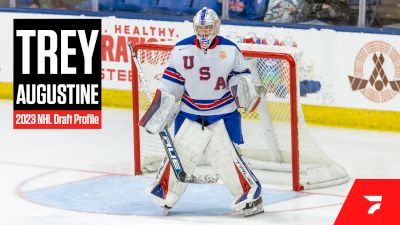 PLYMOUTH, Mich. – Building a roster for the 2024 U.S. National Junior Team is going to provide several challenges, both in great ways and some not-so-good ways. The World Junior Summer Showcase made a lot of decisions easier and some probably got a little harder. The good news is for the staff that the roster has potential to be explosive offensively and there is depth to pull from in multiple positions.
World Junior Summer Showcase Top Performers: Team USA | Finland, Sweden
I spent the last week watching games and practices at the World Junior Summer Showcase and tried to get insight into the process of selecting this team from observing. Two things became abundantly clear.
First, the pool of forwards available to the U.S. is about as deep as I've ever seen it. Exceptional players are going to get cut from this roster. It happens every year, but this year, there are probably going to be more and better players than they've cut in previous tournaments. That's a great problem to have. You can't have too much scoring and this roster, no matter the configuration, should be able to score a lot.
Second, the defensive depth is the opposite. USA is going to have a hard time building a balanced blue line in terms of size and capabilities. They have several puck-moving, mobile defenders that are under 6-feet, and the question becomes how many of those kinds of players can you have. The gap between the forwards and the defensemen in this group is substantial, but returnees Lane Hutson, Ryan Chesley and Seamus Casey all should figure prominently in mitigating the lack of depth by eating some bigger minutes.
Still, if there's one position that is less clear than it was before, it's the defense. Not enough non-returning players established themselves in a way that would allow the staff to feel strongly about what's available to them for the tournament.
ALSO READ: World Junior Summer Showcase Daily Evals Day 1 | Day 2 | Day 3
So, after spending the week at the World Junior Summer Showcase, here's a look at how I think USA's roster could shake out. Take note, however, that I am purposely excluding players that were not part of this camp. I think the U.S. staff will continue to cast a wide net and evaluate players that were not part of this group for inclusion on the final roster.
Most U.S. World Junior teams include a player on the final roster that was not part of the summer camp.
Also note that USA can bring 25 players with them to Sweden. A maximum of 23 can be on the roster and if the team rosters 23 at the outset, they can only make replacements in the event of injury or illness. With that in mind, we're using 14 forwards, eight defensemen and three goaltenders as the selection group.
Forwards
Cutter Gauthier (PHI) – Will Smith (SJS) – Jimmy Snuggerud (STL)
Rutger McGroarty (WPG) – James Hagens (2025) – Ryan Leonard (WSH)
Isaac Howard (TBL) – Frank Nazar (CHI) – Gavin Brindley (CBJ)
Danny Nelson (NYI) – Charlie Stramel (MIN) – Gavin Hayes (CHI)
Cole Knuble (PHI) – Oliver Moore (CHI)
On the bubble: Quentin Musty (SJS), Gabe Perreault (NYR), Devin Kaplan (PHI)
One thing to keep in mind with this forward grouping is that Logan Cooley (ARI) is still eligible for the tournament. The Arizona Coyotes have traditionally allowed their rookies to compete in this tournament, doing so with Dylan Guenther last year and Barrett Hayton in 2020. Should Cooley become available, it would potentially knock someone on the projected roster out. USA probably won't know if they get him until close to the time they announce the pre-tournament camp. Also, there's still a good chance that Cooley has a great start as a rookie and does not become available.
With or without Cooley, the forward group is truly impressive. The fact that I couldn't find room for Gabe Perreault speaks volumes about the depth. But there's still a chance a guy like Perreault could make it, especially if someone like Isaac Howard doesn't perform as well in the first half. The door would be open. In this configuration and based on camp, I thought Perreault might be a bit redundant to what they already have and there are some wings who can do a bit more off the puck as well.
This lineup also suggests that Cutter Gauthier plays on the wing instead of the center. That's less about Gauthier and more about the depth of the center position and the way that the other players can drive play while playing down the middle and you're able to add another player from one of your positions of greatest strength.
Young James Hagens, based on his camp, belongs somewhere on this roster. If he can drive a line like he showed was possible among the top forwards and help make them better, he might even be a top-six guy. Only 11 players have played for USA in their draft-minus-one season, but Hagens is starting to look like a good bet to be the 12th as he is not draft eligible until 2025.
Basically, USA's top nine should all be viewed as offensive catalysts. The fourth line still has scoring pop as well, but they've also got a lot of size. USA always wants defensively responsible players, but they have a lot of those throughout their lineup. Based on the camp Cole Knuble had, he can play all over that lineup, as could an Oliver Moore. That said, I think USA would do well with a heavy line that could be Danny Nelson, Charlie Stramel and Gavin Hayes. You could also potentially throw in Quentin Musty in that mix as he had a strong showing in camp and may provide additional scoring pop at the bottom of the lineup.
This is about as balanced a group as you could ask for. They have size, they have skill, they have speed, there's some heaviness and there are so many players that know how to score goals.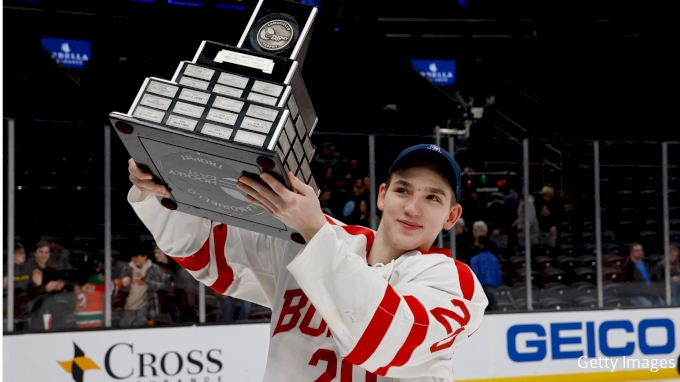 Defense
Lane Hutson (MTL) – Ryan Chesley (WSH)
Drew Fortescue (NYR) – Seamus Casey (NJD)
Paul Fischer (STL) – Eric Pohlkamp (SJS)
Zeev Buium (2024) – Sam Rinzel (CHI)
On the bubble: Tyler Duke, Hunter Brzustewicz (VAN), Charlie Leddy (NJD)
Alright, so here we are. This is where some of the problems present themselves. USA has a lot of skill, they don't have a ton of size and they don't have a ton of depth.
Lane Hutson and Ryan Chesley are locks to be the top pairing. After that, except for Seamus Casey certainly being part of this team, there's question marks all over.
Both Drew Fortescue and Paul Fischer are going to be 18-year-olds, but play a defensively responsible game. They don't give you much by way of offense, but you can throw them out there in a variety of situations. Additionally, Fortescue would be one of the bigger defensemen overall.
Eric Pohlkamp had a strong Summer Showcase. He defends well and plays an abrasive game despite not being a big guy. He also played on the power play at times and his shot is a weapon. I think he secured a spot barring other needs arising for this team.
Zeev Buium is heading into his draft year as a late 2005 birth year, but he has some dynamic elements and would be a power-play option if they need one. That said, between Hutson and probably Casey or Pohlkamp, those spots are spoken for. I could see Buium or perhaps Tyler Duke as an extra defenseman as a just-in-case guy.
Sam Rinzel is one of those guys that USA kind of needs, but I don't know that he solidified anything for himself in camp. He's the biggest defenseman, a graceful skater and he's got some skill. But his puck management waned as the camp wore on and you wonder if he's ready to take the step. I like the player and I think the opportunity is there for him to seize it, but he's got to prove himself in the second half.
This is what I think the blue line could look like now, but USA's brass is going to need to watch a lot of the first half of the season to really drill down what their defense ultimately looks like. The race is far from over for as many as four of the spots on the roster and I think there's going to be a number of players who were not in the summer showcase that have a chance to make this team including a couple of players from the current U.S. National Under-18 Team like Cole Hutson or Will Skahan.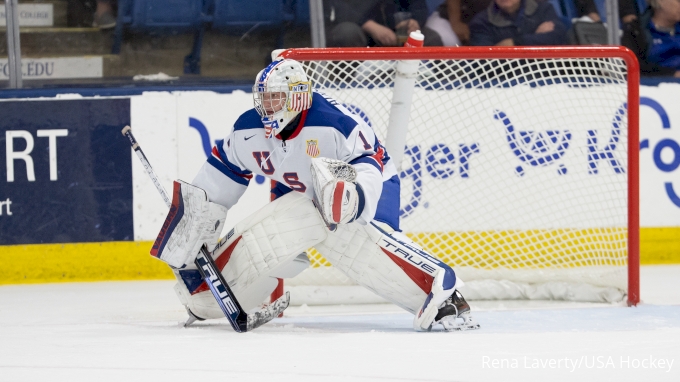 Goaltenders
Trey Augustine (DET)
Jacob Fowler (MTL)
Tyler Muszelik (FLA)
Bubble: Hampton Slukynsky (LAK), Andrew Oke
Goaltending is not much of a concern for USA. They have plenty of belief in incumbent starter Trey Augustine and Jacob Fowler is probably no worst than a 1B option for this team as opposed to a true backup. The real battle is for the third goalie.
Tyler Muszelik gets the nod despite a very rough outing to close out his camp, mainly because he's a veteran player with his last chance. Meanwhile, I think Hampton Slukynsky has a real chance to make Team USA. He was the third-best goalie based on performance in camp, but he still has a year of eligibility and my bet is that USA would prefer he get the experience at the World Junior A Challenge in the winter just as Jacob Fowler did last year to great results.
There's also the option of bringing back Andrew Oke for his third World Juniors in the role he's played in each of the previous two. Regardless, if the third goalie decision is your hardest to make at this point in the process, that's a great place to be.