2024 IIHF World Junior Championship
World Junior Summer Showcase: Team USA Top Performers Led By Hutson, Nazar
World Junior Summer Showcase: Team USA Top Performers Led By Hutson, Nazar
Chicago Blackhawks prospect Frank Nazar and Montreal Canadiens pick Lane Hutson were among the top performers for Team USA in Plymouth.
Aug 4, 2023
by Chris Peters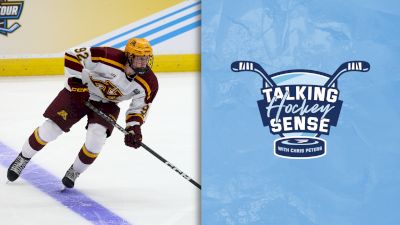 PLYMOUTH, Mich. -- The 2023 World Junior Summer Showcase was just that, a tremendous showcase of high-end talent with many of the best players under the age of 20 in the United States on hand. The U.S. split its roster in two, White and Blue, while trying to evaluate candidates for the 2024 IIHF World Junior Championship.
ALSO READ: World Junior Summer Showcase Daily Evals Day 1 | Day 2 | Day 3
The Americans will be led by head coach David Carle at the tournament, who was on the bench for most of the games as Team USA's split squad teams went head-to-head with teams from Sweden, Finland and each other. Carle will have a lot of tough decisions to make when they put the final roster together in mid-December.
Team USA will hold an additional evaluation camp with fewer players in Plymouth about two weeks before the World Junior Championship. However, among the 45 players that were in Plymouth, I wanted to point out some of the top performers of the week who I thought stood out among their peers or perhaps gave themselves a better chance to be on the final roster if they weren't locks already.
Team USA Top Performers
Lane Hutson, D (Montreal Canadiens): He might have been the best player on the ice in most of the games he played. His skill, touch on the puck, decision making and elusiveness allow him to dominate in this age group. He finished the event with five points including a pair of goals, one of which was absolutely spectacular as he exploited the inability for defenders to decide how to play him. Hutson's ability to move pucks up ice and be a weapon in transition will make him one of USA's most critical players at any position at this year's World Junior Championship.
Lane Hutson just scored one of the most ridiculous ones we've seen him pull off.

6-0 USA. pic.twitter.com/dQm2rKqLUV

— Steven Ellis (@SEllisHockey) August 1, 2023
Frank Nazar, C (Chicago Blackhawks): Nazar led all players with eight points in four games at the World Junior Summer Showcase, eliminating all doubt that there were any lingering concerns over his missing most of last season with injury. Nazar played with pace, was decisive with the puck and made plays all over the ice. He was a scoring chance machine throughout the event, whether he was creating them or setting them up. He had a five-point night in USA's stunning 10-1 win over Sweden, highlighted by four goals. As teammate Rutger McGroarty (WPG) said, "Frankie's back, baby!"
Cutter Gauthier, C/W (Philadelphia Flyers): A one of USA's key returnees, Gauthier's maturity and strength were noticeable in this event. He's confident and feels like he should be a dominant player, so he plays the game hard, fast and with plenty of skill. His scoring ability makes him a continual threat. But he really had that competitive edge here, too. There just aren't many puck battles he's going to lose and he can create in the blink of an eye when he does have the puck. Gauthier played both center and wing in the event and it didn't seem to matter which one he played. Either way, he made an impact on his team, with four goals and an assist in the tournament.
Will Smith, C (San Jose Sharks): Dynamic, creative and productive, like usual. He finished the event with five assists and set up a boatload of chances that either got stopped or that his linemate couldn't finish. Smith showed that he can play with anyone, any time, as he rarely played with his natural linemates from his U18 year. Smith makes mostly positive plays with the puck on his stick and has a chance to be the team's No. 1 center if it is decided Gauthier is a better fit on the wing.
Jimmy Snuggerud scores his first of the showcase! Vinny Borgesi dumps the puck in around the end boards, with Will Smith feeding Snuggerud. 4-1 #WJSS pic.twitter.com/M5uEjEZrt9

— Ryan Sikes (@ryan_sikes10) August 3, 2023
Ryan Leonard, RW (Washington Capitals): Leonard probably should have had more points based on the chances he generated, but he did get a goal and four assists over the course of the event. His powerful game, speed and quick hands allowed him to make threatening plays in the offensive zone consistently. Meanwhile, Leonard played his abrasive, physical game that made defensemen uncomfortable. He's a handful to play against in so many different ways.
Seamus Casey, D (New Jersey Devils): As a returning player, though Casey did not play in the WJC as an extra defenseman, much was expected. I think Casey over-delivered, though. He played physical, he was skilled and he defended well. Casey is an excellent skater who has built strength and is becoming sturdier as a result. His defending has always been of a good quality, but now more of the offensive elements of his game are coming to the forefront, but he did finish the event with just one assist in three games.
James Hagens, C (2025): The youngest player in camp may have just kept himself high on the list of candidates with his performance in camp. On the final day of the event, USA's coaching staff put him between returnees and first-round draft picks Cutter Gauthier and Jimmy Snuggerud. The youngster more than held his own, making skill plays and even helping set up a goal for Gauthier late in the game. Hagens is so confident with the puck and showed he can drive a line despite not having tremendous size or strength. He just plays and there's no fear in his game. Not draft eligible until 2025, there's a real chance he'd make this team at this young age and no one should bat an eye at it.
Seamus Casey to James Hagens, back to Casey and then Cutter Gauthier scored to make it 3-2. #WJSS pic.twitter.com/l1offGwie0

— Steven Ellis (@SEllisHockey) August 4, 2023
Ryan Chesley, D (Washington Capitals): With solid defense, good physical play and good mobility, Chesley looks like a much better player than he did at this time last year as his game has matured. Based on how big a role he'll have at Minnesota and the way he played here, there's little doubt he'll be on USA's top pairing for this tournament alongside Lane Hutson.
Cole Knuble, C/W (Philadelphia Flyers): He played hard, aggressive hockey and was able to produce as well. USA consistently used him on the penalty kill and power play to find out if he can find a role on this team. Whether he did enough is not really in question. What will be is if there's enough room and if there's a role he can play on this team. The forward group is so deep, but Knuble's versatility at least gives him a chance.
Eric Pohlkamp, D (San Jose Sharks): I thought Pohlkamp may have helped himself in this camp more than any of the other defensemen not among returnees to the team. He played sturdy, physical defense, got some time on the power play and showed off his powerful shot a few times. Pohlkamp was not a player I thought necessarily would make this team, but the future Bemidji State blueliner has to have kept himself in the mix. If he has a good first half, I think he's in the December camp with a real chance to make the team. USA needs some size on their back end, but they also need some jam and Pohlkamp brings that.
Gavin Hayes, RW (Chicago Blackhawks): Another pleasant surprise in camp, USA put Hayes in more of a depth role at times, but no matter his role, he played an effective, heavy game and was a handful at the net-front. His abrasive style in the dirty areas, along with quick hands, makes him a tougher player to play against and the U.S. needs a little more of that with the depth of skill and scoring up front.
Oliver Moore, C (Chicago Blackhawks): I initially wasn't going to include Moore on this feature because I thought he had a slow start to camp, but after his final game during which he scored two goals, he showed that he simply progressed day over day. He finished camp with three goals and an assist and while he wasn't much for driving play, he was solid at finishing them. His speed was a lot to handle and I think that, plus his willingness to defend and play on the PK could get him in the mix for a spot. I don't think he guaranteed himself anything, but he's better positioned now.
Oliver Moore is gonna be a friggin' PROBLEM for the other 31 NHL teams #Blackhawks #WJSS pic.twitter.com/fNFXbpd7Tw

— Mario Tirabassi (@Mario_Tirabassi) August 4, 2023
Rutger McGroarty, LW (Winnipeg Jets): There's a very real chance McGroarty is this team's captain come December. A returnee with experience, aggressive play and improved skating, McGroarty is tapping into more and more of his game. He finished the event with five points in four games and always seemed to be around it. McGroarty is playing with a bit more jump in his stride and while it still isn't a strength, I don't think it's going to hold him back much at this level.