NCAA DI Men's Hockey
World Junior Summer Showcase: Cutter Gauthier, Gabe Perreault Star On Day 3
World Junior Summer Showcase: Cutter Gauthier, Gabe Perreault Star On Day 3
New York Rangers prospect Gabe Perreault and Philadelphia Flyers pick Cutter Gauthier each had a goal and assist at the World Junior Summer Showcase.
Aug 2, 2023
by Chris Peters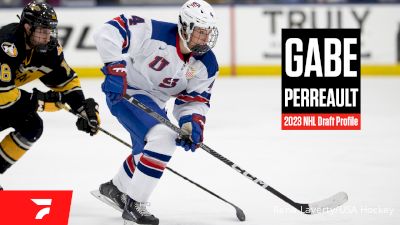 PLYMOUTH, Mich. – It was a unique day at the World Junior Summer Showcase as European combatants Sweden and Finland went head-to-head and both USA squads squared off against each other. The result was two spirited games that probably gave the coaching staffs of all teams a lot to think about.
In an early-afternoon contest, Sweden outlasted Finland, 3-2, in a game that had some physicality and not a ton of room to move. In the nightcap, USA White rolled past USA Blue, 7-3.
Plenty of players had intriguing performances, many of which are detailed below.
ALSO READ: WJSS Standouts Day 1 | WJSS Standouts Day 2
World Junior Summer Showcase Day 3, Game 1
Final Score
Sweden 3, Finland 2
Goal Scorers: Anton Wahlberg (BUF), Isac Born, Axel Sandin Pellikka (DET); Sam Bau (ARI), Jani Nyman (SEA)
Lineups
Here is how we kick off the day at the World Junior Summer Showcase. Sweden vs. Finland. pic.twitter.com/e5d9uExsGh

— Chris Peters (@chrismpeters) August 2, 2023
Player Notes
Sweden
Axel Sandin Pellikka, D (Detroit Red Wings): After a so-so performance in his first game of the event Monday, Sandin Pellikka was on his game Wednesday. He scored a goal on a tremendous rush and move to the inside before unleashing a quick shot past the goaltender. He played with pace, directed a ton of pucks to the net and was strong on his skates in his own zone. He's excellent at getting pucks up ice. His skating ability and strength on his feet make him a much more forceful player despite being below-average in size for defensemen. He was a factor throughout the game.
Axel Sandin Pellikka just scored one of the best goals of the World Junior Summer Showcase. 3-1 Sweden. #WJSS #LGRW pic.twitter.com/sNuujSOv4y

— Steven Ellis (@SEllisHockey) August 2, 2023
Otto Stenberg, LW (St. Louis Blues): Stenberg was noticeable most of the game, playing a quick, competitive game with skill. He set up Sweden's first goal with some creativity, cutting into the zone and through the defense while taking a few defenders with him to leave space for Anton Wahlberg, who put a shot past the goalie. Stenberg is wearing a letter in this camp despite being one of Sweden's younger guys. He plays with a lot of confidence and has a good motor.
Elias Salomonsson, D (Winnipeg Jets): I continue to be impressed with the overall improvement of Salomonsson's game, his commitment to playing physical hockey and the reads he's making. He is skating well and has stopped a few rushes dead in their tracks with his ability to close gaps quickly. He looks bigger and is playing bigger than I've seen him in the past and looks like he could be a key defenseman for Sweden if he keeps this up.
Zeb Forsfjall, C (Seattle Kraken): I've always liked the compete Forsfjall plays with and I thought that has been evident. He has played on Sweden's PK and has been good on the forecheck. I like how he battles through checks and finds ways to get to good ice through contact. There's just no backing down in his game.
Linus Hemstrom, RW (Undrafted): A late invite to camp, Hemstrom has done a good job of making himself noticeable. He's a good skater who has the pace to pressure defensemen on the forecheck and there's enough skill for him to make himself dangerous. He's heading back to Kingston in the OHL next season where there should be an expectation he produces more and plays a bigger role. I was impressed with what I saw today.
Calle Odelius, D (New York Islanders): Odelius is a steady, reliable player with excellent mobility. He cut off a few plays and made some smart reads overall. His ability to close gaps and kill plays on the wall was evident. He also took a few good rushes up ice and makes a good first pass to get out of the zone. There's probably more offense to unlock in his game, but he should be a fixture on Sweden's blue line come December.
Fabian Wagner, C (Winnipeg Jets): A good motor and work ethic have been hallmarks of Wagner's game and that was plainly evident again in this game. He backchecks very well and can help disrupt plays. He also had a few glimpses of his skillset with the puck. He doesn't get you out of your seat, but he makes an impact on the game.
Finland
Niklas Kokko, G (Seattle Kraken): He did everything he could to give his team a chance to win. He made 31 saves in the game and was spectacular through the first two periods. His team was badly out-shot and he made as many saves as he could. He's such a big goaltender, but plays contained and keeps things under control. It is rare you'll see him lose his net and be out of position.
Jani Nyman, LW (Seattle Kraken): Nyman was consistently noticeable in the game due to his size and skill. He had the puck a lot and tried to make some plays. Nyman scored a power-play goal on a heavy one-timer. He also played with a little more jam, which is important at his size. He was involved in a lot of things on a day where Finland had a hard time getting it going.
Jani Nyman brings Finland back within one with this shot on the PP.

Nice goal for the Seattle Kraken prospect. 3-2. #WJSS pic.twitter.com/y3YbJOaxOn

— Steven Ellis (@SEllisHockey) August 2, 2023
World Junior Summer Showcase Day 3, Game 2
Final Score
USA White 7 - USA Blue 3
Goal Scorers: Cole Knuble (PHI) – 2 goals; Cutter Gauthier (PHI); Zeev Buium (2024), Gabe Perreault (NYR), Jimmy Snuggerud (STL), Cole Eiserman (2024); Oliver Moore (CHI), Isaac Howard (TBL), Quinn Finley (NYI)
Lineups
Here is how USA Blue and White will line up today at 4 pm. No Trey Augustine (DET), Ryan Chesley (WSH), Seamus Casey (NJD) or Lane Hutson (MTL). All getting the day off to give other players longer looks. pic.twitter.com/jQtkgwTGB0

— Chris Peters (@chrismpeters) August 2, 2023
Player Notes
USA White
Cutter Gauthier, C/W (Philadelphia Flyers): With a goal and an assist, Gauthier continued to look good in camp. He didn't play as much as the game wore on, presumably to get other guys more looks, but he had a solid day. Gauthier scored USA White's first goal on a laser off the faceoff. His speed and athleticism stand out in every game.
Will Smith, C (San Jose Sharks): Smith had a casual two assists because it seems like that's the minimum we can expect from him in a game. He made a couple of solid plays, winning a faceoff clean to Gauthier and giving a no-look one-touch pass to Jimmy Snuggerud for his goal. USA basically put Smith in the exact spot as Logan Cooley had at the last World Juniors, playing between Gauthier and Snuggerud. Could that be USA's top line? There's a chance Gauthier slides back to center, but this was an interesting experiment nonetheless.
Jimmy Snuggerud, RW (St. Louis Blues): Snuggerud has been quiet on the score sheet, but he has not been quiet in terms of impact. He scored another goal today and was a consistent threat. He plays big and is hard to knock off pucks.
Cutter Gauthier to Will Smith and Jimmy Snuggerud.

USA White leads 4-1. #WJSS pic.twitter.com/1tY3RB8xAr

— Steven Ellis (@SEllisHockey) August 2, 2023
Gabe Perreault, LW (New York Rangers): With a great pass for a primary assist on Zeev Buium's goal and a high-skill goal of his own, Perreault put a stamp on the game by playing up to his capabilities. He did a good job of fighting through checks, too. His soft-touch skill and vision are a deadly combination.
Hunter Brzustewicz, D (Vancouver Canucks): I found myself taking a lot of notes about Brzustewicz tonight. He was quite solid defensively, blocking shots, killing plays and rushes for the opposition and generally making good decisions when he had the puck. He's a tremendous skater and his awareness in a very high-paced game was sound.
Eric Pohlkamp, D (Cedar Rapids RoughRiders): I thought Pohlkamp looked good at both ends of the ice. He plays an abrasive style despite not being a big guy and he was able to make some good plays with the puck on his stick. Though he didn't score, Pohlkamp has a heavy shot and uses it effectively.
Zeev Buium, D (2024): A highly-skilled defenseman with good mobility and creativity, Buium got on the scoresheet and was effective on the power play. He does well at the offensive blue line and finds his outlets quite effectively. His size may be the drawback considering USA has so many skilled, but smaller defensemen, but Buium looks like he belongs.
Tyler Muszelik, G (Florida Panthers): Exiting the game halfway through, as was previously planned, Muszelik had a very strong game. He stopped 15 of 16 shots he faced and was under pressure early and often. His ability to hold his ground and take away a lot of net on open looks was noticeable.
Cole Knuble, RW (Philadelphia Flyers): A two-goal night was Knuble's reward for playing another competitive game where he was on pucks a lot and getting to areas where it should be tougher to play. He had a net-front tip for one goal and crashed the net into traffic for another. His ability to get to the interior is a big reason his size has not really been much of a discussion, though it could be later as USA looks to find the right balance for its lineup. Either way, Knuble has given himself a chance.
Cole Eiserman, LW (2024): I've thought Eiserman's camp has been a little uneven. He's always a threat to score, which is what makes him such an impactful player, but he hasn't found other ways to impact the game as much. Today, however, he scored a beautiful goal, dragging around a defender and tucking it under the goalie to help his team pull further away. Though Eiserman is a great goal scorer, there are older players who have similar skills. He's going to have to make an impact in other ways to make this team.
Cole Eiserman, toe drag, backhand, goal. Love to see it. 6-1 USA White. #WJSS pic.twitter.com/joC7jEfC8b

— Steven Ellis (@SEllisHockey) August 2, 2023
Charlie Stramel, C (Minnesota Wild): Stramel had an up-and-down game, but there were some major flashes of his power game. I thought his puck management could have been better, but he did end up with two assists and helped create some turnovers and separation with his physicality. When his motor is running, he's a hard guy to stop.
USA Blue
Frank Nazar, C (Chicago Blackhawks): He ended the game with one assist, but Nazar was also a scoring chance machine. He routinely was able to get behind defenders and challenge goalies. He looks like he has his speed back and his anticipation skills are off the charts. Nazar looks more and more like a guy who can be part of this team after the questions surrounding his health have all but disappeared.
Ryan Leonard, RW (Washington Capitals): A power winger through and through, Leonard had a ton of chances and got a lot of good looks. He also had one of the game's loudest moments when he rolled over Eric Pohlkamp who was trying to body check him. It was a violent collision and Leonard certainly showed how hard he is to knock off the puck. There's been so much to like about the way he is playing.
James Hagens, C (2025): Hagens has skill for days and intelligence, too. His ability to get to the interior and create chances is at the same level many of the other top players are operating at. He's the youngest player here, but has nothing but confidence on the puck and has no hesitation in the plays he tries to make.
Oliver Moore, C (Chicago Blackhawks): He scored a goal and showed his speed throughout the game. Moore had a more noticeable game than he's had in the last few, but still hasn't created as much as I think he's capable of. That said, he takes advantage of the looks he gets and delivered a nice goal to open the game, showing a combination of his elite speed and high-end shot.
Rutger McGroarty, LW (Winnipeg Jets): You notice him every game he plays. There's abrasiveness to him, but he gets to the interior so well. McGroarty does so many little detail things well and even though he's not as quick as some of his opponents and teammates, he thinks the game a few steps ahead.
Quinn Finley, LW (New York Islanders): With a goal and an assist, Finley was opportunistic and showcased that skill of his that made him a high-end performer in the USHL. He is a longshot to make this team, but he's been able to hold his own and show that his skill translates among the best players in his peer group.