2024 IIHF World Junior Championship
World Junior Summer Showcase Evaluations: Team USA Forwards
World Junior Summer Showcase Evaluations: Team USA Forwards
Chris Peters evaluates every Team USA forward from the 2023 World Junior Summer Showcase including Cutter Gauthier, Will Smith, Cole Eiserman.
Aug 8, 2023
by Chris Peters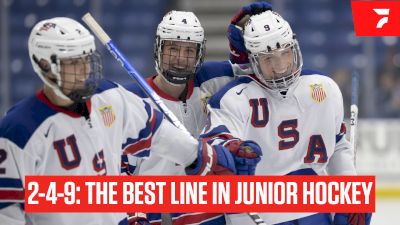 After spending last week in Plymouth, Mich., for the entirety of the 2023 World Junior Summer Showcase, one of the most common questions I get is about how "Player X" looks. We did some game-by-game evals for select players over the course of the event, but that doesn't always give you the full picture.
We already went over the top performers from Team USA, Sweden and Finland, and I offered my projected 2024 World Junior roster for Team USA. Still, I wanted to try to give you a better idea of how the camp played out as a whole, especially for the Americans.
In the end, these players will be evaluated on their first half of their seasons in addition to how they performed at the camp. Historically, however, having a strong camp in the summer put players more firmly into roster spots for the final team. It's the best chance the coaches have to see how a player works with others that are going to be part of the group. Plenty of questions remain, but the coaching staff got a lot to think about coming out of this camp.
USA had 45 players in camp including 24 forwards. I was able to watch every game and most practices of the camp and have plenty of thoughts based on what I saw there. So here are my brief player evals and my thoughts on their chances of making the final roster. Stay tuned for the evaluations for defensemen and goalies coming soon.
USA Player-By-Player Evaluations: Forwards
Gavin Brindley, RW, Michigan (CBJ): A spark-plug player who makes things hard on the opposition with his speed and tenacity off the puck, Brindley looked like a veteran. He did not score a lot, putting up two points over the four games, but he was noticeable.The great thing about Brindley is that he can play anywhere in the lineup. He can be a top-six wing or a fourth-liner and he's going to find a way to impact the game. I expect he'll also be among USA's top penalty killers.
Cole Eiserman, LW, U.S. National U-18 Team (2024): Eiserman scored two goals in the tournament and created some chances, but he didn't impact the games consistently enough to establish himself in camp. He'll continue to be monitored, but goal scoring is his best trait and there are a lot of guys who already do that on Team USA. Eiserman will need to provide more off-the-puck value and probably needs a bit more maturity in his game as well. At this point, I have him on the outside looking in for a roster spot, but still believe he's a special talent that is at least going to make the decision makers think about adding him.
Quinn Finley, C/W, Wisconsin (NYI): A highly-skilled forward with good elusiveness, Finley had some nice moments over the course of camp. He had two points, both in the same game. The forward group has tremendous depth and I don't think Finley established a defined role he could play for this team over the course of camp, but I'm sure he's in for a strong freshman campaign in college hockey.
Cutter Gauthier, C/W, Boston College (PHI): A leading player in camp and an offensive catalyst, Gauthier knows he's going to be one of USA's most important players. He carried himself like that in camp and certainly played like it as well with his full skillset on display. While Gauthier got some reps at center in camp, my bet is he will be a wing for Team USA to allow playmaking play-drivers take spots down the middle instead. Gauthier can absolutely play the center position, but his value is likely as a goal scorer for this team and he'll be freed up more for that on the wing.
We've got our 👀 on @NHLFlyers and @BC_MHockey's @cuttergauthier as USA White prepares to take on Sweden tonight at the 2023 World Junior Summer Showcase. pic.twitter.com/exrM4mncFB

— FloHockey (@FloHockey) July 31, 2023
James Hagens, C, U.S. National U18 Team (2025): Hagens does not have tremendous size or strength yet, but his game is huge. A dynamic playmaker who can get to the interior, he has zero fear in his game. Hagens routinely made plays and made those around him better with clever passes and drawing defenders to him to open things up for others. On the last day of camp, he played between Gauthier and Snuggerud and looked like he belonged. Only 11 players have made the U.S. World Junior team in their draft-minus-1 season. Hagens is right in the mix to become the 12th.
Gavin Hayes, RW, Flint Firebirds (CHI): I thought Hayes had a strong camp because he showed throughout the entire week that he can fit into a depth role. Hayes played a heavy game, showing good offensive potential and being difficult to play against down low. If he makes the team, he's probably playing on the fourth line in limited minutes, but he seemed to be among the non-returners that showed he can play a real role on the team and he had three points in camp, showing an ability to produce.
Isaac Howard, LW, Michigan State (TBL): For the first time in probably a year or maybe more, Isaac Howard looked more like the guy we saw in his draft season. He played skilled, competitive hockey and really clicked with old linemate Frank Nazar, showing some built in chemistry. Howard is not a lock for the roster, but he's in a better position now and a strong first half puts him in the mix. I think his biggest competition is going to be Gabe Perreault, who has similar playmaking skills, though Howard probably has a slim advantage in skating. Howard had five points in camp, made a ton of creative plays and looked as confident with the puck as we've seen him in a while.
Devin Kaplan, RW, Boston University (PHI): Kaplan is right on the bubble for this roster. Team USA probably wants to be heavier on 19-year-olds, but they also need guys with some size that can play a heavy game. I think he's got a real chance to fight for one of the fourth-line spots on this team. His hand skills are there, but he still needs to finish plays better to really put himself in position. A strong first half will give him a chance because he has that size the U.S. appears to want at the bottom of its lineup.
Cole Knuble, C/W, Notre Dame (PHI): I really liked Knuble's camp. He had three points, but more importantly, he showed he can play effectively in pretty much any spot. USA put him at center, they put him on the wing, they had him kill penalties and even got him some power play time with key players. He not only kept up, at times he was the most noticeable player on the ice. The only thing Knuble doesn't have is size, but I think he put himself firmly in the mix for a top-nine role with Team USA.
Cole Knuble appears to have tipped in this point shot and USA White leads 5-1. #WJSS pic.twitter.com/Ybi7xcoPnv

— Steven Ellis (@SEllisHockey) August 2, 2023
Ryan Leonard, RW, Boston College (WSH): With a heavy, skilled game, Leonard is the kind of player that gives the U.S. so much roster flexibility. I think he played like a top-six forward in the amount of chances he created, but he seemed a little snakebit in terms of finding the net. Still, Leonard is a difficult player to contain and he doesn't need much space to create thanks to quick hands. I thought Leonard consistently made an imprint on the game and belongs in a prominent role for this team.
Cruz Lucius, LW, Wisconsin (CAR): You never have to question the skill and offensive capability of Cruz Lucius. He made a number of evasive plays and created a bit throughout the tournament. That said, I think the pace of the games wore on him a little bit and he had a harder time find ways to impact the game, especially away from the puck. I don't foresee him carving out a role on this roster in the end.
Tanner Ludtke, C/W, Nebraska Omaha (ARI): Ludtke had one assist in camp and often played down the lineup. If he were to make USA it would probably be in a depth role, but I think there are players that are a better fit for that slot right now. Barring a big-time first half with Omaha, I don't see him as a fit for this particular group.
Cam Lund, RW, Northeastern (SJS): Lund was right in the mix to make this roster last winter, but this year's group is even deeper than the one he was competing for spots on last December. I think some of the younger players passed him up and while Lund provides size and some skill, I don't think he was making a lot of sound decisions with the puck and seemed a bit rushed at the pace this showcase was played at. I don't think he played his way off the team, but he's going to need a big first half to get back into position to challenge for a spot.
Rutger McGroarty, LW, Michigan (WPG): A returning player and likely top-six forward for Team USA, McGroarty had a solid week in camp. He'll be one of the leaders on the team and is part of the group of forwards that has the right mix of grittiness and skill that will make the U.S. a tougher team to handle up front. McGroarty is stronger and he looked quicker in camp as well, though skating is still not his greatest attribute.
Oliver Moore, C, Minnesota (CHI): After a slow start to camp, Moore finished strong both offensively and off the puck. His speed is a weapon, but his versatility is why he has a good chance at making this roster. He can play on the PK, play anywhere in the lineup and he's probably always going to be the fastest player on the ice. I thought he showed an ability to get into the good ice, fight through physical contact and when he had his chances, he buried them. I think Moore is still probably on the bubble due to the depth of this roster, but he made a strong case for himself for inclusion on the final roster.
Quentin Musty, LW, Sudbury Wolves (SJS): Musty closed out camp with a dramatic game-winning goal against Sweden, beating the buzzer by getting to the net and quickly slamming home the puck after it bounced off his shin pads in front. That was his only goal of the camp, but I thought Musty showed that if USA needs him to be a depth guy, he can probably do it. He was one of the bigger forwards in the camp and showed that heavy game can be utilized effectively. I just wonder if USA might have a few more guys that are a little more defensively responsible to play those limited minutes. Musty still has another year of eligibility after this. I think he's right there on the bubble for this year, though.
Heyoooo Quentin Musty 📸 pic.twitter.com/BUcZ3tFX08

— USA Hockey (@usahockey) August 4, 2023
Frank Nazar III, C, Michigan (CHI): He led the camp in scoring with eight points over four games, including a five-point night against Sweden during which he scored four goals. Coming off of injury last year and not quite looking 100% when he returned to Michigan's lineup, he looked a lot closer to 100% here. While USA doesn't have a ton of size down the middle, Nazar does everything you need a center to do. He can drive play, but he's defensively responsible, aggressive off the puck and good at the faceoff dot.
Danny Nelson, C/W, Notre Dame (NYI): I liked Nelson quite a bit in camp. He had the pace and played a good two-way game. He also seemed to find his role as a depth player for Team USA. He's got the size, the skating ability and the opportunity to chip in the odd point helps. Defensively, Nelson played a sound game and was disruptive to the opposition. That should only grow at Notre Dame, which gives him a real chance to play down the lineup.
Gabe Perreault, LW, Boston College (NYR): Perreault had his really good games and his not as noticeable games in this camp. I think he's still going to be a strong candidate for inclusion because his vision and playmaking ability are so exceptional, but I wonder if there's enough in his play off the puck that will allow him to impact games in more ways. That's the difference between him and some of the other options right now, at least in camp. Perreault still has a good compete level and the intelligence he plays with could make him a weapon. I think he's in a legit battle with Isaac Howard and possibly one or two others. His built-in familiarity with Will Smith and Ryan Leonard help his cause, for sure, but there will have to be more to him than that. I think he at least has to be in the December camp, but will still have to earn his spot.
Will Smith, C, Boston College (SJS): A dynamic play-driving center who can play with anybody it seems, Smith is a good candidate to be USA's No. 1 center if Logan Cooley remains unavailable. He looked good between Gauthier and Snuggerud. It seems like Smith is always going to have a few points here and there. He makes everyone around him better and makes defenders look silly on the regular. Smith finished camp with five assists.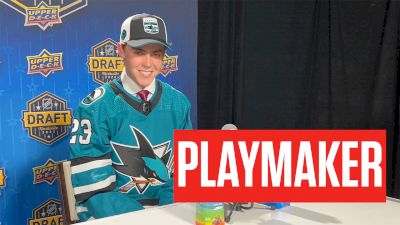 Jimmy Snuggerud, RW, Minnesota (STL): Though Snuggerud didn't put up big numbers in the camp, there's little doubt he is USA's No. 1 right winger and one of their most critical pieces. He has good two-way value and his scoring ability makes him a weapon. He'll be one of the key leaders on the team and should thrive with a good playmaker in the middle.
Charlie Stramel, C, Wisconsin (MIN): Stramel's camp wasn't particularly memorable. He had a few good moments, a couple of his trademark big hits and was a physical force in spurts. That said, his puck play left a lot to be desired and I thought there were one-too-many careless plays to the middle of the ice. I also thought Stramel's stride looked a little heavier. That said, based on his body of work and the way he played at the last WJC, I can't see any scenario where he isn't playing in his third World Junior Championship. He'd be the first to accomplish that feat in over a decade.
Carey Terrance, C, Erie Otters (ANA): Terrance was added to camp after the initial roster was announced and it was an astute addition. He played his role well, used his speed to create problems for the opposition and even had a few threatening offensive plays. Team USA's forward depth, however, probably doesn't leave Terrance enough room to make the roster. They've got some guys that give them a little more size and heaviness up front, but Terrance at least kept himself in the discussion with a good camp performance.
Will Whitelaw, RW, Wisconsin (CBJ): Whitelaw had three points in camp, played in a bunch of different spots in the lineup and more than held his own. I thought he brought the right amount of jam and showed his skill and skating ability throughout camp. Like many of the other guys among his birth year, there just might be a few better options among the 19-year-olds in camp that USA has more familiarity with. Whitelaw very well could get an invite to the winter selection camp, but I'm just not sure there's a defined role he can play on this team this year. He'll be a good option for next year, if nothing else. I thought he handled himself really well on the ice.