2023 Minnesota State vs Bemidji State - Men's
Minnesota State Hockey Still Has Eyes On The MacNaughton Cup
Minnesota State Hockey Still Has Eyes On The MacNaughton Cup
Teams like Minnesota State, Bemidji State, Ferris State and St. Thomas are still battling for home ice, and CCHA hockey honors, after five months of hockey.
Feb 17, 2023
by Tim Rappleye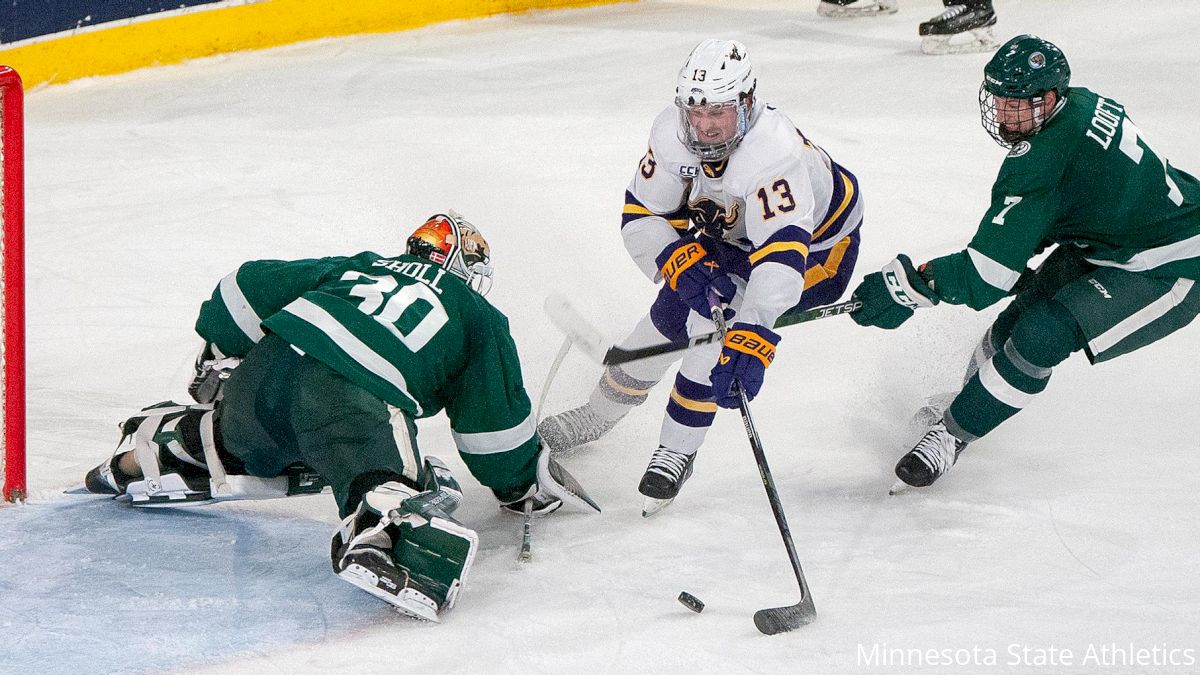 Week 20 of the CCHA has all the makings of golf's "Moving Day," the Saturday of the majors when the power brokers jockey for position. Whether they admit it or not, both Ferris State and Bemidji will be watching the out-of-town scoreboard as they jostle for that all-important fourth place perch to guarantee home ice in the CCHA tournament.
To a lesser degree, St. Thomas and Northern Michigan will be doing the same as the vie for sixth place, a chance to avoid the two nationally-ranked powerhouses sitting atop the conference. And oh, by the way, college hockey's most impressive trophy—the MacNaughton Cup—still hangs in the balance for 2nd place Minnesota State, eager to leapfrog idle Michigan Tech.
So, both Friday and Saturday will be moving day in the CCHA, as first, fourth and sixth place are all in play.
No. 13 Minnesota State Vs. No. 32 Bemidji State
This is a replay of last year's mind-bending CCHA championship game, and much has changed in 11 months. Bemidji lost a truckload of offense in the off-season, while MNSU waived goodbye to their once-in-a-generation goalie Dryden McKay.
Both squads have felt those effects throughout up-and-down campaigns, but the Mavericks appear to be rounding into championship form, and having dominated March the last two seasons, Minnesota State is hungry for more.
"Once you get that taste of championship hockey, you really can't get enough of it," Andy Carroll said in MNSU's mid-week presser. Caroll, a fifth-year senior defenseman, is hoping to get to his third straight Frozen Four.
"There's still a big chapter to be written."
His Mavericks are 9-1 in the new year and appear to have chased the demons that haunted them in the first half.
Bemidji State has emerged from a maddening four-game losing streak after dominating Ferris State 6-2 last Saturday. Their scoring suffered a terrible blow when Eric Martin was lost for the season, but senior Ross Armour returned just in time, and has powered in six goals in his last seven games.
Prediction: DraftKings has determined that Bemidji is a 1.5 goal underdog at home on Friday. The Beavers have superior goaltending in Mattias Sholl, and staking him to an early lead is an offer that should not be refused. Take the home team, but beware the empty-net goal.
Ferris State Vs. Northern Michigan
Both clubs have plenty to play for, Ferris the most of all, as they battle for home ice in the looming CCHA playoffs. Northern has been the most inconsistent team in the league, going from offensive juggernaut one day, to undisciplined penalty-takers the next, often in the same weekend.
This series, like so many others, boils down to goaltending. The Bulldogs' Noah Giesbrecht came down to earth Saturday, after briefly surpassing Blake Pietila in the unofficial save pct. race. Giesbrecht was chased from his net by a horde of hungry Beavers in their Big Rapids finale last weekend.
Northern rookie Beni Halasz has been handed the keys to the family car early this season and has never given them back. The freshman has made his case as team MVP.
Prediction: A determined Ferris squad will play two solid road games this weekend, putting a ton of pressure on Bemidji, as only one point separates the two squads for fourth. When the weekend is complete, Ferris should be in at least a tie for that final home-ice berth.
St. Thomas Vs. Lake Superior
College hockey is the longest season of any NCAA sport, and Tommies coach Rico Blasi has been whipping his team to win with will over skill for nearly five months.
They faltered last Friday, but regained their form the next night in dramatic form, beating Northern with a late goal. St. Thomas has won enough to know how much more rewarding victory is, while their talented opponent has adopted the habits of losing.
Prediction: Like Ferris, the Tommies will close a gap in the standings while playing on the road. St. Thomas should be tied with Northern for sixth place when moving day ends on Saturday.