2023 Bemidji State vs Bowling Green - Men's
CCHA Reasons To Watch: Bemidji Beavers Travel To Bowling Green
CCHA Reasons To Watch: Bemidji Beavers Travel To Bowling Green
Bemidji men's hockey will visit Bowling Green this weekend in a clash between two of the top CCHA programs.
Jan 11, 2023
by Tim Rappleye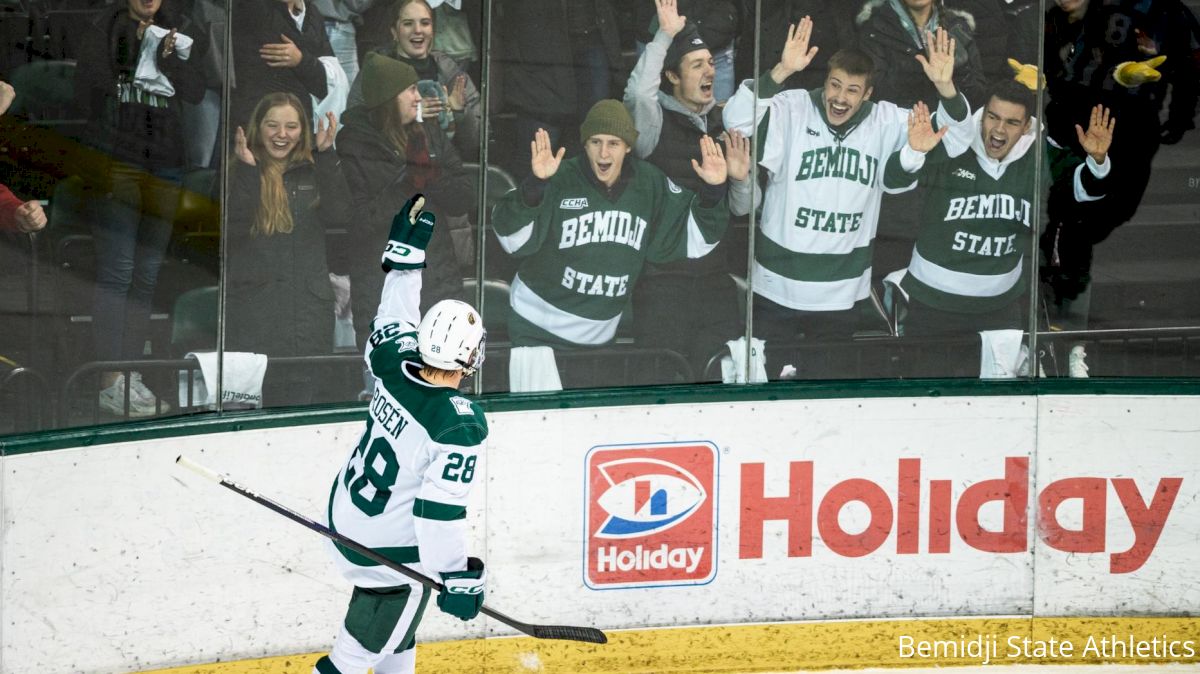 Reasons to watch the CCHA on FloHockey.TV this week: a pair of streaks under pressure at the Madhouse and a sleeping giant stirs in the Soo.
No. 22 Bemidji State Vs. No. 29 Bowling Green
* Streak alert **
Bowling Green's Austen Swankler has the nation's longest scoring streak at 14 games (27 points). He is soaring up the national scoring charts in both points and goals. This is a major reason to watch the team this weekend. His club is red-hot, leading optimists to cry . . .
"Break up the Falcons!"
The second half of the season has been quite sunny for Ty Eigner's troops, especially his offense. Over their last six games BGSU has averaged a robust four goals per game, and their power play is clicking at 41 percent—over double the national average. Thanks in large part to Swankler, they are basking in a four-game home winning streak. Falcon fans are once again filling the Madhouse on Mercer. Eigner has even mentioned the "Bleacher Creatures" in his last two post-game pressers.
There's just one caveat: all that home cooking has come against teams with a combined winning percentage of .284. Now the CCHA's iron is bussing down to Ohio, and the dance music on the stereo is about to skip and screech.
The best predictor of how a team will play is the company it keeps. Bemidji kept warm (metaphorically only!) over the holidays by playing their formidable neighbors within the State of Hockey.
In their last five games they have gone toe-to-toe with Duluth, the Gophers and Minnesota State, going exactly .500 (2-2-1). They are battle-tested and their armor is hardened by intense competition against teams from the two best conferences in college hockey.
There are plenty of reasons to watch Bemidji. They possess the CCHA's best rookie in Lleyton Roed, the best defenseman in Elias Rosen (apologies to Jake Livingstone) and the circuit's second-best goalie in Mattias Sholl (a nod to Blake Pietila). Every one of Tom Serratore's forest-green players has been indoctrinated into the coach's philosophy of personal sacrifice in their march toward post-season success, one series at a time.
Prediction: Road sweep for the men in green. Tight, entertaining games, but the Beavers will splash cold water on the Falcons.
No. 33 Ferris State Vs. No. 59 Lake Superior State
Moments after shutting out nationally-ranked Michigan Tech in mid-December, Lake State coach Damon Whitten presumed his 3-12-2 team was finally out of the woods and back to their winning ways.
"I'm a bit surprised it's taken this long," he said at the time.
Since that time, however, his Lakers have taken another dive, losing five in a row to drop their record to an unfathomable 3-17-2. They sit 14 games under .500, and rank 59th out of 61 Division-I teams in the Pairwise.
Whatever hope Lake State had of gaining an at-large NCAA tournament berth was scared off by Halloween. From the outside, one would think that this is a lost season up in the Soo, yet the outsider might be wrong. The LSSU Lakers may not be well, but they are alive.
Anyone watching last Saturday's game at Bowling Green will concur.
The Lakers endured two different three-goal deficits, but still clawed their way back into Saturday's game. They eventually pulled their goalie and generated quality chances to tie the contest with a minute to play. Whitten called a timeout and scribbled furiously on his white board. He was surrounded by elite talent: Louis Boudon, Harrison Roy, Logan Jenuwine, all captivated by Whitten's messaging.
The Lakers never managed to tie the game, suffering an empty-net goal with one second to play, but every coach in the CCHA knows that Lake State has a pulse. They have gobs of talent, an effective power play (three goals with the extra man in their two games with BGSU), and strong goaltending.
Over the past three seasons, Ethan Langenegger has proven he can steal Division-I games, and has never had a save percentage below .900. Lake State is the quintessential sleeping giant, and woe to the squad that takes them lightly.
This weekend, Lake State hosts Ferris State, a team that got to their first Great Lakes Invitational championship game over Christmas break by upsetting nationally-ranked Michigan State. The Bulldogs have two talented goalies and a sense of destiny. But they don't have anywhere near the pure talent of Lake Superior.
Hockey fans curious as to how a coach can keep his team engaged—despite habitual losing—should tune in to these games from Taffy Abel Arena. Most of those instantly recognizable names on the back of the blue and gold uniforms have gained home ice in the conference playoffs in each of the past two seasons, and played in the 2021 NCAA tournament
The consensus among CCHA insiders is that not a case of if, but when the Lakers will get untracked. The guess here, based on LSSU's compete level this past weekend, is that it will come sooner rather than later. For fans who like a good mystery, one that includes a pending plot twist, the Lakers are a fascinating study.
Prediction: Split in the Soo.