Men's CCHA Hockey
CCHA RinkRap: Blasi Creates St. Paul Monster
CCHA RinkRap: Blasi Creates St. Paul Monster
This past holiday weekend saw seismic shifts in the CCHA's tectonic plates this weekend, both at the top and bottom of the standings.
Nov 28, 2022
by Tim Rappleye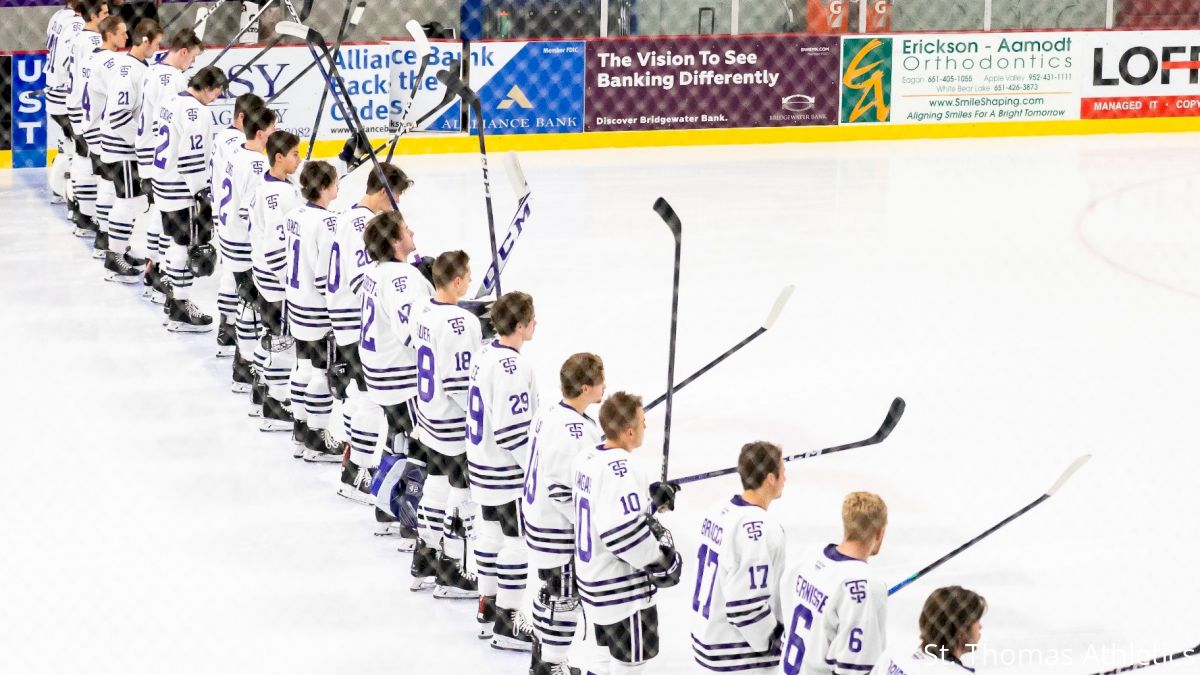 This past holiday weekend saw seismic shifts in the CCHA's tectonic plates this weekend, both at the top and bottom of the standings.
The Master Plan
In St. Paul this weekend, the velociraptor learned to turn a doorknob. Who can forget the terror that ensued in the film franchise Jurassic Park? Ditto the fans of St. Thomas hockey opponents, as it appears Rico Blasi is creating a monster in Minnesota's Twin Cities.
After a season full of agonizing near misses against the likes of Bowling Green, Penn State, Michigan Tech, and Minnesota State, Rico Blasi's Tommies swept a series for the first time in the school's history this past weekend. They shoved Lake Superior deep into the CCHA cellar, and have no intention of looking back, especially after the mind-numbing frustration they experienced to start the campaign.
Six gut-wrenching, one-goal losses would have sucked the life out of most teams, but Blasi's Tommies kept showing up for practice every Monday, prepared to push that rock up the hill, over and over again.
"It's human nature to get down on themselves, but the guys kept coming back to the rink and working hard, staying positive and listening to what we're trying to accomplish," said Blasi on Saturday, raising his voice above the din of 20-year-olds celebrating.
"If you stay focused on the process you get rewarded, and that feels good."
Now in the rarified air of 6th place, the Tommies can exhale, take a look around and ask, "Who's next?" Seventeen newcomers are eager to expand this modest win streak, including two budding stars, freshmen Josh Eernisse (3-goal weekend) and goaltender Aaron Trotter (one goal allowed on 45 shots).
Blasi and his superb recruiter Leon Hayward have built this team from the ground up, as their four leading scorers are all freshmen. Hayward is living a recruiter's dream, offering every prospect in Minnesota not destined for the Golden Gophers a chance to play in the Twin Cities. The Tommies top eight scorers are all from the State of Hockey. This weekend was the first step in the grand plan: St. Thomas didn't just chip an isolated win from one of the CCHA's perrenial powers—they swept.
"The hardest thing in college hockey is to sweep, because the other team is going to want a piece of you," said Blasi.
"A (sweep) is an important step in the process."
So the Tommies march on, heading upstate to Bemidji next weekend, young players with memories wiped clean, no longer burdened by their failure to finish. Beware these velociraptors of the CCHA.
Skirmish For The Silver
Everyone who spent their holiday weekend tuning into the showdown in Houghton were treated to a Mason Cup preview. Minnesota State and Michigan Tech—the only CCHA teams to qualify for the 2022 NCAA tournament—staged a series worthy of their pedigree. It was a pair of see-saw battles that saw the hometown Huskies emerge with four of six points, a series colored by desperation, NHL-worthy goals, and superb goaltending.
There are lasting images from this 125-minute war for the top spot in the race for MacNaughton: The absolute missile from Tech's Tristan Ashbrook to give his Huskies a lead in Saturday's dramatic third period; Ryan Sandelin's visceral fist pump when he forced overtime by chopping in his own rebound with 39 ticks in regulation; and Maverick sophomore goalie Keenan Rancier slumped over in pain in the midst of the maniacal sudden death overtime.
He managed to right himself, and then outdueled CCHA's top goalie Blake Pietila in the shootout. Although winning the shootout means absolutely nothing in the NCAA computer rankings, it meant the world to the Mavericks Saturday night as they flew off the bench to congratulate their gutty netminder.
Shootout:
MTU X
MSU X (Hirose)
MTU Goal
MSU Goal (Silye)
MTU X
MSU X (Borchardt)
MTU X
MSU Goal (Fitzgerald)
Mavericks win shootout 2-1

— Minnesota State Hockey (@MinnStMHockey) November 27, 2022
Both teams' rosters are dominated by players from their home state, yet their respective leaders, the heart and soul of both clubs, come from Europe. Arvid Caderoth is a 6-foot-5 junior who wears the "C" for the Huskies and hails from Stockholm. He challenged his team, admitting his squad "panicked" after Friday's game, and won an astounding 34 draws against the best faceoff team in the country.
On the other side of the puck was Maverick center Ondrej Pavel from Prague. Although he wears no letter on his jersey, the 6-foot-2 Pavel is sent out in every critical situation by Mike Hastings. He, too, was a beast in the faceoff dot, killed penalties, and forechecked relentlessly. These two citizens of the world stalled Saturday's handshake line with a lengthy embrace, two warriors who know full well that their destinies are entwined.
Although Shawhan never mentioned it specifically, his Huskies came within a needless penalty of sweeping No. 10 Minnesota State, all while playing without three of their top four defensemen. Shawhan's current team, one he had such small expectations for when the season opened, appears to be giving him more satisfaction than his NCAA qualifiers from a year ago. Twice during Friday's post-game he expressed delight at having nine wins.
This group of overachievers are now in the best position to return the MacNaughton Cup to it's Houghton home than any of the six Tech squads Shawhan has coached.