USHL
What To Watch For: Waterloo's Thanksgiving Tradition Continues
What To Watch For: Waterloo's Thanksgiving Tradition Continues
A busy week across the USHL is highlighted by the 51st Thanksgiving Day game for the Waterloo Black Hawks, continuing one of the league's great traditions.
Nov 22, 2022
by Jordan McAlpine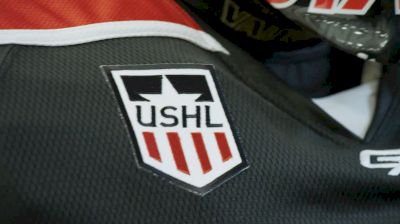 With Thanksgiving just days away, it's shaping up to be a busy week ahead for millions around the country. The same could be said for those in the USHL.
With 20 games on the docket Wednesday-Saturday, which includes a Thanksgiving showdown and all 16 teams in action on Saturday, hockey fans will have plenty to keep an eye on away from the dinner table.
Omaha (5-8-2-1) at Sioux City (7-6-2-0). Nov. 23, 7:05 p.m. CT
One of five games on Wednesday's slate, the Lancers and Musketeers will meet for the second time this season. Omaha won in overtime on Oct. 15, 2-1. However, a lot has changed for both sides since.
Sioux City was idle last weekend but the Musketeers are winners of three straight. Sioux City is 7-3-0-0 in its last 10 and has jumped from the bottom of the Western Conference to the thick of the race. Consistent scoring and goaltending are a big reason why.
He was clutch between the pipes this weekend and @Mangbo_ earns the @USHL Goalie of the Week award https://t.co/3j6Vm9ZkJn

— Sioux City Musketeers (@Musketeerhockey) November 14, 2022
As for the Lancers, it's been a rough go of late. Thanks to a 2-7-1-0 stretch - which included a six-game losing skid - the Lancers have slid in the standings and now sit just one point ahead of last-place Sioux Falls. Omaha grabbed a 3-2 shootout win over Sioux Falls last time out. Now the Lancers will look to put a rough start to November in the rearview mirror.
PLAYER TO WATCH: Ryan Conmy, F, Sioux City, 2023 NHL Draft Eligible
Conmy was drafted by the OHL's Niagara IceDogs. However, he opted for the USHL - a decision that seems to be working out quite well. The New Hampshire commit leads the Musketeers with 10 goals and is second on the team with 13 points. Conmy's 10 goals are also tied for third in the USHL. The right-shot winger just turned 18 on Oct. 23. He has eight points in the eight games since, including four points (3-1-4) in Sioux City's last two wins.
Cedar Rapids (7-6-2-0) at Waterloo (10-5-0-0). Nov. 24, 7:05 p.m. CT
Turkey, stuffing and Black Hawks hockey - the three Thanksgiving musts in Waterloo. A tradition that dates back more than 50 years, the Black Hawks have played host to I-380 rivals Cedar Rapids RoughRiders in each of the last 21 Thanksgiving Day games and it often is one of the biggest home crowds of the season in "Party Town."
Waterloo will also be hosting a Teddy Bear Toss for their Thanksgiving game, inviting fans to throw donated stuffed animals to the ice after the first Black Hawks goal of the contest.
With the way they've been playing, it might not take long to see the fluff fly as Waterloo is currently the hottest team in the USHL. The Black Hawks have won six straight and eight of their past nine, which has them in second place in the Western Conference standings.
The Black Hawks is coming off of a sweep of the conference-leading Lincoln Stars last weekend, 6-2 and 2-1. Waterloo has allowed just 34 goals this season - the fewest in the USHL - and has two of the league's top goaltenders by save percentage in Emmett Croteau (Montreal Canadiens) and Jack Spicer. The Black Hawks are also 8-2-0 at Young Arena this season.
November 21, 2022
However, Cedar Rapids has played well as of late. The RoughRiders come in fresh off an 8-2 win over the USNTDP and are 6-3-1 in their last 10. With 16 points, they're one of three teams tied for fourth place in the Eastern Conference. They spoiled the party last Thanksgiving with a 3-2 overtime win.
PLAYER TO WATCH: Zaccharya Wisdom, F, Cedar Rapids, 2023 Draft-eligible
The right-shot winger has a team-leading eight goals and 17 points through 15 games, nearly equaling his rookie season totals. Wisdom finished last season with 10 goals and 23 points in 53 games. His brother, Zayde, was drafted in the fourth round in 2020 by the Philadelphia Flyers and Zaccharya looks to potentially be the next in line. The Colorado College commit was given a C-rating in NHL Central Scouting's Players to Watch List last month, as a projected late-round pick for the 2023 NHL Draft.
Chicago (11-5-0-1) at Dubuque (7-4-1-1). Nov. 25, 7:05 p.m. CT
The Fighting Saints have points in three straight (2-0-0-1) and are 6-2-1-1 in their last 10. They've also earned points in five of their past six, including three points against Muskegon last weekend with a 3-2 shootout loss and 5-4 win.
Both Lucas and Ryan St. Louis netted goals in the 5-4 win, while James Reeder found the back of the net late for the game-winner. Dubuque will host Chicago on Friday and Des Moines on Saturday.
Reeder with the eventual game winning goal! 🚀#HailToTheHalo #StarsRise pic.twitter.com/uGSSFuDsGS

— Dubuque Fighting Saints (@fightingsaints) November 20, 2022
The Steel swept Youngstown last weekend, winning the first game, 5-4, and the second, 2-1. both in overtime. Michael Emerson netted the game-winner on Saturday and continued his torrid start, along with Jack Harvey. Harvey had another four points (1-3-4) and currently leads the USHL with 28.
PLAYER TO WATCH: Theo Wallberg, D, Dubuque (Ottawa Senators)
Wallberg is 13 games into his first USHL season and although it's been a relatively slow start offensively (3-4-7), the sixth-round pick had two points last time out with a goal and assist in the 5-4 win. Wallberg has never been a huge point producer in his career. It's the defensive side of his game that has Sens fans excited about what he could potentially add to Ottawa's blueline. Standing at 6-foot-5 and 205 pounds, the Swedish defenseman has the frame and the discipline to play at the pro level.
News and notes
The Eastern Conference sweeps Player of the Week honors! #StarsRise https://t.co/kpvq9v515F

— USHL (@USHL) November 21, 2022
• Green Bay's Matthew DiMarsico was named the USHL Forward of the Week after a five-point effort in a weekend series against Madison. Muskegon Lumberjacks blueliner Gavin McCarthy earned USHL Defenseman of the Week honors after a four-point weekend against the Dubuque Fighting Saints. Lastly, Green Bay's Kristoffer Eberly was the USHL Goaltender of the Week after making 61 saves total in a weekend sweep of the Madison Capitols.
• Saturday will be the first time this season all 16 teams will play on the same day. There have been five different days where 14 of the 16 have been in action.
• Youngstown has points in seven straight games (3-0-3-1). The Phantoms will play a trio of games against the National Team Development Program, first at USA Hockey Arena on Wednesday and then will host Team USA on Friday and Saturday.
• Omaha will play at Fargo in a back-to-back on Friday and Saturday. It's one of the other two back-to-backs on the weekend, along with Madison at Muskegon. Fargo is 4-0-0-1 in its last five.
• Fargo's Cole Knuble, featured a few weeks back on FloHockey, picked up four assists in last Thursday's win over Sioux Falls. Knuble is now third in the USHL in scoring with 22 points.
• Madison's Quinn Finley (New York Islanders) had four points last weekend. Finley has 14 points in his last eight games and 20 points on the season.
• Cedar Rapids forward Martin Lavins scored his first goal and added three assists Saturday night in an 8-2 win over the USNTDP. Lavins entered the game with just three points in his previous 11 games.
• Twenty one current USHL players were selected to play for the U.S. Junior Select Team that will compete at the 2022 Junior A Challenge in December in Cornwall, Ontario.