United States Hockey League (USHL)
Blackhawks Prospect Sam Rinzel Among USHLers Picked For Team USA
Blackhawks Prospect Sam Rinzel Among USHLers Picked For Team USA
USA Hockey announced 21 USHL players to its roster for the forthcoming World Junior A Challenge.
Nov 16, 2022
by Chris Peters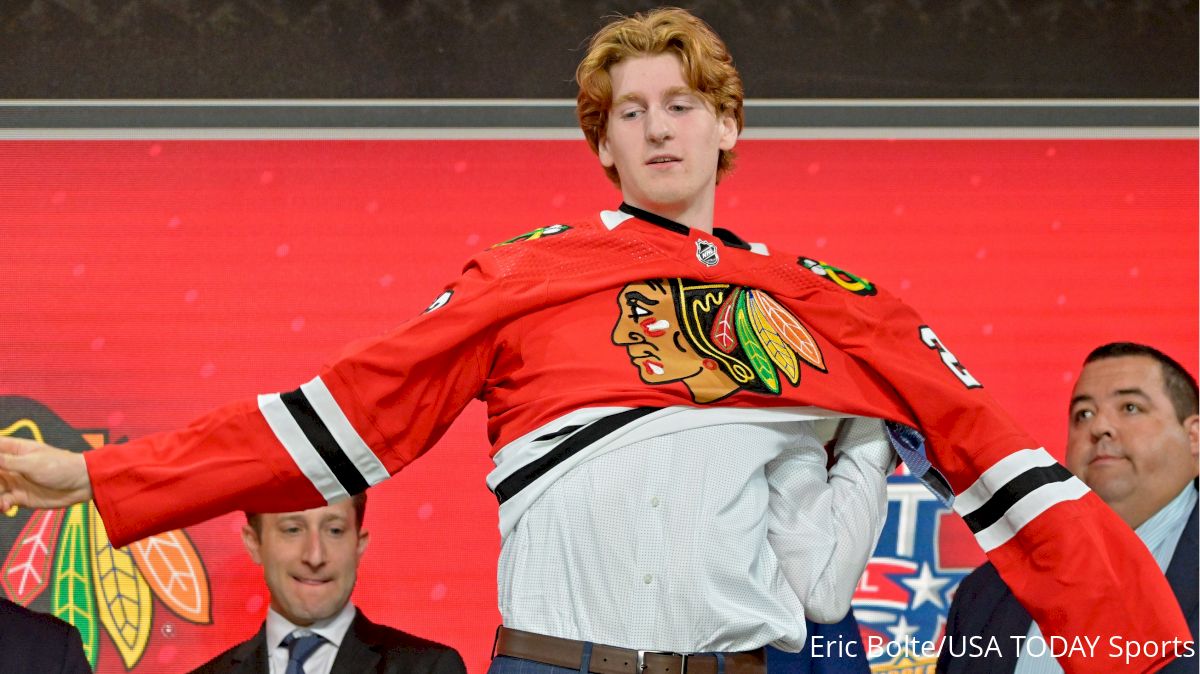 The World Junior A Challenge is a winter showcase event hosted by Hockey Canada, featuring two Canadian regional teams representing the East and West, a U.S. team and teams from Sweden and Latvia. The U.S. roster is often made up primarily of USHL players and this year will be no different.
Scheduled for Dec. 10-18, the WJAC in Cornwall, Ontario, the five-team event will feature a round-robin portion with the top four teams advancing to a semifinal and the winners of those semis playing for the tournament championship. This will be the first time the event has been contested since 2019 as the last two years were cancelled due to the pandemic. This is also another one of those international tournaments that would normally include a Russian entry – often their top U18 and NHL Draft-eligible players – but will not this year as Russia remains banned from international competition.
The U.S. will be seeking to win its first title since 2018 after finishing third in 2019. Sioux Falls Stampede head coach Eric Rud has been tabbed to lead the U.S. Junior Select Team and Wednesday morning, USA Hockey announced the first 21 players that are on the roster Rud will be taking to Cornwall.
Introducing the 2022 U.S. Junior Select Team! #WJAC 🇺🇸

— USA Hockey (@usahockey) November 16, 2022
Among the list is Chicago Blackhawks first-round draft pick Sam Rinzel who currently plays for the Waterloo Black Hawks. Joining Rinzel on the roster is four other prospects already drafted into the NHL including New York Islanders pick Quinn Finley (Madison Capitols), Winnipeg Jets prospect Garrett Brown (Sioux City Musketeers), Philadelphia Flyers selection Alex Bump (Omaha Lancers) and Buffalo Sabres prospect Jake Richard (Muskegon Lumberjacks).
A number of first-year NHL Draft eligible players also got the call from USA Hockey to play at the World Junior A Challenge. Goaltender Jacob Fowler of the Youngstown Phantoms was one of two netminders selected, while defensemen Gavin McCarthy (Muskegon Lumberjacks) and Andrew Strathmann (Youngstown Phantoms) earned the nod. Additionally, forwards Tanner Adams (Tri-City Storm) and Tanner Ludtke (Lincoln Stars) are first-year eligible players that will be looking to improve their draft stock with Team USA.
Two of our VERY OWN have made the roster for the 2022 U.S. Junior Select Team.

#27 Andrew Strathmann and #1 Jacob Fowler will compete at the World Junior A Challenge in Ontario from December 11-18.

Congratulations to both of them and we wish them the best of luck! pic.twitter.com/qjY4dCj7ak

— Youngstown Phantoms (@YtownPhantoms) November 16, 2022
Among the players invited to play for Team USA, Cole Knuble is currently the top scorer in the USHL with 18 points in 14 games for the Fargo Force. He is a second-year draft-eligible player. Additionally, Dubuque Fighting Saints forward Ryan St. Louis and Sammy Harris of the Sioux Falls Stampede were among the undrafted players achieving at a high level this season picked for Team USA.
The Muskegon Lumberjacks led all USHL teams with four selections to Team USA, while the Waterloo Black Hawks had three players picked.
Rud will be joined on the bench by Waterloo head coach Matt Smaby, Green Bay Gamblers head coach Mike Leone and Dubuque Fighting Saints assistant coach Evan Dixon.
Team USA Roster
Goaltenders: Jacob Fowler (Youngstown Phantoms), Christian Manz (Chicago Steel)
Defense: Garrett Brown (Sioux City Musketeers), Jake Livanavage (Chicago Steel), Nathan McBrayer (Muskegon Lumberjacks), Gavin McCarthy (Muskegon Lumberjacks), Joe Palodichuk (Fargo Force), Sam Rinzel (Waterloo Black Hawks), Andrew Strathmann (Youngstown Phantoms)
Forwards: Tanner Adams (Tri-City Storm), Alex Bump (Omaha Lancers), Quinn Finley (Madison Capitols), Maddox Fleming (Sioux Falls Stampede), Sam Harris (Sioux Falls Stampede), Cole Knuble (Fargo Force), Gavin Lindberg (Waterloo Black Hawks), Tanner Ludtke (Lincoln Stars), Jake Richard (Muskegon Lumberjacks), Garrett Schifsky (Waterloo Black Hawks), Ryan St. Louis (Dubuque Fighting Saints), Ethan Whitcomb (Muskegon Lumberjacks)