2022 Mercyhurst vs Canisius - Men's
Atlantic Hockey Playoffs Preview: Canisius Goaltending, Mercyhurst Offense
Atlantic Hockey Playoffs Preview: Canisius Goaltending, Mercyhurst Offense
The Lakers are now the winners of five straight and seven of their past eight as they get hot just in time to compete for the tournament title.
Mar 8, 2022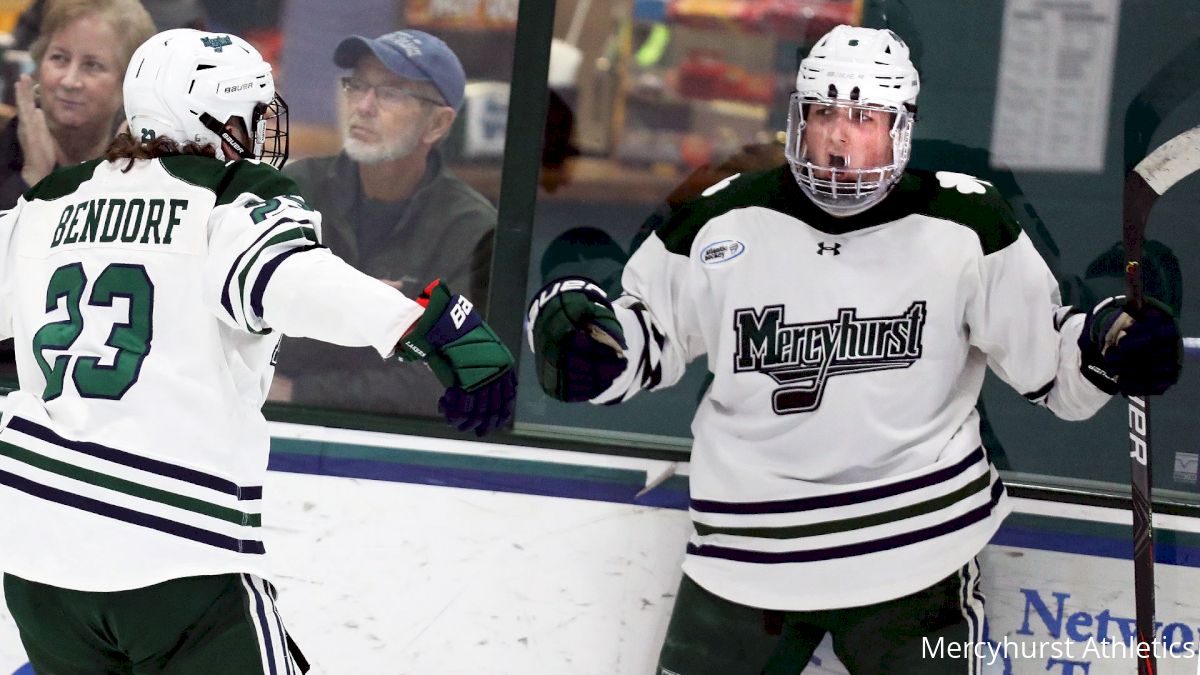 The No. 7-seeded Mercyhurst Lakers swept their first-round series and now head to No. 2-seeded Canisius this week for another best-of-three series in the quarterfinals.
The Lakers hosted No. 10 Holy Cross this past weekend, earning a pair of 2-1 wins including an overtime thriller in the opening game. Leading scorer Carson Briere recorded a goal and an assist in the series, while junior Paul Maust scored consecutive game-winning goals.
Maust will look to stay hot in this week's matchup with Canisius, and you can watch him and the Lakers' bid for the semifinals live, right here on FloHockey along with the entire Atlantic Hockey Tournament.
The Lakers are now the winners of five straight and seven of their past eight as they get hot just in time to compete for the tournament title and an opportunity at a berth to the National Tournament.
Top players producing and an x-factor are two things every postseason team needs. After a career year with four goals and 10 points, Maust was the type of game-changer every team looks for in the postseason. Briere also rose to the challenge and will be the key to getting the sophomore trio going to take down Canisius.
In a pair of home-and-home series this season, Mercyhurst went 3-1 over Canisius, including 3-0 and 3-1 wins in their current five-game winning streak. The Lakers played deep hockey with six different players recorded multiple points in the season series.
Mercyhurst men's hockey completes series sweep of Holy Cross in 2-1 home win @HurstMensHockey @HurstAthletics highlights + reaction:https://t.co/FCdgHMB8Yw

— Mike Fenner (@Fenner_6) March 6, 2022
In addition to their electric sophomores, a first-round x-factor, and the deep offense the Lakers have brought against Canisius, their 21.4 percent powerplay conversion rate will need to continue to produce to help offset the offense Canisius is sure to bring.
In fact, the Golden Griffins' defense allowed the second-fewest goals in Atlantic Hockey this season, and goaltender Jacob Barczewski will be one of two top players that will go head-to-head with Briere this week.
Barczewski holds a 13-12-1 record, 2.48 GAA, and .922 save percentage. If Mercyhurst wants to play last goal wins, then they'll have to find a way to get past a goalie that has allowed more than three goals just three times in 28 games this season.
Meanwhile, four double-digit goal-scorers and five 20-point scorers will be rushing their way to give Barczewski goal support. That rush is led by Keaton Mastrodonato, who coach Trevor Large previously stated as, "maybe the most determined, aggressive player that I've been around in quite some time."
With Mercyhurst's first-round sweep of Holy Cross, the #Griffs will host the Lakers in a best-of-three @Atlantic_Hockey quarterfinal round series next weekend @Harborctr!#RoadToUtica

🎟 - https://t.co/jFDmqmuamA pic.twitter.com/eO4wvtPT2G

— Canisius Hockey (@GriffsHockey) March 6, 2022
Mastrodonato leads the Griffins with 26 points (11 G, 15 A) in 28 games and fuels every situation with powerplay goals, short-handed goals, empty-net goals, and of course, game-winning goals.
The Griffins' 13-11-2 conference record (16-14-3 overall) doesn't stand out as a typical second-place mark, but they have proven to be a rugged team and were only on the losing end of one series sweep this season—Feb. 25-26 against Mercyhurst.
As last season's runner-up to tournament champ AIC, the Griffins have a chip on their shoulder and the tools to chisel it out and get back to the title game and earn a berth to the National Tournament.
Don't miss the Griffins' fight to return to the championship game, catch the entire Atlantic Hockey Tournament live, right here on FloHockey.
---
Have a question or a comment for Jacob Messing? You can find him on Twitter @Jacob_Messing.