Atlantic Hockey
Mercyhurst Lakers' Sophomore Trio Continues To Carry Offense
Mercyhurst Lakers' Sophomore Trio Continues To Carry Offense
With a season under their belt, Carson Briere, Dante Sheriff and Austin Heidemann are back as sophomores and lighting up Atlantic Hockey.
Oct 22, 2021
by Jacob Messing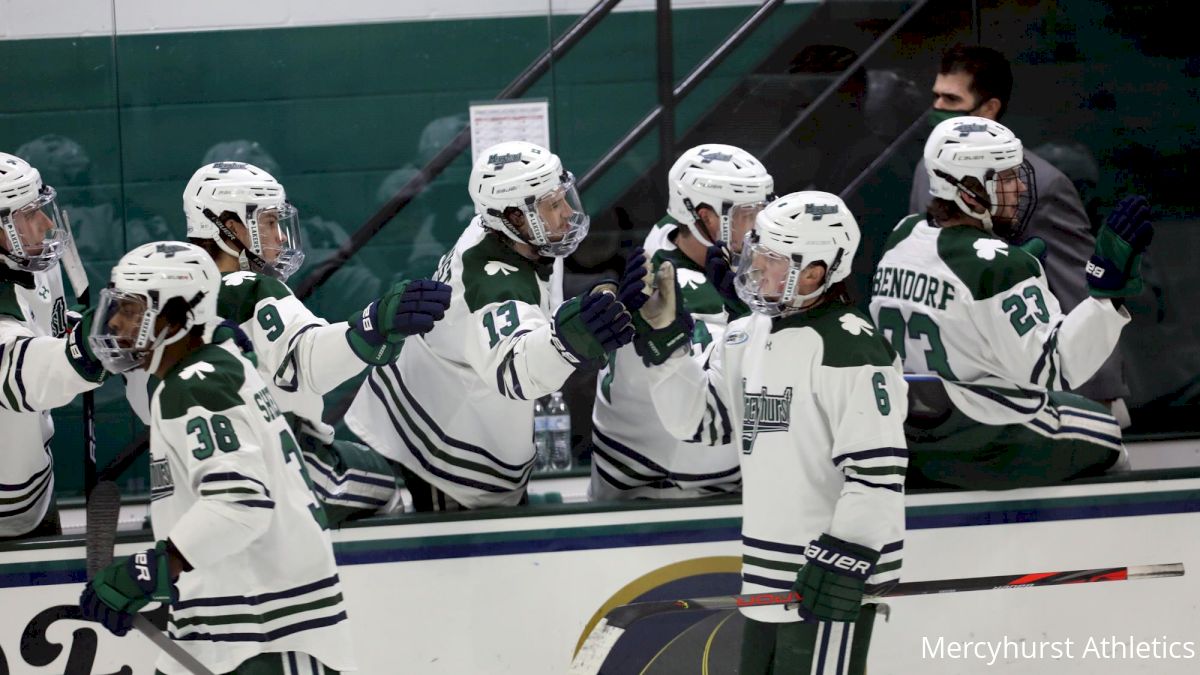 The NCAA's shortened schedules and longer rest intervals gave freshmen an easier transition into college hockey last season, and those wet feet have seen a trio of Mercyhurst sophomores dive right in for the 2021-22 campaign.
Led by a Rookie of the Year-caliber season by Carson Briere, the Lakers took a step forward offensively in 2020-21, from a .167 WIN% in 2019-20 to a .405 WIN%.
Briere—son of Daniel Briere who skated in 973 NHL games—recorded 19 points (5 G, 14 A) in 21 games and led all Lakers players in assists and points. Briere's hockey sense and passing has lifted the play of those around him, and now they're not backing down.
Last season, head coach Rick Gotkin told FloHockey that the team had worked to improve their offense from the season prior and managed to lift their goals per game from an average of 1.89 goals-per-game to 3.04 goals-per-game, a much more appropriate number to claim some wins.
Briere and fellow freshmen Dante Sheriff and Austin Heidemann played a key part in that change. Now, the trio of sophomores have formed one of the NCAA's best lines early on in 2021-22.
Shots on goal and offense chances go hand-in-hand, and Briere has added some unpredictability to his playmaking skills with an increase in his shot output this season. Last year he was credited with 34 shots in 21 games (1.6 per-game avg.). Through four games, Briere has 12 shots (3 per-game avg.) and is already being rewarded with seven goals as the co-leader in the NCAA. Add in an assist and he holds eight points in four games.
We'd smile too if we were leading the nation in goals per game...#AtlanticHockey | #HurstHockey pic.twitter.com/O11SbLZD4H

— Atlantic Hockey (@Atlantic_Hockey) October 21, 2021
Sheriff and Heidemann are joining in the fun with seven points (1 G, 6 A) and six points (2 G, 4 A), respectively. Sheriff finished last season with 15 points (5 G, 10 A) in 19 games. His tenacious play saw him bring an agitating role as the penalty minute leader.
He's already earned himself a quick lead this season with 10 penalty minutes in four games. But as an offensive weapon on a team that Gotkin has said has no problem playing last goal wins, Sheriff needs to add some discipline to his agitation and keep himself available to his coach's deployment.
Heidemann brought a balanced mix of offense last season with seven goals and 12 points in 16 games and is continuing that trend with two goals and six points. Four of his tallies came with the man advantage in 2020-21, where the Lakers finished 36th of 51 programs with a 17.4% conversion rate.
With five goals in 22 opportunities in their four games, the Lakers' 22.7% conversion rate on the powerplay is adding offense. Briere has recorded three of those five goals, with zero belonging to Heidemann; should he begin to use the extra space and pick his times to be selfish, he'll keep that conversion rate up and get back to his regular support.
It's virtually impossible—and hazardously reckless—to speculate so much from a team after just four games, especially with a 1-2-1 record. But with their two losses coming in a hard-fought series against then-No. 4-ranked Minnesota, the Lakers have made strides.
Atlantic Hockey rivals know the Lakers are far improved from their 2019-20 season and every inch of the ice will be a battle. That next battle will be on Oct. 29 and 30 for a series at AHA rival RIT (3-1-1 overall). You can catch the series live, right here on FloHockey with six points up for grabs in Atlantic Hockey.
---
Have a question or a comment for Jacob Messing? You can find him on Twitter @Jacob_Messing.