Atlantic Hockey
Unranked But Unforgiving: The Mercyhurst Lakers Are Up To The Fight
Unranked But Unforgiving: The Mercyhurst Lakers Are Up To The Fight
The Mercyhurst Lakers have started 1-3, but don't let that record fool you: this is a dangerous team in Atlantic Hockey.
Dec 16, 2020
by Jacob Messing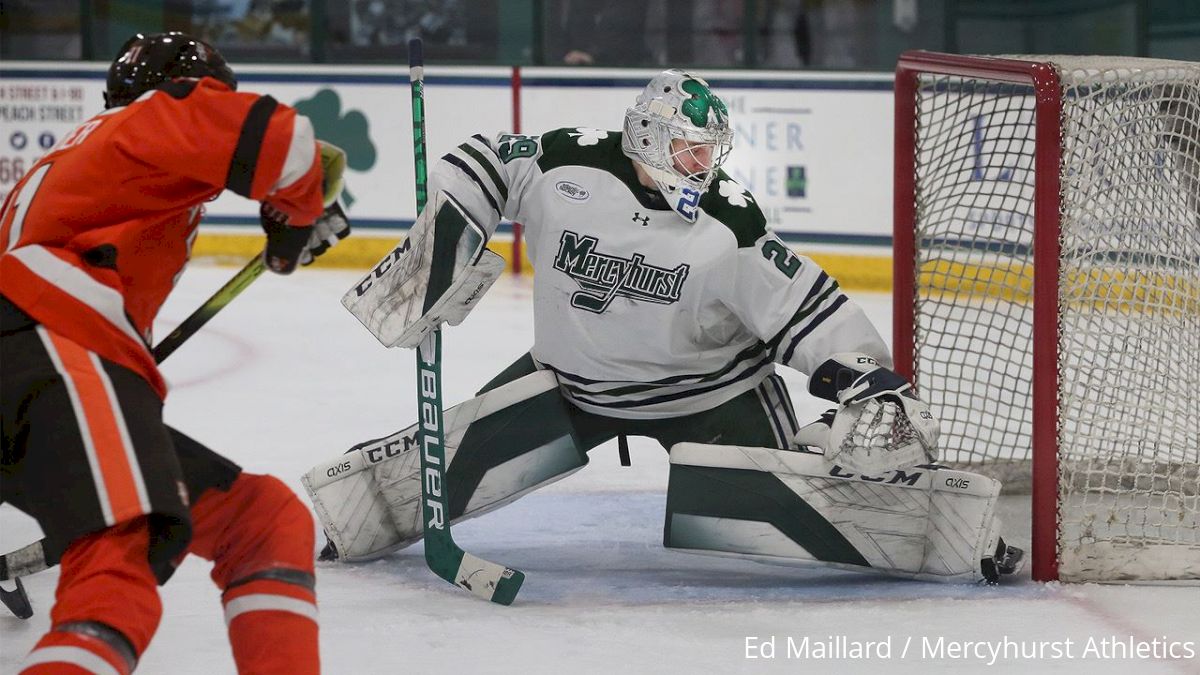 Mercyhurst finished with the second-worst win percentage in Division I hockey last season, and despite a 1-3 record to begin the 2020-21 season, the Lakers have come a long way.
"Every year is a new beginning, and we really try not to talk much about previous years whether those years were good or bad," coach Rick Gotkin said of the team having a fresh start this fall.
Watch Mercyhurst vs Niagara LIVE on FloHockey | Dec. 16 @ 5 PM ET
It's a good practice for a coach who has seen his share of the ups and downs in 32 years at the helm of the program, even more so for an industry reliant on recruitment and a four-year eligibility limit. Add in the financial constraints of some universities relative to others, and maintaining a perennial contender is no easy task.
But the Lakers have been a fixture of Division I hockey since the turn of the century, amassing a 287-296-69 record in that time with two regular-season conference titles and five other top-three finishes.
This season, the Lakers have gone skate-to-skate with No. 13-ranked Bowling Green and No. 7-ranked Clarkson, despite a 1-3 outcome against two programs with intentions of a National Tournament berth this spring, paper stats and box scores fail to tell the whole story.
"We had a very young team last year, and we are still a little young again this year," Gotkin told FloHockey. "We only have two seniors on our roster this year, but we have a lot of young guys that played a lot last year and have gained some valuable experience."
The Lakers departures from last spring were five seniors — which included two goaltenders — meaning that the aforementioned "valuable experience" runs deep as four of the team's top five scorers are returning players.
"One of the things we tried to improve from last year was our offensive production."
The season is young, but Gotkin's team is averaging 2.0 goals per game, up from the 1.89 average at last season's end. Add in a refreshing 36.4 percent power play success rate that has gone 4-for-11 and the Lakers are on the right track to boost their scoring.
"You know what they say . . . 'Your penalty kill will win you games and your power play will lose you games,' and that is true. We have just tried to be simple and have guys in the right spots then move the puck and shoot."
Freshmen Noah Kane and Dantye Sheriff will play a big part in maintaining the power play and helping the Lakers remain an offensive threat.
Kane and Sheriff finished first and second in power play scoring in the NAHL last season, respectively. Kane recorded 26 points (9 G, 17 A) on the man advantage, with Sheriff coming in a point behind him with five goals and 20 assists. As a rookie, Kane led the NAHL in overall scoring in 2019-20 with 64 points (20 G, 44 A). Sheriff finished his season with 62 points, including 17 goals and a league-leading 45 assists.
"We have always been a program that could score, and we never had a problem playing last goal wins, but graduation over the last few years has taken its toll in regards to some of our offensive production, and we felt like we needed to find some guys who could add some more offense to our lineup. Both Dante and Noah have that ability."
Through the Lakers' first four games, Kane has recorded a goal. Sheriff has slotted into the lineup just twice this season, scoring a goal in each game. The duo, along with four other freshmen, will have every opportunity to plead their case for more responsibility as the Lakers search for the conference-winning ways from three years ago.
The Lakers play Wednesday, Dec. 16, and Friday, Dec. 18, playing a home-and-home with Niagara. Catch both Lakers games live, right here on FloHockey.
---
Have a question or a comment for Jacob Messing? You can find him on Twitter @Jacob_Messing.