Atlantic Hockey
Mercyhurst Sophomores Lead 7 Atlantic Hockey Players To Watch In 2021-22
Mercyhurst Sophomores Lead 7 Atlantic Hockey Players To Watch In 2021-22
Atlantic Hockey will drop the puck on its season and as the 10 programs prepare for the return to normal, 10 players lead the way as must-watch players.
Aug 20, 2021
by Jacob Messing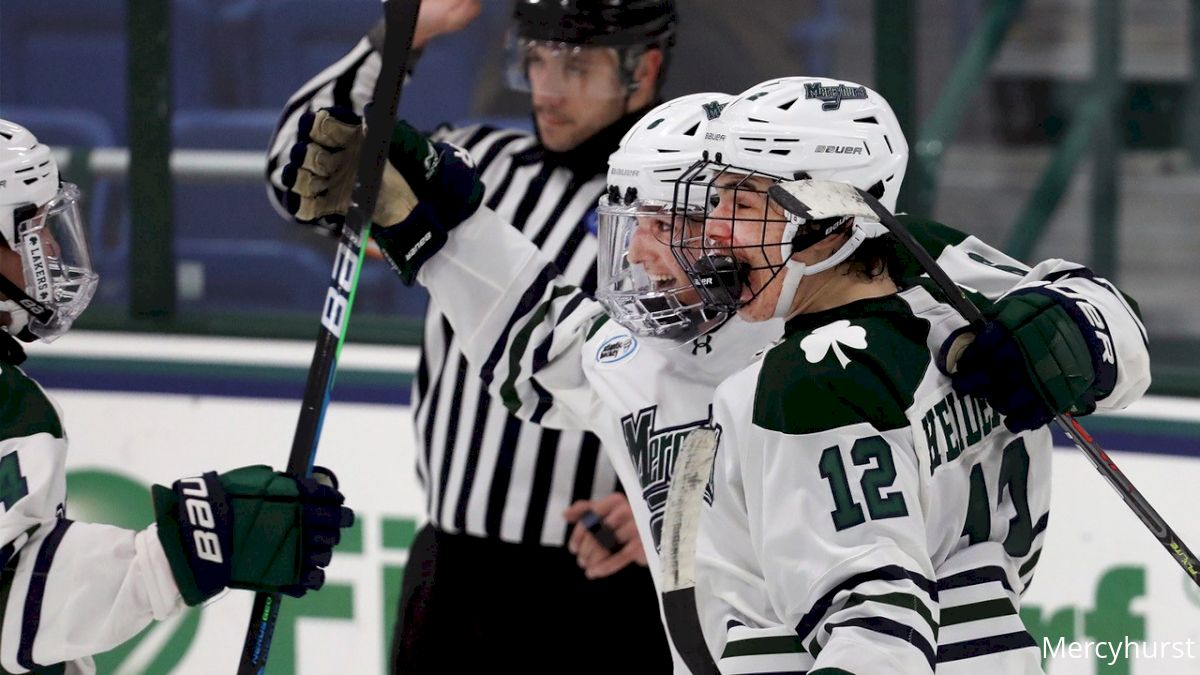 Atlantic Hockey will drop the puck on its 2021-22 season on Oct. 2 and as the 10 programs prepare for the upcoming season to return to normal, 10 players lead the way as must-watch pieces of their team.
Gone are the pods of 2020-21; back is regular travel, non-conference games, and a lot of pending excitement. Upon the abrupt and surprising suspension of the men's and women's hockey programs at Robert Morris, Atlantic Hockey will operate with 10 programs in 2021-22.
Don't miss a second of Atlantic Hockey this season; you can stream every game live on FloHockey starting Oct. 2.
With the new season comes new opportunities, breakouts and surprises and the reigning AHA leading goal scorer will be back to defend his title.
As the 2020-21 season churned on, Colin Bilek continued to dominate for Army West Point, eventually potting a conference-leading 18 goals in 22 games. As a junior, Bilek finished in a four-way tie atop AHA scorers with 25 points.
Senior seasons are expected to be a player's best and as Bilek prepares for his final go-around, the additional 11 games on the schedule—prior to the conference tournament— could see Bilek land among the NCAA's best scorers this season. He'll get a lot of in depth looks at some competition with teams including Providence and Wisconsin on the docket.
Back with the Black Knights ⚔️

After a 25-point season, Colin Bilek is ready to lead #ArmyHockey back to the playoffs. #GoArmy pic.twitter.com/BFc7UvodiP

— Army Hockey (@ArmyWP_Hockey) July 30, 2021
Army will also have plenty of in-conference competition after a trio of freshmen led Mercyhurst to an 8-12-1 season. It was a strong step forward from its 2019-20 mark of 5-29-2. This year, that trio of Carson Briere, Dante Sheriff and Austin Heidemann will help carry the Lakers up the standings.
Briere's 19 points (5 G, 14 A) in 21 games led the team. Briere's hockey sense, skating and passing saw him lead the team in assists and carry the brunt of the offense. Son of former NHL player Daniel Briere, Carson's rookie season wasn't enough to see him drafted in July's draft. He could be out for a revenge tour this season.
Sheriff added 15 points (5 G, 10 A) of his own in 19 games and was visibly gaining confidence as the year carried on. Sheriff has a dangerous shot and finished third in shots on goal for the Lakers. A bit more puck luck should be in store and more goals in tow.
Heidemann led the trio with seven goals and finished with 12 points in 16 games. He finished second in goals only to sophomore Jonathan Bendorf and the pair will give the Lakers a reliable shooter on their top two lines.
Two hours up the coast of Lake Erie the Canisius Golden Griffins will hinge on the return of leading scorer Keaton Mastrodonato and goaltender Jacob Barczewski. Mastrodonato enters his junior season after a career-year sophomore campaign that saw him outscore his freshman season by one point in half as many games.
With seven of the Griffins' top 10 scorers returning and a handful of transfers coming in this season, they are primed to eclipse their 11-6 record from 2020-21 and contend for the conference title.
NEWS | Canisius Adds Seven Transfers to the Roster for 2021-22 Season#Griffs

📰- https://t.co/r8oUluEo2V

— Canisius Hockey (@GriffsHockey) August 4, 2021
Barczewski's 7-3 record, backed by a .926 SV% that tied him for 10th in the NCAA and a 2.30 GAA could be on the rise as a junior where he'll receive a larger workload. Should he translate his numbers over a full season the Griffins will be a tough opponent.
The Sacred Heart Pioneers went from breakout to outbreak in 2019-20, where they were the NCAA's surprise program that was contending for a national tournament before the season's pandemic cancellation.
Freshman Braeden Tuck was a key piece of the Pioneers' surge onto the scene, where he finished fifth in team scoring with 28 points in 34 games as a premier playmaker.
After losing its top three scorers, the coaching staff gave Tuck a bigger opportunity, where he scored a career-best six goals in 16 fewer games, adding 10 assists for 16 points in 18 games last season.
A longer season, more confidence and better chemistry should see Tuck take another step and put the Pioneers back into contention with just two noteworthy departures.
Catch Tuck and his must-watch colleagues live on FloHockey this season when the puck drops on Oct. 2.
Have a question or a comment for Jacob Messing? You can find him on Twitter @Jacob_Messing.