Atlantic Hockey
Canisius Maneuvers Difficult Seasons With Toughness, Determination
Canisius Maneuvers Difficult Seasons With Toughness, Determination
Canisius coach Trevor Large has cultivated a culture of hard-nosed toughness while bringing in transfers that were hungry for second chances.
Jan 15, 2022
by Jacob Messing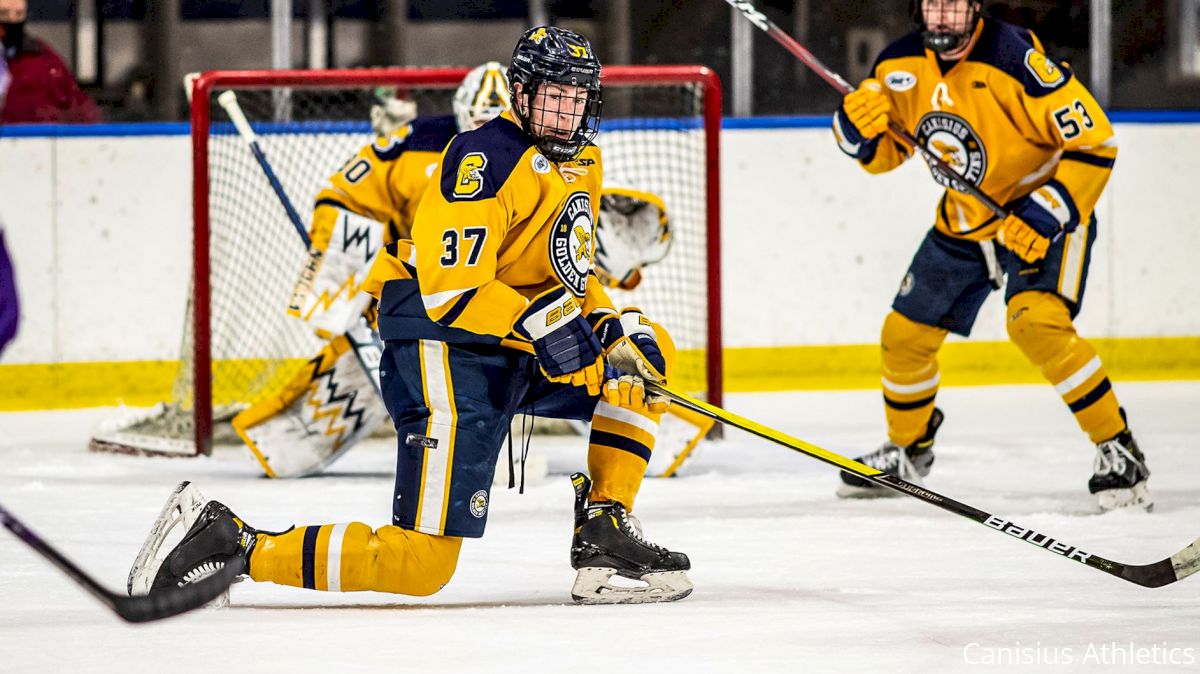 "We've had adversity and we've smiled and said 'good we can handle it.'"
Adversity is abundant in sports and Canisius coach Trevor Large and his Golden Griffins have faced it head on since the start of Atlantic Hockey's 2019-20 season.
There was no escaping the effects of a COVID-19 world, which hit the Griffins perhaps harder than any other NCAA program last season. The puck dropped on their season for a series on November 27, 2020, and by the time January 3rd rolled around it was the only two games they had played.
Bye weeks and rest can be an athlete's best friend, but prolonged hiatuses can have the opposite effect. The Griffins rose to the occasion, sweeping their first series in over a month.
Then the team sat idle again for another 27 days before their next game. Entering February, Canisius held a 3-2 record.
The program entered the gauntlet. The Griffins would tack on eight more games over 18 days in February raising themselves to an 8-5 regular season record. This time around a two-week rest ahead of the conference tournament was favorable.
With three-straight wins, the Griffins would knock off RIT and Army West Point en route to a championship matchup with AIC. The Yellow Jackets would ultimately beat the Griffins with a third-period game-winning goal and two empty-net goals.
"It wasn't easy, but we had a team that was basically one period away from an NCAA Tournament bid last year and our group was upset," Large said.
"They were not happy with that, they weren't satisfied with the season, all of our returning players were pissed off."
With pandemic-based eligibility changes and a revamped NCAA transfer portal, Large's approach to recruiting transfers was specific.
"Part of our strategy was to find guys; one, that were honestly pissed off, wanted a second chance to play college hockey, and would scratch and claw and bleed wherever they would go. Those were the kinds of people we were trying to locate."
Halfway through the season, Large's specificity is showing results, modestly calling his strategy "effective."
Transfers Alex Ambrosio, Joey Matthews, and Jake Witkowski are consistently displaying their contentment with the second chances offered at Canisius. Ambrosio joined the Griffins after four years with Lake Superior State and has added 13 points in 21 games, eclipsing his 12 total points with the Lakers over 99 games.
Matthews is a graduate transfer from Dartmouth and has added nine points this season, matching his career high from 2018-19 in half as many games.
After posting four assists over four years and 39 career games with Boston University, Witkowski scored his first collegiate goal on October 19. He's since added two more goals and seven points in 18 games this season.
CANISIUS GOAL! Jake Witkowski taps home the goalmouth feed from Max Kouznetsov and its a 3-2 game!

That's the first collegiate goal for Witkowski pic.twitter.com/Lzuq7w33rX

— Canisius Hockey (@GriffsHockey) October 20, 2021
The Griffins' 10-9-2 overall record may not be head-turning, but they sit tied for second in Atlantic Hockey, just three points out of first place.
Large has pushed an in-the-moment mentality on his players, urging them to focus on the controllable things while junior Jacob Barczewski stabilizes the crease.
"I think he's one of the best goalies in the country," Large said. "We know that when he's in net we've got a chance to win, period. Doesn't matter who we play, where we play, when we play."
Barczewski has been the goalie every serious program covets and he holds an NCAA career record of 24-20-2 accompanied by a .914 SV% and 2.69 GAA along with two shutouts. This season he has led the Griffins to a 9-7 record with a .919 SV percentage and 2.61 GAA. He was also named AHA Goalie of the Week three times this season in addition to being named Goalie of the Month for November.
Another member of the Class of 2023, Keaton Mastrodonato has once again been the driving force up front, sitting with a team-leading 10 goals and 22 points in 20 games this season.
"Keaton is maybe the most determined, aggressive player that I've been around in quite some time," Large said.
Large credited Mastrodonato's competitiveness for his play, stating he won't quit until he beats you. That determination helped him finish eighth in conference scoring last season and has carried him to first in conference scoring this season.
Don't miss Mastrodonato and the Griffins taking on Holy Cross for a series this weekend; catch every Atlantic Hockey game live, right here on FloHockey.
---
Have a question or a comment for Jacob Messing? You can find him on Twitter @Jacob_Messing.