United States Hockey League (USHL)
USHL Fall Classic: Adam Gajan, Cole Eiserman Among Standout Performers
USHL Fall Classic: Adam Gajan, Cole Eiserman Among Standout Performers
The 2023 USHL Fall Classic provided a showcase for top players eligible for the 2024 and 2025 NHL Drafts, and drafted prospects like goalie Adam Gajan.
Sep 24, 2023
by Chris Peters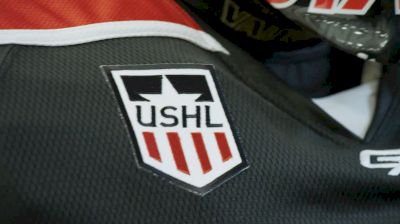 CRANBERRY TWP., Pa. -- The 2023 DICK'S Sporting Goods USHL Fall Classic has concluded with all 16 teams playing their first two games of the USHL regular-season under one roof. The annual showcase drew hundreds of NHL scouts, coaches from every Division I college in the country and some of the best under-20 hockey players in the United States.
With that, the 2023-24 USHL season is underway and some players made very strong first impressions.
USHL Season Previews: Eastern Conference | Western Conference
Prospects analyst Chris Peters was on the ground for the entire event and shares his thoughts on some of the players who stood out over the weekend.
2024 NHL Draft Eligibles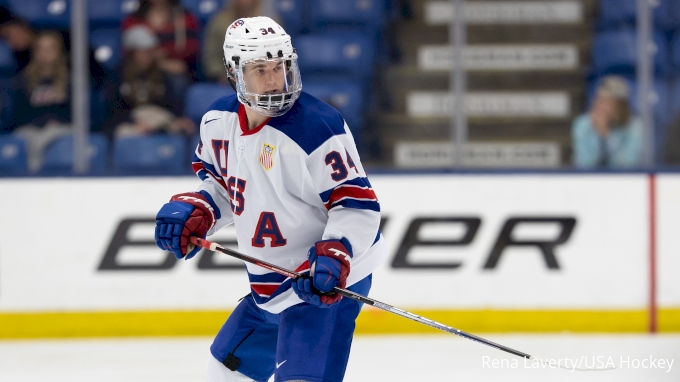 Cole Eiserman, U.S. National U18 Team
With five points over the weekend, Eiserman delivered on the high expectations everyone has set for him coming into the year. After scoring 69 goals last season, he put up four over the weekend including a second-period hat trick against the Omaha Lancers in Sunday's finale. He's a dangerous player who is always a threat to shoot and he's shooting to score at all times. The single-season goal-scoring record at the NTDP is 72 goals set by Montreal Canadiens forward Cole Caufield in 2018-19. That record certainly could be in peril with Eiserman wasting no time to fill the nets.
Trevor Connelly, Tri-City Storm
As one of the highest-rated players in the USHL this season, Connelly delivered. He didn't hit the scoresheet that much, but his impact on the game was noticeable. That was especially true after his first game of the Fall Classic where his ability to take over the game was clearly evident. He helped create Tri-City's first two goals against defending champion Youngstown, drew multiple penalties and played in all situations. As he gains more physical strength, his tenacious style of play will only become more impactful. Teams are still going to be doing a lot of homework on him in terms of some of the off-the-ice concerns they have, but it was abundantly clear that he's a big-time talent on the ice.
Trevor Connelly (2024) could make plays inside of a phone booth. He is must-watch TV on the power play.@TriCityStorm | #USHL | @FloHockey pic.twitter.com/oeG8KRjRaj

— Ryan Sikes (@ryan_sikes10) September 22, 2023
Adam Kleber, Lincoln Stars
A towering 6-foot-5 defenseman who can defend and is finding his offensive game, Kleber is the high-upside prospect NHL teams are going to be tracking all season long. Kleber had one assist off of a powerful shot that was deflected. In his second USHL season, Kleber has taken a serious step forward in his development and looks like he can bring a little more in terms of points this season. His value, however, rests in his combination of size and mobility with strong defensive sense and a growing physical game. He earned himself a lot of long looks from NHL teams this week.
E.J. Emery, U.S. National U18 Team
With impressive upside, Emery showcased his growing two-way game. He's a tremendous skater and is bringing more touch to the puck. He had two excellent primary assists in USA's win over Omaha, one of which was a seam stretch pass to Cole Eiserman for a breakaway. Emery's ability to spot those plays and execute like he did will allow him to raise his draft stock further. The expectation is that he'll be a first-round pick, but at this early stage of the season you have to wonder just how high he is going to go if he keeps adding more layers to his game.
Cole Eiserman (2024) features that quick release on the breakaway, his third NTDP goal already this year.@USAHockeyNTDP | #USHL | @FloHockey pic.twitter.com/qSdrkLY02l

— Ryan Sikes (@ryan_sikes10) September 24, 2023
Matvei Gridin, Muskegon Lumberjacks
Gridin had a third-period hat trick as the Lumberjacks pulled away from the Omaha Lancers in their opening game. The 6-foot-2 Russian import still has some strength building to do and can improve away from the puck, but he's shown growth from last season and made a substantial impact for his team. Gridin finished the weekend with five points and is currently tied with Eiserman for the USHL scoring lead.
Hagen Burrows, Sioux City Musketeers
A 6-foot-2 forward with skill, Burrows showed his ability to get to the interior and create chances. He has good size and showed improved strength after a dominant season at Minnetonka High School last year. It is believed that Burrows will return for his senior season at Minnetonka, so he could miss a significant chunk of the USHL season before returning at the end of the year. That said, he made a good impression early in the season and was among the players scouts pointed out as a draft-eligible to watch this year.
2025 NHL Draft Eligibles
James Hagens, U.S. National U18 Team
An already well-known commodity, Hagens is a very difficult player to defend. He brings so much skill and creativity to the game that it's hard not to enjoy the way he plays. He helped the U18s come back in a tough game against Dubuque with an absolute snipe, showing off a quick release with accuracy. He only had two points over the weekend, but was continually creating opportunities for himself and his teammates.
Logan Hensler, U.S. National U18 Team
We're going to be hearing a lot more about Hensler as a top-of-class defenseman for 2025 as the season wears on. At 6-foot-5, he is a tremendous skater with legitimate straight-ahead speed and some serious touch on the puck. He can defend and skate with just about anybody and puts pressure on opposing teams with his ability to distribute or skate pucks up ice. He finished the weekend with four points including a pair of goals – one of which was the overtime game-winner against Dubuque in the U18s' opening game. The Wisconsin commit is going to be generating a lot more buzz before he gets on campus.
Defenseman Logan Hensler's goal in OT lifted @USAHockeyNTDP to a 6-5 win over Dubuque Saturday at the #2023USHLFallClassic. @BadgerMHockey #StarsRise pic.twitter.com/OpeguLIjrP

— USHL (@USHL) September 23, 2023
Sascha Boumedienne, Youngstown Phantoms
There have been little whispers about Boumedienne's potential around junior hockey circles, but you never really know until the games start just how well a 16-year-old is going to handle the pace of the USHL. Over his first two games, Boumedienne was one of the best players on the ice, playing with poise and almost never putting a puck in a bad spot. His decisions were mature and his skating was very smooth. He scored a goal in his first USHL game on an absolute rocket of a one-timer. I don't know that I saw a harder shot taken at any point in the Fall Classic. The Swedish import is looking like another big-time youngster for the USHL as a rookie.
Lev Katzin, Green Bay Gamblers
The Gamblers have a chance to be a very good team this year despite some significant offseason losses off their roster. One of the big additions was the 16-year-old Katzin who came out of the vaunted Toronto Marlboros organization. In his first weekend in the USHL, Katzin scored a goal and added an assist. His skating and puck skills are already advanced for this league and his ability to create chances should allow him to produce at a reasonably high clip. Katzin is not a big player, but he's quick and he's smart. He'll also compete as the physicality and pace were no problem for him.
Rookie F Lev Katzin gets his first USHL 🚨 to give @GamblersHockey a 2-1 lead. @StarsRise #2023USHLFallClassic pic.twitter.com/4DBfTeVbFa

— USHL (@USHL) September 22, 2023
NHL Affiliated Prospects
Adam Gajan, Green Bay Gamblers (CHI)
The highest pick among goalies in the 2023 NHL Draft showed how valuable he is going to be Green Bay in his first weekend of starts. Gajan went 2-0 with a .929 save percentage over two contests. He held his team in a game where they were trailing and shut things down to help them secure an overtime win. Gajan is an athletic, quick goaltender. He will play an awful lot this year, which is great for his development and probably great for a Green Bay squad that feels like it has a chance to contend.
Cade Littler, Cedar Rapids RoughRiders (CGY)
After Cedar Rapids took one on the chin in their opening game, Littler came to play in their big bounce-back victory over defending Clark Cup champion Youngstown. He scored a hat trick, including a bizarre goal that came on a delayed penalty for Cedar Rapids. Either way, Littler showed his experience and size to go along with the finish. He played the last few years in the BCHL, but will spend his last season of junior hockey in Cedar Rapids and should be a massive difference maker for them.
One of the weirdest hat-trick goals you'll ever see. With a delayed penalty coming and the Youngstown net empty, Finn McLaughlin ricochets the puck off Cade Littler (CGY) and into the net. @RidertownUSA | #USHL | @FloHockey pic.twitter.com/HtCVK8EiJ5

— Ryan Sikes (@ryan_sikes10) September 21, 2023
Juraj Pekarcik, Dubuque Fighting Saints (STL)
With two points over the weekend Pekarcik showed his skill and smooth transition to North American hockey. The Blues third-round pick has really shifty hands and can get to the interior. His 6-foot-2 frame makes him harder to knock off the puck as well. There will be some adjustment time for him, but the expectation should be that he's going to put up some serious points after playing most of last season in the Slovakian pro league.
Zam Plante, Fargo Force (PIT)
Another year older and another year better for Plante who is playing in his second full USHL season and third overall. He'll be an offensive leader for Fargo and was amid a 2-0 start for the Force. Plante had a pair of goals and was around the puck a lot. He's got good quickness and plays with enough tenacity to challenge opponents. Plante also looked physically stronger.
Christopher Pelosi, Sioux Falls Stampede (BOS)
Bruins fans will have plenty to watch with the Sioux Falls Stampede as Pelosi and Beckett Hendrickson are both playing in South Dakota this year. Pelosi is an experienced center who showed off quality two-way skills and an ability to move pucks quickly. He finished the Fall Classic with a goal and an assist. It's clear he will be leaned on heavily this year and should see big-time minutes for the Herd while playing a variety of roles.
Other players of note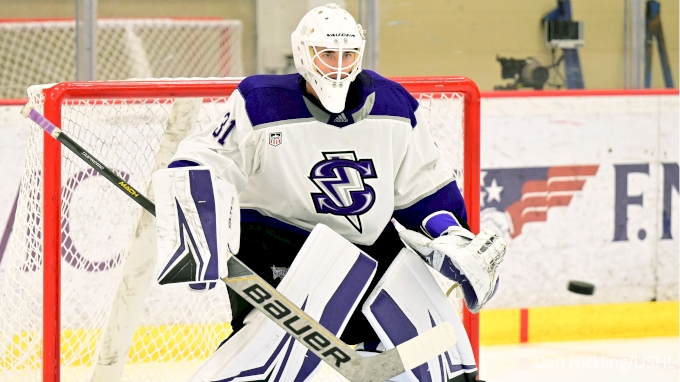 Cameron Korpi, Tri-City Storm
Korpi has bounced around a lot among different leagues in his junior career, but he looked sensational over two games for Tri-City. He posted a .966 save percentage while going 2-0, making some very difficult saves. The Western Michigan commit is in his last season of junior hockey and couldn't have gotten off to a better start.
Korpi shuts the door!!! Cameron Korpi keeps Youngstown off the board after multiple huge saves!! The Storm continue to lead the Phantoms 2-0! pic.twitter.com/XE601mwvB9

— Tri-City Storm (@TriCityStorm) September 21, 2023
Max Nagel, Madison Capitals
A four-point weekend for Nagel helped the Caps start the new season 2-0. He scored both goals against the Waterloo Black Hawks in a 2-1 win and was generally impactful. The 19-year-old Colgate commit was all over the puck and looks poised for a big year.
Erik Pahlsson, Dubuque Fighting Saints
In his first regular-season action in North America, Pahlsson posted four points. After spending last season in HV71's system in Sweden, Pahlsson showed maturity in his game and a general competitiveness that will serve him well in the USHL. He has good size and now should have a chance to get a lot of NCAA interest should he choose to stay on the college path.