2023 Idaho Steelheads vs Florida Everblades
Coast To Coast: Trade-Ups, Trade-Offs, Payoffs And Playoffs
Coast To Coast: Trade-Ups, Trade-Offs, Payoffs And Playoffs
Summer news and playoff runs continue to sweep through North America, and the calendar just flipped to June. Catch up on what's happening in the hockey.
Jun 7, 2023
by Jacob Messing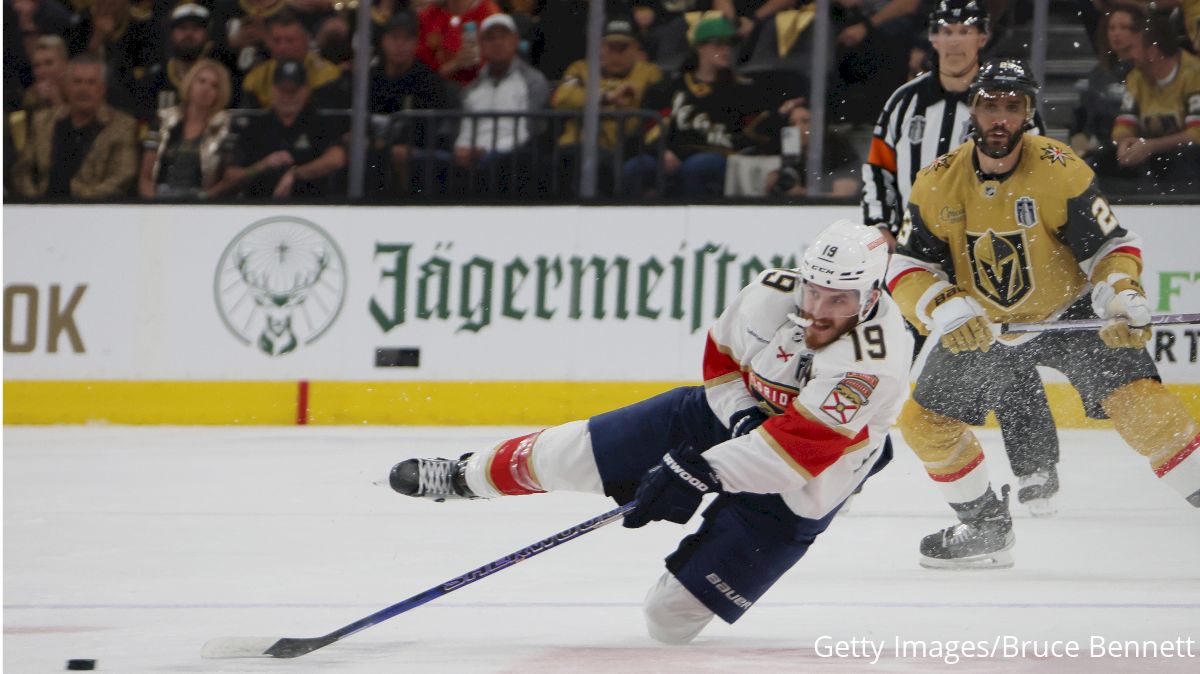 Coast To Coast is FloHockey's monthly, cohesive news on North American hockey and livestreaming partnerships.
Summer news and playoff runs continue to sweep through North America, and the calendar just flipped to June.
Catch up on the latest with some of FloHockey's streaming partners and more.
Atlantic Hockey
Trade-up: The Sacred Heart Pioneers enter the 2023-2024 season with a full home schedule at their new state-of-the-art facility, Martire Family Arena. Expect energy.
Trade-off: The Bentley Falcons and Ryan Soderquist parted ways after 21 seasons. The Falcons have not yet named a new head coach, but filling the skates of the alma mater's all-time leading scorer after two decades won't be an easy task.
Payoffs: Runaway regular season champion, RIT, is welcoming back four, fifth-year players in forwards Elijah Gonsalves and Caleb Moretz, defensemen Gianfranco Cassaro and Ryan Nicholson. Their return will help mitigate large roster turnover.
Four #RIT players to return for a fifth-year in 2023-24. #RoarTechhttps://t.co/EfBzkkeVzl pic.twitter.com/ScgCOcN0Yt

— RIT Men's Hockey (@RITMHKY) May 23, 2023
Playoffs: The list of Atlantic Hockey transfers – both coming and going – continues to grow as teams retool and Robert Morris' rebirth nears. Every program is looking at collegiate "free agency" in search of ingredients for playoff runs.
CCHA
Trade-up: Nothing sparks a sports debate quite like officiating.
The CCHA is looking to minimize discrepancies and bring more consistency to the league with the announcement of Marco Hunt as the new director of officiating.
Anytime a league makes a move for better officiating, it is a trade up.
We'll see you tonight! Happy 507 Day! https://t.co/9pVifWVnkW

— Minnesota State Hockey (@MinnStMHockey) May 7, 2023
Trade-off: Luke Strand has been named the new head coach of Minnesota State. The loss of Hastings is a tough jab – more on that below – but Strand could be the voice needed to get the perennial contender over the hump.
Payoffs: As the NHL continues to show, expansion is a great thing. This coming season, that will include Augustana University, which will enter its inaugural season with a transition schedule of 16 games – one series against each conference opponent.
The puck will drop on the 2023-2024 CCHA season on Oct. 27, and FloHockey will be ready to bring every CCHA game to a screen near you – live.
Playoffs: Extra, extra…coach Mike Hastings has departed the nationally dominant Minnesota State Mavericks in exchange for Wisconsin.
The change could have huge playoff implications for both programs as soon as the 2023-2024 season.
The postseason door just opened a little wider for CCHA programs.
ECHL
Trade-ups.
Trade-offs.
Payoffs: The Everblades bulked up in March for their run at defending their Kelly Cup title.
They added Logan Lambdin from Kalamazoo, and the winger has added five goals and 16 points in 20 playoffs games, after five goals and 10 points in 12 regular season games with the Blades.
Logan Lambdin scores twice as the @FL_Everblades defeat @Steelheads 5-3 in Game 2 of 2023 #KellyCup Finals to take 2-0 series lead.https://t.co/uhSqes5bgV

— ECHL (@ECHL) June 5, 2023
Playoffs: The ECHL final is set, as the runaway regular-season champion Idaho Steelheads take on the defending champion Florida Everblades.
Florida holds a 2-0 series lead heading back to home ice on Wednesday.
Game 3: Wednesday, June 7 at 7:30 p.m. ET at Florida
Game 4: Friday, June 9 at 7:30 p.m. ET at Florida
*Game 5: Saturday, June 10 at 7:00 p.m. ET at Florida
*Game 6: Tuesday, June 13 at 7:10 p.m. MT at Idaho
*Game 7: Wednesday, June 14 at 7:10 p.m. MT at Idaho
*If necessary
Stream the entire series live, right here on FloHockey, as the 2022-2023 ECHL season wraps up.
NHL
Trade-ups: Matthew Tkachuk.
The Florida Panthers had the blockbuster of last summer, sending Jonathan Huberdeau and Mackenzie Weegar to Calgary in exchange for Matthew Tkachuk.
Despite a bumpy regular season for the Panthers as a whole, Tkachuk skated in with 40 goals and a team-leading 109 points.
Matthew Tkachuk has taken the NHL to a new level because of how good he is and the style in which he plays. The NHL has responded by throwing him out 2 games in a row for really poor reasons. This league cannot get out of their own way.

— Bryan Garfield (@BryanG_3) June 6, 2023
Trade-offs: A step up the command chain, the Toronto Maple Leafs have announced the hiring of general manager Brad Treliving, who will be handling some cap shaping and roster retooling this summer.
Additionally, Barry Trotz, Craig Conroy and Daniel Briere all are entering their first seasons as general managers with the Nashville Predators, Calgary Flames and Philadelphia Flyers, respectively.
Briere enters the summer with his interim tag removed after the Flyers parted ways with Chuck Fletcher earlier this season.
Trotz' organization – in conjunction with outgoing GM David Poile – have announced the hiring of Andrew Brunette in place of John Hynes.
Brunette recorded the first goal in franchise history back in 1998. The 49-year-old also led the Florida Panthers to the Presidents' Trophy last season.
Payoffs: With the Washington Capitals announcing the hiring of Spencer Carbery as head coach and the Anaheim Ducks announcing Greg Cronin, the New York Rangers, Calgary Flames and Columbus Blue Jackets (rumored to announce Mike Babcock on July 1) all are without head coaches.
The Rangers pride themselves as Cup contenders, and the two remaining teams in the 2022-2023 season show what a coach can do. Both Florida and Vegas are under the control of coaches in their first season with their current team.
Playoffs: Back to Tkachuk, the agitating winger has brought grit and determination, which he's leaned on in the playoffs to carry the Panthers to the Stanley Cup Final.
Four more wins, and Tkachuk will be lifting the Cup this June, and possibly the Conn Smythe Trophy.
Tkachuk has taken 36 PIM in two games, as the Panthers head home for Game 3 and Game 4, down 2-0 in the series.
The Panthers need him out of the box and on the ice, if they want to even the series back in Sunrise.
But, regardless of a win or loss, good things are happening in Florida with a young core at the middle of it.
---
Have a question or a comment for Jacob Messing? You can find him on Twitter @Jacob_Messing.