Atlantic Hockey
Atlantic Hockey Transfer Portal Update: Part 1
Atlantic Hockey Transfer Portal Update: Part 1
The NCAA's "free agency" has been active this spring, with the transfer portal wide open and programs restocking for the 2023-2024 season. Here's Part 1.
May 10, 2023
by Jacob Messing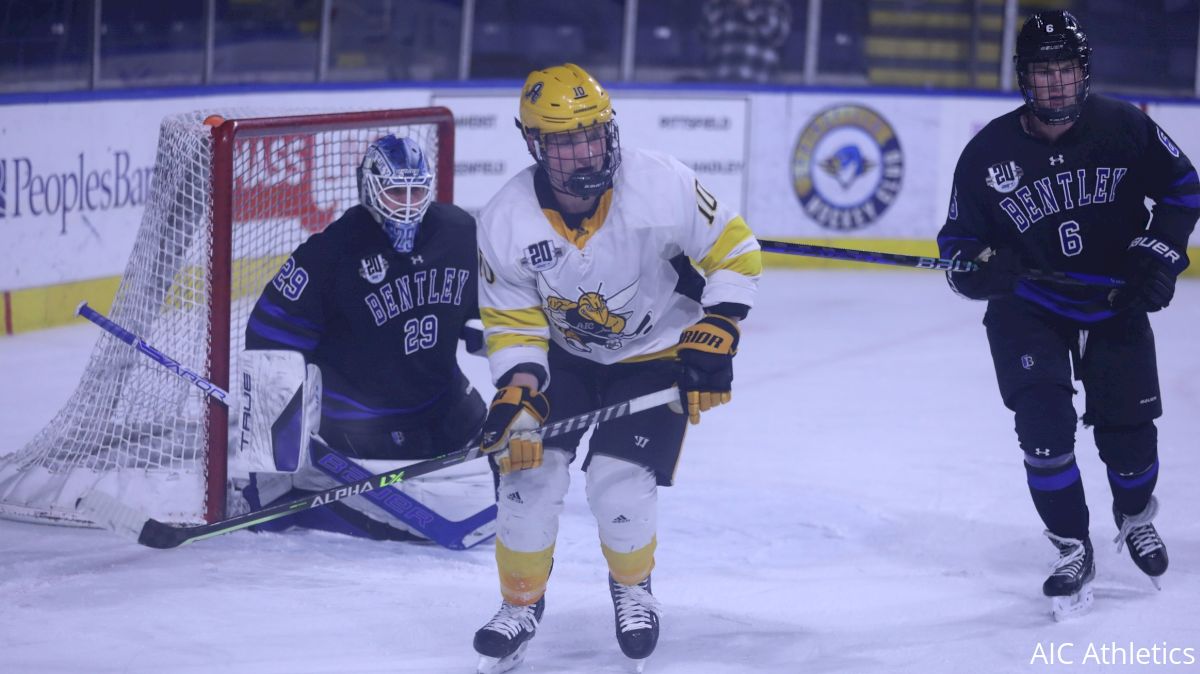 The NCAA's "free agency" has been active this spring, with the transfer portal wide open and programs restocking for the 2023-2024 season.
As Atlantic Hockey programs take their slice of the pie, academies Army West Point and Air Force look on, sticking to their recruitment plans and reliance on chemistry and cohesion in the locker room.
AIC
The Yellow Jackets finished second in Atlantic Hockey after a four-year run as the regular season champs.
The Jackets are on the verge of being among the older programs in the 2023-2024 campaign, stocking up for another NCAA Tournament.
In: Jr., G, Cole Hudson.
Hudson comes in from Vermont after not seeing any playing time in the 2022-2023 and playing in just two games in the 2021-2022 campaign.
Hudson will look to push for more ice time with Jarrett Fiske transferring to Niagara.
In: Grad., F, Jordan Steinmetz.
Steinmetz comes in after 122 games with St. Lawrence.
Steinmetz recorded 16 goals and 35 points as captain of the Saints in this season.
Out: Grad., G, Jarrett Fiske (Niagara).
Fiske went 10-8-6 with the Jackets last season with a 2.38 GAA, .923 SV%, and two shutouts.
Bentley
After 21 seasons, coach Ryan Soderquist announced his departure from the program.
Before, and after, his departure, the Falcons have been busy on both sides of the portal and are set to lose three of their top-4 scorers from this season.
In: So., D, Greg Japchen.
Japchen left Union after eight games and no points this season.
He brings a reliable, two-way defensive style with an upward trajectory and eagerness for more ice time.
In: Jr., D, Samuel Duerr.
Duerr played 32 games with Maine between 2021-2023, recording seven points as a stay-at-home defenseman.
In: Gr., F, Liam Izyk.
Izyk skated with Alabama-Huntsville in 2019-2020, recording 11 points in 32 games.
In three years with Boston College, Izyk took on a depth role, chipping in 11 points in 64 games.
Out: Sr., F, Cole Kodsi (Union).
Kodsi recorded seven goals and 16 points in 34 games during the 2022-23 season.
Out: Jr., F, Harrison Scott (Maine).
Scott recorded eight goals and 15 points in 32 games, building on his freshman numbers of four goals and 11 points.
Out: So., F, Nicholas Niemo (Maine).
Niemo posted eight goals and 22 points as a National Rookie of the Year watchlist member, while leading the Falcons in scoring last season.
Portal update:
F Ryan Miotto (Canisius) to Vermont
F Albin Nilsson (Niagara) to Miami
F Lucas Vanroboys (Bentley) to UMass
F Nicholas Niemo (Bentley) to Maine

— Chris Lerch (@chrislerch) April 6, 2023
Out: Gr., F, Lucas Vanroboys (UMass).
Vanroboys finished third in team scoring with 20 points and had a team-leading 16 assists.
Canisius
A late-season surge, conference tournament title and NCAA Tournament berth highlighted the Golden Griffins' 2022-2023 season.
With a significant portion of the roster aging out, there will be a lot of questions in Buffalo.
In: So., F, Grant Porter.
Porter joins the Griffins after a one-game freshman season at Providence.
Ice time shouldn't be an issue, and his junior career shows promise under his new coach Trevor Large.
Out: Gr., G, Jacob Barczewski (Michigan).
Barczewski departs after four strong seasons with the Griffins.
The netminder amassed a 44-42-8 record on the heels of a 2.60 GAA, .917 SV%, and six shutouts.
Out: Sr., F, Ryan Miotto (Vermont).
Miotto recorded 35 points (17 G, 18 A) in 42 games during a breakout senior season with the Griffins.
Carter Wilkie became the first @Atlantic_Hockey player since 2018-19 to hit the 4⃣0⃣-point mark this season.@RITMHKY / @GriffsHockey / @AIC_Hockey#AHA20 pic.twitter.com/QJGEPRfJuv

— Atlantic Hockey (@Atlantic_Hockey) May 2, 2023
Holy Cross
The Crusaders have yet to add anyone from the transfer portal this spring.
Tournament heroics earned the Crusaders a runner-up finish in the conference tournament.
Despite a pair of transfers out, the excitement is building at Holy Cross.
Out: Gr., D, Nick Hale (Ferris State).
Hale captained the Crusaders this season, while improving his defensive play with little offensive reduction.
Out: Gr., F, Alex Peterson (UMass-Lowell).
Peterson was an assistant captain last season and enjoyed a career year with 19 points (5 G, 14 A).
Don't miss Atlantic Hockey Transfer Portal Update: Part 2 this week for all remaining Atlantic Hockey programs.
---
Have a question or a comment for Jacob Messing? You can find him on Twitter @Jacob_Messing.