2023 Boston College vs Sacred Heart - Men's
Martire Family Arena Set To Show NCAA That Sacred Heart Hockey Has Arrived
Martire Family Arena Set To Show NCAA That Sacred Heart Hockey Has Arrived
Announced days after the cancellation of the 2019-2020 season, Sacred Heart dedicated $70 million to a new, NHL-caliber arena, set to open Jan. 14.
Jan 7, 2023
by Jacob Messing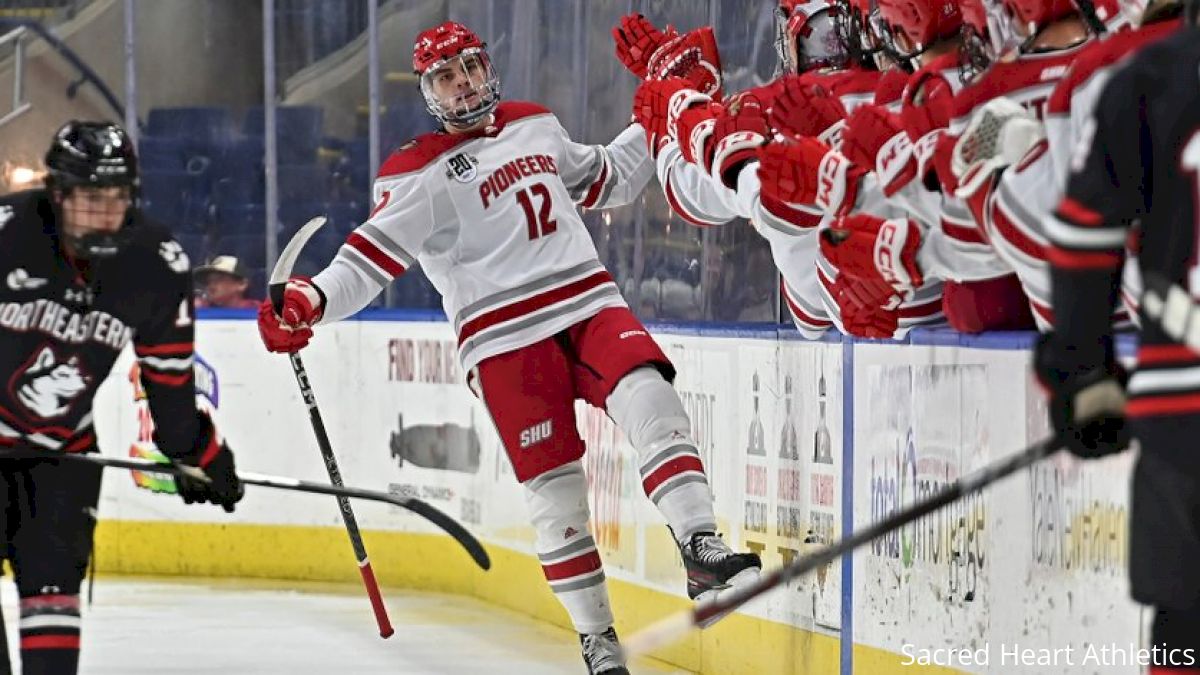 The 2019-2020 season was a pivotal year for the Sacred Heart Pioneers, who emerged for a season of program achievements, before COVID-19 forced the season's cancellation.
At the time of the cancellation, the Pioneers on the ice were steering toward the program's first berth in the national tournament. Meanwhile, the Pioneers in the board room were steering toward a new arena.
"That 2019-2020 team that we had, we'll never know what it could really have been, but we felt we had a really strong group," Pioneers coach C.J. Marotollo said. "Our administration was behind us; they were excited for us. We always knew they wanted to build an arena, but when your team performs well, it helps the cause."
Announced just days after the announcement of the season's early conclusion, Sacred Heart University dedicated $70 million to a new, NHL-caliber arena, now set to open Jan. 14. The Pioneers will play host to Boston College in front of a sellout crowd.
First day at the Martire Family Arena! All about fun with a 3 on 3 tournament. #WeAreSHU pic.twitter.com/QTBISweCDl

— SHU Hockey (@SHUHockey) November 28, 2022
"With an arena like this, there's no excuse for us not to attract the best and the brightest and the most competitive kids we can to reach our goal of getting to the NCAA Tournament and competing at that level," Marotollo added.
A 1969 graduate and current chairman of the board of trustees at SHU, Frank Martire, and his wife, Marisa, donated $5 million to the construction of the new arena, which has been named Martire Family Arena.
Less than three years later, Martire Family Arena is set to open as a 122,580-square-foot facility. It will house a standard 85x200-foot NHL ice surface, surrounded by 3,600 seats.
Only 10 more sleeps until the inaugural puck drop at the gleaming new Martire Family Arena at @sacredheartuniv @SHUHockey faces Boston College. Can't wait! Go get 'em Coach Marattolo! @JLGArchitects is so proud to have been part of this dream come true. pic.twitter.com/q30YZFI1wf

— Randy Lieberg (@RandytheIceGuy) January 4, 2023
"We did a lot of homework, traveling to the rinks we researched, talking to NHL people, what's cutting-edge, how they're doing things now," Marotollo said. "I think we have everything that we need."
The ice surface is insulated by top-tier locker rooms, a professional-level strength-and-conditioning facility, sports medicine and hydrotherapy suites, an off-ice shooting area, as well as a video theatre, conference rooms and university classrooms. Marotollo says they did their homework, and nothing's missing.
"It blows me away," he said. "The detail. From the elevated fan experience to the suite-level to the concourse level where the bowl is. Then, there's the player amenities. It just blows me away."
"I would always say that home ice doesn't matter, but now with the building we're gonna have, I hope to hell it matters," Marotollo said regarding the on-campus facility now saving players a 20-minute trip off campus to Total Mortgage Arena. "The guy's finally have a place they call home."
But the arena won't be reserved strictly for the men's team, as they're happy to share with the club teams, figure skating program and the women's team, set to drop the puck on Jan. 15 for its inaugural game as host to Harvard University.
During the week days, classrooms will host students majoring in sports communication and media, sport management and more.
Currently second in Atlantic Hockey, the Pioneers will play seven of their final 11 conference games at Martire Family Arena.
Catch every game at the new arena live, right here on FloHockey, as the Pioneers continue to elevate their program.
---
Have a question or a comment for Jacob Messing? You can find him on Twitter @Jacob_Messing.