2023 Holy Cross vs RIT - Men's
Coast To Coast: Setting The Stage
Coast To Coast: Setting The Stage
Postseason performances and trade deadline dealings shift hockey mindsets and fanbases into new windows and new expectations.
Mar 8, 2023
by Jacob Messing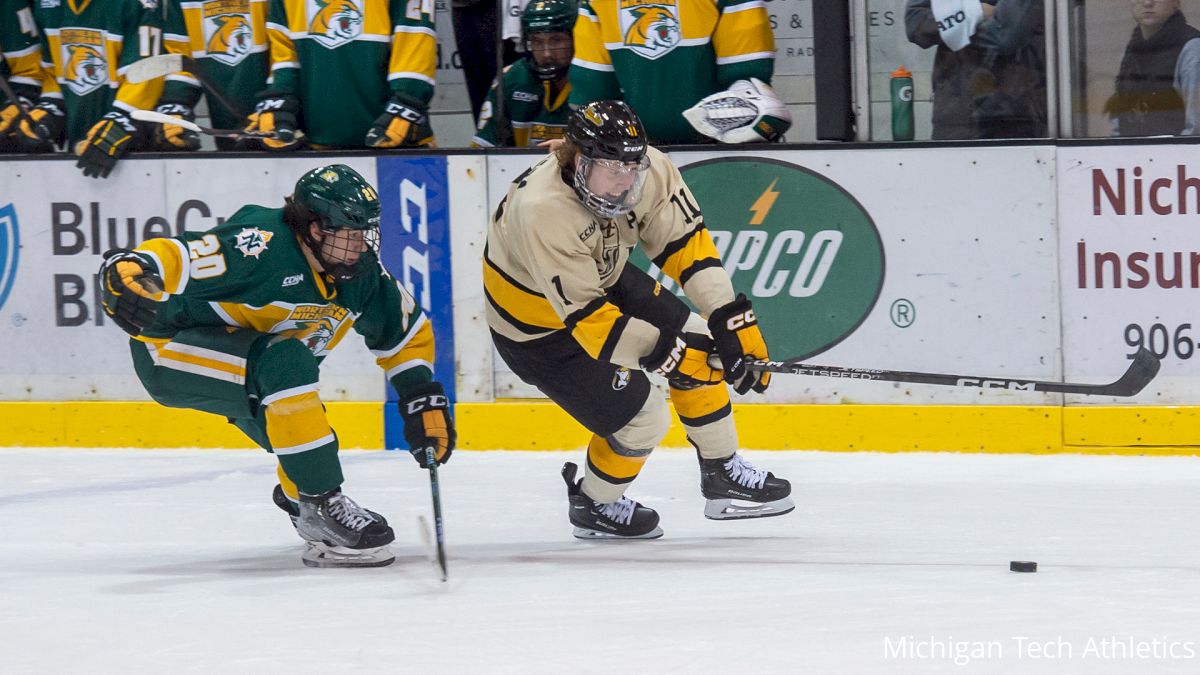 Coast To Coast is FloHockey's monthly, cohesive news on North American hockey and live-streaming partnerships.
---
Postseason performances and trade deadline dealings shift hockey mindsets and fanbases into new windows and new expectations.
Don't miss a moment of the CCHA Tournament or Atlantic Hockey Tournament; catch it all live, right here on FloHockey through each championship game.
Atlantic Hockey
A handful of upsets highlighted the opening round of the Atlantic Hockey Tournament. No. 1 seed RIT skated to a sweep over Mercyhurst with a 5-3 win and 4-3 overtime courtesy of Gianfranco Cassaro's 13th goal of the season. The Lakers held the lead for much of the second game, but RIT's composure and depth ultimately took over, showing their deserved top seed.
Holy Cross ousted No. 2 seed AIC for a trip to the quarterfinals and a date with RIT. The Crusaders fell 3-1 in the opening game before a pair of back-to-back 4-3 wins saw them complete the upset over the experienced Yellow Jackets. Liam McLinskey scored five goals in the series, including two-goal performances in each win. Alex Peterson added five assists and Devin Phillips had a goal and three assists.
In another upset, No. 6 Niagara took the buzz out of Sacred Heart's brand-new Martire Family Center with lopsided 4-1 and 7-3 wins. The Purple Eagles' Carter Randklev took over in Sunday's do-or-die with a two-goal, five-point night to lift his team to the quarterfinals.
Canisius held off Army West Point in an exciting series that featured two shutouts, an overtime thriller, and two 3-goal differential wins. Canisius took Game 1, 5-2 with nine different skaters chipping in on the scoresheet. Army locked down defensively for a 1-0 overtime winner six minutes into overtime in Game 2. But Canisius took back over in Game 3, with a 3-0 shutout, moving forward with their scorching, late-season play.
The AHA Semifinal match-ups are set! Who will advance to the championship game?

📰 https://t.co/DURnpcI6Nx
ℹ️ https://t.co/kSe0OonF1d
🗓️ https://t.co/Ha3DSfLDi1#AHA20 pic.twitter.com/LZ6hTz0dbW

— Atlantic Hockey (@Atlantic_Hockey) March 6, 2023
CCHA Come-Ups
A first four of four sweeps sees No. 1 Minnesota State move on after beating No. 8 Lake Superior State, No. 2 Michigan Tech progress after defeating No. 7 St. Thomas, No. 6 Ferris State over No. 3 Bowling Green, and No. 4 Northern Michigan over No. 5 Bemidji State.
Round 2 is re-seeded and set for the No. 1 Mavericks to take on the No. 6 Bulldogs and No. 2 Huskies to take on the No. 4 Wildcats.
The Mavericks and Huskies added to their chances for an at-large bid while getting two games closer to the Mason Cup. The Bulldogs' upset over Bowling Green demands respect, with two overtime winners for the sweep. The series win came after a five-game losing streak to conclude the regular season.
Meanwhile, the Wildcats' sweep over Bemidji State came with a 7-3 thrashing and a 2-1 overtime thriller just over a minute into the extra frame.
A lot can happen between now and the championship game, but it seems primed for a rematch between Minnesota State and Michigan Tech.
Four playoff standouts make up the #CCHA Players of the Week! (Mar. 3-4)

📰: https://t.co/q3k8B1AUlz#CCHAHockey pic.twitter.com/T9lTgbkszz

— CCHA (@CCHAHockey) March 6, 2023
NHL Next Steps
The trade deadline has come and gone, and now rumors and rumblings can be saved until the offseason.
Buyers have the final quarter of the season remaining to push for playoff spots, solidify their home-ice advantage, and show they're contenders. Sellers will turn to prospects, draft planning, and off-season considerations.
The New York Rangers and Toronto Maple Leafs lead the pack in gearing up for their runs. The Rangers brought in Tyler Motte, Niko Mikkola, Vladimir Tarasenko and Patrick Kane, with the latter two having combined for four Stanley Cups.
Patrick Kane is headed to the Rangers and the Rangers are almost unrecognizable from a few weeks ago. What to make of one of the most eventful trade deadlines from any team in recent memory (and it's not even Friday!): https://t.co/sPppLYEVzr

— Sara Civ (@SaraCivian) February 28, 2023
The Maple Leafs shook things up with the additions of Ryan O'Reilly, Noel Acciari, Jake McCabe, Sam Lafferty, and Erik Gustafsson. Kyle Dubas is under pressure to push his team past the first round and prove the core can contend in the playoffs.
On the selling end, the Detroit Red Wings shipped off Tyler Bertuzzi, Filip Hronek, Jakub Vrana, and Oskar Sundqvist. Steve Yzerman has come under some fire for the slow rebuild in Detroit, but the team's growth is evident and a lack of lottery luck exists.
Now he holds five picks through the first two rounds of the 2023 draft, with the capability of all five landing within the first 45 selections. He's got the assets to make moves and prepare for increased expectations and criticism in 2023-24.
---
Have a question or a comment for Jacob Messing? You can find him on Twitter @Jacob_Messing.