AHL - Eastern
Evaluating Rangers-Canucks Trade: Vitali Kravtsov For Will Lockwood, Pick
Evaluating Rangers-Canucks Trade: Vitali Kravtsov For Will Lockwood, Pick
Prospect analyst Chris Peters reviews the returns for the Canucks and Rangers in the Vitali Kravtsov trade.
Feb 25, 2023
by Chris Peters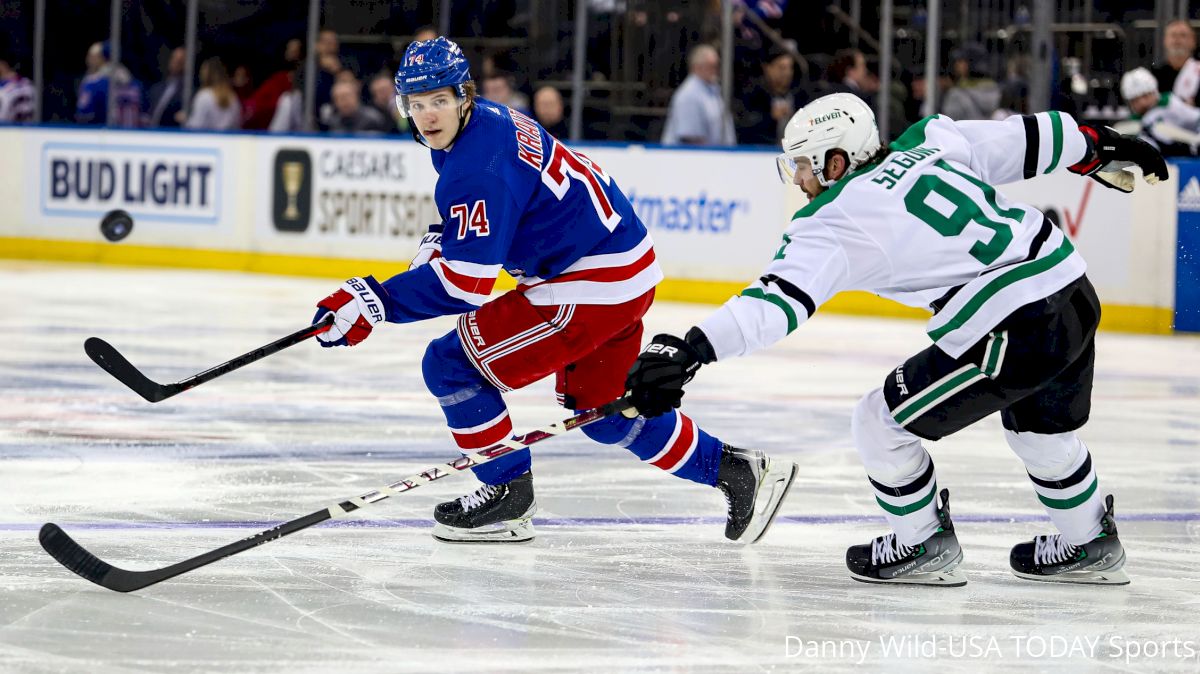 In the lead-up to the NHL Trade Deadline, FloHockey prospect analyst Chris Peters will break down the deals that involve picks and prospects.
Moves continue to happen across the NHL, but all eyes have centered on the New York Rangers and whether or not they'll acquire Patrick Kane from the Chicago Blackhawks. The Rangers made two moves that helped get some money off of their salary cap to start making the space to acquire the one-time Hart Trophy winner including a late-afternoon deal with the Vancouver Canucks Saturday.
After waiving Jake Leschyshyn earlier Saturday, the Rangers traded former first-round pick Vitali Kravtsov to Vancouver for Will Lockwood and a seventh-round selection in the 2023 NHL Draft. Here's a quick look at the return for both teams.
About The Canucks' Return
Vitali Kravtsov seems to have a lot of the tools necessary to become a top-six forward in the NHL. However, he's never really looked close to it in his time in North America. His career has been marked by some stops and starts, some of which is situational and some of which is on him.
A 6-foot-3 winger with a high-end shot and good offensive instincts, Kravtsov is a former KHL rookie of the year who has relatively thrived in Russia's top pro league over parts of four different seasons. Kravtsov spent last season in Russia after it appeared the Rangers were poised to keep him in the AHL, rather than with the NHL team. On merit, you could understand where the Rangers were coming from.
Kravtsov played well in his return engagement in his native Russia, especially in the postseason when he had seven goals over 15 games for Traktor Chelyabinsk. There was some excitement about his ability to return and contribute to the Rangers.
He had six points over 28 games for the Rangers this season, playing in a limited role. Kravtsov had reportedly requested a trade some time ago and the Rangers were looking for the right situation to move him.
A change of scenery and situation may be what's best for Kravtsov in the end. A client of agent Dan Milstein, who has multiple clients on the Canucks roster including Andrei Kuzmenko, Kravtsov should have some good support to get himself situated locally.
GM Patrik Allvin announced today that the Vancouver Canucks have acquired F Vitali Kravtsov from the New York Rangers in exchange for F William Lockwood and a 7th round pick in the 2026 NHL entry draft. pic.twitter.com/emb19y87q9

— Vancouver Canucks (@Canucks) February 25, 2023
Evaluating The Canucks' Return
Given the acquisition cost, this is a low-risk proposition for Vancouver to see if a former top-10 pick has something to show.
Having watched Kravtsov at each of the KHL, AHL and NHL level, there's definitely skill there. He has the ability. The question has been more about his work rate off the puck and if he helps your team in any other way besides scoring and being a big body up front. He lacks a true power game that allows him to drive the net and while he has hand skills, he's struggled to find a feel in the middle of the ice where the prime scoring areas are.
The Rangers had to sell exceptionally low on this player, but they're in a much different place as a franchise now than when they drafted him. With eyes on contending for the Stanley Cup, there wasn't much reason to wait any longer to see if Kravtsov could turn the corner.
The low-risk, high-reward bet Vancouver has made here has a chance to work, but I've been especially underwhelmed by what Kravtsov has done outside of Russia. He was given a lot of opportunities in the AHL games I watched him to be a big-time player. When the Rangers wanted to send him back there, he could have really helped his development by better adjusting to the North American game. Instead, he went back to Russia and did not come back a better player.
Again, his skill set is outstanding. There's a chance this works out really well, but it's going to be on the player to find his game and the team to give him some opportunities in elevated roles to see what he can do.
Kravtsov will be an arbitration-eligible restricted free agent after this season with a qualifying offer that is south of $1 million. It should be a relatively low cost to keep him going forward as he finds his way.
About The Rangers' Return
The Rangers added 24-year-old Will Lockwood, who I've always liked as a player and prospect due to his hard-nosed style and high motor, and a 2026 seventh-round draft pick. Lockwood has been decently productive at the AHL level, but has just one point in 28 NHL games in his career, which is far less encouraging.
For the style Lockwood plays, he's below average in size and he's also dealt with some injuries during his young career that has knocked him off of his development arc a bit.
He's the kind of player that is going to have to work extremely hard to find a way onto the NHL roster, especially given where the Rangers are as a franchise.
A restricted free agent after this season, Lockwood is arbitration eligible. More importantly for the Rangers, however, he is waiver exempt which means he can be sent down to the minors without fear of losing him to the waiver wire. That allows New York to deposit that cap hit in the minors and clears the road for acquiring Patrick Kane.
Evaluating The Return For The Rangers
This is all about moving salary to make way for Kane and shedding an unhappy player that wasn't going to work out within that specific organization. The Rangers sold low on an asset they had very high hopes for at one point and in the end landed a former third-round draft pick and a seventh-round pick in 2026, which isn't a lot at the end of the day.
Lockwood is not a non-prospect to me even though he has not made much of an NHL impact yet. There's some skill and tenacity in his game that could allow him to be a bottom-of-the-lineup player with a chance to produce the odd point. He's going to have a chance to prove himself next year perhaps. I think he has NHL upside still, but the clock is ticking for him to prove it. More importantly though, the Rangers don't need Lockwood now and they can send him to the minors without issue.
As far as the 2026 seventh-round draft pick is concerned, that amounts to magic beans, really. You always want to have more picks than fewer, but that felt like more of a throw-in piece to sweeten the return for New York the same way a dash of sugar makes corn flakes more palatable.
With the Rangers up against the clock to try and figure out how to fit in Kane as they load up for the Stanley Cup, they couldn't wait for a lot more than what they got for Kravtsov and based on his play in North America, I'm not sure he was going to be worth much more anyway.