ECHL - Eastern
Evaluating Blackhawks' Return From Maple Leafs In McCabe-Lafferty Trade
Evaluating Blackhawks' Return From Maple Leafs In McCabe-Lafferty Trade
Prospect analyst Chris Peters breaks down what the Blackhawks got from the Toronto Maple Leafs including Joey Anderson and prospect Pavel Gogolev.
Feb 27, 2023
by Chris Peters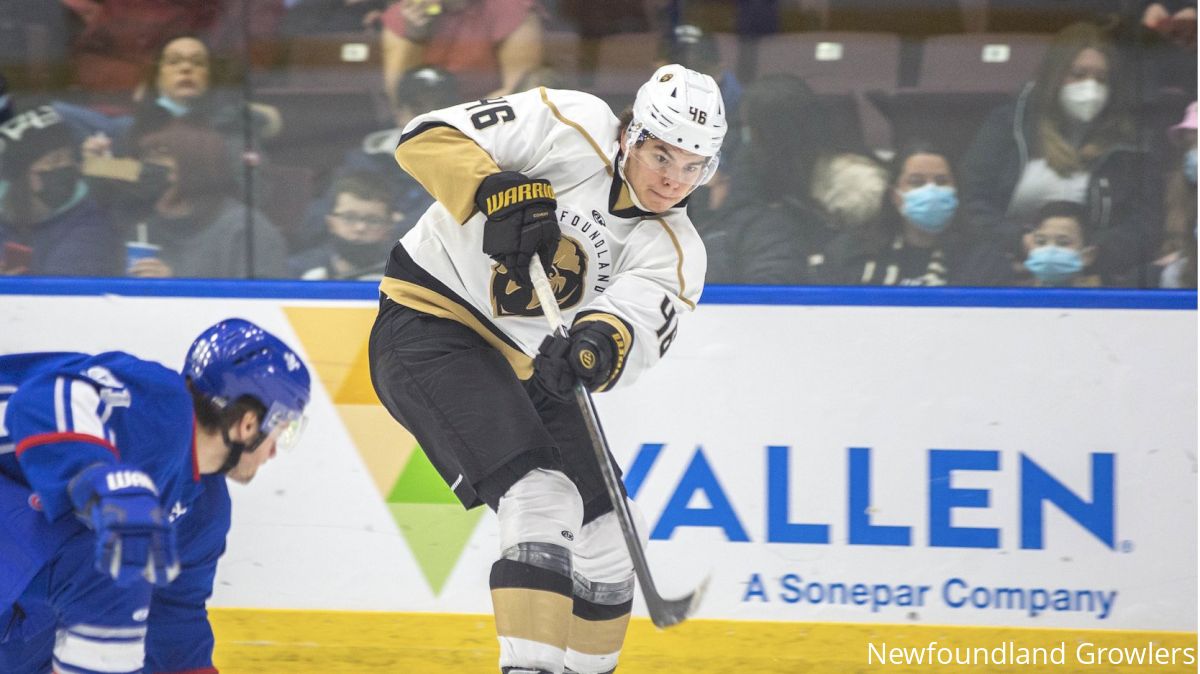 Throughout the build-up to the NHL Trade Deadline on March 3, FloHockey prospect analyst Chris Peters will be evaluating the deals involving notable picks and prospects.
The Toronto Maple Leafs continued to wheel and deal by swinging a trade with the Chicago Blackhawks for veterans Jake McCabe and Sam Lafferty as well as two late draft picks. It was not a cheap acquisition as Toronto included their 2025 first-round pick (that is top-10 protected), while also dealing Joey Anderson, prospect Pavel Gogolev and a 2026 second-round pick.
The Maple Leafs are in Cup-or-bust mode and now has only three draft picks for 2023 and only one first-round pick over the next three years still at their disposal. But they've managed to bolster their blue line and their forward depth with hard-nosed players.
We've acquired Jake McCabe, Sam Lafferty, a conditional 5th round pick in 2024 and a conditional 5th round pick in 2025 from Chicago in exchange for a conditional 2025 1st round pick, 2026 2nd round pick, Joey Anderson and Pavel Gogolev

— Toronto Maple Leafs (@MapleLeafs) February 27, 2023
Conversely, the rebuilding Blackhawks have accrued a warchest of draft picks over the next four drafts and are sure to add more to the mix once they deal Patrick Kane. By adding two high draft picks over the next three years. Chicago owns six first-round picks between 2023 and 2025, they'll have seven in the first three rounds in 2023 and six in the first three rounds in 2024.
Since we're focused more on prospects, we'll keep our focus on what Chicago is getting out of this deal. So let's get to it…
About Chicago's Return
Joey Anderson is a 24-year-old winger who was a third-round pick of the New Jersey Devils. He won an NCAA title with Minnesota Duluth in 2018 and was part of USA's gold-medal-winning World Junior team in 2017. He also captained the U.S. team the following year at the 2018 World Juniors where they won bronze.
Anderson has largely been an NHL-AHL tweener at this stage of his professional career, but should be able to be an everyday player for the Blackhawks in their current state. He's appeared in 72 NHL games between the Devils and Maple Leafs, while appearing in 163 AHL games. He has 120 points in the A, showing that he can be a productive player.
At the NHL level, Anderson is largely a depth role player. He has good two-way skills, speed and can get in on the forecheck. He's not going to be a major impact player, but he can help a team like Chicago that is going to be young for the next few years.
Pavel Gogolev is a somewhat interesting prospect as he's always been a skilled, effective player at various stops in his career. He is in the midst of a very special season in the ECHL with the Newfoundland Growlers after struggling a bit at the AHL level last season.
Signed as an undrafted free agent after a 96-point OHL campaign with Guelph, Gogolev has a nose for the net and good offensive instincts. His skating is suspect and his intensity level can wane in games. He didn't have enough to crack the top six with the Toronto Marlies in the AHL, so they sent him to the ECHL to get reps in that role.
🚨 GOAL 🚨

What a GOAL by Pavel GOGOLEV! (even better celly)#BetterThanTheBest pic.twitter.com/q67nX0cK7H

— Newfoundland Growlers (@NLGrowlers) February 10, 2023
He has 45 points in 33 games with Newfoundland. It is unclear at this time if he will remain with Newfoundland, which he can on loan, or if he'll move to Chicago's ECHL affiliate, the Indy Fuel, or if he'll get recalled and play for the Rockford IceHogs in the AHL. All of those options should be on the table. He has some upside still, but you'd probably like him to be a little further along by now.
The top prize of this trade package, however, is the first-round pick. Though top-10 protected, the Blackhawks are in the business of collecting assets and the more first-round picks they can accrue to attempt to rebuild their core from the ground up, the better. The same can be said for the second-rounder they acquired for 2026, though that's well off in the distance now.
Evaluating Chicago's return
Chicago parts with two players that a lot of teams appeared to be in on with McCabe and Lafferty both solid depth options for contending teams. Since the Blackhawks retained 50% of McCabe's contract and he has some term, they made a pretty big concession for Toronto.
Getting the first-round pick out of that trade was critical, which is likely where that concession was made. Beyond that, they have an NHL roster player in Anderson and a longer-shot prospect in Gogolev who has shown some higher-upside offense this season in the ECHL. Those pieces, while nice to have, could amount more to stop-gap players and are unlikely to move the needle significantly in this rebuilding situation for the Blackhawks.
Anderson has graduated from prospect status, while Gogolev would be graded as a C prospect – which is to say he is a player with a chance to reach the NHL, but is far from a guarantee and unlikely to play a substantial role if and when he gets there.
Chicago continues to sell and collect future assets. Considering they shed two depth players and two late draft picks – both conditional fifth-rounders – they got a return that fits into what they're trying to rebuild at the moment. It wasn't a home run, but considering what they gave up, coming away with a first-round pick is good business.
The amount of picks Chicago has gives them a lot of flexibility in that they can use all of them at the draft, or they can start packaging those picks to other teams in deals for higher-impact NHLers if and when they're ready to start making moves like that. Draft capital gives you options and that's what a rebuilding team like Chicago needs most.
The Blackhawks are also now much better positioned to finish at or near the bottom of the league standings this season, which puts them firmly in the mix for Connor Bedard and potentially no worse than Adam Fantilli. Either one of those players would be a franchise building block that Chicago could focus their efforts building around as they move on from the Kane and Jonathan Toews Era in their organization.