AHL - Eastern
AHL All-Star Classic: Goalies, Fans Steal Show On Memorable Night
AHL All-Star Classic: Goalies, Fans Steal Show On Memorable Night
The AHL All-Star Classic will go down as a memorable one thanks to some incredible on-ice performances -- especially by the goalies -- and a raucous crowd.
Feb 7, 2023
by Chris Peters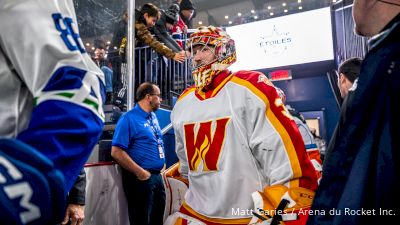 LAVAL, Quebec -- Team Pacific edged Team Atlantic, 1-0, in the finale of the 2023 AHL All-Star Challenge to close out a resoundingly successful AHL All-Star Classic weekend.
Calgary Wranglers goalie Dustin Wolf and San Diego Gulls netminder Lukas Dostal shared the shutout and MVP honors for the event which featured seven 3-on-3 games among teams representing each of the AHL's four divisions.
Ontario Reign captain T.J. Tynan, AHL veteran and the reigning MVP of the league, led the tournament in scoring with six points for Team Pacific. Bakersfield Condors forward Seth Griffith scored a tournament-high five goals, while Michael Carcone of the Tucson Roadrunners registered an event-high four assists.
The scores and stats never really matter in an all-star game, but the event itself showed how events like these should be done. There weren't a ton of frills, but the players put forth a good effort, the fans brought the noise and there were more than a few memorable moments throughout the entire 3-on-3 tournament.
Here's some of what stood out.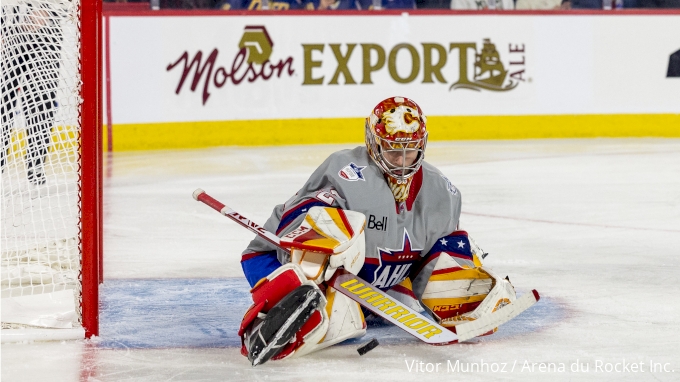 Dustin Wolf's Brilliance Continues
The reigning AHL Goalie of the Year looked like he wanted to remind the hockey world why he earned that designation. Dustin Wolf picked up more hardware at the All-Star Challenge as he was named co-MVP with fellow Pacific goalie Lukas Dostal of the San Diego Gulls.
Wolf made a number of clutch saves, none better than going into the full splits in the semifinal to rob Luke Evangelista of a sure goal.
Sammy Walker (Iowa) gets on the board to cut Central deficit to 3-2, but this ridiculous stop by Dustin Wolf (Calgary) springs a goal for Pacific at the other end from Griffith (2nd in this game, 4th goal tonight).

4-2 Pacific pic.twitter.com/oGYcSCRtio

— Tony Androckitis* (@TonyAndrock) February 7, 2023
Wolf finished the event with an .880 save percentage, stopping 22 of 25 shots during the three-on-three tournament.
On top of his duties with Team Pacific, Wolf even subbed in for a half for Team Central, who was short one goaltender as Yaroslav Askarov had to withdraw from the event late. Wolf even had an assist as he finished with a 2-0 record on the night.
That Wolf was one of the best goaltenders in the event is hardly a surprise. He's been the picture of consistency throughout his junior and professional career. He has one of the best save percentages in the AHL presently with a .928 mark for the Wranglers. He's also picked up four shutouts and has a 2.19 goals-against average.
Despite concerns about his size that saw him drop to the 214th overall selection in his draft year, Wolf continues to defy the odds and looks like he's not far away from earning his NHL shot. No matter the stage, he always competes.
Showmanship On Display
All-star games are supposed to be fun and they only provide entertainment value when the players get a little more competitive, or that they try a bunch of things they might not ever try in a regular game. It looks like the a lot of the players got the memo in this one, which made for highly entertaining games and some excellent finishes.
"this is all about the hands of Bordeleau"

Our leading goal scorer scores at his first All-Star game 🥹 https://t.co/nFVC3UdOkk pic.twitter.com/rMJi0TFVsb

— San Jose Barracuda (@sjbarracuda) February 7, 2023
Thomas Bordeleau of the San Jose Barracuda was among the most active in this regard. Playing in front of many friends and family as Bordeleau was among the crowd favorites as well. He made a lot of creative stick plays and showed off the high-end skill that made him an early second-round pick by the San Jose Sharks in 2020.
While he made a few plays that he probably wouldn't dream of making in a real game, he still plays even a regular-season game with a ton of skill. It's what makes him a fun prospect to track and why he was the perfect representative in this game.
Another player who clearly wanted to showcase the full complement of his immense skills was Bridgeport Islanders forward Ruslan Iskhakov, who finished with two goals in the tournament. Iskhakov has some of the purest hands you'll see with incredible creativity to go with it. He tried a lot of funky things that left defensemen mystified. Even his quick release on the goal below showed some of the subtle brilliance of his skill.
It's 3-1 for the Atlantic after this dish from @Mvecc8 that leads to a Ruslan Iskhakov goal! pic.twitter.com/sldUYEamqR

— Hershey Bears (@TheHersheyBears) February 7, 2023
Throughout the entire event, players were making plays and the crowd loved them for it. It was very, very clear that the players were feeding off the energy in the building, which brings us to our next point.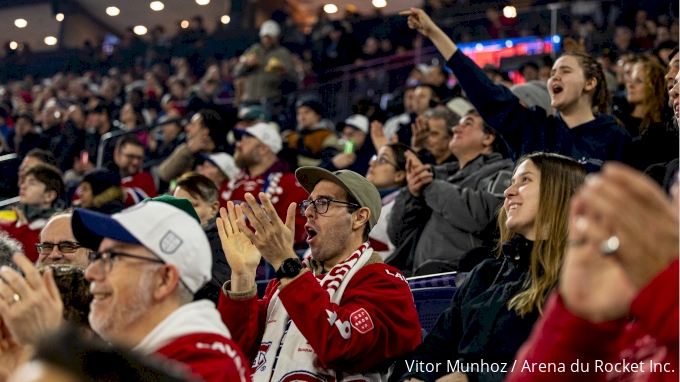 Laval's Energy Made The Game Better
If we're going to talk about this All-Star Game, it's hard not to also talk about the energy and enthusiasm in Place Bell. A beautiful building that is still rather new wouldn't have shined as brightly if not for the close to 9,000 patrons that filled its seats.
Fun was embraced by the players and celebrated by the fans, who playfully booed every offside called, yelled for goalies to "SHOOT!" every time they touched the puck and sang along to some of the favorite tunes being spun by the DJs.
Jesper Wallstedt taking part of the wave 🌊 #AHLAllStar @IAWild pic.twitter.com/w3I5f7KKHD

— S De Santis (@SJDeSantis) February 7, 2023
They put their full support behind the North Division team and, especially when a Laval Rocket player did anything in the game, the building went wild. When Bordeleau showed off his hands, you could hear the buzz with plenty of oohs and ahhs. Every reference to the hated Toronto Marlies was met with jeers, even if those players were on the same team as the Rocket this time.
The crowd was an active participant in this entire event. From the red carpet outside Place Bell, to the hundreds that lined the boards during the skills competition looking for autographs, pucks, sticks or anything the player was willing to part with, to the way they propped up the three-on-three tournament with their noise level, they made a great event better.
DID YOU HEAR THAT?! WHO DIDN'T! 📢

Anthony Richard nets one in Game 1 of the 2023 Mise-o-jeu #AHLAllStar Challenge! pic.twitter.com/mDb0AB3RZs

— American Hockey League (@TheAHL) February 7, 2023
The home crowd may have had a big hand in Team North scoring a late-tying goal against the Atlantic in the tournament semifinal. Belleville Senators forward Egor Sokolov drilled a one-timer that sent the Place Bell faithful into an absolute frenzy. You would have thought it was Game 7 of the Calder Cup Final with the way the building exploded.
TO THE SHOOTOUT WE GO! #ATLvsNOR | #AHLAllStar pic.twitter.com/pROf1SmKS3

— American Hockey League (@TheAHL) February 7, 2023
Ultimately, however, the North was thwarted in a shootout, much to the Laval locals' dismay. Though they may not have liked that result, I don't think anyone left the arena unhappy.
There can sometimes be an air of "it doesn't matter" or "who cares?" when it comes to all-star events. Laval cared a great deal and it looked like the players cared, too, making it what every all-star game should aspire to be: fun.