Canadian Hockey League (CHL)
CHL/NHL Top Prospects Game: Preparing For The Connor Bedard Show
CHL/NHL Top Prospects Game: Preparing For The Connor Bedard Show
Connor Bedard is the main attraction in a homecoming of sorts at the CHL/NHL Top Prospects Game.
Jan 25, 2023
by Chris Peters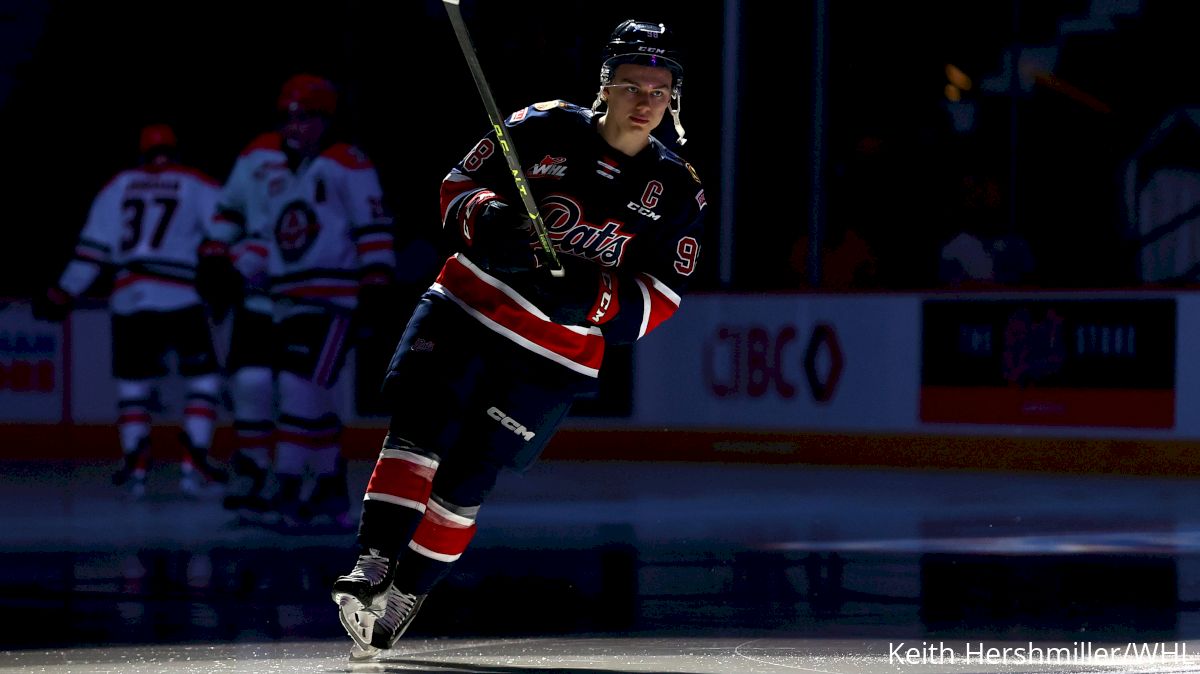 LANGLEY, B.C. – The NHL scouting world has descended upon Langley, just outside of Vancouver, for one of the premier prospect showcases of the season. The CHL/NHL Top Prospects Game will feature 40 high-end prospects eligible for the 2023 NHL Draft including North Vancouver native and No. 1 prospect Connor Bedard.
With all due respect to the Vancouver Giants, who have a lovely facility and a history of success as a WHL franchise, the reason the game is here is because of the kid from North Vancouver. Playing near his hometown, Bedard is the main event. He's the guy everyone wants to see and he's the one even all the other players have to answer questions about. The Regina Pats captain seems to thrive in the spotlight and is relishing the opportunity to play close to home.
"It's awesome. Lots of family and friends are going to be there," said Bedard. "I was always looking forward to it once everything was announced. So we're pretty excited to get going."
WATCH 🎥: @WHLPats captain Connor Bedard spoke with the media ahead of the 2023 @KubotaCanadaLtd CHL / NHL Top Prospects Game. #CHLKTP | #NHLDraft pic.twitter.com/DXLhuqYiuv

— The WHL (@TheWHL) January 25, 2023
Even though it seems like we know everything there is to know about Bedard, it's been incredible to see him continually elevate on every stage he plays. His historic performance at the most recent World Junior Championship took the draft hype surrounding the 17-year-old phenom that was already robust into another stratosphere. We have not seen attention on a draft like this since Connor McDavid entered the NHL.
That's what is going to make this particular CHL/NHL Top Prospects Game special. Each year it is a tremendous showcase of many of the top draft prospects, but there are very few occasions where a star as big as Bedard is in the lineup. Few 17-year-old hockey players have ever seen the level of attention, expectation and hope that has surrounded Bedard for more than a year now.
The accolades he has piled up and the collection of hardware he has acquired before his 18th birthday would be the envy of most seasoned professionals.
Bedard has three IIHF gold medals already, including one from the Under-18 World Championship and two from the World Juniors. He tied Connor McDavid for the highest-scoring U18 World Championship by a player 15 or younger. He made Canada's World Junior team at 16 and became the youngest player to score four goals in a game before that tournament was postponed to the summer. At the summer tournament, he played a key role with seven points in seven games as Canada won gold.
2023 World Juniors: Connor Bedard Named MVP After Record-Setting Tournament
Then at the most recent World Juniors, he posted 23 points in seven games. He shattered Canada's previous single-tournament record for points, ranked fourth all-time in single-tournament points, set Canada's career goals and points record and was named the tournament's MVP as Canada took gold again.
Connor Bedard has 38 goals in his last 32 games.

(🎥: @TheWHL)pic.twitter.com/As3cTYV0bb

— BarDown (@BarDown) January 22, 2023
If he couldn't top all of that, he's currently in the midst of one of the most productive seasons the WHL has seen in 30 years. Bedard is the top scorer in all of the CHL with a staggering 81 points and 39 goals in just 33 games. He has gone from presumed No. 1 pick to the only choice at No. 1.
Now you're seeing every fan base of NHL teams at the bottom of the standings cringe with every win and silently (or not so silently) fist pump when their favorite team loses. Every loss is one step closer to having slightly better odds of winning the draft lottery and having the best possible chance to land one of the greatest goal scorers we've ever seen at the junior level.
Even NHL legends are getting on board with "The Tank."
I think Connor Bedard would fit perfectly in this @AnaheimDucks dressing room 😊💪 Welcome to Southern California! pic.twitter.com/cI6FZsArAG

— Teemu Selanne (@TeemuSel8nne) January 25, 2023
Before he resumes his season, however, Bedard has a chance to showcase himself among his peers. This game will do absolutely nothing for his draft stock, but that won't change anything for Bedard. He may not outwardly say it, but his play often does the talking anyway -- he wants to put on a show. It's more likely than not that he will, too.
An especially mature 17-year-old, Bedard always seems to find a way to show up when the spotlight is brightest. As far as he can tell, however, there's no switch to flip.
"I prepare the same way every single game," Bedard said. "There's obviously going to be bigger games than others, but for myself, I treat every one of them the same and prepare the same and I think that helps me mentally."
This opportunity will be no different.
Connor Bedard doing Connor Bedard things.@WHLPats | #NHLDraft | #CB98 pic.twitter.com/5cX2USdKne

— The WHL (@TheWHL) January 21, 2023
Bedard is expected to play on the same line with Zach Benson, who is currently a distant second in the WHL scoring race with 65 points and has seen his own draft stock rise over the course of the season. Usually those two are battling on opposite sides of the ice, which makes Bedard a little more relieved they can be on the same side for once.
"[Benson is] so good on the forecheck, taking pucks and he's got that skill set," Bedard said of his linemate and longtime friend. "He seems to always get a lot of points against us [in Regina]. I played with him growing up in spring hockey, so I'm looking forward to reuniting with him."
Interestingly enough, it almost looks like the people that made the roster for this game wanted to challenge the No. 1 prospect, too.
Beyond Bedard and Benson, there are no other players inside the top 20 on NHL Central Scouting's most recent rankings on Team Red's roster. Team White, however, has eight of the top 20 North American skaters per Central Scouting. Bedard's squad does have top-ranked goalie Carson Bjarnason, also of the WHL, at least.
Beyond Bedard: Benson, Barlow Among Players To Watch At Top Prospects Game
On the other side of the ice will be such top prospects as fellow WHLer Brayden Yager, OHL star Colby Barlow and QMJHL torchbearer Ethan Gauthier, as well as high-end defensemen Oliver Bonk and Lukas Dragicevic.
Bucket adjustment #CHLKTP pic.twitter.com/R5XxdyD1ck

— Canadian Hockey League (@CHLHockey) January 24, 2023
They certainly didn't want to make it easy on the wunderkind, that's for sure.
It probably wouldn't have mattered who they put on the other side, though. At the junior level, there simply is not another player in this game or in this draft season that has the ability to take over the way Bedard does. We have seen it at every step of his career and every time you think you've seen his best, he finds another gear.
The reason everyone continues to get more and more excited about Bedard is that there hasn't been an instance yet in his career where he didn't meet or exceed expectations. At the CHL/NHL Top Prospects Game, he has yet another national stage to do it on.