Canadian Hockey League (CHL)
Beyond Bedard: Benson, Barlow Among Players To Watch At Top Prospects Game
Beyond Bedard: Benson, Barlow Among Players To Watch At Top Prospects Game
The spotlight will be on Connor Bedard, but dozens of high-end draft prospects will be showcasing their talents at the CHL/NHL Top Prospects Game.
Jan 25, 2023
by Chris Peters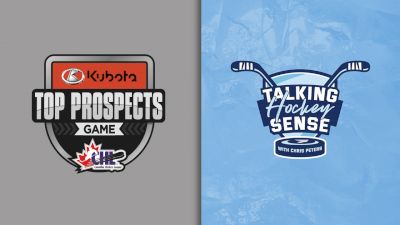 LANGLEY, B.C. – There's a reason the CHL/NHL Top Prospects Game is in Langley, British Columbia. Besides being a great building with a dedicated fan base, it's also the closest possible rink to the hometown of the No. 1 prospect in the entire hockey world.
North Vancouver's Connor Bedard will take the ice at the Top Prospects Game with every camera trained on him, every eyeball glued to his every move. When the spotlight is brightest, that seems to be when Bedard plays some of his best hockey.
Wednesday night's game, however, will afford a number of other prospects the opportunity to show fans and evaluators what they can do. There is a very strong crop of players from the CHL eligible for this draft and Canada will likely be especially well represented during the first round of the draft. Many of those players will be on the ice Wednesday night.
While we are going to spend a lot of time on Connor Bedard throughout our time in Langley, here's a look at some of the other players that deserve some attention given that the shadow cast by No. 98 in red might be all-consuming.
Team White
Colby Barlow, RW, Owen Sound Attack
Wearing the C for Team White, Barlow is the top-ranked prospect in the Ontario Hockey League. The Owen Sound skipper has 33 goals in 40 games this season and is among the top scorers in the OHL. He has a big shot and is hard to take off the puck. His feet have improved some this season, but still have a little ways to go for him to be a top-tier scorer. Barlow is more physically advanced than most of his peers, which should give him a leg up in a game like this.
Back-to-back #BestOfOHL honours for the @AttackOHL 👀

Colby Barlow continues to showcase himself as one of the premiere shooters in the #NHLDraft, this time ripping home his 33rd of the season in impressive fashion 📽️@MilkUPOntario | #MilkUPxOHL pic.twitter.com/rHBuclMrDk

— OntarioHockeyLeague (@OHLHockey) January 23, 2023
Brayden Yager, C, Moose Jaw Warriors
Part of an especially strong crop of players from the WHL, Yager has been highly regarded for the last few years. He hasn't necessary blown the doors off of this season relative to the lofty expectations he had coming in, but he still has 57 points in 46 games and remains one of the top scorers in the WHL and has shown he can drive offense for his line. He is slated to play alongside Barlow in what should be a quite potent top line for Team White.
Oliver Bonk, D, London Knights
The son of former third overall NHL Draft pick Radek Bonk, Oliver has watched his draft stock soar throughout the season. In a year that's thinner on defense, Bonk will have a lot of eyes on him as one of the rising prospects for 2023. He has 28 points in 41 games with London this season and has shown that he can defend at a good-enough level, while moving pucks well. He is going to certainly be put to the test in trying to defend Connor Bedard.
Lukas Dragicevic, D, Tri-City Americans
One of the top scoring defensemen in the CHL this season, Dragicevic went on an incredible 27-game point scoring streak that went from mid October to the end of December. He has 51 points in 41 games in an offensive explosion that few saw coming. His ability to move pucks and make plays was known, but certainly not to the degree he's showcased this season which has allowed him to move more firmly into the first round discussion after flying a bit under the radar earlier this season.
It's #NHLDraft prospect Lukas Dragicevic that gets the scoring going in the late #CHLTVGOTW

📺 | https://t.co/E0Cl58TGe2 @TCAmericans | @TheWHL pic.twitter.com/QyKnXFXQTN

— Canadian Hockey League (@CHLHockey) January 22, 2023
Nate Danielson, C, Brandon Wheat Kings
Danielson has been a favorite of a lot of scouts for his two-way capabilities, size and aggressiveness. He's also shown an ability to put up points in bunches for Brandon. In 44 games this season, he has 56 points including 23 goals. There's a real maturity to his game, which often stands out in these kinds of player showcases.
Ethan Gauthier, RW, Sherbrooke Phoenix
There are not a ton of high-end QMJHL players in the draft this year, but Gauthier is one of the torch bearers. He hasn't necessarily scored at the level that was expected of him this season, but does have 47 points through 43 games for Sherbrooke. He's one of the players I think has something to prove while playing with and against his high-end peers.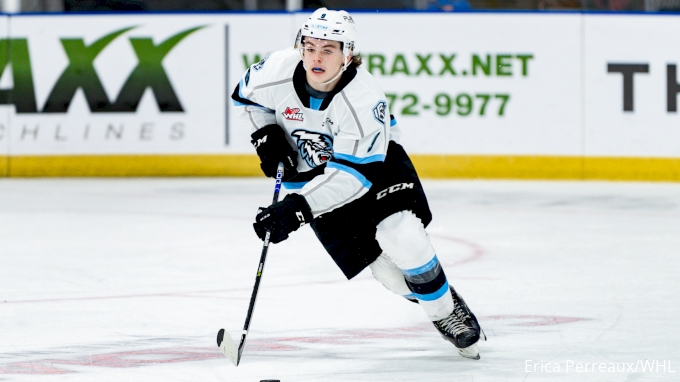 Team Red
Zach Benson, LW, Winnipeg ICE
One of the better playmakers in this draft, Benson appears set to play on a line with Bedard. He makes a lot of the right decisions with the puck, which makes him a perfect pairing for the draft's best sniper. Benson's draft stock is on the rise not only because he is the WHL's second leading scorer with 65 points. It's also because of his tenacious play off the puck. Bedard even noted that Benson is one of the toughest players he's had to play against this year because of the way he battles for pucks on the forecheck.
Zach Benson doubles the 🇨🇦 lead! #HlinkaGretzkyCup | @WHLWpgICE pic.twitter.com/n7YUelbKdB

— Canadian Hockey League (@CHLHockey) August 3, 2022
Riley Heidt, C, Prince George Cougars
One half of a dynamic scoring duo for the Cougars, Heidt will line up opposite of teammate Koehn Ziemmer, who is playing for Team White in this event. Heidt has 60 points in 43 games and has shown an ability to make a lot of plays. He doesn't have any one tool that wows you, but he's been effective with the puck on his stick and makes plays in a variety of different ways. He has been knocked for his skating ability at times, but it seems to be smoothing out some as he was among the players that showed pretty well during the on-ice testing Tuesday.
Carson Bjarnason, G, Brandon Wheat Kings
The top-ranked goalie for some in this draft, Bjarnason will be happy he gets to line up on the same side as Bedard for once. Bjarnason has the size and the poise to be a top-tier goalie. He started the season hot, tapered off a little, but has been back on track for Brandon. He has a .913 save percentage in 33 appearances this season. He has that right mix of size, technique and quickness that is going to make him a very attractive option in the draft.
🎥SAVE OF THE NIGHT🎥

Carson 'Brick Wall' Bjarnason.@RealCdnSS | @bdnwheatkings | #NHLDraft | #SaveoftheNight pic.twitter.com/TCQ5dJjgOe

— The WHL (@TheWHL) December 8, 2022
Cam Allen, D, Guelph Storm
Allen's draft stock has dropped over the course of this season amid all the struggles the Guelph Storm have had this season. That's what makes a game like this important for Allen, who has a chance to showcase his ability to go head-to-head with his peers and have success. He's a very good skater and has some offensive capabilities, but his 18 points this season have been part of his decline in the draft rankings. While Allen may not be one of the best prospects in this group, I wanted to spotlight him because he represents the players that have a chance to gain some ground in a setting like this or at least remind evaluators why they thought so highly of him coming into the season.