2022 Lincoln Stars vs Tri-City Storm
USHL What To Watch: Nebraska Rivals Clash
USHL What To Watch: Nebraska Rivals Clash
This week in the USHL, Tri-City and Lincoln meet for the second of four consecutive games between the Nebraska rivals, and Sioux City takes on Des Moines.
Dec 14, 2022
by Jordan McAlpine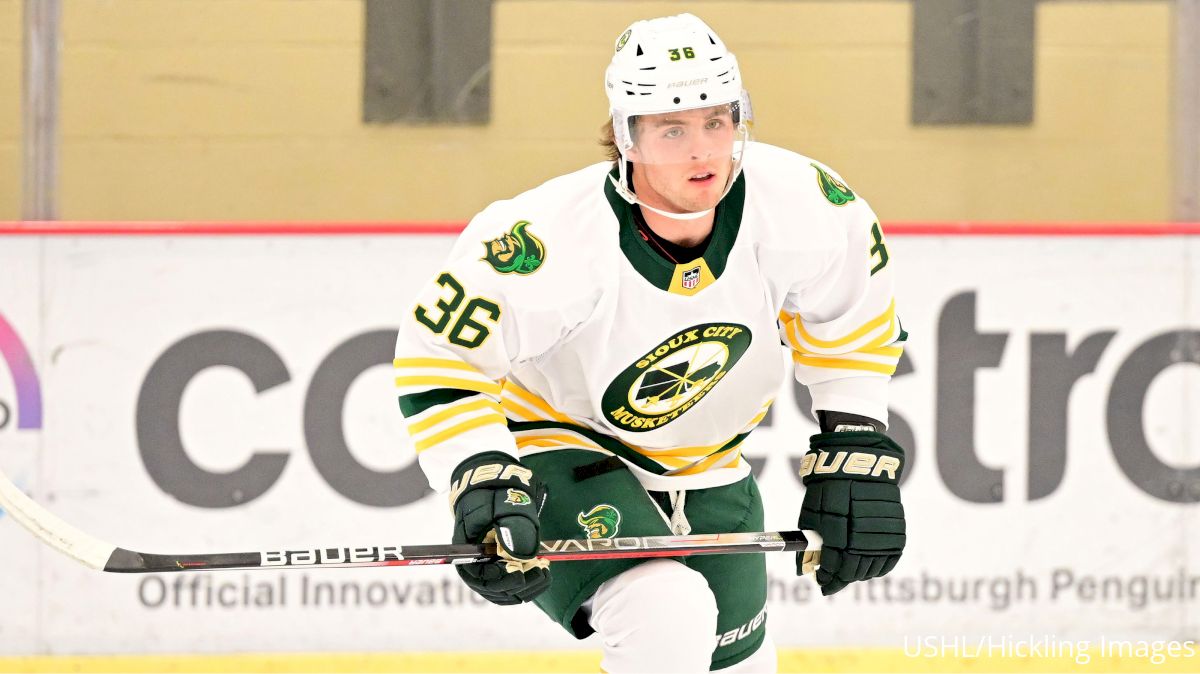 Besides a Wednesday morning tilt between Muskegon and the USNTDP, this week's slate is compacted into two days.
All 16 teams will hit the ice on both Friday and Saturday, giving USHL fans an action-packed weekend of hockey.
Youngstown will host Muskegon, and Madison will host Chicago for a back-to-back, while Lincoln and Tri-City and Fargo and Sioux Falls will play a home-and-home.
Without further ado, here's a look at the week ahead.
All times are Eastern.
Tri-City Vs. Lincoln
Tri-City and Lincoln met last Saturday in Lincoln, and Friday will mark the second of four consecutive games between the two Nebraska rivals. Tri-City will host Lincoln on Saturday and again on Dec. 31.
Lincoln is 3-1-1 in the season series. However, the Storm took last Friday's contest in overtime, 3-2. Defenseman Sebastian Tornqvist found the back of the net 56 seconds into the extra session.
STORM GOAL!!! That is how you win a hockey game!! A huge save by Niklas Erickson on one end leads to a Sebastian Tornqvist snipe on the other end and the Storm steal two points in Lincoln!! pic.twitter.com/eGxDkPgxHG

— Tri-City Storm (@TriCityStorm) December 11, 2022
Tri-City earned three of a possible four points last weekend with a 4-3 shootout loss to Omaha and the win in Lincoln.
The Storm are 5-3-0-2 in their last 10 and sit at .500 through their first 22 games. Tri-City is sixth in the Western Conference with 22 points, seven behind second-place Lincoln.
Lincoln has points in three straight (2-0-1-0), and the Stars also took three of a possible four points last weekend.
Lincoln picked up a 3-2 win in Sioux Falls last Friday night with a pair of third-period goals. Brennan Ali, Jack Larrigan and Mason Marcellus all scored in the win.
Lincoln is just four points behind conference-leading Fargo, and the Stars have been one of the top teams in the west all season. Lincoln is 8-2-1-0 on home ice this season and will look to add win number nine at the Ice Box Friday night.
Player To Watch:
Sebastian Tornqvist, D, Tri-City, 2023 draft-eligible
The UMASS commit was named the USHL Defenseman of the Week after a four-point weekend.
Tornqvist scored in each of Tri-City's games last weekend and also added a pair of assists in the win at Lincoln. The Everlov, Sweden product was also a +3 on the weekend.
Tornqvist leads Tri-City defenseman and ranks 11th in scoring among USHL blue liners with 13 points (7-6-13) in 20 games.
Sioux City Vs. Des Moines
Both Des Moines and Sioux City earned dominant home wins last Saturday. The Buccaneers skated to a 4-0 win over Dubuque, while the Musketeers rolled to a 7-2 win over Sioux Falls.
The seven goals were a season-high and sent Musketeers' fans home happy and with free pizza.
Five Musketeers found the back of the net, and both Ben Doran and Ryan Conmy scored a pair. Conmy's first goal brought teddy bears raining down from the home crowd.
The Teddy Bear Toss certainly lived up to the hype. Thanks to everyone who brought a stuffed animal! pic.twitter.com/CPLaGuE91E

— Sioux City Musketeers (@Musketeerhockey) December 11, 2022
Sioux City rides a three-game win streak into this weekend, while the Bucs have points in back-to-back games (1-0-1-0). Sioux City holds a 2-1 lead in the season series between the two. The Musketeers have been on a roll as of late too as they're 7-2-0-1 in their last 10.
However, the Musketeers likely will see a hot goaltender in Max Lundgren. The Merrimack commit turned in a 32-save shutout last Saturday in the Buccaneers' win over Dubuque. The shutout was the first of his USHL career.
Lundgren has won his last two starts and stopped 69 of the 71 shots fired his way.
Defenseman Gustav Stjernberg scored in both games last weekend, while Davis Borozinskis had a goal and an assist in Friday's overtime loss at Waterloo. Borozinskis has points in three of his last four games.
The Buccaneers racked up eight goals on the weekend, but their 63 goals still are the second-fewest in the USHL - only ahead of Omaha (59).
Player To Watch
Ryan Conmy, F, Sioux City, 2023 draft-eligible
Conmy found the back of the net three times last weekend, including the above-mentioned pair of goals in the offensive explosion against Sioux Falls.
The New Hampshire commit has five points in his last three games and 10 points in his last eight - which includes two point-less games.
Conmy leads Sioux City with 13 goals - which is also tied for sixth in the USHL - and his 19 points are the third-most on Sioux City's roster - one behind Tyler Hotson and Sam Deckhut.
The Virginia native has played in 21 games in his USHL rookie season.
Chicago Vs. Madison
It shouldn't come as a surprise, but once again, the Steel are on fire.
Chicago has points in 10 straight games (8-0-1-1), and the Steel have a nine-point lead atop the Eastern Conference.
Chicago has won five straight, including a pair of 5-4 wins over the USNTDP U-18's (shootout) and Muskegon last weekend.
With those 10 goals last weekend, Mike Garman's club has lit the lamp 105 times - by far the most in the USHL - and through 23 games, the Steel are averaging 4.5 goals per game.
Jack Harvey scored his league-leading 19th goal and was one of five Chicago skaters who found the back of the net Saturday, highlighted by Michael Emerson's three-point night (1-2-3).
🗣FIVE WINS IN A ROW

Recap: https://t.co/z2HfwYtSwF#FeelSteel pic.twitter.com/FylKNpRXvE

— Chicago Steel (@ChicagoSteel) December 11, 2022
Chicago's opponent finds itself at the opposite end of the standings, as Madison's 15 points are sixth behind seventh-place Cedar Rapids. However, the Capitols did win last time out, 5-3 over Youngstown. William Felicio netted the eventual game-winner in the third period, and Matt McGroarty added some insurance with an empty-netter.
Arizona Coyotes pick Miko Matikka (read Matikka feature here) also had two points (1-1-2) in the win.
Madison is 2-8-0-0 in its last 10, but if there's been a silver lining, it has been Matikka. The Finnish forward has five goals and nine points in his last five games and seven and 14 in the last 10. His 32 points and 14 goals both rank second in the USHL.
Player To Watch
Michael Emerson, F, Chicago, 2023 draft-eligible
The New York native has had quite the week.
Emerson announced his commitment to North Dakota on Dec. 8 and followed it up by scoring in each of Chicago's wins last weekend.
The right-shot forward recorded a four-point weekend and comes into this weekend with 28 points. That has him tied with Chicago teammate Jayden Perron for third in the USHL. Emerson's 13 goals is tied for sixth in the league.
News And Notes
Waterloo's Griffin Erdman and Fargo's Matej Marinov were named the USHL Forward and Goaltender of the Week respectively. Erdman had five points (3-2-5) in two games last weekend, while Marinov won both of his starts and made 38 of a possible 40 saves.
Sioux Falls forward Samuel Harris has a seven-game point streak and 12 points (5-7-12) in that stretch. Harris was featured by FloHockey earlier this season (read about Harris here). Harris is fifth in the USHL with 27 points.
Goals have come in bunches early for Sam Harris, as he looks to help Sioux Falls shake last season's disappointment.
Chicago's Macklin Celebrini netted another power-play goal on Saturday and leads the USHL with eight.
Fargo (2-0-0-0), Waterloo (2-0-0-0) and Green Bay (1-0-0-1) also have points in back-to-back games.
The USA Junior A team fell to Canada, 5-3, in the WJAC opener. The USA roster features 22 current USHL players.