2022 Green Bay Gamblers vs Madison Capitols
Coyotes Pick Miko Matikka Finding Success On North American Ice In Madison
Coyotes Pick Miko Matikka Finding Success On North American Ice In Madison
Finnish winger and Denver commit Matikka continues to score while adjusting to a new rink size and new lifestyle.
Nov 14, 2022
by Jordan McAlpine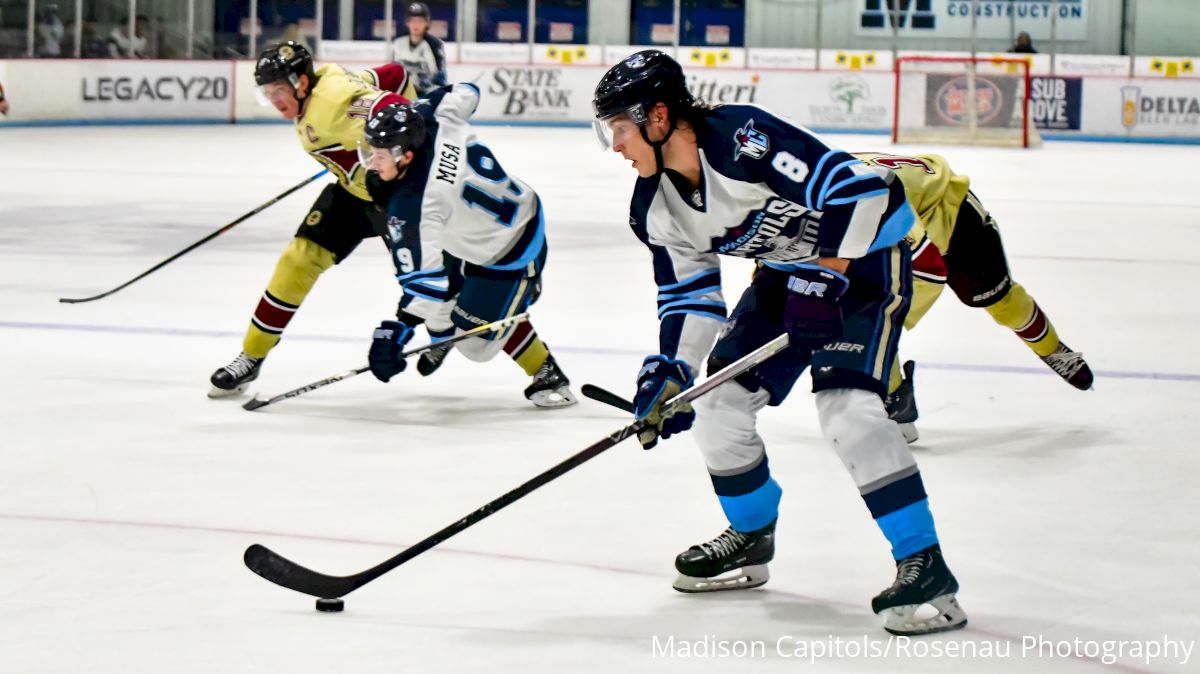 Madison Capitols forward Miko Matikka grew up in Finland idolizing Russian superstars Ilya Kovalchuk and Alex Ovechkin. Perhaps it's fitting that the 6-foot-3, right-shot winger plays a similar style and wears the No. 8 on his back.
Make no mistake, he's got a long way to catch The Great Eight, but the 19-year-old is already making a name for himself in his first season of North American hockey. Through 12 games, Matikka leads the Capitols with 18 points and has found the back of the net seven times.
He is tied for the fifth-most points in the USHL all while handling the adjustment of living in a foreign country and playing a different brand of hockey in North America.
"The rinks here are a little bit smaller, so the game has been a little bit faster, but it's been pretty good so far," Matikka said. "I love playing (in Madison) too. We have a great team, the coaches are great and I've really enjoyed being here so far."
Drafted 67th overall by the Arizona Coyotes in the third round of the 2022 NHL Draft, Matikka had played all his life in his native Finland, most recently for the U20 team for legendary Finnish club Jokerit.
Matikka, who just turned 19 on Oct. 26, said the toughest part of making the move to North America has been the time away from family and friends and, at times, the language barrier – two common hurdles for international players to clear. However, Matikka said the move from Helsinki to Madison has been "as smooth as he could've imagined."
You'd be hard-pressed to notice any hiccups on the ice either. Matikka has been a fixture on the right side of Madison's top line so far and he's registered at least a point in 11 of Madison's 12 games. His seven goals are tied with New York Islanders prospect Quinn Finley and Jack Musa for the team lead.
Although it's still a relatively small sample size, it's no surprise there's an NHL logo attached to Matikka's name.
"He's a big, strong power forward and he's got such a good shot," said Madison head coach Corey Leivermann. "I think the big thing for him is he's just got to continue to grow and play his game every single shift, but the potential is there."
Leivermann, who helped lead Madison to the Clark Cup Finals last May as associate coach before being promoted to the head job this summer, described the winger as a "difference-maker" and said Matikka can win a game with one shift. The reviews on the ice have been promising, but he's also been impressed with his personal growth overall.
"Let's be honest, it's been a whirlwind few months for him," Leivermann said. "I think the biggest adjustment for him has been how good the USHL really is and how talented the league is. So, a big part of his adjustment period was understanding how hard it is to play at this level, but also realizing how good he can be. And I think considering how much has been thrown at him here, he's handled it well.
"He's very sound with his English. He's a very outspoken kid that you're seeing grow comfortable on a daily basis, and you can tell he's a kid that wants to win. He's learned a lot so far, he's showing a lot of individual progress and he's getting better with everything he does."
Matikka started playing when he was three. He laughs about it now, but he got started by freak chance. His best friend's dad asked if he wanted to go with them to the rink one day and try hockey. The rest is history.
Those early days at the rink flashed through his head last summer as Matikka heard his name called at the NHL Draft. Matikka was fortunate enough to be in Montreal and said the process leading up to and following the draft were two of the most exciting weeks of his life.
"It's something I've been dreaming about since I started playing honestly," Matikka said. "Getting drafted was a dream come true and especially getting drafted by a good and upcoming organization like Arizona, it was unbelievable."
With the No. 67 pick in the 2022 NHL Draft, we've selected Miko Matikka.

We're excited to welcome you to the Pack, Miko! 🔥 pic.twitter.com/A8r0CKwfxU

— Arizona Coyotes (@ArizonaCoyotes) July 8, 2022
The Coyotes liked what they saw too. Both in the weeks leading up to the draft and over the previous seasons.
"If you go back to the [2021 Under-18 World Championship] in Texas, he played as an underage and he played on the top line. He showed his size and his ability there," said Ryan Jankowski, Arizona's associate director of amateur scouting. "He'd been through a couple injuries the last couple years, so it was actually hard to get games on him. But we saw him in Finland last year.
"Our Finnish scout (Jani Kiviharju) went to bat for him, believed in him and you see his size, his skating, his shot and his abilities, and it's a player that we coveted. We were lucky to get him in the third round."
Matikka - a self-described power forward - said playing in the USHL has been a good test so far, especially from a physicality standpoint.
"It's different from what I was used to in Finland, but I think it suits my game style a little bit better," Matikka said. "And I think I've handled it well so far."
Matikka finds himself in a unique position as well, as the USHL and college track isn't exactly common for Finnish players. At the same time, it's something that'll likely benefit him in the long run. Matikka's 2020-21 season was limited by COVID-19 and he battled injuries for most of last season.
Arizona wanted him to simply get game reps this season and have the opportunity to generate offense - two things that have been possible in Madison. Doing it on an NHL-size rink has been a blessing in disguise as well.
"It's a long road and there's a long way to go before he ever plays in the NHL, but so far so good," Jankowski said. "For him to come in and adjust to North American hockey, get some points in the USHL - I mean, he is 19 years old. He's an internationally recognized player, so we felt he was going to do that.
"But the fact that he is doing it is good and it's a check in the box that he's going in the right direction. Hopefully he can keep it up."
October 1, 2022
Matikka will head west next fall and play at Denver, the defending national champs and what many believe is the current top team in the country. He was supposed to join the Pioneers this season. However, issues with the NCAA clearinghouse arose as they often can with international students, leading him to spend this season in Madison.
It may not be exactly how Matikka planned to spend this season. But so far, he's taken the opportunity and run with it. He wants to continue making the most of the opportunity as well.
"I want to be the best version of me as a player and I want to win the Clark Cup," Matikka said. "We have a lot of time left and we want to keep getting better every day. I know we have a lot to prove as a team and I know we can get there."