2022 Waterloo Black Hawks vs Sioux Falls Stampede
San Diego Sammy: Californian Harris Providing Early Spark For Stampede
San Diego Sammy: Californian Harris Providing Early Spark For Stampede
Goals have come in bunches early for Sam Harris as he looks to help Sioux Falls shake last season's disappointing finish.
Oct 17, 2022
by Jordan McAlpine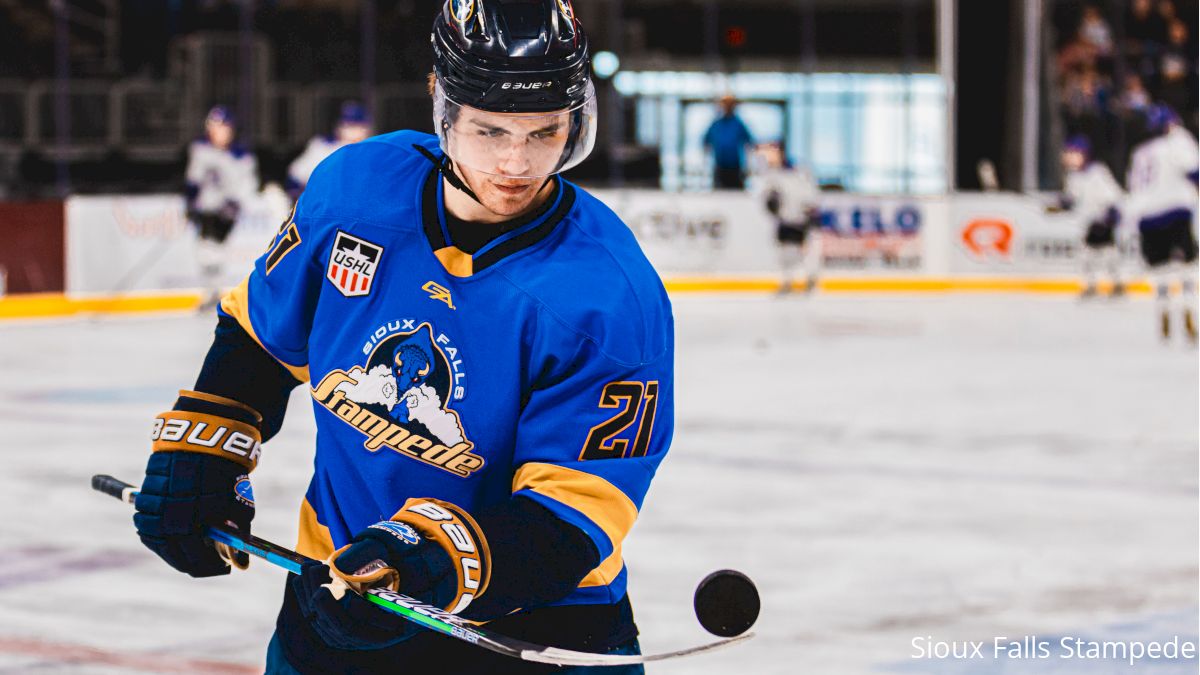 Growing up in San Diego, Sam Harris didn't exactly find himself in a hockey hotbed. However, that never deterred him from the time he first stepped on the ice.
"My dad got me into the sport when I was around 3," Harris said. "He played in L.A. when he was a kid and the game has grown a lot around [California]. So it's always been a huge part of my life and it's a great sport. He took me to the rink for the first time and I never looked back."
There are certainly no palm trees or ocean views in Sioux Falls, S.D. However, there is one of the top teams in the USHL's Western Conference - the Sioux Falls Stampede.
Through five games the Stampede sit at 3-2-0 and have been one of the league's most interesting stories - especially offensively. Harris is a big reason why with five goals and seven points through his first five games.
"He's a very energetic young man and he shows up every day with a smile on his face ready to work," said Sioux Falls head coach Eric Rud. "He wants to learn, he wants to get better and that's really all you can ask for in a player at this stage.
"So far this season he's been as consistent of a guy we've had in practice and it's no surprise to see that carry into games."
FORWARD OF THE WEEK

Sam Harris recorded his first career hat trick in the @sfstampede win Friday night, capping off a five-point week. #StarsRise @DU_Hockey pic.twitter.com/CVBqHfwvX4

— USHL (@USHL) September 28, 2022
Although this is Rud's first season behind the Stampede bench, Harris is back for his second with the club. He played in 60 games in his rookie campaign and finished with 16 goals and 35 points.
Harris was one of the few bright spots on a Sioux Falls team that finished with a 19-37-3-3 record and missed the playoffs for just the seventh time in franchise history. That's the only motivation Harris needed coming into this season.
"Last year was a lot of learning," he said. "I faced a lot of adversity throughout the year and it was a really tough year for everyone. We just tried to keep the vibes in the room positive as much as we could, which was a bit tough at times. So I really just learned how to bounce back the next day.
"But we all came into this year excited to get back and with the mindset that we're making the playoffs this year. Our team is good enough to do that and we're really looking forward to making a run for the cup."
"i was gonna do the Michigan but thought i'd settle for the wraparound" - sam harris probably 😁

🚨: @SamuelH89456477
🍎: @mfleming_21, Austen May#BeHerd pic.twitter.com/tYZI1HI448

— Sioux Falls Stampede (@sfstampede) April 21, 2022
As a team, the Stampede have had quite the bounce back to start the 2022-23 season with Harris playing a leading role. His five goals is tops for the Stampede and ties him for the second-most in the USHL. He's been a fixture on the left side of Sioux Falls' top line.
"I've just tried to keep it simple," Harris said of his success so far this season. "Go to the net, skate fast and get in a position to make a play. That's what my game is and it's also been important that all of us are buying into the team style so far."
The other thing he's brought to the lineup won't show up in a box score — a bigger leadership role.
"It's been very noticeable. Our returning players were not happy with how things ended last year," Rud said. "He's taken on more of a [leadership] role, but we've really stressed it's going to be a group and we need everyone involved. They want to put last year behind them.
"So every day our mentality has been great and this group wants to do something special."
Doing something special in hockey has been at the forefront for the San Diegan since his early teen years. Harris left home at 14 and ventured to the State of Hockey to play at traditional prep hockey powerhouse Shattuck St. Mary's, which he called the "best three years of his life."
Harris played in 130 games over his three years at Shattuck and broke out offensively during his final year. He finished the 2020-21 season with 21 goals and 37 points in 36 games which caught the attention of college recruiters.
There was one school that stood out from the others, though.
"Denver felt a lot similar to Shattuck and when I went on my visit, I learned that [DU head coach David Carle] actually went to Shattuck too. So we had a really good connection from the start," Harris said. "When I toured the school, it just felt like home and a spot that I want to continue my hockey career at and hopefully win a couple more national championships."
He committed to the Pioneers last September. That was not a surprise to his current head coach, who stood on the bench opposite Denver the last three seasons as an assistant at Miami University, as well as at Colorado College and St. Cloud State before that.
"Sammy's skating is electric and he's really hard to defend," Rud said. "He can get up and down the ice with power and he attracts the attention of the other team, so he has the tools to play at [the college level]. He's a guy that makes players around him better, he's engaged and willing to do whatever it takes when he's on the ice."
Though the excitement for his pending NCAA career is palpable, Harris isn't looking too far ahead just yet.
"It's been awesome playing here in Sioux Falls," Harris said. "The fanbase is behind us all the time and the people here in the organization are great. It's definitely been a special place to play. I'm excited to see what we can do this season and hopefully we can go on a run next spring."