2023 NHL Draft Rankings -- Chris Peters
2023 NHL Draft Rankings: Connor Bedard, Adam Fantilli Lead F...
Veteran NHL Draft analyst Chris Peters issues his first rankings for the 2023 NHL Draft.
Welcome to FloHockey's inaugural 2023 NHL Draft Rankings. Veteran draft analyst Chris Peters delivers his early look at his top 32 players for the draft. These rankings will be updated and added to at the mid-term, following the 2023 IIHF World Junior Championship.
---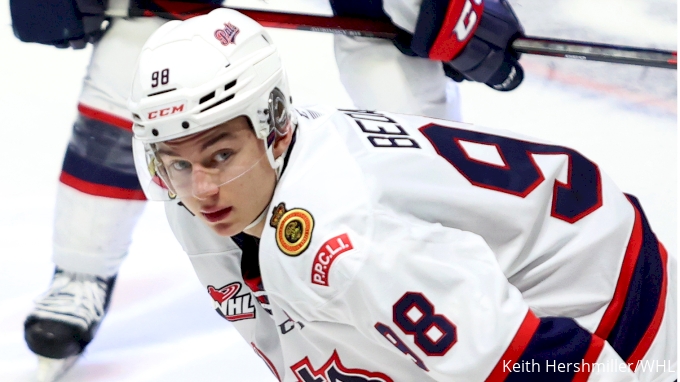 1. Connor Bedard, C, Regina Pats (WHL)
One of the most naturally gifted goal scorers to enter the draft, Bedard is so much more than a shooter. His offensive intelligence and vision are standout traits which maximize his offensive output. He exploits defenses with higher-end puck skills to create more space and then can finish plays with precision that so few players are capable in this age group. In the NHL, you have to finish your best chances. Bedard finishes the ones he's supposed to and the ones you can't expect most players to make. The shot is as good as I've ever seen at this level. It's quick, accurate and he can get it off from anywhere in any way, with unmatched precision.
Bedard is by no means a perfect prospect. At his size he can sometimes get outmuscled and shut down, but he doesn't back down from physical challenges and has gotten better at asserting himself and playing the body. His skating is good, but not at an elite level to create separation, which is why his hands and creativity have become a big part of his game and how he creates offense. None of the flaws or limitations he has have held him back in any meaningful way at other levels, and I don't anticipate they will in the NHL either.
There are few players that come along where you think every time they have the puck, something is going to happen. Bedard is one. He is a threat every time he hops over the boards.
2. Adam Fantilli, C, University of Michigan (NCAA)
A 6-foot-2, 200-pound power center with touch, Fantilli is the kind of player teams are desperate for–skilled size. While the league continues to go more towards skill, players that have size, strength, physicality and speed will always get longer looks than their smaller counterparts. In Fantilli's case, he's also one of the best offensive performers in this draft class.
With powerful, quick skating, Fantilli gets up and down the ice as well as anyone. He's hard to move off pucks and difficult to slow down in transition. If you time your check right, you have to hope he's not going to bowl you over. There's an aggressiveness and tenacity in Fantilli's game that can overpower the opposition and lead to him winning a lot of battles and one-on-one plays. He's most dangerous around the net and he gets there with regularity. His ability to drive to the middle of the ice may be one of his biggest separating factors among other centers in this class. Meanwhile, he's producing at a near historic rate in his first NCAA season, drawing comparisons to Jack Eichel's incredible freshman campaign in his own draft season.
Fantilli has the skill to make a ton of plays. Sometimes I question his puck decisions and forcing plays to the middle when they're not there, but he has good reason to be confident in his ability. The size, the speed and the skill make Fantilli one of the draft's premier players and, as we wrote not so long ago, way more than a consolation prize.
3. Matvei Michkov, RW, SKA-Neva St. Petersburg (VHL)
For the last few years, I've described Michkov as a genius-level hockey player. His sense for the game is among the best I've seen since I've been evaluating prospects. Bedard might be the best goal scorer, but Michkov is not terribly far behind. What makes Michkov special is that he's always thinking a step ahead. He uses his creativity to find space, but just about everything he does is intentional and net-driven. The quickness with which he figures out how he needs to get open or how he can best position a shot is at an elite level. In addition to processing the game at such a high rate, Michkov also has the hands, and the shot, to execute with precision.
Currently playing in Russia's second pro division, Michkov is averaging a goal per game. For as good a player as he is, he still lacks the strength and quickness to be as effective at the KHL level as everywhere else he's been. That will come eventually, though, as he gets stronger. This is also what makes his hockey sense special, because he knows how to maximize what he is physically capable of and can outthink his bigger, stronger opponents.
Whatever team drafts Michkov knows they probably will not see him until the 2026-27 season at the earliest, which creates inherent risk in the pick and changes the dynamic of the decision-making process. This isn't simply a hockey decision anymore. But you can also ask the Minnesota Wild if Kirill Kaprizov was worth the wait. A team that is confident in their ability to get him signed when his KHL deal expires as well as one that has the ability to be patient has a chance to get one of the best Russian prospects since Alex Ovechkin and Evgeni Malkin went 1-2 in the 2004 NHL Draft.
Matvei Michkov scores his 4th goal of the season. #2023NHLDraft | 🎥 #VHL pic.twitter.com/4Ewzvqiw08

— Dylan Griffing (@GriffingDylan) October 7, 2022
4. Leo Carlsson, C/W, Orebro (SHL)
The buzz is growing (and rightfully so) that Carlsson belongs in the top-tier of this draft, or at least deserves to be spoken in the same sentence as Bedard, Michkov and Fantilli. Carlsson has all of the measurable qualities teams look for in a power forward, but he's shown very early on in this SHL season that he's got the game to go along with it. He's been scoring at an extraordinarily high-rate for a U19 player in Sweden's top pro league, while averaging top-six minutes and showing an ability to drive play.
At 6-foot-3, 194, he's a solidly-built forward who is difficult to move off pucks and has good net-drive ability. Carlsson also has soft-touch skills with the puck and makes confident decisions when he has it on his stick. Off the puck, he competes and is responsible at both ends of the ice. He might not have the outright offensive creativity of the three players ahead of him, but he has good hands and good touch on the puck, which makes him extra dangerous in tight.
5. Brayden Yager, C, Moose Jaw Warriors (WHL)
Armed with a quick release and heavy shot, Yager is among the draft's most offensively gifted players. He's a shot-pass threat that keeps defenders guessing, and when he has an open look, he does not miss. He scored 34 goals as a 16-year-old rookie in the WHL last season and is off to a good start this year. Playing alongside some talented players in Moose Jaw, he has been able to be a driver who makes those around him better. Yager was one of the real breakout stars of the Hlinka-Gretzky Cup and has continued on that path throughout the start of this WHL season. His anticipation skills are high-end and his offensive sense appears elite, if not close to it.
6. Zach Benson, LW, Winnipeg Ice (WHL)
An offensive dynamo with deft scoring touch, Benson has been a key player for one of the best teams in all of junior hockey over the last two seasons. Surrounded by talent, Benson continues to stand out as a play-driver with a strong finish. In this draft with a lot of bigger players, Benson stands out in other ways, especially his offensive intelligence and ability to execute consistently. The primary concern about a player of Bensons' size is his skating. It's fine, but could be better in order to calm some of the concerns about his size.
What alleviates the skating concern for me is how quickly Benson processes the game and his commitment to playing aggressive off the puck and in pursuit. He takes a lot of pucks off opposing players in a given game. That competitive drive that he has on top of the ability to make a ton of plays during a game should allow him to continue to be an impact player as he progresses up the ranks.
7. Eduard Sale, LW, HC Kometa Brno (Czech)
A crafty playmaker with impressive vision and confident puck-handling ability, Sale is currently playing middle-six minutes in Czechia's top pro league. It can be a tough place to produce, but he has managed to put up some points in the early goings of the season and is on pace for one of the most productive seasons by a U18 player in league history. Sale is a terrific distributor, with the ability to find the right options and put his teammates in good position to score. He's going to need to get stronger, but his play along the walls and down low hasn't been an issue to this point. On top of his playmaking ability, he can finish, too, with a quick release and an ability to make the most of his best looks.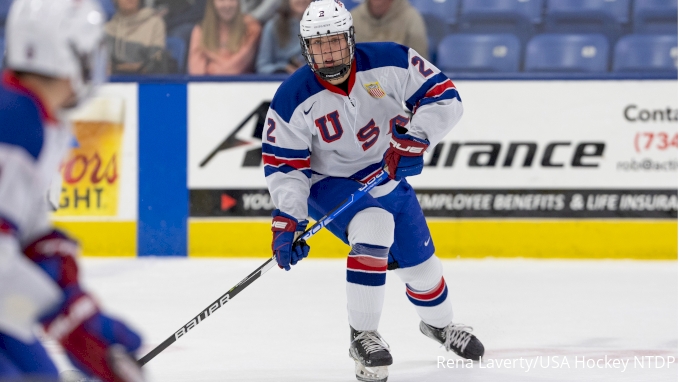 8. Will Smith, C, U.S. National Under-18 Team (NTDP)
Averaging over two points per game so far this season, Smith is not quite at the same pace that Jack Hughes scored at during his U18 season with the NTDP, but he's not far off either. With elite puck skills and the creativity to open up space for himself and others, Smith has turned himself into one of the premier playmakers in this draft class.
He processes the game at a remarkable pace, which allows him to play faster than many of his peers, even if he's not an explosive skater. He's the kind of player that can make something out of nothing and makes everyone around him better. Smith needs to tack on more muscle to be a bit tougher to knock off pucks, but he is having a very special season that has his stock skyrocketing.
9. Calum Ritchie, C, Oshawa Generals (OHL)
You're going to see a bit of a theme for this year's draft in that there are a lot of forwards around 6-foot-2 or taller with high-end offensive upside. Ritchie is certainly one of them, as he's got the hands to slither through defenses and the release to beat goalies from distance. Then he's got the size to establish himself between the faceoff dots and make plays at the net-front. Ritchie had a spectacular performance at the Hlinka-Gretzky Cup which increased his already high draft stock and he's kept up the impressive performances with Oshawa as he's averaging better than a point per game in the OHL.
WHAT A FINISH IN OSHAWA!🤯

Pat Leaver on one end and Calum Ritchie on the other, as the @Oshawa_Generals goaltender makes the game-saving stop, leading to the #NHLDraft prospect going bardown for the overtime winner📽️ pic.twitter.com/9ODspET4gr

— OntarioHockeyLeague (@OHLHockey) October 29, 2022
10. Dalibor Dvorsky, C, AIK (HockeyAllsvenskan)
The latest top Slovak prospect amid a bit of a hockey renaissance for Slovakia, Dvorsky has a remarkable track record for a player so young. After starting the season in Sweden's U20 ranks, he was quickly called up to the second pro division and has been producing consistently while getting middle-six minutes. Dvorsky can score, and the fact he's doing it with relative ease this season is notable. The 17-year-old appeared in 17 Allsvenskan games last season, producing three points. He doubled that total within his first seven games in 2022-23.
Off the puck, Dvorsky still needs a lot of work and there are still times where he can disappear from games. That said, he's got excellent offensive instincts, he puts himself in good positions to score, and he's been on a fairly aggressive development curve from a young age. He gets better every year.
11. Matthew Wood, RW, UConn (NCAA)
Currently the youngest player in the NCAA, Wood has made an instant impact for a UConn team that got off to the best start it's had as an NCAA Division-I program. Wood has been a top-six stalwart for the Huskies and made an immediate impact, scoring in his first NCAA game and not looking back.
Wood has shown a higher-end scoring ability, can drive play and has the physical presence not to be pushed around. Last season, Wood put together the second-most productive season in the BCHL by a draft-minus-1 player over the last 20-plus years. He was able to accelerate his education to enter college a year early and has made a seamless transition. Wood's skating could use some work, but he has a tremendous sense of where he needs to be and how to get there to maximize his offense. His sense of time and space in the offensive zone is what makes him most dangerous.
12. Kasper Halttunen, RW, HIFK (Liiga)
Halttunen is yet another one of them, bringing both size and skill to the table. He's in an interesting position this year because he outright dominates the Finnish U20 leagues, but hasn't quite established himself as a regular on the pro team where minutes are harder to come by.
That's not a huge concern, though, as he's gotten a lot of good looks already this season. Halttunen could push up higher on the list if he gets more opportunities at the pro level. He's got good hands, battles well and can provide an inside presence that teams need to create offense. Even if the points don't come for him at the pro level this season, the potential he's shown is such that he should still be a high pick.
13. Cameron Allen, D, Guelph Storm (OHL)
After earning OHL rookie of the year honors last year and captaining Canada to the Hlinka-Gretzky Cup, Allen came into this draft season with high expectations. As the Guelph Storm have struggled out the gates this OHL season, it's been harder for Allen to stand out. No team has given up more goals this year, and that's certainly not on their second-year defenseman.
Allen has a lot of the tools needed for success in the modern NHL, though. He can skate well with a good, fluid stride and an ability to get up ice quickly. He gets shots through and can be a scoring threat from the point. Defensively, he has good positioning and a good stick, but isn't afraid to use some physicality to dispossess the opposing forward of the puck.
As an average-sized defenseman, he's deceptively strong. He has poise and vision with the puck on his stick and spots the right play often. Right now, he's got to find ways to stand out in a situation that has been less than ideal for the top-rated defenseman in the draft.
14. Charlie Stramel, C, Wisconsin (NCAA)
Stramel has been off to a relatively slow start as Wisconsin has struggled. That said, his physical tools are such that you worry less about the numbers and more about his overall ceiling. Stramel checks in at 6-foot-3, 215 and has excellent mobility for a big man.
Stramel is a physical presence in the games he plays, but I'd like to see him get even more aggressive in his physical game and play a little meaner. His skating allows him to separate, and he's near impossible to knock off pucks. On top of that, Stramel has a quick release on his shot.
He's only scratching the surface of his potential, but I do have some concerns about his overall hockey sense and ability to create for himself and others. This season isn't alleviating that just yet. He has the skill and speed to make it happen—he just needs to execute better and more consistently. If he does, Stramel could shoot up this list in a hurry.
15. Ethan Gauthier, RW, Sherbrooke Phoenix (QMJHL)
Gauthier has taken a big step this year and it's showing in his production. He is currently the top U18 scorer in the QMJHL so far this season and is the top-rated prospect out of the Q by a comfortable margin. His confidence to get pucks to the net and make plays in traffic has allowed him to play big despite not having a power forward's frame.
He has a deadly shot from the outside, but often will try to get to the harder areas to create his offense. After an impressive showing at the Hlinka-Gretzky Cup to send his stock north quickly, he's only strengthening it with his play so far with Sherbrooke.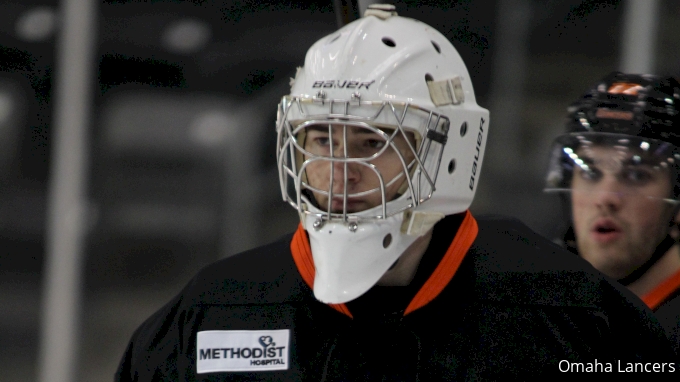 16. Michael Hrabal, G, Omaha Lancers (USHL)
The best goaltender in the draft this season, Hrabal has remarkable physical tools that NHL teams covet. At 6-foot-6, he has above-average size for a goalie and matches that with excellent coordination and stability in the crease. He doesn't waste a lot of movements and plays with control. He's able to fight through traffic to find pucks, and moving pucks across the crease doesn't guarantee you'll beat him.
Hrabel has some explosiveness going side to side, but his ability to stay so big in the net while sliding can frustrate opponents. He's put up excellent numbers on a team that has allowed a lot of shots. Hrabal faces more than 36 shots a game on average. Committed to UMass, whichever NHL team drafts Hrabal will have some added flexibility in how they handle his development in that they won't have to burn a contract on him terribly soon.
I have often hedged significantly on draft-eligible goalies, but he fits the mold of many of the other goalies that have gone in the first round recently and in some cases shows a higher ceiling thanks to his size and technique.
17. Ryan Leonard, RW, U.S. National Under-18 Team (NTDP)
A rugged two-way player with scoring touch, Leonard has taken a big step in his offensive game this season. He managed to make the U.S. U18 Team for last year's World U18 Championship as an underager because he could play down their lineup and provide scoring depth.
Now, he's a top-line player scoring goals almost at will this season. Despite coming in at 5-11, 181, he plays so much bigger, engages physically and has the strength to be difficult to move off the puck. He's very tough to beat in battles, too. What now puts him in the discussion for the Top 15, is that he's added some increased scoring touch this season.
18. Colby Barlow, LW, Owen Sound Attack (OHL)
After posting 30 goals as an OHL rookie in 2021-22, Barlow entered the season with high expectations and has largely lived up to them. He's a slick offensive performer with above-average skill and a heavy shot. He can score from distance, but makes plays in tight to the net and wins his share of battles in the hard areas of the ice.
He can have a bit of a heavier stride at times and lacks quickness, but I would not call him a poor skater as he can get himself moving well enough. It's the short-distance quickness plays that I have some concern about. Beyond that, though, Barlow is a smart player who can make quick plays, which should alleviate some concerns. Captaining Owen Sound at 17 is no small thing either, as he leads by example with a good work ethic and an ability to finish plays consistently.
19. Nate Danielson, C, Brandon Wheat Kings (WHL)
Danielson is a 6-foot-1 player who plays like he's a lot bigger as he has showcased plenty of power elements in his game. His ability to get to the interior with defenders hanging all over him is a special quality in a player his age. Born less than two weeks after the draft cutoff for last year, Danielson will be one of the older players in this draft, but that also gives him a longer track record to examine.
Though his production is slightly below average this year, I don't anticipate it staying that way. His ability to play a strong game, but maintain soft touch on the puck should allow him to produce at all levels. He thinks the game at a high level, anticipates well and he competes. Danielson does a lot of little things well.
Things we learned in this clip:

a) Nate Danielson can absolutely rip it.
b) RED had a IIII-I lead on WHT.@bdnwheatkings | #NHLDraft pic.twitter.com/y3gXMHrYzW

— The WHL (@TheWHL) October 13, 2022
20. Mikhail Gulyayev, D, Omskie Yastrebvy (MHL)
In a weaker draft class for defensemen, Gulyayev stands out significantly for his high-end skating ability and skill. Though offensive-minded and not terribly big for a defenseman, Gulyayev is aggressive on his own end, has a good defensive stick and is good at skating pucks out of trouble.
He has soft-touch puck skills and a respectable shot from the blue line. He has been dominant at the U20 level this season, but has also seen time at the KHL level with Avangard Omsk, but playing time has been tougher to come by at that level.
Though Gulyayev's skill level and skating make him a good candidate for the first round, his KHL contract presents challenges. He is currently signed through the 2024-25 season and teams would need assurances he's coming over after that contract expires. On skill alone, though, Gulyayev belongs in the top-20 discussion.
21. Otto Stenberg, C/W, Frölunda J20 (Sweden U20)
A star turn at the Hlinka-Gretzky Cup where he led Sweden with nine points over five games built Stenberg some capital this year. His season to date in Frolunda's system has been a little more confounding, though. Production-wise, it's been fine, but he hasn't outright dominated at the U20 level. Stenberg has still gotten looks with the pro team, too, which is no small feat for a 17-year-old at that club.
The tools are there for Stenberg to be a quality prospect as he's a good skater with some quickness to him. His hands are above average and there's some good creativity to his game. Stenberg needs to get stronger to make a greater impact. I'm not totally sure he'll be a center at the next level, but that is his natural position.
As the season progresses, we'll need to see more consistency out of him to be able to project him comfortably in this range, but Stenberg has often been a player who plays up a level and has a lot of success. We'll see where his game goes from here, starting with the U18 Five Nations in November.
22. Oliver Moore, C, U.S. National Under-18 Team (NTDP)
One of the quickest players in the draft, Moore's skating ability is smooth yet explosive. He can beat defenders one-on-one and can take pucks wide to create extra time and space for his linemates.
Moore also has the puck skills to make some plays at speed that challenge those trying to slow him down. He's putting up big numbers this season, but gets overshadowed some by a few of the players that play higher in the lineup at the NTDP. Still, it's impossible to miss Moore on the ice. Just look for the guy moving faster than everyone else.
Yeah, we're gonna need some Moore of this 🎯#USAvsMSU pic.twitter.com/JZNrBfLAE7

— USA Hockey's NTDP (@USAHockeyNTDP) October 2, 2022
23. Riley Heidt, C/W, Prince George Cougars (WHL)
A solid forward with good offensive instincts and a high-end shot, Heidt has been especially productive in his second WHL season. He's an average-sized forward with good strength on his feet and an ability to transition quickly. For as gifted as Heidt is offensively, he's looked more like a finisher than a play driver this season, which leaves a few questions about where he'd fit at the next level.
Additionally, his skating is good, but he could use some more burst in his first few steps to better win races and close on pucks better. The offensive tools he has are certainly worth exploring further as he's shown a mature game on the attacking end of the ice and is the kind of player the opposition always has to be aware of.
24. Andrew Cristall, LW, Kelowna Rockets (WHL)
Cristall is on an absolute tear right now in the WHL, looking like his impressive rookie season will be blown out of the water. Cristall had 69 points in 61 games as a 16-year-old last season.
While he doesn't have the size factor on his side, he does have the skill factor. Cristall is filling his highlight reel this season, slicing through defenses and beating goalies with creativity. His skating has to improve for him to be more effective at his size, though. His hands and ability to execute offensively give him a great chance to be an impact player down the road, so long as the feet start to come with it.
25. Theo Lindstein, D, Brynas (SHL)
A reliable puck-mover with two-way value, Lindstein doesn't always have a lot of flash to his game. He makes simple plays easily and seems to make a lot of the right reads. His lack of physical strength is still holding him back a little, but he thinks the game at a mature level.
Lindstein is strong on his feet with good skating ability and is comfortable jumping into plays. He also can recover if he gets caught up ice. Lindstein produced at a high rate at the Hlinka-Gretzky Cup, but doesn't have a particularly long track record of offensive production. That's something that will be worth watching throughout the year as he's shown more offensive prowess at the U20 level this season than he had previously.
26. Gabe Perreault, RW, U.S. National Under-18 Team (NTDP)
The son of former NHLer Yanic Perreault and brother of former Ducks first-rounder Jacob, Gabe has a natural offensive ability. He always puts himself in positions to have success and manages to think the game at a high enough level that it overcomes his lack of high-end skating ability. Perrault has sure hands, a good shot and distributes the puck efficiently. Even in games where he doesn't look as sharp, you look up and he has a few points on the board.
27. Noel Nordh, LW, Brynas U20 (Sweden U20)
A big forward who plays at more of a deliberate pace, Nordh has already gotten a recall to the top pro league in Sweden and scored in his very first game on a net-front deflection. His strengths are tied largely to his size and sense of space. He doesn't have great burst in his skating, but he's hard to take off pucks and move away from the middle. As he fills out his frame, that will only continue.
28. Emil Jarventie, LW, Ilves U20 (Finland U20)
A quick forward with a nice skating stride, Jarventie has quick hands to match the quick feet. His ability to get through defenses with skating and skill serves him well as a player with below-average size and strength.
He has some creativity to him and appears to play to his strengths. Despite not being overly big, he continues to engage in physical battles. Offensively, he can be a little too perimeter at times, but I see high upside with Jarventie thanks to the quickness with which he plays.
29. Axel Sandin-Pellikka, D, Skellefta (SHL)
An average-sized defenseman who can really move, Sandin-Pellikka has bounced between the U20 and SHL ranks throughout this season. He has one goal with Skelleftea's pro side and is averaging just under a point per game with the U20 team. Sandin-Pellikka is a player I seem to notice every time I watch him. He makes positive plays, engages physically and makes solid offensive reads. His ability to get pucks through and jump into plays makes him the kind of blueliner you need to be aware of at all times if you're on the opposing team.
30. Maxim Strbak, D, Sioux Falls Stampede (USHL)
A big, right-shot defenseman with good mobility and a quality two-way game, Strbak is still finding his way in his first North American season. He is an especially mature player, but the offensive numbers have not yet been there. He can move pucks just fine and has a good shot from the point.
After playing much of the last four seasons in Finland, Strbak is making the adjustment to the quicker USHL where decisions have to come faster and you have to be able to absorb contact. Strbak's advantage is his poise with the puck and physical strength that has allowed him to make a lot of mature plays under pressure this season. This is a big-time projection at this point because the offense is going to need to come a lot more if he's going to land in the first round, but he's got a chance to get there yet.
31. Koehn Ziemmer, RW, Prince George Cougars (WHL)
Among the top scorers in the WHL so far this season, Ziemmer has made an emphatic statement to the start of his 2023 draft campaign. Sure-handed and strong on the puck, Ziemmer has shown some nice creativity over the last two seasons, which has led to his outsized production.
I'm not sure that the skating ability is at a level where I have the utmost confidence he's going to be a top-two-line scorer at the next level. I do believe in the offensive sense, though. On pace to surpass 120 points this season, Ziemmer's stock is rising dramatically at the early stages of this season.
32. Gavin Brindley, C, University of Michigan (NCAA)
An energetic spark-plug kind of player, Brindley is off to a good start at Michigan. He plays with good speed and has tenacity off the puck. He can be a bit of a pest in that way, but he's also got the skill to produce. His size is going to make him a fringe first-rounder, but I am especially fond of his competitive drive and ability to make plays in transition.
Gavin Brindley at the backdoor on a tremendous pass across the slot from Jacob Truscott. Rutger McGroarty with the secondary assist and Michigan leads 1-0 pic.twitter.com/Kym9bSZpyN

— Michigan Hockey (@umichhockey) October 14, 2022
Honorable mention
Daniil But, LW, Loko Yaroslavl (MHL)
Kalan Lind, C/W, Red Deer Rebels (WHL)
Carson Rehkopf, C/W, Kitchener Rangers (OHL)
Samuel Honzek, LW, Vancouver Giants (WHL)
Andrew Strathmann, D, Youngstown Phantoms (USHL)
Caden Price, D, Kelowna Rockets (WHL)
Quentin Musty, LW, Sudbury Wolves (OHL)