2023-24 College Hockey Power Rankings
Men's Hockey Power Rankings: Denver Takes Over No. 1, Gopher...
Chris Peters delivers weekly power rankings for the 2023-24 men's college hockey season.
Each week veteran hockey analyst Chris Peters delivers his men's college hockey power rankings. Check back every Wednesday to see who's rising, who's falling and where your favorite team might land.
1. Denver (2-0-0) | Last Week: 2
The Pioneers were idle last weekend after returning from their Alaska trip with a pair of wins. Denver heads east this weekend with a pair of games against ranked opponents, starting with Providence and then Boston College. Having extra time to prepare will only help the Pioneers as they've certainly not set up an easy schedule to start their campaign.
2. Minnesota (2-0-0) | Last Week: 5
A close shave against St. Thomas last Friday showed that the Gophers may have some holes to fill this season, but that was not exactly news considering how much they lost from last year's Frozen Four team. What they do have, however, is a bona fide Hobey Baker candidate in sophomore forward Jimmy Snuggerud (STL), who was the standout performer during last week's series sweep of the Tommies.
Jimmy Snuggerud (#STLBlues) wins it for @GopherHockey in overtime as No. 2 Minnesota survives a wild upset bid by @TommieMHockey. College hockey at its finest. 6-5 Final. pic.twitter.com/TCxlEHaja4

— FloHockey (@FloHockey) October 14, 2023
3. Boston College (2-0-0) | Last Week: 3
With just one game a week played over the first two weeks of the season, the Eagles will be in action on home ice both Friday and Saturday this week. Following their 4-2 win over Long Island last weekend, BC takes on RPI on Friday before a big tilt with Denver on Saturday. BC has shown they can score and have defended pretty well, too, but Denver will really test this young roster's mettle.
4. Quinnipiac (2-1-0) | Last Week: 4
The Bobcats had a major comeback against AIC last week in a truly wild game that showed both that AIC can hang with the big dogs and that Quinnipiac still has some work to do to get their offense clicking. They've been without Collin Graff, who was injured in their opening series against Boston College, but his injury is not believed to be long term. QU has a pair of games on the road this weekend at UNH, which upset Boston University last weekend.
Who else could it have been? @QU_MIH avoids the upset against @AIC_Hockey thanks to 2023 National Championship hero Jacob Quillan, who gives the Bobcats a 3-2 OT win on the road with some patience and skill. pic.twitter.com/43BtLQtaAJ

— FloHockey (@FloHockey) October 14, 2023
5. Boston University (1-1-0) | Last Week: 1
The optimism surrounding the Terriers was shaken a bit last week when they lost a 6-4 decision to UNH on the road. It was not the way anyone expected their Hockey East campaign to begin. And while I don't care much for exhibition results, BU lost the next night to the U.S. National Under-18 Team 8-2 with incoming recruit Cole Eiserman scoring three goals and finishing the night with five points. Early-October results are rarely instructive or predictive of a team's season, but the Terriers definitely got their cages rattled a little early.
6. North Dakota (2-0-0) | Last Week: 9
The Fighting Hawks opened their season at the annual IceBreaker with wins over Army and Wisconsin, outscoring their opponents 9-2 over the weekend. Perhaps the most impressive stat was that 13 different players recorded at least one point on home ice, with Hunter Johannes leading the way with three goals. Also encouraging, transfer goaltender Ludvig Persson was sharp with a .952 save percentage over the weekend including a 2-0 shutout of Wisconsin.
7. Michigan State (3-1-0) | Last Week: 6
The Spartans played in an absolutely wild game against Air Force last Thursday, which saw the Falcons outlast the Spartans, 6-5. Michigan State bounced back the next day scoring five goals again and picking up the win. I haven't soured on the Spartans based off of one loss. They've scored four or more goals in each of their first four games. Michigan State will have a home series against Canisius this weekend before hitting the road for a highly-anticipated series with Boston College.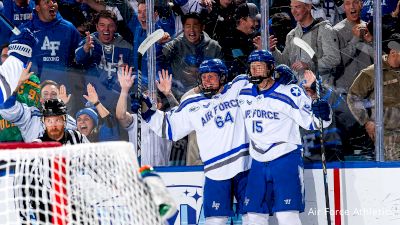 8. Cornell (0-0-0) | Last Week: 11
The Big Red played an exhibition last weekend and have one more before starting the season on Oct. 27 at home against Minnesota Duluth. Cornell is going to be especially young on the blue line, but they've got a number of high-end pieces among their forward group. Having Ian Shane between the pipes is another reason to be high on this program going into the season.
9. Providence (2-1-0) | Last Week: 15
Providence certainly did not tiptoe into the season with their opening road series against Michigan. They had a bit of a reprieve at home last weekend with a 7-1 win over Stonehill. Next weekend they've got Denver and RPI. A real bright spot so far has been transfer defenseman Luke Krys, who has five assists through the team's first three games.
10. Michigan (2-2-0) | Last Week: 10
Big Ten hockey is about to begin this weekend as the Wolverines will host Ohio State for a pair of games to open their conference slate. They enter with a .500 record through four games with some wildly inconsistent play to start. One player they don't need to have any questions about is sophomore forward Rutger McGroarty (WPG), who has nine points through four games and is currently the top scorer in the NCAA. I have to think they'll figure things out as the season progresses.
Barzo leads em out#GoBlue〽️ pic.twitter.com/8lss40J4U2

— Michigan Hockey (@umichhockey) October 14, 2023
11. Western Michigan (1-0-1) | Last Week: 13
A win and tie against Ferris State gave the Broncos the right kind of test as they prepare for a tough schedule this season. They've got one more home-and-home with CCHA Bowling Green -- with Friday night's contest live on FloHockey -- before heading into the teeth of their NCHC slate. Senior Luke Grainger was a man possessed against Ferris with seven points in the series. Graduate transfer Ethan Phillips also had four goals on the weekend. The Broncos have another potent offensive attack, it would appear.
12. Penn State (3-0-0) | Last Week: NR
Penn State often does not play the toughest non-conference schedule, so hot starts have become the norm in Happy Valley. That said, they've played each of their first three games on the road and have won them all including a tougher road series where they played both Clarkson and St. Lawrence in New York's North Country. That's not a simple task. Junior Ryan Kirwin has five points through three games as Penn State heads into its home-opening weekend with a pair against AIC, which pushed Quinnipiac to the brink of an upset last weekend.
13. Ohio State (2-0-1) | Last Week: NR
The Buckeyes are unbeaten through three games, but did settle for a somewhat disappointing tie against Lindenwood to close out last weekend's series. Now we're going to learn an awful lot about Ohio State as they head up to Ann Arbor for a date with the rival Wolverines. Stephen Halliday (OTT) is one of four players with four points entering through three games for OSU.
14. Minnesota State (2-0-0) | Last Week: NR
The Mavericks join the cavalcade of teams entering the power rankings after knocking off St. Cloud State on home ice. It was a cathartic weekend in Mankato after the offseason of tumult and departures. To score eight goals on the weekend and only allow three to an NCHC opponent was super impressive. Now they get a pair at home against UMass and a chance to show that this summer was nothing more than a speed bump. Watch both games right here on FloHockey, Friday and Saturday.
UPSET IN MANKATO! @MinnStMHockey takes down No. 10 St. Cloud State in overtime thanks to this wraparound from Adam Eisele. First career win for Mavericks head coach Luke Strand!
Catch the rematch Saturday on FloHockey: https://t.co/DOTh76O8v0 pic.twitter.com/CthSmdiNS8

— FloHockey (@FloHockey) October 14, 2023
15. Michigan Tech (0-1-2) | Last Week: 8
OK, so the Huskies haven't won in three tries and it's not going to get any easier this week, hosting a new-look Wisconsin squad. That said, October results can be deceiving. The question about whether Tech can score, however, remains a valid one to continue asking. They've scored five goals over three games. The good news for them, however, is that Blake Pietila is still their goalie and still among the elite in college hockey. Let's see if they can get back on track against the Badgers this weekend. Both games are on FloHockey, Friday and Saturday.
16. Holy Cross (3-0-0) | Last Week: NR
After opening their season with a convincing win over Long Island, the Crusaders made a major statement last weekend with a sweep of a ranked UConn squad. Most impressive, they held a very good scoring team to just one goal over the two games. October results can be deceiving, but Holy Cross is building some momentum as they travel to Pittsburgh for a date with Robert Morris this weekend. You can watch both of those games right here on FloHockey on Friday and Saturday night.
Dropped Out: Merrimack, St. Cloud State, UConn, Northern Michigan