2022 Reading Royals vs Worcester Railers
Going From Player To Coach Easy Transition For Lavallee-Smotherman
Going From Player To Coach Easy Transition For Lavallee-Smotherman
If it doesn't feel like that long ago that Jordan Lavallee-Smotherman was on the ice instead of behind the bench, well...it wasn't.
Nov 14, 2022
by Mike Ashmore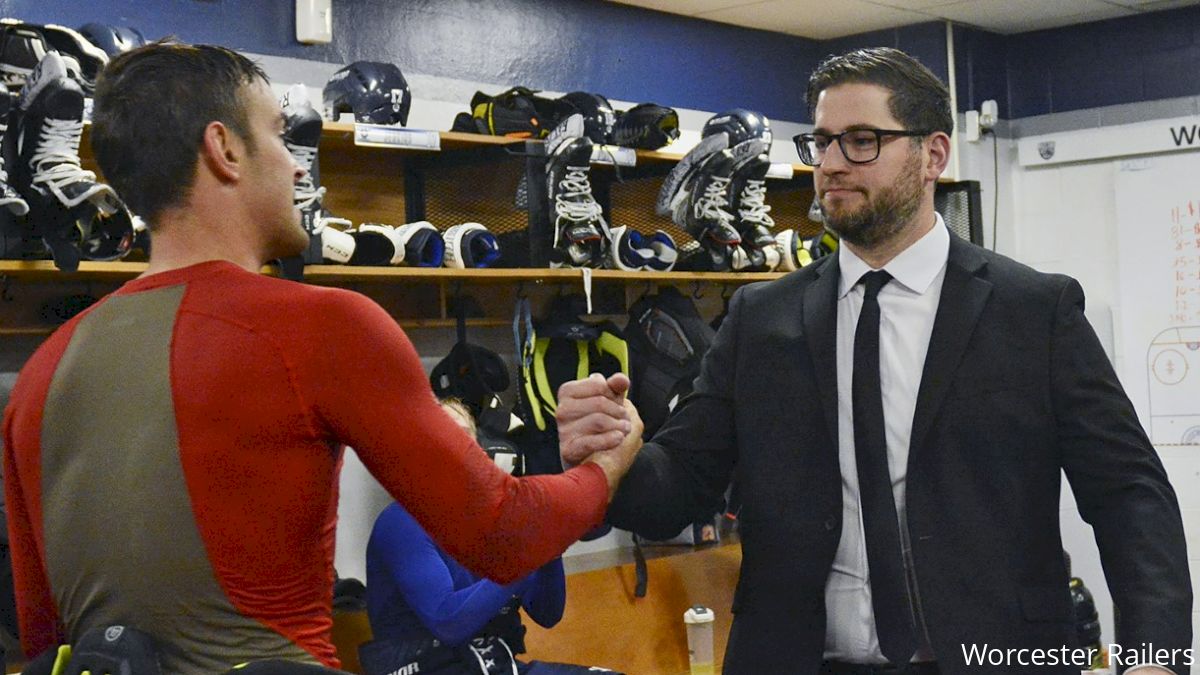 If it doesn't feel like that long ago that Jordan Lavallee-Smotherman was on the ice instead of behind the bench, well...it wasn't.
It was just last season the 36-year-old Oregon native was wrapping up a 16-year pro career that took him all the way to the NHL finishing strong with an all-star-caliber season with the ECHL's Worcester Railers.
Opportunities in coaching were something that had been pulling at him for years, though. It was just a matter of waiting for the right one.
Suffice it to say, this has been it.
Taking over the same Railers team he just finished playing for, Lavallee-Smotherman has been the bench boss for the hottest team in all of professional hockey, leading a Worcester group to an ECHL-record nine consecutive wins to start out the 2022-2023 season.
"There was a part of me that was hoping (it would all work out this way)," he said. "I was offered a very similar gig a few years prior with a different organization in the (ECHL), but I decided I still had enough juice to keep playing, so I turned it down at that point. I always told myself I'd keep going until something like this maybe popped up again, and it just happened to this year."
So far, so good.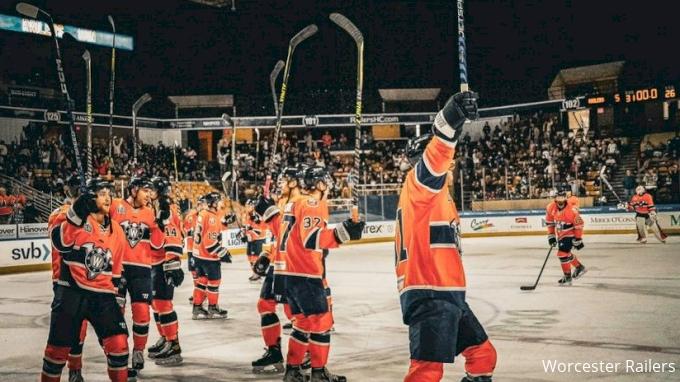 The path to immediate success has been two-fold for Lavallee-Smotherman, starting first with changing some of the culture within the club.
"For us, it was all about the environment we were going to provide for these guys," he said. "For me, and my assistant coach coming in, we made it very clear that we wanted the guys to show up to the rink every day and be able to worry about one thing, and that was playing hockey. I think that was something we came in and did from Day 1, and it's really something that allows these guys to have some confidence, come to the rink, not worry about other things and just focus on the game. I think that's a huge difference culturally for us."
The other half of that? That's a bit simpler. He's got a really good hockey club.
The Railers have potted a league-high 43 goals in those first nine games.
"We have a really deep roster," Lavallee-Smotherman said. "We have guys who can play in every role, and I think a big thing for us is we have a solid group of our core guys who have really stepped up and accepted different roles, whether that be leadership roles, whether they're going to be more of a penalty kill guy or a shutdown guy more than anything else."
Being clear with the hopes and strategy has helped the progress.
"The communication surrounding those types of things has been very clear, and guys have very much bought in, which makes the team a lot stronger," he added. "When guys understand what you want from them on a daily basis individually, it's easier for them to go out and produce."
Now, it's managing expectations for the group for Lavallee-Smotherman, with a hot start like this not exactly sustainable over a full 72-game schedule.
"For me, it's about staying humble," he said. "Yes, we have a very good team, but we have shown at different points in different games that when we get away from what we want to do and the way we want to play, we're vulnerable and we can be taken advantage of. For me, it's about making sure these guys understand that, especially now with the start we've had."
One City • One Team
Worcester, MA. We are the Heart of the Commonwealth. ♥️ #AllAboutTheW | #RailersHC | #Worcester pic.twitter.com/NM9FF5HjA9

— Worcester Railers HC (@RailersHC) November 10, 2022
With success, comes attention. The Railers are building a reputation as the team to beat.
"Every game as the year goes on is going to get harder as long as we stay at the top because everybody wants to knock us off," Lavallee-Smotherman sad. "Everybody wants to be the team that comes in and ends a streak like this, and everybody wants to be the team that can take down the guys that are so hot right now. For us, it's about maintaining focus."
While there's still plenty Lavallee-Smotherman would like to improve as far as consistency goes - namely scoring more on the power play, tightening things up on the penalty kill and improving puck management - one area he hasn't had to worry about that is with his goaltending, where 6-foot-5 Ken Appleby and 6-foot-7 Henrik Tikkanen have combined to form arguably the best tandem in the league thus far.
"They're both fantastic goaltenders and fantastic people," Lavallee-Smotherman said. "Just knowing that all 13 feet of our goalies are going to be good, no matter whoever you put in there, it builds confidence for our D core, it builds confidence for our forwards. Each game they've been in, I'd say they've made one or two game-changing saves when we've needed them, and so for those guys to be doing that for us, it's awesome."