2022 Green Bay Gamblers vs Muskegon Lumberjacks
NHL Prospect Observations: Miroshnichenko Returns, U17 Challenge Standouts
NHL Prospect Observations: Miroshnichenko Returns, U17 Challenge Standouts
NHL Draft and prospect analyst Chris Peters shares thoughts on prospects from across the hockey landscape.
Nov 10, 2022
by Chris Peters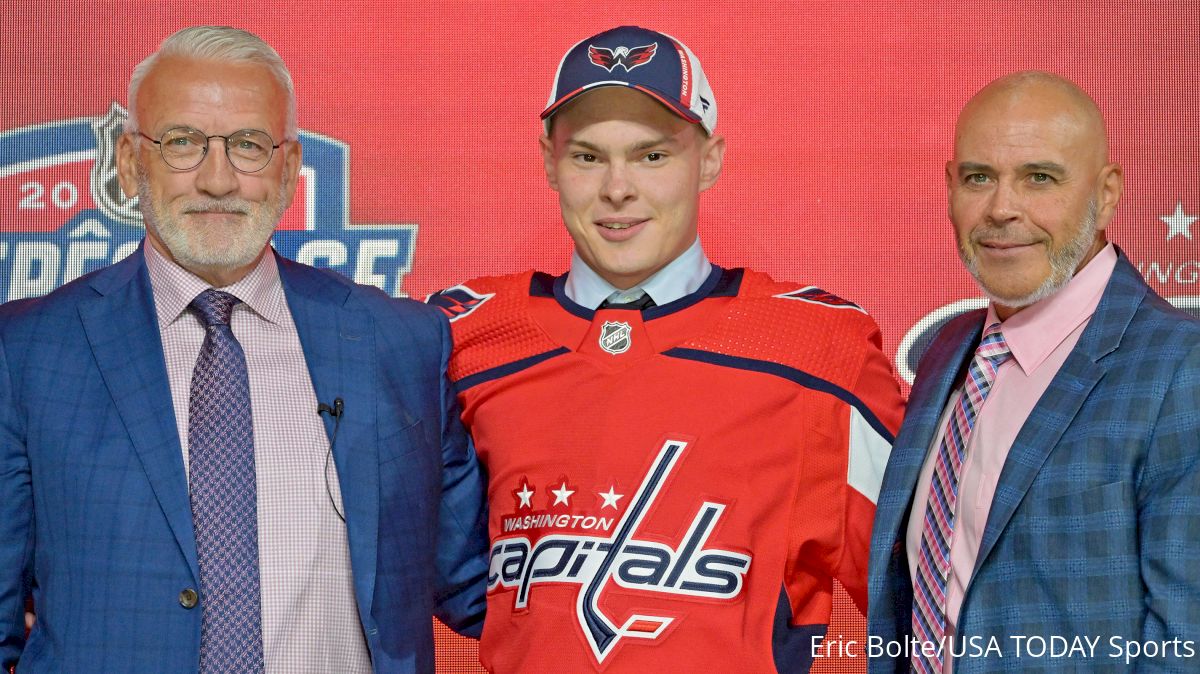 The rust has been shaken off and the season is in full swing, which raises the level of play for players across the hockey landscape. As the season progresses, I'll be checking in on prospects across the world to share some observations and analysis on players at the various levels of hockey beneath the NHL.
I'm currently at the 2022 U18 Five Nations Tournament in Plymouth, Michigan, and will have full prospect breakdowns from the event upon its conclusion on Saturday. There are a lot of high-quality players for the 2023 NHL Draft in attendance at this event, including several that were part of FloHockey's first rankings of this draft season, which you can read in full here.
For now, let's take a look around the rinks.
Miroshnichenko Returns To Play After Cancer Diagnosis
Last weekend marked the long-awaited return of Ivan Miroshnichenko to game action after being diagnosed with Hodgkins Lymphoma last November. At the time of his diagnosis, Miroshnichenko was viewed as a potential top-five pick in the 2022 NHL Draft, but concerns about his illness and the ongoing complications of acquiring Russian players amid the war in Ukraine caused Miroshnichenko to dip in the rankings. The Washington Capitals shrugged off the risk and selected him 20th overall, landing a potential star later in the first round.
When Miroshnichenko was first diagnosed, it was considered that he may have to miss this entire 2022-23 season while undergoing treatment in Germany, which is where he spent most of the previous year fighting off the disease. However, his prognosis continued to improve and the odds of him beating the lymphoma increased. Sunday morning, he resumed playing after being cleared by medical professionals, suiting up for Omskie Yastrebi, the U20 team for KHL Avangard Omsk, in the MHL.
Miroshnichenko logged 15:11 of ice time, registered three shots on goal, was credited with five hits and finished with a minus-1 rating in a loss to Mamonty Ugry. That was just the warmup, however.
In his second game back the following day, the 18-year-old scored one goal, assisted on a late game-tying marker and scored the game-winning goal in the shootout. Miroshnichenko played over 19 minutes and registered six shots on goal after scoring his first goal one week shy of a year since his last goal. He received player of the game honors from his teammates after the contest.
THAT'S GOTTA FEEL GOOD 🥰
🚨 Ivan Miroshnichenko #OYA #ALLCAPS
1-1 #MHL pic.twitter.com/J1HNNVMUSx

— Hockey News Hub (@HockeyNewsHub) November 7, 2022
There is still a long road ahead to get back to where he was. Miroshnichenko will have to get his strength back, his conditioning and everything else that goes with being off the ice for so long. But to see him back, earlier than expected, and contributing immediately is a pretty encouraging sign for a player who has all-world ability and a tremendous track record for a player so young.
Miroshnichenko is under contract with Omsk for one more season after this one. It gives him time to get back up to speed and even though it doesn't give Washington much say in the next steps, Miroshnichenko being back on the ice is good for everyone.
Hagens, Eiserman Torching U17 Challenge
The U.S. National Under-17 Team is rolling through the 2022 World Under-17 Challenge, having won each of their five games to date while outscoring opponents 31-10. The Americans are the only undefeated team in the tournament to date and have essentially clinched first place. They have one more preliminary-round game, Thursday night against Canada White, before playing for the tournament championship Saturday.
While the whole team has played well, the Americans have been driven by the dynamic duo that has been putting up points with incredible consistency throughout the entire season. James Hagens and Cole Eiserman have been laying waste to the tournament as each sit atop the scoring charts.
Cole Eiserman just pulled off this ridiculous move before chipping it to James Hagens, who scores to make it 3-0.

Seriously, this is the best US duo we've seen since Hughes/Caufield. #Worldu17 pic.twitter.com/boNM3PR9bY

— Steven Ellis (@SEllisHockey) November 8, 2022
Hagens is the tournament's leader in points with 14 through just four games. He has already matched the production of such greats as Alexander Ovechkin and Ilya Kovalchuk in this tournament and is closing in on the all-time record of 18 points set by current Florida Panthers forward Colin White.
Eiserman, meanwhile, has been scoring goals at will practically. He has nine goals through five games and is just three shy of the all-time record set by Ovechkin, who scored 12 goals in the tournament in 2002. Eiserman has two games left to break it.
Four years ago at this tournament, Jack Hughes and Cole Caufield scored at an incredible pace with Hughes notching 15 points and Caufield scoring 13 with eight goals. This duo is giving me flashbacks to that one with how much chemistry they have and how much each seems to feed off the other.
In all competitions this year, Eiserman has 32 points including 20 goals in just 15 games this season. Hagens has 28 points in 14 contests. Eiserman is trending towards being a top five pick in 2024, while Hagens may very well have a case to being the early No. 1 for 2025. They're special, special players.
Green Bay Has A Gem In Artyom Levshunov
Getting around the rinks over the course of the season, I made a point to see Green Bay rookie defenseman Artyom Levshunov when the Gamblers came through to play the Cedar Rapids Roughriders. There had been growing buzz around the big 17-year-old defenseman who isn't NHL Draft eligible until 2024.
The Belarussian blueliner had a breathtaking performance, posting two goals and three assists as Green Bay rolled to a 7-2 victory. With that performance, Levshunov doubled his point total this season and is now second among all USHL defensemen with 10 points in 12 games. He was just named the USHL's Defenseman of the Week.
Congratulations to Artyom Levshunov on being named the @USHL defenseman of the week! This past weekend, Levshunov recorded 2 goals and 3 assists. Congrats Arty! 🎉 #GoGamblers #StarsRise pic.twitter.com/LfovtLYtfu

— Green Bay Gamblers (@GamblersHockey) November 10, 2022
Now closer to 6-foot-3 and 200 pounds, Levshunov casts an imposing frame. He has excellent mobility and is already as strong as anyone in the league right now despite his relative youth. What's really exciting about his game, however, is his poise with the puck and the skill level he plays with. He is able to make plays at the offensive blue line, creating space to make more plays. He gets a lot of pucks through the net, too. Levshunov looks like he's played in the league for years and yet just last season, he was playing in a lower-level Belarussian league that he absolutely dominated.
A lot of attention has been cast on Macklin Celebrini of the Chicago Steel as the presumptive No. 1 prospect for 2024. Levshunov is proving that he needs to be mentioned in the same breath. He is an exceptional prospect and had me having a few flashbacks to when Owen Power was playing as a rookie in the USHL. Keep a close eye on him this season and beyond because you're going to be hearing a lot more from Artyom Levshunov if he stays on his current trajectory.
A New College UFA Candidate Emerges At Western Michigan
Ryan McAllister was not a name that was on a lot of watch lists at the beginning of the season. He is a 20-year-old freshman who will turn 21 in December and had spent the previous four seasons bouncing around to some Canadian junior A teams starting in the GOJHL, then the BCHL before finally landing with the Brooks Bandits in the AJHL.
Last season with Brooks, McAllister scored 139 points. It was the highest-scoring season by any player in the AJHL since 1984.
Now with Western Michigan, McAllister is still turning heads. The London, Ontario native is second in the NCAA with 19 points, behind only 2023 NHL Draft top prospect Adam Fantilli. He has an NCAA-best 14 assists so far this season and is on a streak of four consecutive games with at least two points.
WATCH: Ryan McAllister goes top-shelf to cut the lead to 1! pic.twitter.com/ARXX250n4b

— WMU Hockey (@WMUHockey) October 29, 2022
An average sized forward, McAllister has shown off tremendous offensive sense and vision in the early goings this season. He doesn't necessarily fit the profile NHL teams go after in college free agency in terms of size, but when you put up points like he has at Western, it gets you on the radar. There's not much need for McAllister to rush into any decisions about his future and there's a long season left, but he's giving himself a chance to take another step towards the NHL. McAllister did earn himself an invite to the Toronto Maple Leafs' player development camp last summer as a free agent invitee.
The Broncos lost several key players last season to pro hockey, but they've managed to remain competitive thanks to a strong forward group that McAllister is driving.
Stay tuned for more news and notes about prospects on the NHL radar throughout the season right here on FloHockey.