2022 Chicago Steel vs Green Bay Gamblers
USHL What To Watch For: Top Teams Square Off During Loaded Weekend
USHL What To Watch For: Top Teams Square Off During Loaded Weekend
USHL writer Jordan McAlpine breaks down some notable games from the league on FloHockey's schedule this week.
Oct 26, 2022
by Jordan McAlpine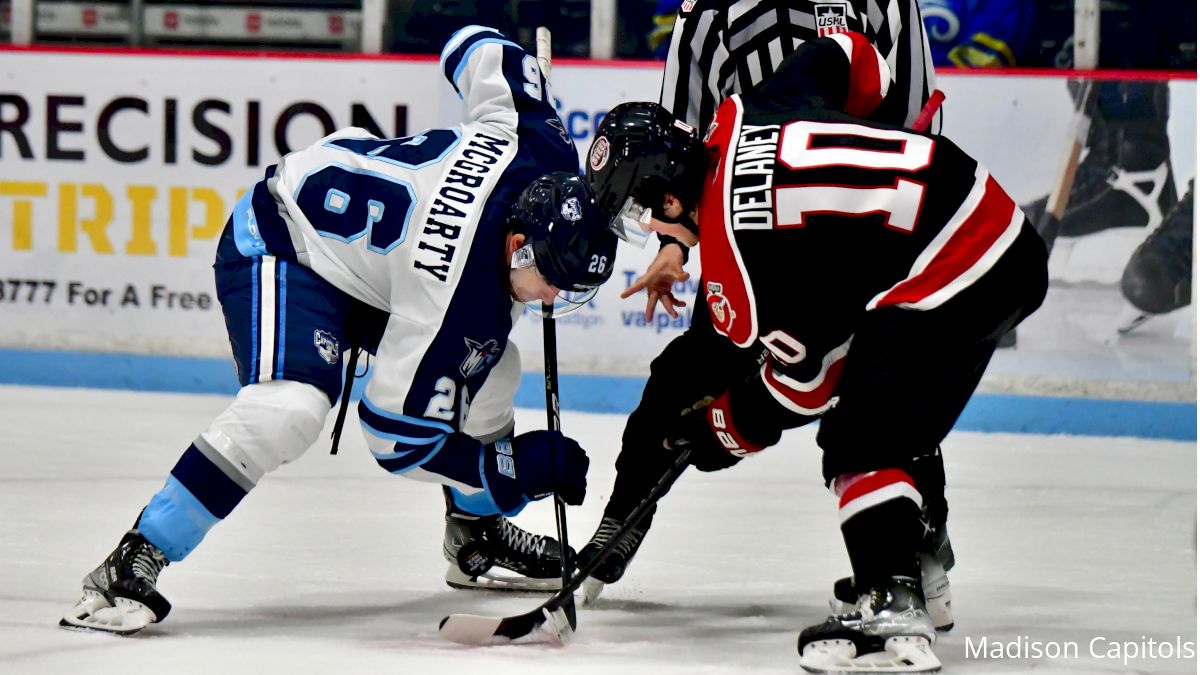 It's another busy slate of games as all 16 USHL teams will hit the ice, division leaders will collide and three sets of back-to-backs will make for intense and entertaining hockey. Without further ado, here's a look at the week ahead.
Sioux City (2-3-2-0) at Fargo (5-1-0-1), Oct. 28 7:05 p.m. & Oct. 29 6:05 p.m.
One of the USHL's three back-to-backs this weekend, Scheels Arena will play host to two of the hottest teams in the league. The Force beat Tri-City last Thursday, 4-0, extending their point streak to six games.
Anton Castro continued his strong play between the pipes, turning aside all 21 shots and earning his first career USHL shutout. Rookie Verner Miettinen also picked up a pair of goals in the win. Fargo has won five of its past six games and currently sits one point behind Lincoln for the Western Conference lead.
But the Musketeers have some momentum of their own. After being the last team to enter the win column, Sioux City won a pair of games last weekend -- 5-2 over Tri-City and 3-2 over Sioux Falls – and the Musketeers come into this weekend having earned points in four straight games.
2nd Period
Sioux CIty: 3
Sioux Falls: 0

Make that 3 unanswered goals for Sioux City with this power-play goal from @dylan_godbout pic.twitter.com/U0hrgFQi36

— Sioux City Musketeers (@Musketeerhockey) October 23, 2022
The defending Clark Cup Champs have been led by Kaden Shahan (five goals) and Ryan Conmy (3-2-5), who has points in four straight and goals in three of his last four games. Shahan was one of five Musketeers named to NHL Central Scouting's Players to Watch List for the 2023 NHL Draft.
Muskegon (4-4-0-0) at Madison (4-3-0-0). Oct. 28 & Oct. 29, 7:05 p.m.
Yet another two-game set on the USHL schedule will feature a pair of teams on a positive run of late. The Capitols were idle last weekend, but Madison won its previous two games — sweeping Youngstown — and four of its past five. Meanwhile, Muskegon defeated Dubuque at home last Saturday, 6-2.
The Capitols are currently tied with Muskegon for fourth in the Eastern Conference -- both with eight points. However, Madison has played three fewer games than conference-leading Chicago and two fewer than second-place Green Bay.
Miko Matikka, who leads Madison with 10 points (4-6-10), had another strong weekend against Youngstown with a goal and two assists. The Arizona Coyotes pick (2022, third round) has three goals and six points in his last six games.
October 14, 2022
Muskegon got back in the win column last Saturday after being swept by Green Bay one week prior. Tyler Hotson netted a pair of goals for the Lumberjacks in the win and goaltender Conor Callaghan stopped 20 of the 22 shots fired his way.
Chicago (6-4-0-0) at Green Bay (5-3-1-0), Oct. 29 3:05 p.m.
The top two teams in the Eastern Conference will meet Saturday night in Green Bay. Both teams split a pair of games last weekend - Chicago against Youngstown and Green Bay against Cedar Rapids.
Chicago opened the weekend with a 5-4 win over the Phantoms, but the Steel were shut out for the first time this season last Saturday, 5-0. Jayden Perron and Macklin Celebrini both scored a pair of goals in that Friday night win. Perron now leads the USHL with 15 points (4-11-15).
Green Bay came away with another win in low-scoring fashion, 2-1 in overtime.
Game Highlights (10/22) ‼️ Here are the highlights from the Gamblers OT thriller with the Cedar Rapids Rough Riders Saturday night #GoGamblers pic.twitter.com/CfXhHap9xu

— Green Bay Gamblers (@GamblersHockey) October 24, 2022
Goaltender Kristoffer Eberly made 31 saves and Jimmy Clark and Eli Sebastian (OT winner) both netted goals in the win. With a win on Saturday, Green Bay would overtake Chicago for the conference lead.
News and notes
NHL Central Scouting released its Players to Watch List for the 2023 NHL Draft Tuesday afternoon. Many current USHL players and 82 total players with USHL ties made the list. To view the full list, click here.
Des Moines will play three games in three days this weekend. The Buccaneers will host Sioux Falls on Friday, Cedar Rapids on Saturday and play at Waterloo on Sunday. Des Moines (3-3-1-0) is currently fifth in the Western Conference.
Cedar Rapids comes into this weekend with points in three straight and have won two of their last three. The outlier being the overtime loss at Green Bay.
Omaha, Lincoln, Sioux Falls and Waterloo will all play twice this weekend. The Lancers host Lincoln on Friday and play at Sioux Falls on Sunday. Lincoln will also play at Tri-City on Saturday. The Stampede will open the weekend at Des Moines on Friday. And Waterloo will host Dubuque on Saturday.
After a hot start, both Sioux Falls and Tri-City have hit a bump in the road. The Stampede have dropped three straight while the Storm have lost their last five. The Stampede and Storm enter this weekend tied with Sioux City at the bottom of the Western Conference.
The USHL announced its Players of the Week for last week's action. U.S. National Under-17 Team James Hagens was named Forward of the Week had four points in a win over the Dubuque Fighting Saints. Boston Buckberger of the Lincoln Stars earned Defenseman of the Week honors for his two-point effort in Lincoln's 4-3 win over Des Moines. Lastly, Youngstown Phantoms netminder Jacob Fowler was tabbed as the Goaltender of the Week with a pair of solid performances including a 33-save shutout of Chicago.
Congratulations to the Week 5 USHL Players of the Week! #StarsRise https://t.co/9hQ7HnbEdU pic.twitter.com/DR14HFO0Tk

— USHL (@USHL) October 26, 2022