2023 NHL Draft
NHL Draft: Central Scouting Releases Watch List, Omaha's Hrabal Gets 'A'
NHL Draft: Central Scouting Releases Watch List, Omaha's Hrabal Gets 'A'
Omaha goalie Michael Hrabal was one of two netminders to receive an A-rating from NHL Central Scouting.
Oct 26, 2022
by Chris Peters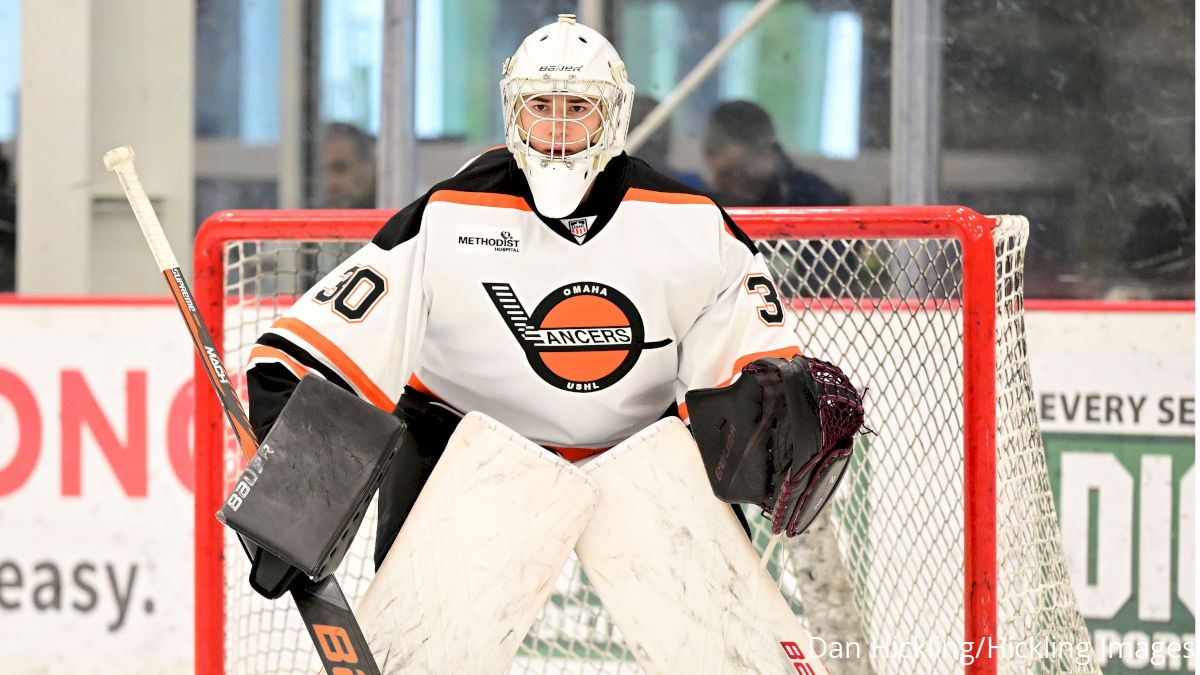 The 2023 NHL Draft season is well underway and one of the annual rites of fall in the draft campaign is NHL Central Scouting Services releasing its preliminary players to watch list. With a group of independent regional scouts, the league's Central Scouting helps provide one of the baseline rankings to paint a picture of the draft class as it stands currently. CSS somewhat mimics the scout room of an NHL team, and as such can vary wildly from the perspective of other teams and evaluators.
FloHockey's first 2023 NHL Draft rankings will be out in early November, but it's always interesting to take in opinions from various sources in the very inexact science of scouting future hockey players.
For Central's first watch list, they don't provide numerical rankings, but rather letter grades to express where they think is an acceptable range for a player to go in the draft at this early stage of the season. A-rated players are first-round candidates, B-rated players are second- or third-round projections and C-rated is fourth round or lower.
The important thing to remember is how much can change over the course of a draft season. Players will rise and fall throughout the year and this shouldn't be viewed as anything more than a baseline opinion for the season. Players that aren't A-rated now could be ranked highly next time around or those that do have an A-rating might be way down the list at the mid-term.
Central Scouting hung an "A" rating on 28 players this time around. There were many of the expected names from the 2023 NHL Draft class, which is led by a trio of highly-regarded forwards in Connor Bedard of the Regina Pats, the University of Michigan's Adam Fantilli and Russian scoring sensation Matvei Michkov.
NHL Central Scouting has released its Preliminary Players to Watch List presented by BioSteel for the 2023 #NHLDraft (players listed alphabetically by rating).

Story/Full List: https://t.co/BAOt5DaQHf pic.twitter.com/qyfKZTCsa4

— NHL Public Relations (@PR_NHL) October 25, 2022
Among those to receive an A-rating, only two were goaltenders – Carson Bjarnason of the Brandon Wheat Kings in the WHL and Michael Hrabal of the USHL's Omaha Lancers.
Hrabal has been a revelation in the early goings of this season. The Czech netminder represented his native country well at the Hlinka-Gretzky Cup over the summer and has continued his stellar play in his first season in North America.
In five games with the Lancers so far this season, Hrabal has posted a .940 save percentage, while keeping Omaha in every game they've played. He has just two wins and three losses, but each of those defeats were in overtime or a shootout. Hrabal also has had to work for his impressive numbers, facing an average of 36.4 shots per game so far.
At 6-foot-6, Hrabal has the size NHL teams covet in goaltenders, but he also has good control in his movements. He takes up a lot of net and moves post to post efficiently to make some really difficult saves look easy. His ability to fight through traffic and track pucks is another standout trait, as is his ability to read and anticipate plays.
On top of having the skills, he's putting up the numbers all while adjusting to a new team, a new home and a completely different style of hockey between the USHL and his Czech U20 league back home where he similarly put up spectacular numbers. He has all the hallmarks of an elite goalie prospect and has a very strong chance of being the first netminder off the board in June.
That Hrabal got the A-rating, alongside Bjarnason who is off to a tremendous start in Brandon, is no surprise. Scouts have been buzzing about him since the Hlinka-Gretzky Cup, but he was also the talk of the USHL Fall Classic after pushing the U.S. National Under-18 Team to OT despite facing a barrage of high quality chances against.
Since Marc-Andre Fleury went first overall in the 2003 NHL Draft, only 23 goaltenders have gone in the first round. Only three of those goaltenders played in the USHL, with each coming from the National Team Development Program -- Jack Campbell (2010), Jake Oettinger (2017) and Spencer Knight (2019). If Hrabal is able to maintain his top prospect status and go in the first round, he would be the first USHL goaltender from outside of the NTDP ever to be selected in the first round of an NHL Draft, marking a truly special accomplishment. There's still a long season to go, though, and he'll only go under the microscope further as more people view him as a true first-round candidate.
In addition to Hrabal, several other players with USHL ties earned A-rating distinction.
Among the current players, a quartet of forwards from USA Hockey's National Team Development Program received top designation from Central Scouting. Ryan Leonard, Will Smith, Oliver Moore and Gabriel Perrault have all been off to productive starts of their season as the U18 squad plays a split schedule against USHL and NCAA opponents.
All 2⃣3⃣ age-eligible #NTDP players were named to NHL Central Scouting's Preliminary Players to Watch list ahead of the #2023NHLDraft!

— USA Hockey's NTDP (@USAHockeyNTDP) October 25, 2022
There were also two USHL alumni listed among the A-rated prospects including former Chicago Steel Center Adam Fantilli, who is likely to be among the first three picks off the board in June., and former U.S. U18 forward Charlie Stramel, who now plays at the University of Wisconsin.
In all, 82 players with USHL ties including 68 current USHL players were part of NHL Central Scouting's preliminary players to watch list. Among them, Tanner Adams (Tri-City Storm), Jayson Shaugabay (Green Bay Gamblers), Andrew Strathmann (Youngstown Phantoms), Maxim Strbak (Sioux Falls Stampede) and William Whitelaw (Youngstown Phantoms), as well as U.S. National Teamers Trey Augustine, Austin Burnevik, Brady Cleveland, Paul Fischer, Drew Fortescue, Aram Minnetian, Carsen Musser and Danny Nelson received a "B" rating. All 23 players from the NTDP's U18 team were listed by Central as an A, B, or C-rated prospect.