2023 NHL Draft
Adam Fantilli Leads 2023 NHL Draft Prospects To Watch In NCAA
Adam Fantilli Leads 2023 NHL Draft Prospects To Watch In NCAA
NHL Draft analyst Chris Peters breaks down four 2023 draft-eligible players in the NCAA that could hear their names called early next summer.
Sep 29, 2022
by Chris Peters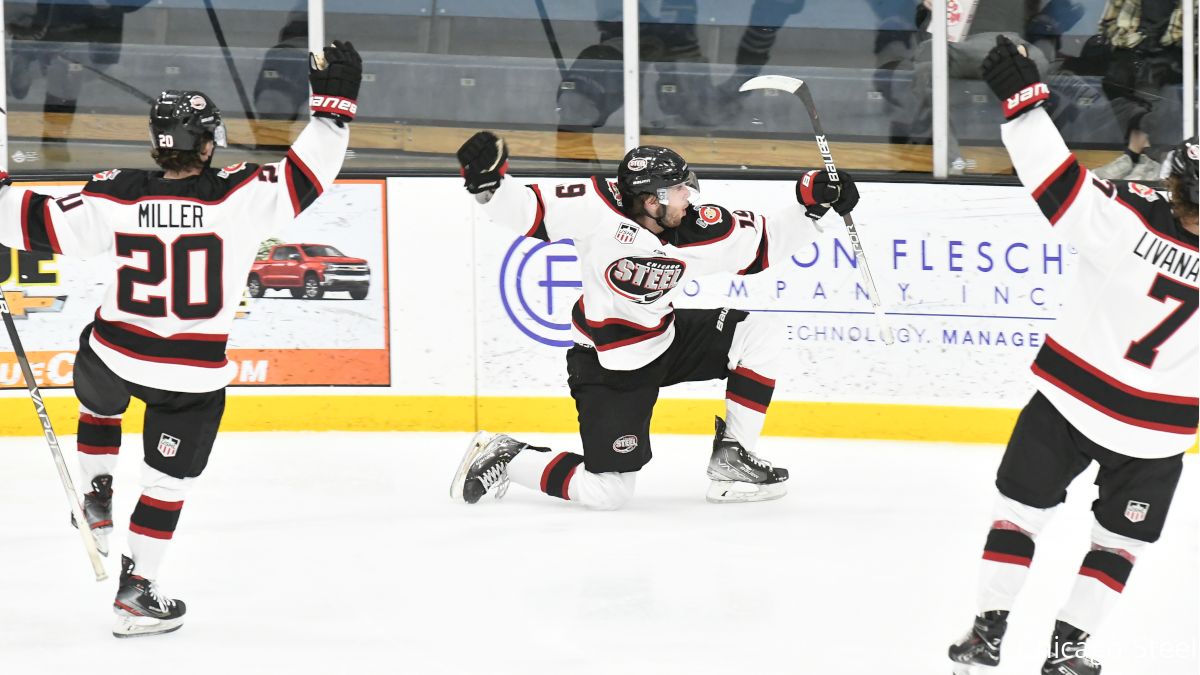 Every year there are a few players in college hockey that are playing their first season of NHL Draft eligibility. The 2022-23 NCAA season, however, will feature no fewer than four candidates that have a chance to be selected in the first-round including three potential lottery-range picks.
Veteran NHL Draft analyst Chris Peters details each of the four players with high-level draft aspirations and why each has a chance to hear their names called on Day 1 of the NHL Draft.
Adam Fantilli, C, University of Michigan
While much of the focus has been on Connor Bedard for the 2023 NHL Draft, there are plenty of scouts, fans and interested onlookers that are getting excited about the coming season for Adam Fantilli. Born a little less than a month too late to be eligible for the last NHL Draft, Fantilli heads into his draft season as a college freshman which will give him a chance to prove that he's not far away from NHL readiness as he plays against older, stronger competition.
Fantilli is a 6-foot-2, 195-pound center. He has good speed, plays the game physically and he can score. His shot is among his best attributes, as it's both heavy and accurate. Even more importantly, however, is he gets to the net and can play both between the dots and below the faceoff circles. He'll win battles thanks to his strength and he can lower the boom as well with solid body checks. His hands are excellent for a power-forward style player. His combination of puck protection with that skill makes him very difficult to get the puck off of.
Fantilli is interesting in that he's more physically advanced than most of his draft peers. Sometimes that can work against a player because it lends to their maybe not having as much ceiling. I don't think that's the case with this player. Fantilli has continually pushed his game in a forward direction, increasing his skill level, improving his scoring ability and growing into his body naturally without losing the core of his game. As a result, he's had some unprecedented success at his young age.
With the Chicago Steel last season, Fantilli had 74 points in 54 games during the regular season, including 37 goals. His 74 points tied Kyle Connor for the most by a player in their draft-minus-one season, while his 37 goals was most ever by a player the year before they were draft eligible. In the last 30 years, only Jack Hughes had a higher points-per-game rate than Fantilli's 1.37 among draft-minus-one players with a minimum of 25 USHL games. The year before, Fantilli had the seventh-most productive season in USHL history for a player two years out from their draft by producing 0.74 points per game with Chicago. Fantilli also was the playoff MVP in 2020-21 when the Chicago Steel won the Clark Cup and he led the playoffs in goal scoring with eight in eight games.
Adam Fantilli, a potential No. 1 overall pick in 2023 NHL Draft, pulls off the Michigan goal. Wow.

(🎥: @ChicagoSteel) pic.twitter.com/53vEbIoFvF

— Charlie Roumeliotis (@CRoumeliotis) January 2, 2022
What Fantilli did over the last two seasons was largely unprecedented for a player outside of the National Team Development Program, underscoring just how elite a talent the big Ontario native is.
So now Fantilli comes into the University of Michigan where the expectations are high. He earned a second-team All-Big Ten nod in the preseason coaches' polls before ever playing a minute of NCAA hockey. Additionally, the Wolverines sustained enough losses last year to their offensive attack where Fantilli has no choice but to be an impact player. Michigan needs him to produce and will put him in a position to succeed. If he does, it's good for them and even better for his draft stock.
I don't think Fantilli is going to catch Bedard in the chase for No. 1, but I don't think it's impossible either. His size profile, the heaviness that he plays with and his ability to combine that with high-level production is something every team is looking for in a center. To see Fantilli dominate at the USHL level last season and for him to contribute as much as he did the season before at 16 was nothing short of remarkable.
He has the pedigree to be a special player. Regardless of where he goes in the draft, the team that selects him will likely feel they landed their No. 1 center of the future and a player that will quickly become a fan-favorite.
Fantilli on FloHockey: Oct. 21, 22 at Lake Superior State.
Charlie Stramel, C, University of Wisconsin
When at the top of his game, Stamel reminds me of a linebacker on skates. Listed at 6-foot-3, 215 pounds, Stramel has been one of the bigger players in his age group and has played like it for the better part of the last three years. After spending the first half of last season on the shelf recovering from a surgery, Stramel was largely himself while averaging just under a point per game for the U.S. National Under-18 Team at the National Team Development Program.
Stramel is the top recruit for Wisconsin this season as they look to bounce back from a bitterly disappointing 2021-22 campaign. A right-shot center with good feet and a great release on his shot, Stramel's the kind of power center that teams drool over. He has tremendous strength, plays the game with physicality and seems to understand what he's best at without trying to deviate too much from that.
The youngest player on the American roster puts them back up by two! #U18Worlds

Charlie Stramel steals the puck and goes in on the breakaway and shows off some nice touch! #2023NHLDraft

🇺🇸 4-2 🇩🇪 pic.twitter.com/QEGZNIVLJi

— Tony Ferrari (@theTonyFerrari) April 28, 2021
What has always stood out to me about Stramel's game is his mobility. He is a natural born athlete that has the dexterity to make an impact with the puck. He's not going to make highlight reels with dangles and dekes, but he's going to be sure-handed with the puck, make good decisions and create a lot of extra space for his linemates.
I thought Stramel wasn't at his top speed after coming back from his injury, but I wonder how much the offseason will allow him the additional recovery and strength training time to get it back. In his top gear, he has the ability to separate and there's a smoothness to his movement. Meanwhile, he's so difficult to move off the puck and at the net-front. There's still a rawness to his game in that he hasn't put everything together yet. Assuming he does, he could be an absolute menace to the opposition. The team that drafts Stamel is going to be looking at him for a few more years down the line as he rounds out his game, but the potential on a player at his size with his skating ability is through the roof.
Matthew Wood, C/W, UConn
The last time UConn had a high-profile draft-eligible player on their roster was Tage Thompson, who ended up going 26th overall to St. Louis in 2016. Just last season, Thompson had his NHL breakout with 38 goals and 68 points for the Buffalo Sabres, securing a long-term contract extension this summer. Matthew Wood may have a chance to go even higher in the draft than Thompson did and gives the Huskies another true blue-chipper.
Unlike Fantilli and Stramel, Wood is not a late 2004 birth date but rather a first-year eligible who was born in 2005. Wood should be a high school senior this year, but instead managed to finish early and has enrolled at UConn, set for his freshman campaign. Wood is a 6-foot-3, 190-pound forward who seems to always find himself in the right spots and has a goal-scorer's instinct.
MATTHEW WOOD 🚨 Canada is on the board in the 2nd period.#U18Worlds pic.twitter.com/INgmbLnUSY

— TSN (@TSN_Sports) April 23, 2022
He led the entire BCHL in scoring last season with 85 points and a staggering 45 goals in 46 games. In the last 25 years, only one player had a better draft-minus-one season and that was Kent Johnson, who was drafted fifth overall by the Columbus Blue Jackets in 2021. Johnson scored at 1.94 points per game his last season in the BCHL, while Wood scored at a 1.85 clip. Wood also had the higher goal total in fewer games and is bigger and stronger. Notably, Johnson was a late birthdate, so was a bit older than Wood was in his draft-minus-one season.
Wood also made Team Canada as an underager at last year's U18 World Championship, scoring two goals in the tournament. This summer, he played for Canada at the Hlinka-Gretzky Cup, posting five points in five games as Canada won the tournament.
A native of Nanaimo, B.C., Wood is a long way from home playing at UConn and he actually turned down the opportunity to play in the WHL alongside Connor Bedard with the Regina Pats. The fact that Wood has decided to challenge himself by attending college a year early and not simply going to one of the blueblood programs that has dozens of NHL alumni is going to speak to NHL teams. This is a player with the confidence to bet on himself and the skill to give himself a chance to go very high in this draft.
Gavin Brindley, RW, University of Michigan
While all of the guys listed above are a lot bigger than Brindley, who checks in at 5-9, 170, the Estero, Fla., native does not lack heart. An energetic forward with good speed and an exceptionally high motor, Brindley is skilled enough to produce. Projected as a potential late first-round or early second-round draft pick, he's certainly endeared himself to scouts with his competitiveness and higher skill level.
Brindley spent the last two season with the Tri-City Storm in the USHL. He helped the Storm win the regular-season title last year with 42 points in 51 games. He also had two points in three playoff games as Tri-City was stunned earlier in the postseason than expected. Meanwhile, Brindley also saw action with the U.S. National Under-18 Team, joining them for international tournaments including last spring's Under-18 World Championship. He had four points in five games at that tournament.
Gavin Brindley you've got to be kidding me! 😳

Coming Soon.#GoBlue〽️ pic.twitter.com/sCc6gPXSjX

— Michigan Hockey (@umichhockey) July 28, 2022
Now Brindley will have to carve out a bigger role on a good Michigan team. The big challenge for him maintaining the first-round draft status is how much he ends up playing on a loaded roster. While he's exceptionally talented, Michigan is deep and has a lot of skill up front. Getting power play time and top-six minutes is going to be the challenge. That said, Brindley's competitiveness is one of his best attributes. He just keeps working and is very difficult to deny. If he can keep that mentality and Michigan gives him a lot of looks up their lineup, he's going to make a difference for them and for his draft stock.
Brindley on FloHockey: Oct. 21, 22 at Lake Superior State
---
For more college hockey preview content, don't miss: 15 Intriguing NCAA Teams To Watch and Talking Hockey Sense: Men's College Hockey Preview. You can also follow Chris for more college hockey news and analysis on Twitter: @chrismpeters.