Atlantic Hockey
Men's College Hockey Preview: 15 Teams To Watch Going Into NCAA Season
Men's College Hockey Preview: 15 Teams To Watch Going Into NCAA Season
Chris Peters takes a look at 15 teams that could figure prominently one way or another into the 2022-23 men's college hockey season.
Sep 28, 2022
by Chris Peters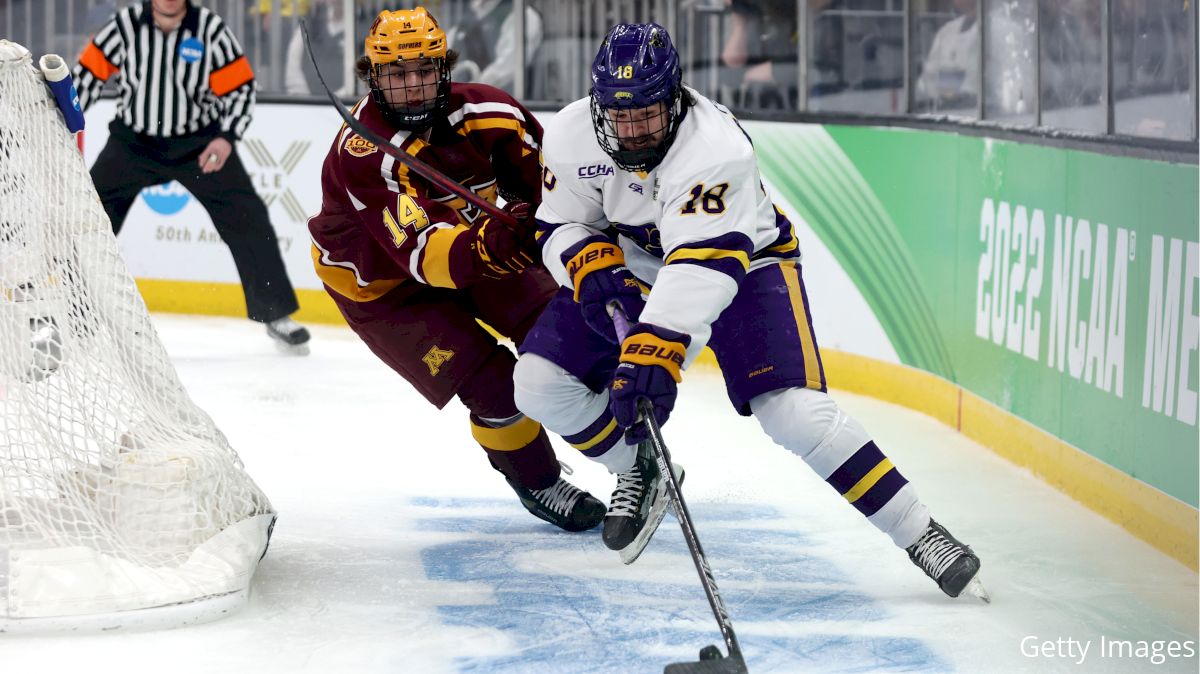 Summer is nice, but if you're a hockey fan it doesn't get much better when the calendar flips to October. This year, the Oct. 1 will also bring the first official action of the men's college hockey season with a series of exhibitions, but also a pretty large slate of non-conference games and even a couple of full-on conference showdowns.
This weekend also marks the start of FloHockey's coverage of both the women's and men's college hockey seasons with nine games streaming exclusively on Flo alone. To get you ready for the 2022-23 men's college hockey season, I picked out some of the teams I'll be watching closely throughout the year, some top NHL prospects that will dot NCAA rosters this season and much more.
This isn't meant to be a top teams list, rather it's all about teams that I think will factor into the season in various ways, some as championship contenders, some as newsmakers, others just because I can't wait to see what the team on paper looks like on the ice.
We'll have much more college hockey preview content throughout the week, so stay tuned.
Minnesota
After reaching the Men's Frozen Four last season, the expectations for Minnesota won't change as they approach the 20th anniversary of their last national championship. The Gophers are bringing in one of the best recruiting classes in the country highlighted by No. 3 overall pick Logan Cooley (Arizona Coyotes) and have a large number of key returnees from last year's squad.
The following statement was released today by Brock Faber in response to questions about his future career plans:

"𝐈'𝐦 𝐛𝐚𝐜𝐤."#Gophers x #PrideOnIce pic.twitter.com/yKEJzn4yzO

— Minnesota Men's Hockey (@GopherHockey) April 11, 2022
With one of the most experienced and deep blue lines in the country, the Gophers have strength at a critical position. NHL prospects Brock Faber (Minnesota Wild) Jackson Lacombe (Anaheim Ducks), Ryan Johnson (Buffalo Sabres) and Mike Koster (Toronto Maple Leafs) are all back to anchor a blue line that has also added recent draftee Ryan Chesley (Washington Capitals) to bolster their depth back there. That, plus standout freshman additions, should help alleviate the losses of core forwards like Sammy Walker and Hobey Baker finalist Ben Meyers.
Justen Close returns between the pipes for Minnesota after being thrust into the job upon the abrupt departure of Jack LaFonataine late last season. Close performed well down the stretch, posting 14 wins and a .925 save percentage as he took the Gophers to the national semifinals.
Up front, the Gophers have high-end returnees like Matthew Knies (Toronto Maple Leafs), who was dominant down the stretch last season. Also poised for bigger roles this year are Rhett Pitlick (Montreal Canadiens) and Aaron Huglen (Buffalo Sabres), who showed flashes of high-end skill last season. Then you add in that blue-chip freshman class that includes first-round draftees Cooley and Jimmy Snuggerud (St. Louis Blues), plus USA Hockey Junior Player of the Year Connor Kurth (Tampa Bay Lightning) and Brody Lamb (New York Rangers), among others. You have to think this team is going to be able to maintain its offensive prowess from a season ago.
Denver
The defending champs are coming into the season as the No. 1 team in both major polls and there's plenty to like about the roster David Carle is bring back from the 2021-22 roster. It all starts in net with Magnus Chrona (San Jose Sharks) back in net after going 28-8-1 with a .911 save percentage and six shutouts last season. The team also returns its top four defensemen with Mike Benning (Florida Panthers), Sean Behrens (Colorado Avalanche), Shai Buium (Detroit Red Wings) and Justin Lee all back patrolling the blue line.
Where Denver is going to struggle is in the amount of scoring it has to replace. The team is losing its top four point scorers and one of its leading goal scorers. That puts a lot of burden on returnees like Carter Mazur (Detroit Red Wings) and Massimo Rizzo (Carolina Hurricanes), who were both excellent as freshmen. There are high expectations for some of the team's newcomers up front, too, as Aidan Thompson (Chicago Blackhawks) and Jared Wright (Los Angeles Kings) had strong USHL careers, while transfer Tristan Broz (Pittsburgh Penguins) comes from the University of Minnesota to supplement the scoring attack.
Carle has been considered one of the best young coaches in the game today and with two trips to the Frozen Four since taking over for Jim Montgomery, it's not hard to see why. He'll face a big challenge with the amount of offense he has to replace, but the standard at this program has continually been set so high and they keep finding ways to meet it. I wouldn't be stunned by a step back, but I don't know if it will be a big one.
Quinnipiac
Goal prevention is such a key factor in team success and no team allowed fewer goals than Quinnipiac last season. They'll return starting goalie Yaniv Perets and fifth-year senior defenseman Zach Metsa who will serve as the Bobcats captain. There were multiple losses on the blue line, though, that may challenge QU to repeat their impressive performance from a season ago.
Excited to announce the first two members of our leadership group for 2022-23!

Zach Metsa → Captain
Ethan de Jong → Assistant Captain

READ: https://t.co/xv4wGoH4IY#BobcatNation #ECACHockey pic.twitter.com/9kPiAjVOPI

— Quinnipiac Men's Ice Hockey (@QU_MIH) July 21, 2022
That said, the Bobcats always play hard and make their opponents work for their offense. Quinnipiac has often been a strong possession team that tries to make the most of their chances. They're often opportunistic with their offense and that worked out rather well for them last season.
The big question is where the goals are going to come from. Metsa was the team's leader in points last season from the blue line, but Wyatt Bongiovanni and Oliver Chau are gone and taking 67 points with them. That puts more strain on Ethan de Jong and Michael Lombardi, who are returning fifth-year seniors. If they can help carry the mail offensively, it might be enough, but QU will need more players stepping into the holes left in the offensive attack.
Minnesota State
The Mavericks are always in the hunt anymore, but they're going to be down some of their core players heading into this season starting with Hobey Baker winner Dryden McKay, who moved on to pro hockey. The club also saw Nathan Smith leave for the Arizona Coyotes and Julian Napravnik graduate. They still have some great pieces and there's no question that Minnesota State's style of play, experience and team structure give them an advantage over most opponents.
Among the key returnees are the team's best two defensemen, Akito Hirose and Jake Livingstone, each of whom have garnered significant NHL interest as undrafted free agents. They'll anchor a blue line that was among the most suffocating in all of college hockey last season. Up front, the team will lean on returnee Brendan Furry who was a point per game player last season, while Cade Borchardt will wear the C for the Mavs and is coming off of a 41-point season as a junior. Ondrej Pavel and Ryan Sandelin have also traditionally been big-time players for the squad.
However, after four full years of Dryden McKay starting almost all of the games for this team, we don't know who will get the reins to start the season. Freshman Alex Tracey won the Clark Cup and was MVP of the playoffs for Sioux City, which gives him some championship pedigree coming into a winning program, but the Mavs are almost starting from scratch in net.
Michigan
It has been a tumultuous offseason in the Michigan hockey program after reaching the Men's Frozen Four last season. Head coach Mel Pearson was dismissed after a lengthy investigation into his conduct and the program culture. Brandon Naurato, who has not been a head coach at any level, takes over the bench as interim coach after just one year as an assistant coach. That's going to be the biggest thing one wonders about going forward, is how does Naurato handle the job and is he going to be the long-term solution behind the bench.
What isn't in question, however, is that Michigan continues to load up on elite talent. Even after losing Matty Beniers, Kent Johnson, Brendan Brisson and Owen Power to the NHL, there's still high expectations. Luke Hughes (New Jersey Devils) is returning after making the Hobey Baker top 10 with one of the most productive seasons by a freshman defenseman in decades. Erik Portillo (Buffalo Sabres) is also back in net for Michigan after a strong sophomore campaign that saw him win 31 games as the starter while posting a .929 save percentage.
Hughes, Portillo, Samoskevich, Fantilli Named Preseason All-B1G

Michigan picked to finish third.

Read >> https://t.co/nECSwa91Bq#GoBlue〽️ pic.twitter.com/lI30Yn4HiL

— Michigan Hockey (@umichhockey) September 21, 2022
Up front, replacing the lost scoring will be a challenge, but Michigan replaces first-rounders with more first-rounders as freshmen Frank Nazar (Chicago Blackhawks) and Rutger McGroarty (Winnipeg Jets) are among the new recruits that should help bolster the offense. Meanwhile, Michigan will also boast one of the top prospects for the 2023 NHL Draft with Adam Fantilli being projected as high as second overall. Fantilli had a tremendous USHL career and is expected to be an immediate impact player.
I think it's reasonable to expect the Wolverines are going to take a step back as they're just so young right now. That said, they've got some of the best skill and speed of any team, which makes them especially intriguing to watch.
Northeastern
If you've got goaltending, you've got a chance. The Huskies have the best goalie in the country, in my estimation. Devon Levi had one of the best seasons by a goaltender in recent memory, posting a stunning .952 save percentage in 32 appearances with 10 shutouts. If he puts together anything close to that kind of performance again, we could be talking about the Hobey Baker. He would have had my vote last year if I had one.
Beyond the goaltending, however, the Huskies should also be able to score. Aidan McDonough is back after an All-American season, eschewing a contract offer from the Vancouver Canucks to turn pro. He'll be the focal point of the offense, but Jack Hughes (Los Angeles Kings), Sam Colangelo (Anaheim Ducks) and Gunnarwolfe Fontaine (Nashville Predators) are all back this season. Expectations should be fairly high for freshman Cam Lund (San Jose Sharks) to help out in the scoring department as well.
I think the biggest concern for Northeastern coming into this season is what their D corps is going to look like. The loss of Jordan Harris is a massive one, which requires players like Jayden Struble (Montreal Canadiens) to step up in a major way. Having an elite goalie alleviates some concern, but the Huskies have legit championship aspirations this year and they'll need the D corps going if they're going to have a chance.
---
Harvard: On Talking Hockey Sense this week, my guest Brad Schlossman and I talked about how Harvard has more NHL draft picks than any other NCAA team this season. They've got one of the most gifted goal scorers in the ECAC with sophomore Matt Coronato (Calgary Flames) returning, alongside with high-end playmaker Sean Farrell (Montreal Canadiens). Second-team All-America defenseman Henry Thrun (Anaheim Ducks) brings experience and mobility to the team's back end and they should have depth in net with NHL draft picks Mitchell Gibson (Washington Capitals) and Aku Koskenvuo (Vancouver Canucks) patrolling the crease. This is a team that should be able to score at a high clip this year.
Minnesota Duluth: The Bulldogs are always in the hunt, even though they've sustained some losses to their veteran core, not the least of which was starting goalie Ryan Fanti, who signed a pro deal last spring. The exciting thing for UMD is having another year of their line of Quinn Olson (Boston Bruins), Dominic James (Chicago Blackhawks) and Blake Biondi (Montreal Canadiens), who showed flashes of brilliance last year and could be even better with more experience. On top of that, the Bulldogs boast one of the nation's top defensemen in Wyatt Kaiser (Chicago Blackhawks). Additionally, UMD has one of its best recruits in years with the dynamic Isaac Howard (Tampa Bay Lightning) giving the team an element it hasn't had as much of in recent years.
Arizona State: Few teams benefitted from the transfer portal more this offseason than Arizona State. It allows them to put together a team with a lot of new blood, but maintain a high level of experience. They got one of the most sought-after goalies on the transfer market in T.J. Semptimphelter, who backed up Devon Levi at Northeastern last year and looked great in limited action. They also picked up veteran forwards and twin brothers Dylan and Ty Jackson from Northeastern, Lukas Sillinger from Bemidji State and Robert Mastrosimone (Detroit Red Wings), just to name a few. On top of that, they return leading scorers Matthew Kopperud and Josh Doan (Arizona Coyotes). The Sun Devils are also opening their new state-of-the-art arena and while they'll share the digs with the Arizona Coyotes for a bit, having a real stadium to show off to recruits will be a game-changer for the program. The Sun Devils are still an independent and based on their schedule, they might be able to find a way back to the NCAA tournament.
Our house. #BeTheTradition pic.twitter.com/znRuPyJlkZ

— Sun Devil Hockey (@SunDevilHockey) September 23, 2022
UConn: I don't know if UConn is going to be much better than middle of the pack in Hockey East, but I do think they've got an interesting team heading into this season and could make some noise. They've picked up a solid young goalie in Arseni Sergeyev (Calgary Flames), will return second-team All-American Ryan Tverberg (Toronto Maple Leafs) and have an incoming freshman class that includes blue-chip prospect Matthew Wood, who could go in the first round in the 2023 draft, and former Finnish national teamer Samu Salminen (New Jersey Devils) to bolster their offense. Mike Cavanaugh recently got a new extension and the team's new building in Storrs is close to being done, providing a better atmosphere for training for the players. The Huskies could be a sneaky team to watch this year.
North Dakota: This is a team that's always in the mix, even though they've lost some good veteran talent and top defenseman Jake Sanderson. Despite some concerns about what their goaltending will look like as well, I think UND has some real talent up front. Riese Gaber is an All-American candidate, but they also have some intriguing youngsters coming in including Jackson Blake (Carolina Hurricanes) and Dylan James (Detroit Red Wings). I don't know what to make of this team quite yet, but the pollsters have them as a potential top-five squad. You always have to assume North Dakota is going to be a team that is tough to beat.
Clarkson: A team that can often fly under the radar in the ECAC, Clarkson has a team that can score and plays the game hard. They'll return leading scorer Alexander Campbell (Nashville Predators) and should expect a sophomore bump for the highly-skilled Ayrton Martino (Dallas Stars). The Golden Knights also have an intriguing netminder in Ethan Haider (Nashville Predators), who has a lot of potential and could be the X-factor for them this season.
Sacred Heart: A new building on the way, an influx of talent through the transfer portal and recruiting and suddenly the Pioneers look to be a greater threat in Atlantic Hockey. They've been chasing AIC, which has been the class of the league the last few years, but don't count out Sacred Heart in what could be a massive year of positive change for their program.
SHU Picked Second in 2022-23 Poll

🔗: https://t.co/8V22r1Rv2D pic.twitter.com/112J1fKvG9

— SHU Pioneers (@SHUBigRed) September 20, 2022
Northern Michigan: The Wildcats are one of the teams that could be a threat in the CCHA this year. They've got a lot of experience on their side and added some key transfers that should help their cause offensively. A.J. Vanderbeck was the team's leading goal scorer with 24 last season and returns for another go. Meanwhile, Artem Shlaine (New Jersey Devils) came over from UConn in search of a bigger role and could be a game-breaker. Simon Kjellberg (New York Rangers) also transferred from RPI after a career year, bolstering NMU's blue line.
Boston University: I'll be honest, I have no idea what to make of the Terriers this season. I expect them to be better this year and I think Drew Commesso (Chicago Blackhawks) is one of the best goalies in college hockey this season. Also, Jay Pandolfo is taking over the bench, which is going to be especially interesting. What fascinates me most, though, is BU's blue line. It's a very mobile, very skilled group back there with dynamic smaller defensemen like Dom Fensore (Carolina Hurricanes) and Lane Hutson (Montreal Canadiens). I just don't know how well they're going to be able to defend as a team, which is going to be Pandolfo's challenge as one of the great defensive forwards of his era in the NHL. Despite concerns, I think BU will be super interesting to watch.