2022 Reading Royals vs Newfoundland Growlers
Petruzzelli, Ellis Underscore Importance Of ECHL Goalie Development
Petruzzelli, Ellis Underscore Importance Of ECHL Goalie Development
ECHL's success in developing goaltenders was on full display at this year's NHL Prospects Tournament.
Sep 20, 2022
by Tim Rappleye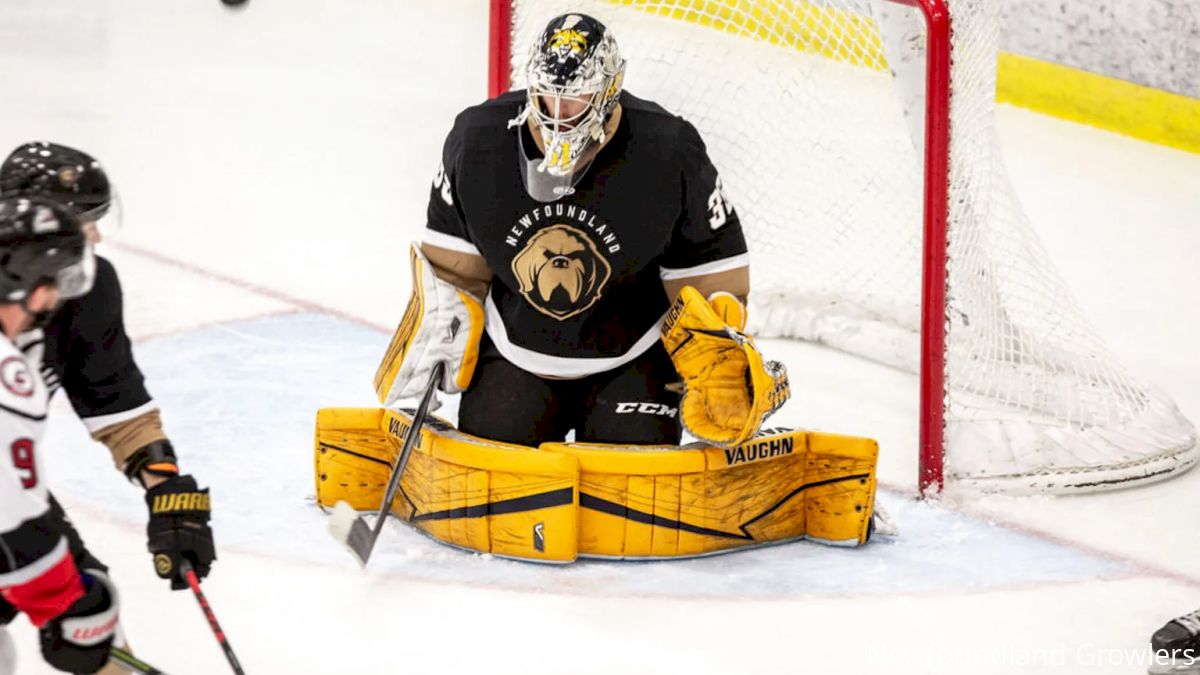 After Columbus Blue Jackets towering president John Davidson folded himself into his regular spot at Traverse City's Molon Arena, hovering 12 rows over the defensive zone hashmarks for the entire NHL Prospects Tournament, he spent most of his time studying his favorite position: goaltender.
Although the tourney is all about players destined for the NHL, Davidson knows how important the ECHL is to developing the sport's most important position.
"There have been a lot of goalies that have come into our league that have played in the East Coast League," said Davidson during the second intermission of the Columbus-Dallas game.
"You have to have the right attitude. The idea is to get work, get reps, get games. You need a place to go, it's ideal."
It's no secret that the league known as "The Coast" has produced both quantity and quality when it comes to NHL goaltenders.
"There have been a lot of success stories," said Davidson, "there's guys that have played down there and come up and played very well."
That's an understatement when it comes to Stanley Cup champions Jonathan Quick and Braden Holtby, ECHL alums who have hoisted the Cup three times between them—all since 2012.
Two goalies who got a lot of work at the Traverse City tournament, Keith Petruzzelli and Blues prospect Colton Ellis, both spent most of last season in the Coast. It was their introduction to professional hockey, and each seized the opportunity.
"For my first year pro, it was great," said Petruzzelli, who started over 50 games for Newfoundland last season.
"Toronto does a great job developing their young guys. Being able to work with a goalie coach every day was great for me. I got a lot of games and had some great experience in the playoffs. I played [nearly] 20 games in four weeks. It was a lot of demand, learning how to manage my body and be the number one for the playoffs in a professional setting."
Petruzzelli helped steer Newfoundland to the Eastern Conference finals of the ECHL playoffs, with two Game 7 victories along the way. The accumulated poise and preparation was on display in Traverse in Petruzzelli's two sterling starts for the Leafs in Traverse. Look for him to graduate to the AHL Marlies this season.
Keith Petruzzelli makes what could be the best save of the Prospect Tournament so far.

Wow. pic.twitter.com/becz62kXgl

— Nick Barden (@nickbarden) September 18, 2022
Blues prospect Colton Ellis is nearly two years younger than Petruzzelli, and didn't have four years of NCAA seasoning. He sought out wisdom and experience wherever he could find it in Worcester, whether it was veteran goalie Ken Appleby or even team broadcaster Cam McGuire.
"He was our youngest player," said McGuire with a chuckle, "I used to joke with him, I gave him a limit on how many questions he could ask in a day because he was always curious about stuff. I think having Ken Appleby with him for most of the year was super beneficial. Apple has been around awhile and is a true pro."
Appleby is a seven-year pro with 145 ECHL games to his credit. The mention of his name to Ellis in Traverse City brought instant recognition and a smile.
"He was awesome from Day One," said Ellis.
"I didn't know him going in, but we became pretty close friends throughout the year, getting to spend time on and off the ice together. He was a great asset for me, getting to pick his brain about the pro lifestyle. We'd pushed each other. It was awesome for me, a great guy and a fantastic goalie as well."
Ellis managed to get in 34 games in Worcester, and then was called up to AHL Springfield for their lengthy run through Calder Cup playoffs. He didn't play, but managed to dress for a handful of games.
"The playoffs are a whole different animal," said Ellis.
"To get that experience was incredible. I'm definitely going to use that experience going forward."
Ellis' professional journey has had myriad stops in the past six months: stints in two professional leagues. It started with a run through the Blues development camp in July, then two starts in Traverse City, one rocky, one solid.
From wide-eyed newbie to seasoned pro, Ellis is now in a position to share his wisdom with any goalie who might be disappointed by being assigned to the Coast.
"Just take all the experiences and learn all you can while you can," said Ellis.
"Don't be trying to get to the finish line right off the hop, right? There's a lot of things that go into making it to the NHL. Use whatever learning tools you can, pick guys' brains, and just enjoy the ride."
With that, Ellis joined his temporary mates for the bus ride to the airport and parts unknown. Across the arena, Davidson unfolded his XL frame to commune with his staff and prospects.
He had paid his own dues as a minor league goalie, and put in the final world on the matter of ECHL goalies.
"In today's day and age, you sometimes get to the point where you need your fourth goalie," said the man better known as J.D.
"They come up to the American League, and then you call that guy up. They gotta play, and they gotta play well. We look at that hard, we really do."